Definition
What is List Penetration?
List penetration refers to a measurement used throughout the call center companies to calculate the proportion of the entire list that has reached a final resolution. The list penetration rate calculates the number of prospect records closed according to the overall number of campaign records. It emphasizes the precision and data of the call list.
The higher the penetration rate of your list, the better. It indicates that you're running on clean records. You can always check the details if the list of the penetration rate is lower than the expected result. Looking at your details will show if your agents call cold or inactive leads.
Monitoring the list penetration may help minimize the challenges that your organization may encounter from the risks. Embracing proper security practices will protect your company. You will resolve the prioritized risks and regularly monitor your market risk exposure by taking a risk-based approach to cybersecurity.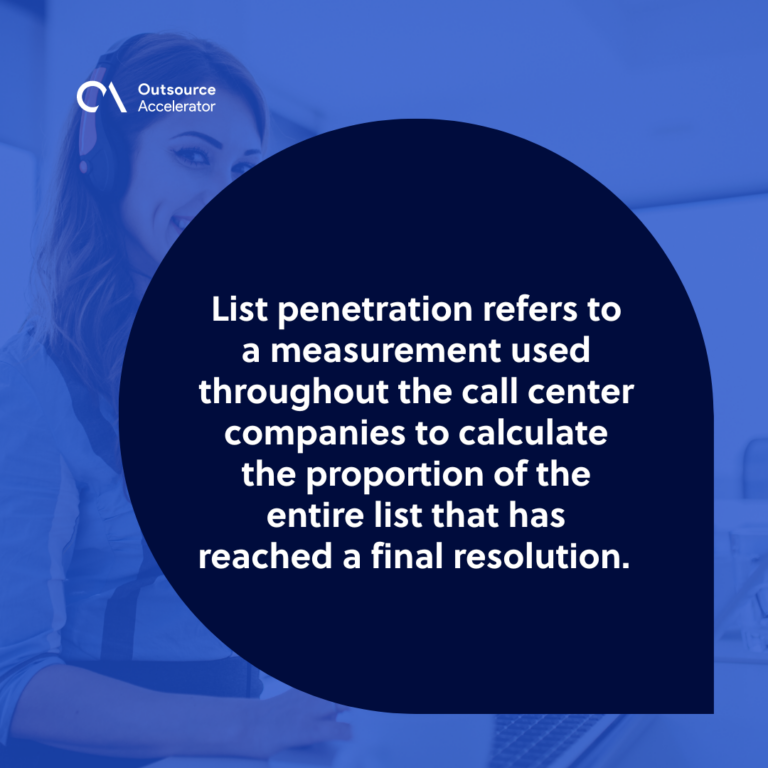 How to measure list penetration rate?
Calculating the list penetration allows the management to assess the scale of the future demand for their offering. If the overall value of the competition is high enough, the new entrant should be persuaded that it can achieve a fixed proportion of the total number of future buyers.
The list penetration rate is simple to calculate if you know the scale of your target market. To compute, divide the number of clients you have by the size of the target market to measure the penetration rate, and then multiply the figure by 100.
The formula looks like this: "Penetration Rate = (Number of Customers ÷ Target Market Size) × 100"