Definition
What is job scheduling software?
Job scheduling software is a program that allows your systems and apps to communicate with one another. It can organize complicated workflows across several servers and business applications, unlike typical schedulers.
Job scheduling has precise date and time scheduling capabilities to aid in the efficiency of workflows. The program readily connects with a wide range of company procedures and operational applications.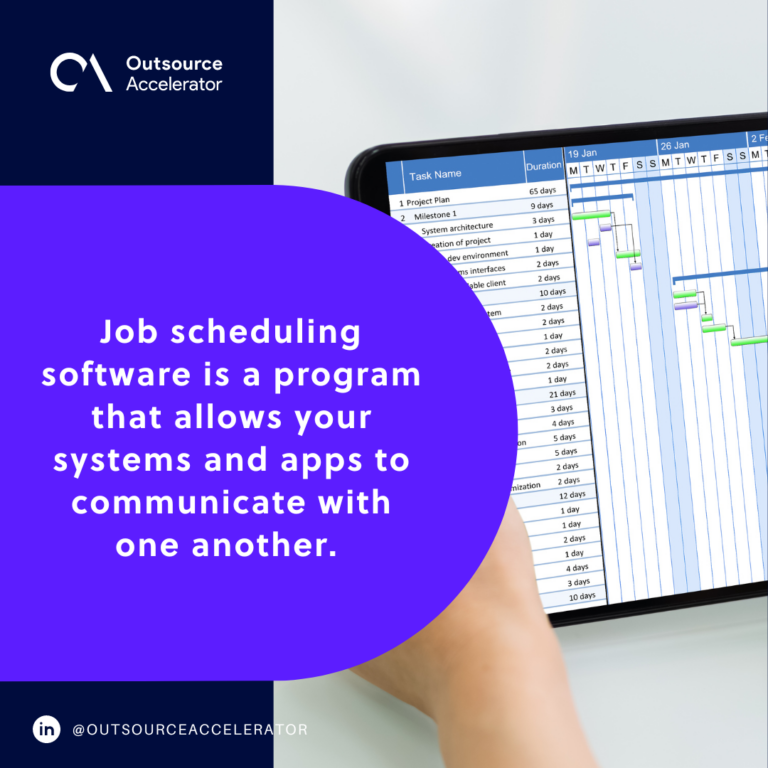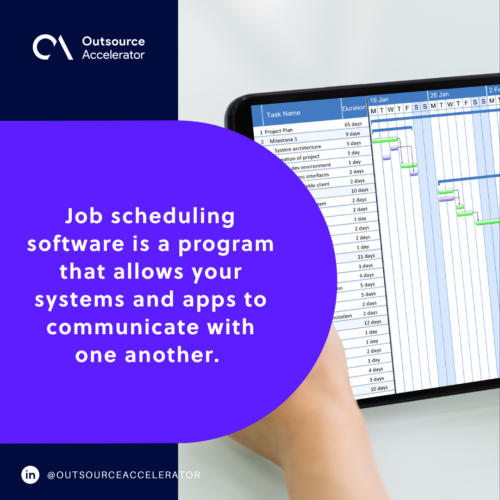 Importance of job scheduling software to your company
Job scheduling software's primary purpose is to assist firms and entrepreneurs in keeping track of impending work or events. Business owners may also use the program to track staff locations, communicate start times, and update work details in real time.
But aside from that, job scheduling software has more benefits to your business.
Boost your company's sales and revenue.
Service task scheduling software can aid in the growth of your company's sales and profits. Jobs can be managed around the clock with the help of this software. It keeps track of the status of the tasks and will notify you via SMS or email if anything changes.
With less back-and-forth with consumers and immediate booking, you're less likely to lose a customer during the scheduling process to competition.
Allow your customers to make their schedules.
Your customers should be able to plan their appointments with your mobile staff, depending on the job scheduling software you use.
Thanks to the software, your customers will also be able to cancel or rearrange appointments at their leisure quickly.
They don't have to worry about contacting your company if something comes up. Instead, they can enter into the client site and control their scheduling.
It makes task-tracking more convenient.
Tracking all of the tasks completed is a time-consuming and nearly impossible task if done manually.
Employees, teams, and supervisors can benefit from job scheduling software because it automates otherwise time-consuming procedures.
Cost-effective
Manually assigning tasks, reviewing performance, and obtaining feedback from staff costs a firm a lot of time and money. Fortunately, these losses can be reduced to nearly zero when using job scheduling software
In addition, you'll be able to do more because the program will assist you with bookings and other tasks. This can help you save on hiring costs, and reduces instances of human error..
Further, a job scheduling software can help to eliminate customer no-shows for service appointments and any misunderstandings that may arise as a result of repeated reservations.
Improve your service
Because scheduling is frequently done over the phone or by email, human error is always a possibility. Customers may become frustrated as a result of this, and they may turn to your competition.
By minimizing back-and-forth, you can capture a customer before they seek out another company or service provider.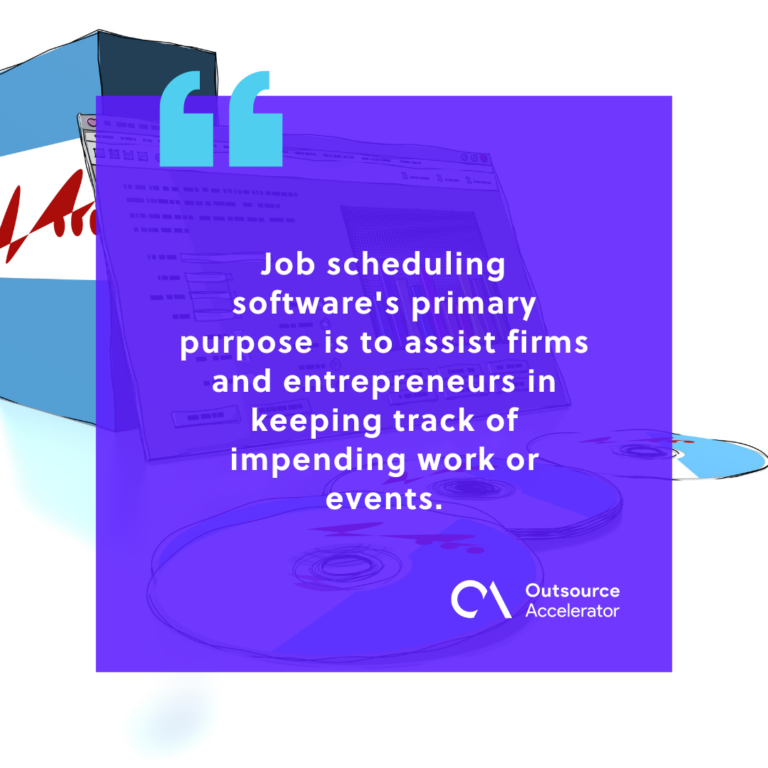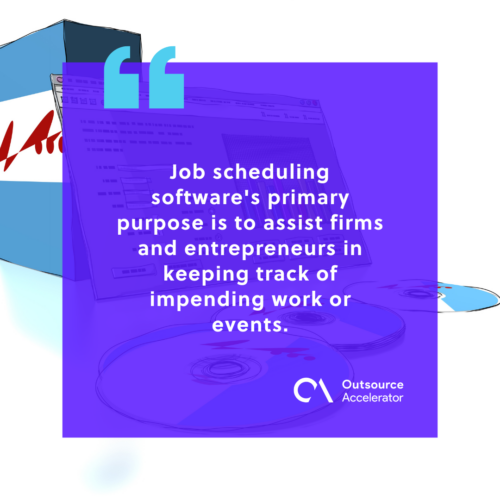 Example of job scheduling software available
Managing schedules and appointments is an essential aspect of running a business. Various reasons might contribute to inefficient scheduling, which can have a significant influence on corporate income.
It is why choosing the right job scheduling software is vital. For starters, here are the leading job scheduling software available in the market:
Calendly
Calendly is a scheduling app for freelancers and consultants, recruiters, sales and marketing professionals, and entrepreneurs. You may use this software to plan everything from one-on-one interviews to group training.
Deputy
Deputy is a job scheduling software that allows you to track your team's productive hours and manage their calendar. Another advantage is smooth communication and collaboration and leaves management, task assignment, and payroll correction.
10to8 
10to8 is a straightforward and easy-to-use online scheduling tool. This scheduling system also caters to higher education and healthcare providers, in addition to sales teams, corporate, HR and recruitment.
10to8 is an online booking tool for healthcare that includes a specific feature that reminds patients of their consultations.
Connecteam
Connecteam is an employee scheduling software that lets you manage your employees' schedules, productivity, and training all from one place. This program provides users with a paperless and mobile-first experience, giving them more freedom and mobility.
Time and GPS position monitoring, geofence, kiosk app, job dispatch, shift planning, training courses, libraries, quizzes, and more are some of Connecteam's essential features.
ZoomShift 
ZoomShift is a work scheduler designed for companies with hourly staff. Timesheets and a time clock are among the features: overtime alerts, shift restrictions, activity logs, and more. Employees can also track and compute their own paid hours.
Z-Cron
Z-Cron allows users to conduct jobs or tasks on their computer according to a set of instructions. Z-Cron is a single point of coordination for software scheduling and automation. 
Aside from the time-controlled start of applications, the program includes several tools that simplify automatic and scheduled system administration.
ActiveBatch
ActiveBatch is a workload automation tool that simplifies business job scheduling. By connecting to any server, application, or service, ActiveBatch Workload Automation will provide you with endless extensibility.