Definition
What is an internet phone (IP)?
The Internet phone is an electronic communications technology that allows you to make phone calls over the Internet. It is also a popular application device for Voice over Internet Protocol (VoIP). A broadband phone is another name for an internet phone.
An internet phone system uses your internet access instead of a traditional landline to make and receive calls. Over your broadband connection, a VoIP system turns analog speech inducements into digital signals. 
How does an internet phone work?
When a call is placed, the VoIP phone turns the user's voice into multiple digital packets after an analog-to-digital conversion circuit analyses it, and then delivers the information over the Internet to another user.
To link calls to other telecommunication systems, a VoIP server is used. The call is set up between all participants by a VoIP service provider. The electronic information is then decoded at the receiving end into the sound you hear through your device.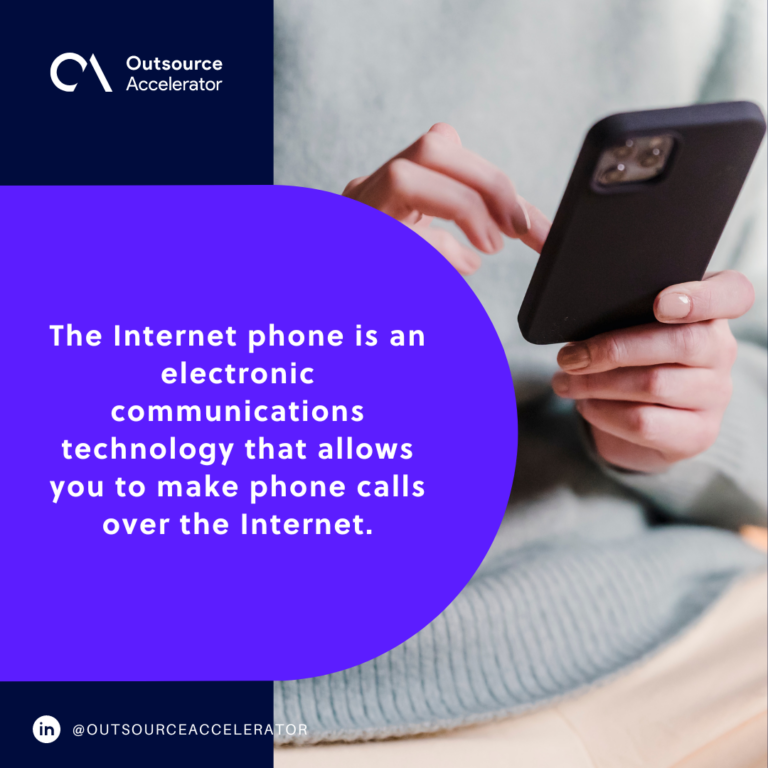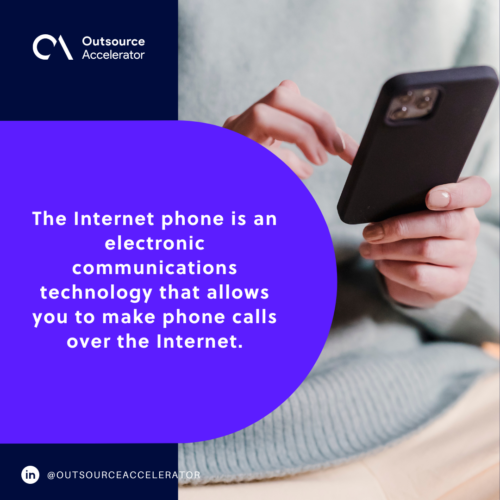 Benefits of internet phone to your company
Here are the top advantages of implementing internet phone to your business:
Scalability
A traditional phone system may not be as useful as an internet phone, and might not meet the demands of the modern marketing world. It also requires the assistance of an IT or telephony professional to make any necessary improvements. 
However, an internet phone is a solution that can keep a larger volume of calls. Your virtual phone system will grow in tandem with your company's needs.
This scalability will aid your company's efforts to improve efficiency and productivity. You can simply add users as they are on board rather than wasting time and money on company-wide infrastructure improvements.
Contribute to cost-cutting efforts
Indirect savings are not possible to achieve with the help of the latest technologies.  A VoIP system can save you money in a number of ways.
With the usage of an internet phone, you can save money in the following ways:
Hardware.

With VoIP, you have complete control over changing or updating your system in real time, without having to make any additional expenditures or installations.

Calling Fees.

Businesses that use VoIP avoid long-distance and international expenses for calls.

Maintenance.

Worrying hardware breakdowns and other maintenance difficulties that result in lost revenue can be simply eliminated by switching to VoIP.

Mobility.

Because VoIP does not require a physical location, it may accompany you everywhere you go.
Flexibility
Traditional phone networks are complicated and demand your IT team to make necessary adjustments from time to time. VoIP's network flexibility enables you to build a consistent and adaptable solution.
Improved security
Security of phone systems is critical, especially for businesses. VoIP can help to avoid such security risks by utilizing internet phone developments.
Make sure that you are working with a reputable VoIP provider who undertakes independent security audits. They can also ensure that staff follow changing password habits. In addition, configuring automated alerts for suspicious calling activity are all important steps in securing your VoIP system.
Communicate Effectively
Regardless of the size of your team, communication is vital and every employee must be able to communicate. An Internet phone can create a system that promotes communication even to those employees who work from home.
If the call remains unanswered, a virtual phone system can be set to ring several times at your desk before forwarding to your device.