Fully Managed Outsourcing
Definition
What is fully managed outsourcing?
Fully Managed Outsourcing is one of the many services offered online by various outsourcing companies. It is a kind of laser-focused management that takes over the business process and tracking of the organization's KPI metrics, training and development of employees, and quality assurance for the client.
When routine tasks and jobs are outsourced, the company will have more time to focus on the more essential aspects of the business.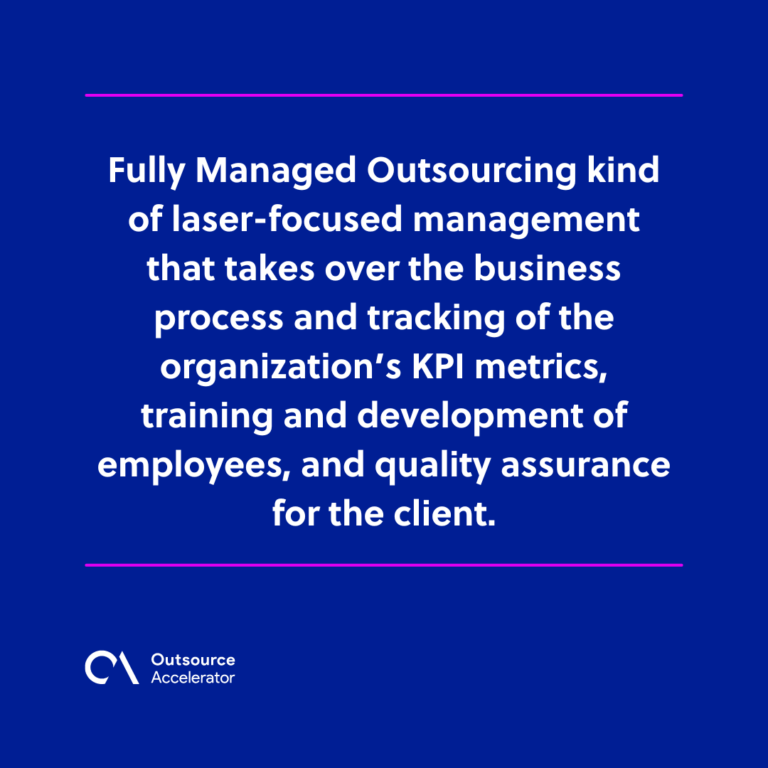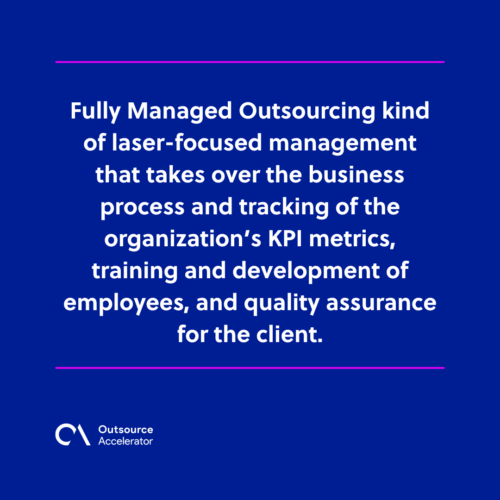 Fully managed service
Working with a fully managed outsourcing can be beneficial to any specific organization. Despite working offshore, Business Process Outsourcing (BPO) companies can still provide a fully managed service to their clients.
They ensure the best operational structure, competitive pricing structure, proven processes, and guaranteed results with their operational overseers.
They can build a team and hierarchy; they do well-prepared implementation and alignment; and are also aligned to their high-quality mission, objectives, and culture.
This kind of partnership promises a deliverable-based solution that can hit KPIs, targets, and metrics. Lastly, they can ensure continuous improvement as you go along with your business.
Outsource Accelerator provides you access to the best outsourcing companies in the Philippines, where you can save up to 70% on staffing cost. We have over 3,000 articles, 200+ podcast episodes, and a comprehensive directory with 700+ BPOs… all designed to make it easier for clients to learn about, and engage with fully managed outsourcing.