Definition
What is email marketing?
Email marketing is a form of marketing where commercial or promotional emails are sent to people who have signed up to receive them. It is a highly profitable and cost-effective marketing strategy that has been in use for over four decades.
The first recorded email marketing campaign was sent in 1978 by Gary Thuerk. Thuerk was a marketing executive at Digital Equipment Corporation, an American company during the mid to late 1900s.
Thuerk's email blast, which only 400 people received, garnered a whopping USD 13 million (roughly USD 57 million today) in sales.
Email marketing can range from company newsletters to updates on upcoming sales to public service announcements about recent calamities.
Whatever form a marketing email takes, its recipients are always people who have had previous engagements with the brand that sent the email. These emails can work both ways; they can keep a customer's loyalty by providing regular updates or lose them by being a constant annoyance in their inboxes.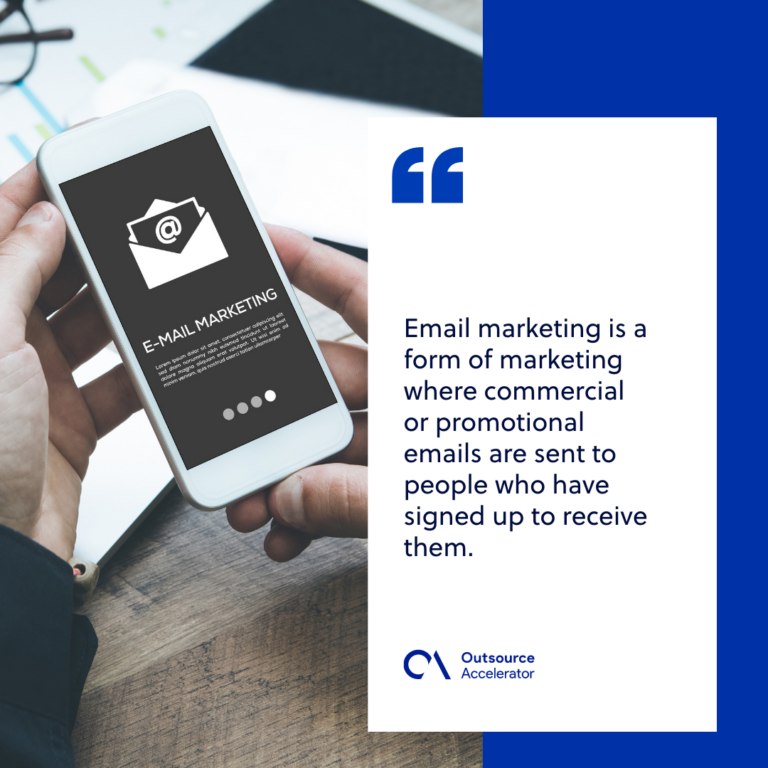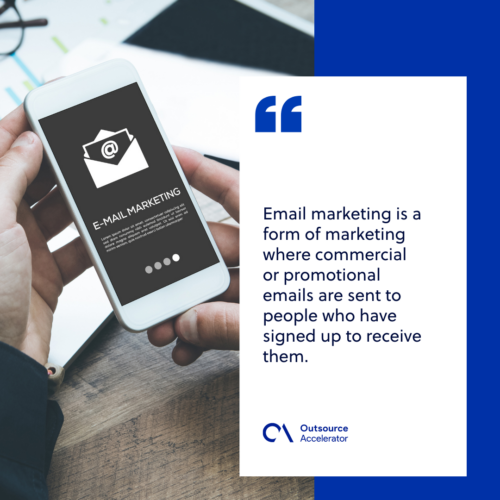 Email marketing vs. social media marketing
Despite the widespread use and prevalence of various social media platforms, email marketing is more profitable than social media marketing (SMM).
There are several factors why email marketing ranks higher than SMM in terms of profitability:
Emails have an average open rate of about 15-25%, average click-through rate of about 2.5%, and average click-to-open rate of 20-30%. This is contrasted by Facebook's underwhelming 0.07%.

Email marketing has an astoundingly high return on investment (ROI)–about USD 38 for every USD 1 spent, or 3800% ROI.

There are about 4.1 billion people who use emails worldwide, compared to Facebook's 2.8 billion monthly users, Instagram's one billion monthly, or Twitter's 217 million daily.

58% of internet users check their emails first thing in the morning before doing any other online activity such as opening their social media accounts or checking the weather.
Overall, email marketing is more effective compared to SMM. The only aspect where SMM outperforms email marketing is the potential of going viral.
How does email marketing work?
Email marketers utilize email marketing tools or software — may also be email marketing automation tools — to send email blasts. These are software used to send and manage email marketing campaigns.
While sending marketing emails using regular email service providers is technically possible, you would most probably run into problems due to limitations in the email's bandwidth, design, and deliverability.
The main reason behind the impracticality of using mailbox providers for email marketing is that these are specifically designed for personal use. 
Sending mass emails using your standard Gmail account, for instance, is a sure-fire way to have your emails flagged as spam and get your account disabled.
On the other hand, using email marketing software – which already has the infrastructure needed for email blasts with good deliverability rates – sets you up for a successful email marketing campaign.
Types of marketing emails
There are different types of formats used in email marketing. These emails can be informational, promotional, or tailored depending on the customer behavior.
Informational emails
Newsletters and announcements fall under informational emails. These are emails sent to disseminate information on important updates and developments about a brand or even important news not directly related to the company.
Promotional emails
Unlike informational emails, promotional emails are strictly about a brand's products or services. These emails may be about special offers, new products, or exclusive content.
Promotional emails always have a clear call to action or CTA. The CTA may encourage the recipient to purchase a product, visit a particular website, or do any specific action that the company wants them to take.
Behavioral emails
A behavioral email is sent to a customer depending on the customer's course of action or behavior. More simply, behavioral emails depend on where the customer is on the buying cycle.
Though it may sound more complicated than informational and promotional emails, there are marketing software programs that allow sending of behavioral emails using customer actions (such as watching a video or clicking a link) as triggers.