Definition
What is demand generation?
Demand generation is a marketing campaign designed to raise brand awareness and demand for a company's products or services. This ensures that your sales force has a steady supply of leads.
Demand generation marketing helps in expanding your existing customers. Marketers do this by attracting new users to your website and exposing them to your products.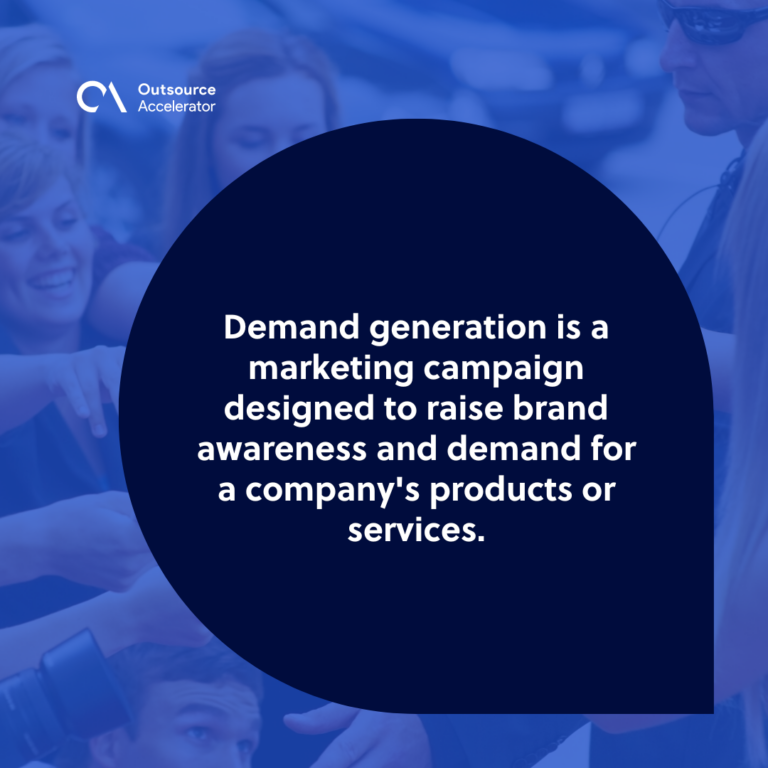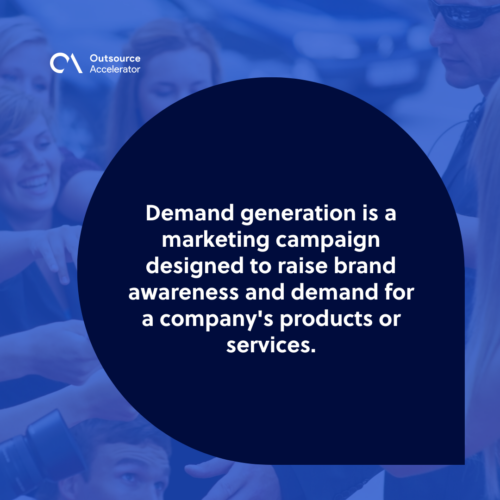 Three components of demand generation
Here are the top 3 essential components of demand generation that will help your business succeed.
Buyer persona development
A buyer persona provides a picture of your ideal customer. Marketers develop a buyer persona based on market research, collected data from current customers, and assumptions.
Having a detailed understanding of your prospect is essential to achieving the goal of your demand generation strategy. You must also know which platforms are most effective to reach your target audience.
Content library
The content library is a digital library owned and operated by a company. This is where all the files and data for software deployments are kept.
The best method to figure out how to reach your prospects is to match your personas with your chosen marketing materials and content.
Performance measurement
Performance measurement is the process of collecting, assessing, and reporting data. Marketers should track and report on campaign performance and ROI. Other things to include are the number of leads, lead sources, and conversion rates that affect the revenue.
Best practice for demand generation strategy
Demand generation is useful in B2B, B2G, and B2C sales cycles. The goal is to turn your customers into brand ambassadors who generate additional demand marketing.
Here are the best practices for demand generation:
Create high-quality and SEO-friendly content
To raise awareness, develop original content. Your website will rank well in the search engines and become more visible to your prospects by creating SEO-friendly content.
Your content marketing plan must primarily assist future customers in their research and decision-making process. Decide on the ideal structure for the information you want to provide to your potential customers and get to work on it.
Utilize automation software
Using automation can help you optimize your sales process in a number of ways. Marketing automation is the use of technology to streamline and automate marketing and demand generation operations.
It's critical that the tools you choose help you be more productive, increase conversions, and improve how you interact with your consumers.
Provide tools and resources
For a startup firm, offering a free tool or resource is one of the most effective methods to generate demand.
The use of the proper tools improves productivity. Providing employees with the tools they need keeps them motivated to engage with your company.
Work on lead scoring
Lead scoring is the technique of determining a lead's sales capability based on a predetermined formula.
Creating a lead scoring model can help your sales force prioritize their work and focus on the most promising leads. The development of an effective lead scoring system necessitates the participation of marketing and sales.