Definition
What is a dedicated outbound agent?
A dedicated outbound agent refers to an individual who exclusively handles a client or an account under a specific department. Business process outsourcing (BPO) companies often assign dedicated agents to their biggest clients.
Dedicated outbound agents are experts at creating and executing strategies that result in increased revenue. By outsourcing your efforts to an experienced agent, you'll be able to focus on other important aspects of your business.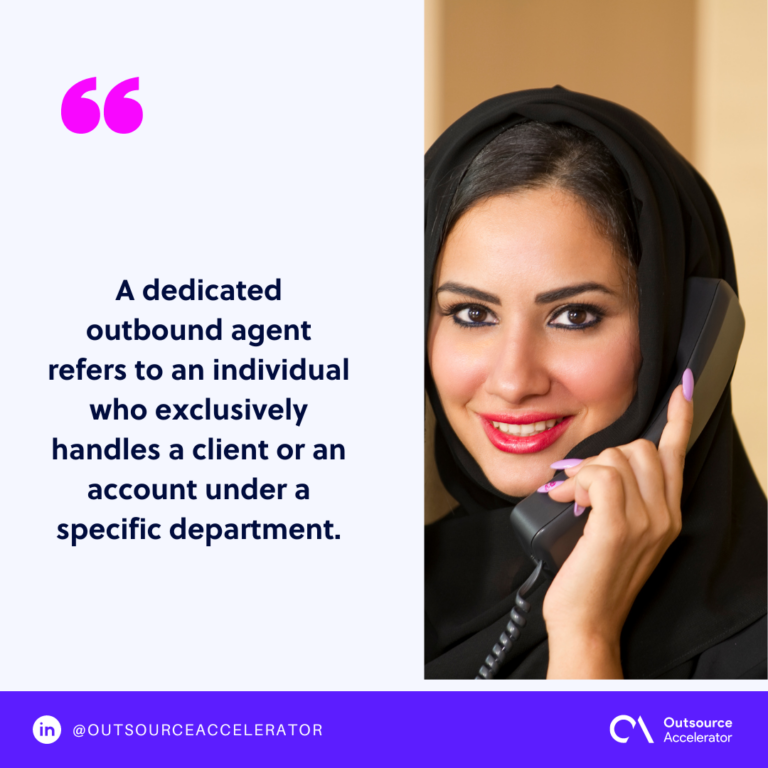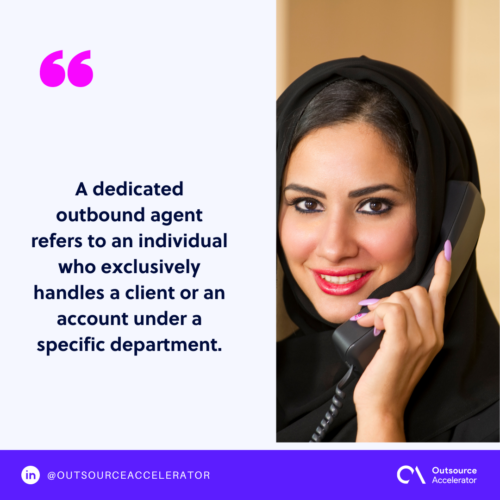 Advantages of having a dedicated outbound agent
Dedicated outbound agents can be a great asset to any business. Running a business can be overwhelming, and as your company grows, you may find that you need to add new members to your team to keep up with demand. 
By having someone whose sole focus is contacting potential customers and generating leads, you can drastically improve your chances of success.
1. Outsourcing your outbound efforts can be a huge time-saver.
The practice of outsourcing can be a great way to take the pressure off your core team and free up more time to focus on other important tasks. 
By outsourcing your efforts to a team of dedicated outbound agents, you can take advantage of their expertise and years of experience. This can drive new leads and customers through your door. 
2. They can help develop long-term customer relationships.
By providing personalized service and cultivating close customer relationships, outsourced representatives can increase profits and return on investment (ROI). 
Outsourced call centers often provide outbound services, so be sure to ask your provider about this option. By leveraging the skills of an outbound representative, you can create lasting customer loyalty that leads to increased profits.
3. Having an outbound agent lets in-house staff focus on crucial tasks.
An outbound agent can take care of work that would otherwise be handled by in-house staff, freeing them up to focus on other important tasks. 
Here are just a few examples of the tasks an outbound agent can handle: 
Creating and sending out

marketing materials 

Following up with potential customers 

Updating customer information 

Generating leads 
There are many other ways an outbound agent can help your business run more smoothly.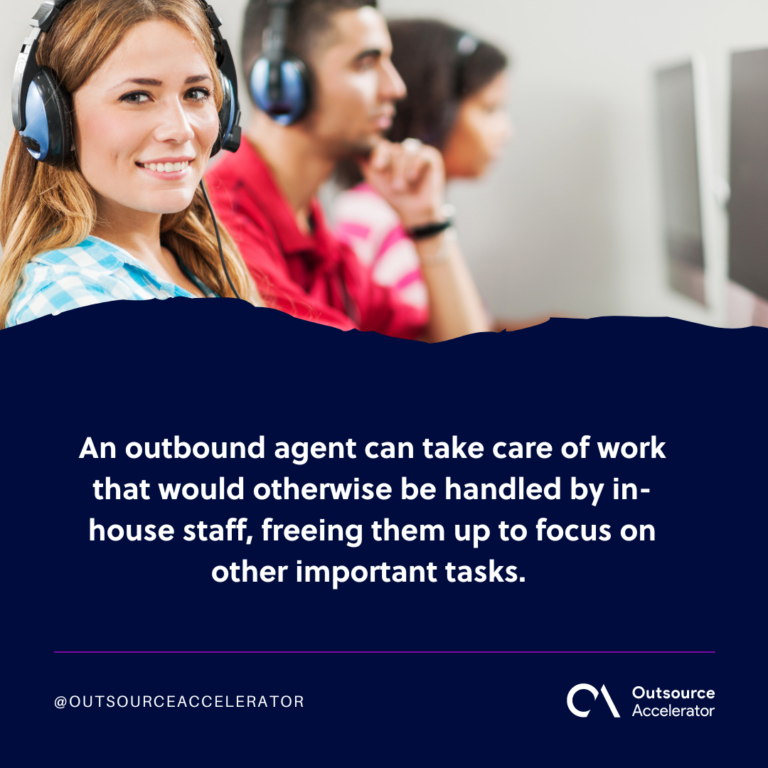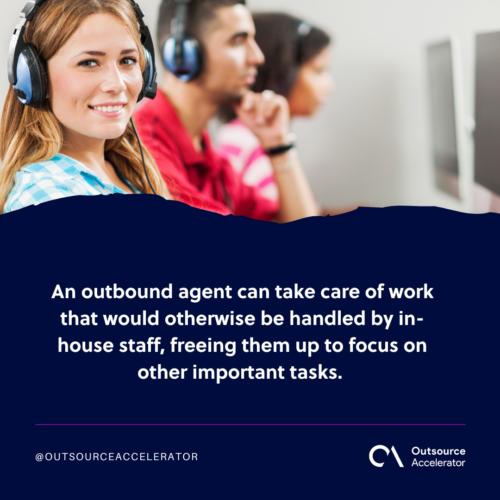 4. Outsourcing representatives is more cost-effective than hiring full-time employees
Outsourcing your company's activities and efforts can be more cost-effective in the long run than hiring a full-time representative. 
By contracting an external agency, you get access to experts who can help you reach your target market quickly and efficiently. Additionally, outsourcing allows you to test different marketing strategies to see what works best for your business. 
When it comes time to hire a full-time employee, you will have a better idea of what qualities and skills are most important for the position.
Dedicated outbound agents can be a valuable part of your team, driving more leads and revenue for your company. By understanding the benefits of having these outsourced agents, you can determine if this is the right move for your business.