Definition
What is data mining?
Companies use data mining to convert raw data into useful information. Businesses can learn more about their consumers by employing software to seek trends in big amounts of data. 
How data mining works
Exploring and analyzing huge amounts of data to identify relevant patterns and trends is what data mining is all about. Data mining may be used for database marketing, credit risk management, and fraud detection.
The data mining procedure is divided into five parts. Initially, corporations gather data and deposit it into data warehouses.
After gathering the data, it is then stored and managed, either on-premises or in the cloud. Data is accessed and organized by business analysts, management teams, and information technology specialists.
Then, the data is sorted by application software depending on the user's results. Finally, the end-user presents the data in a graph or table for reporting.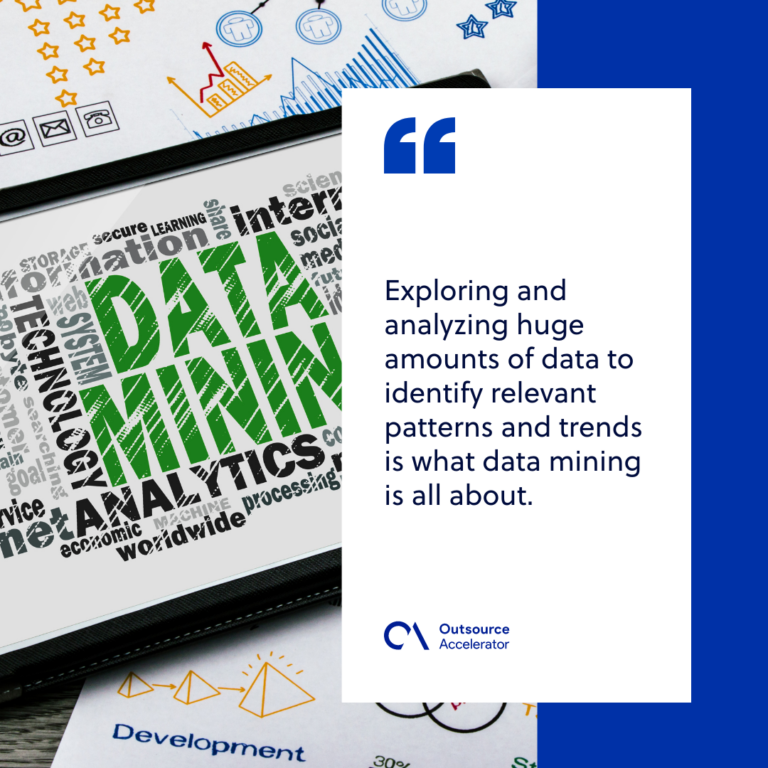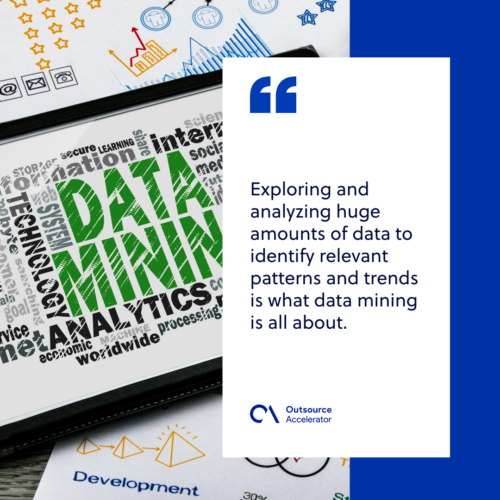 Data mining process
The data mining process involves various phases, including setting objectives, acquiring and preparing data, implementing data mining techniques, and assessing findings.
Set the business objectives
This can be the most difficult component of the data mining process. Data scientists and business stakeholders must collaborate to establish the business challenge. 
This will inform the data queries and specifications for a specific project. Analysts may also need to conduct further studies to fully comprehend the company environment.
Data preparation
Once the scope of the problem is specified, data scientists may more easily identify which collection of data will assist answer the essential business questions.
After gathering the necessary data and information needed, the data will be cleaned to remove any duplicates and missing values. 
Depending on the dataset, an extra step may be required to decrease the number of dimensions, as having too many features might cause any subsequent calculation to slow down. 
To maintain optimal accuracy in any model, data scientists will try to keep the most significant predictors.
Model building and pattern mining
Data scientists may study any intriguing data relationships – such as sequential patterns, association rules, or correlations, depending on the sort of research. 
While high-frequency patterns have broader applicability, data variations can be more fascinating at times, revealing areas of probable fraud.
Deep learning algorithms may also be used to categorize or cluster a data collection based on the information provided. If the input data is labeled, a classification model may be used to categorize it or forecast the likelihood of a specific assignment. 
If the dataset is not labeled, the training set's individual data points are compared with one another to discover underlying similarities, clustering them based on those characteristics.
Evaluation of results and implementation of knowledge
After the data has been collected, the results must be examined and interpreted. When results are completed, they should be valid, new, relevant, and understandable.
When this requirement is met, companies may use this knowledge to adopt new strategies and achieve their goals.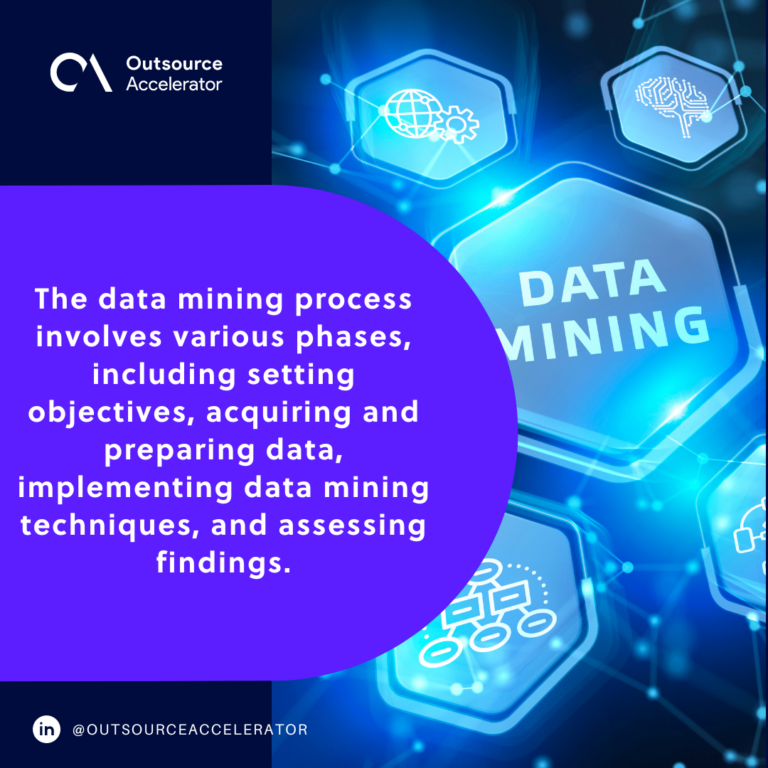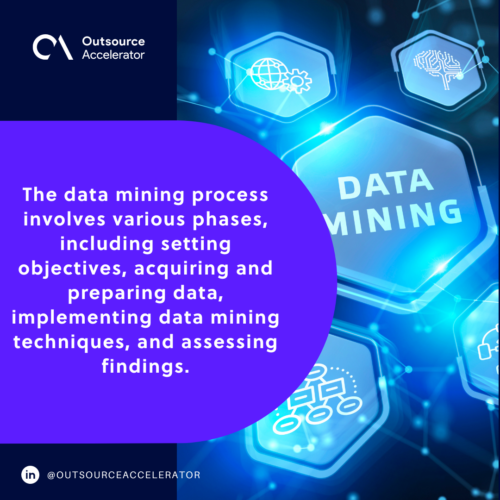 Who's using data mining?
Here are the various industries and disciplines that use data mining:
Telecom, media & technology firms
In a saturated market with tough competition, the solutions are frequently found in customer data.
Analytic models can assist telecommunications, media, and technology companies make sense of piles of consumer data. It allows them to forecast customer behavior and create highly targeted and relevant advertisements.
Insurance
Insurance businesses can use analytic expertise to handle difficult challenges such as fraud, compliance, risk management, and customer attrition.
Companies and businesses have adopted data mining techniques to more efficiently price products across company lines. They also data mine to discover new ways to provide competitive products to their existing consumer base.
Education
Educators can forecast student success before they enter the classroom using unified, data-driven perspectives of student development and build intervention techniques to keep them on track.
Data mining allows instructors to access student data, anticipate success levels, and identify children or groups of students that require further attention.
Manufacturing
Aligning supply planning with demand estimates is critical, as is the early discovery of issues, quality assurance, and brand equity investment. 
Manufacturers can foresee the wear of production assets and anticipate maintenance, allowing them to maximize uptime and keep the production line running on time.
Banking
Data mining enables financial services firms to gain a better understanding of market risks, identify fraud more quickly, manage regulatory compliance duties, and maximize the returns on their marketing initiatives.
Retail
Large customer datasets contain secret consumer knowledge that may assist you in improving relationships, optimizing marketing efforts, and forecasting sales. 
Retail organizations can provide more focused marketing and locate the offer that has the greatest impact on the customer with more precise data models.
Sales and marketing
Companies generate huge amounts of information on their customers and prospects. Companies can apply data to enhance their marketing campaigns, enhancing segmentation, cross-sell offers, and customer loyalty programs. 
This results in a greater return on investment on marketing efforts by studying consumer demographics and online user activity.
Predictive analytics may also assist teams to establish expectations with their stakeholders by estimating the yield from any increases or cutbacks in marketing spend.