Definition
What is customer sentiment?
Customer sentiment is the overall emotion that customers have toward your brand, product, or service, and it can range from optimistic to unpleasant or neutral.
Customer sentiment is related to customer satisfaction, but the latter is more focused on a tangible reaction, such as how a product has fulfilled the consumer's needs. Meanwhile, sentiment is more concerned with an emotional response.
Customer sentiment isn't any more difficult to quantify if you use the correct tool to analyze customer feedback comments.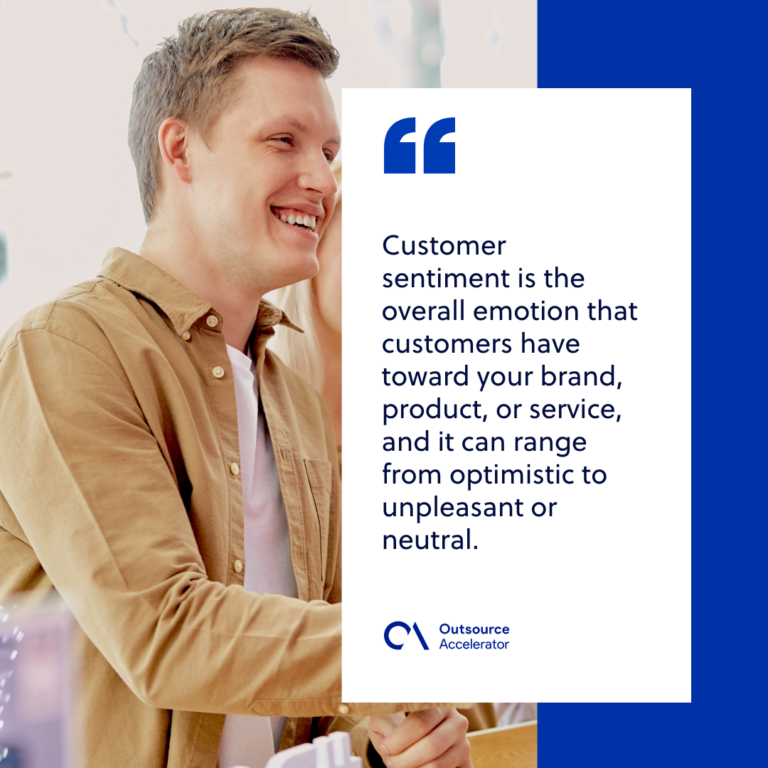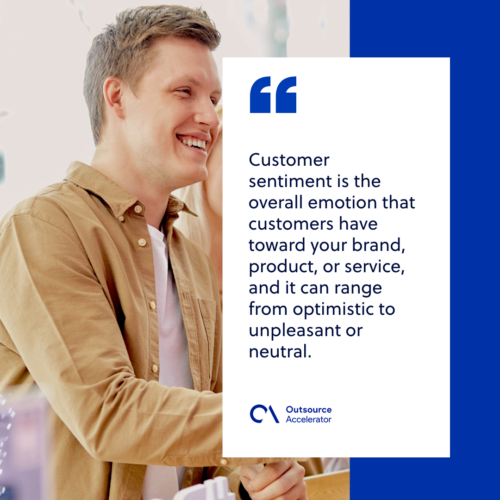 Ways to keep track of customer sentiment
There are various ways to keep track of your customer sentiment, and here are some to help you out:
Reviews
Reviews are an excellent starting point for monitoring customer sentiment. Star ratings or responses to questions are common areas to look at.
Reviews can influence other prospective customers' purchasing decisions. So, regardless of your company's size, it's critical to not just track reviews but also communicate with those who leave them.
Social media
If someone comments on your company's Facebook page or reaches you directly, their attitude may frequently be labeled as a review. At times, through social media, customer sentiments emerge in the form of sharing experiences or promoting a product.
Direct feedback
In general, feedback is considered as everything your consumers say about you. However, it is more personal and useful when consumers choose to contact you directly by phone, email, or live chat to voice their thoughts confidentially.
​​Why businesses need to measure customer sentiment
Businesses must evaluate customer sentiment to better understand why their consumers feel the way they do and, more crucially, whether they are satisfied or unsatisfied with the brand's interactions.
Almost every key business indicator is linked to customer sentiment. Customer satisfaction rating is likely to be low if clients are unsatisfied with the brand and its service interactions.
What is customer sentiment analysis?
Customer sentiment analysis is a computer-assisted method for identifying customer sentiments when they engage with your services, products, or brand. It helps businesses to get insights that can improve sales and marketing decisions.
Polarity and magnitude are the two parameters in customer sentiment analysis to analyze customer communications. Polarity shows whether the emotion is positive or negative, while magnitude specifies how strong customer sentiments are.
Types of customer sentiment analysis
Customer sentiment analysis of various types is necessary to ensure that unfavorable elements, remarks, or crises will not occur.
Standard sentiment analysis
The tone and expressions of thoughts and ideas are observed and studied in standard sentiment analysis. If a customer communicates a certain sentiment, it must be taken into consideration. 
Fine-grained sentiment analysis
Fine-grained sentiment analysis is focused on observing people's perspectives. It entails properly calculating customers' sentiment by looking at finer details such as every word or phrase in a statement.
Emotion detection
Customers' feelings, tests, and replies are frequently used to discover emotion. Frustration, rage, happiness, grief, and other emotions may be noted in the feedback.
Aspect-based sentiment analysis
To learn what customers think about your brand, categorizing product reviews is an excellent approach. Customers may have strong feelings about a particular aspect of a product or service, which can be used as a basis to increase the product's quality.
Intent analysis
Understanding the activity behind consumer thoughts or reviews is what intent analysis is all about. This approach opens up possibilities for resolving client difficulties or complaints.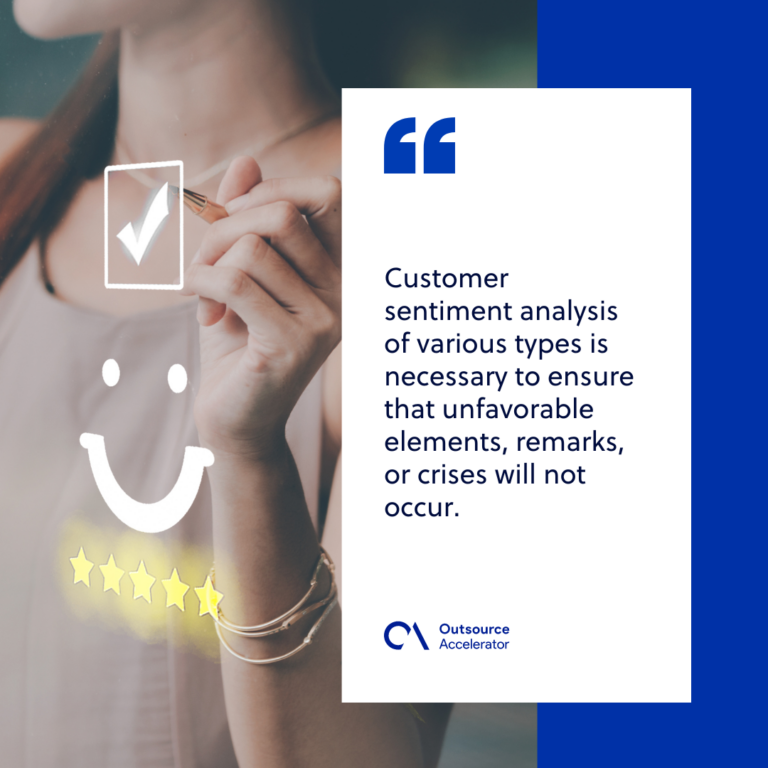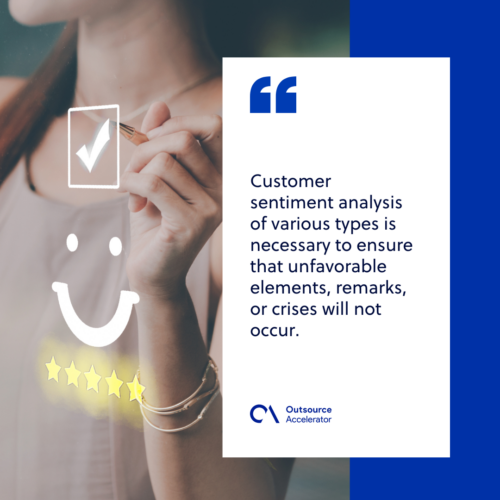 Why is customer sentiment analysis important?
Here are some benefits of customer sentiment analysis:
Enhances customer service
Customer sentiment analysis will provide insights that can help businesses understand their customers and their experience with their products or services.
By initiating customer sentiment analysis, you can learn what makes your customers happy and what disappoints them. This will help you prepare and enhance your business procedures.
Improves products and services
It can help you foresee industry trends, gain awareness about new markets, and understand how to improve the product or service you are offering.
You can use data gained from customer sentiment analysis to release additional features, upgrade existing products, and even venture into a new market.
Boost marketing strategies
Customer sentiment analysis helps your business segment customers. By targeting your market based on how they feel about your brand, you can identify new issues, address them, and create powerful strategies to reduce them.
Another use of customer sentiment analysis is to identify your competitor's strengths and aim to mimic them in marketing campaigns.