Creative Economy Council of the Philippines (CECP)
Definition
What is the Creative Economy Council of the Philippines?
The Creative Economy Council of the Philippines is a non-profit organization formed by a group of creative industry leaders in June 2017. They have the shared objective of accelerating the collective growth of Philippine creativity.
They believe that creativity can help the Philippines achieve long-term economic growth, inclusive social progress, and more robust national culture and identity.
The Philippine Creative Economy Council advises policymakers, corporate leaders, local authorities, and educators on creative policies and strategies to secure, develop, and expand the country's creative capital.
They are the export resource for Philippine Creative Industries intelligence, policy advocacy, business partnership, outsourcing, and export consulting.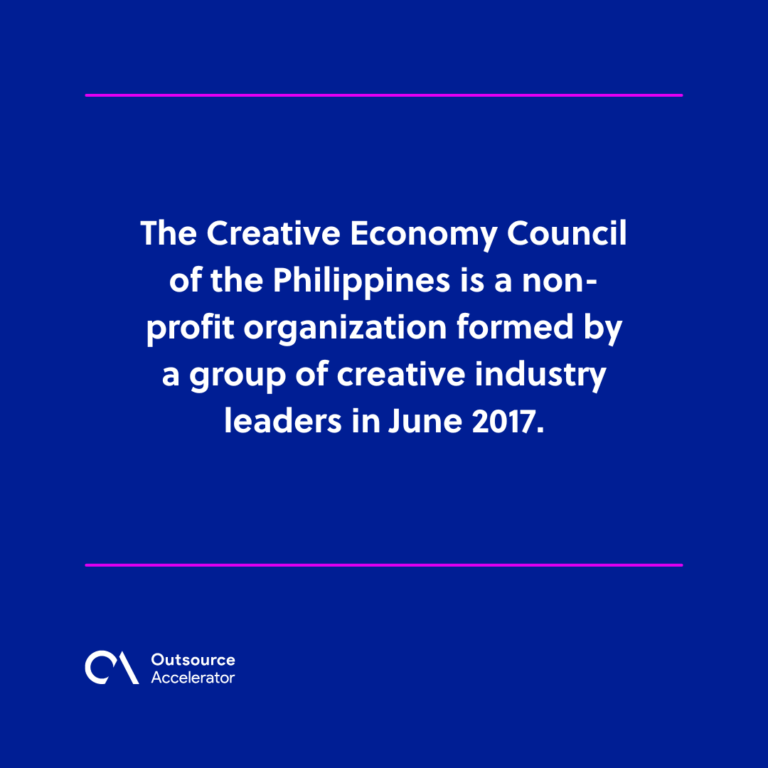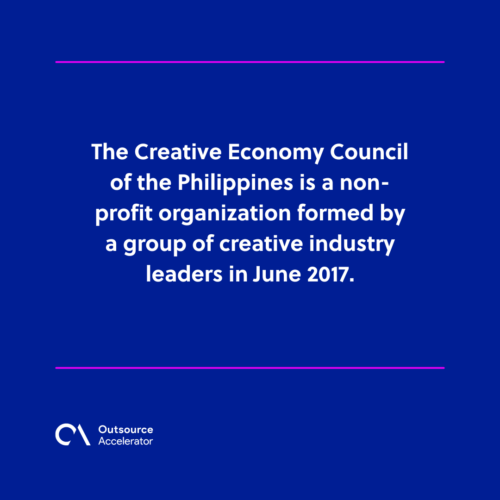 Mission and vision of Creative Economy Council of the Philippines
Their vision is to be the nation's biggest creative industries accelerator, expanding Filipino creativity to trade prospects worldwide.
The CECP will apply market intelligence, strategic planning, business model creation, business matching, and foreign market development to achieve this.
The council aims to build a multi-sectoral advisory institution to establish a Philippine creative economy development roadmap and promote the country as one of the top creative economies in the Asia Pacific.
The organization's mission is to establish the Philippines as a global provider of innovative products, creative services, and intellectual property.
They aim to research and analyze the Philippines' creative economy, creative industries, and associated cultural and artistic industries.
The CECP also aims to influence public policy to encourage and expand the national creative economy, including specialized creative sectors.
Their goal is to organize events, seminars, and workshops to support Filipino creative and cultural industries and stakeholders in developing growth strategies for their businesses.
The Creative Economy Council of the Philippines also aspires to represent and promote the country's creative sectors in international events centered on the creative economy.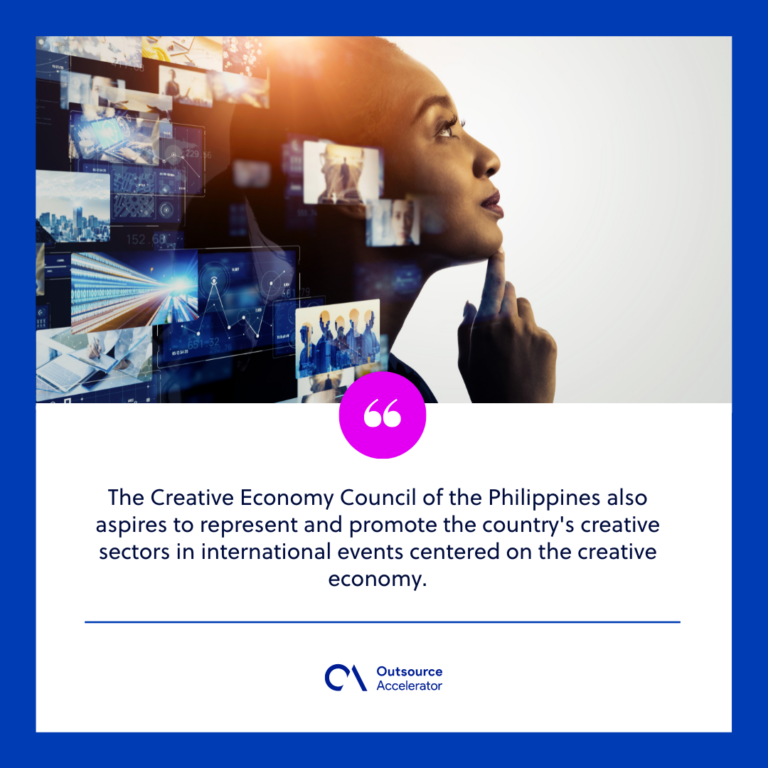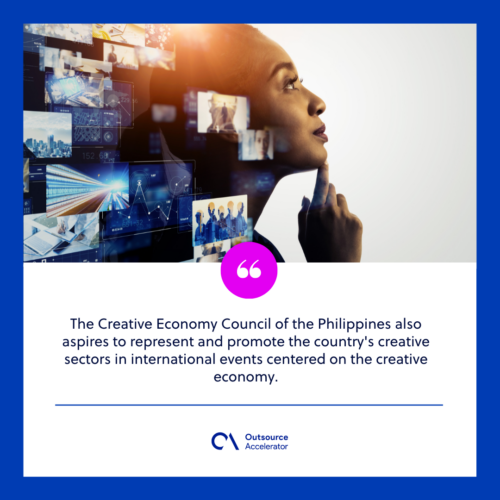 What does the Creative Economy Council of the Philippines do?
Creative industry and insight intelligence
On a national and local level, such as cities and municipalities, the Creative Economy Council of the Philippines performs creative sector research and data analysis, and in-depth study of individual creative sectors.
Creative supplier sourcing and strategic partnership matching
The Creative Economy Council of the Philippines provides services that connect promising Philippine creative start-ups with the appropriate investors to help them achieve their dreams.
Creative hubs and zones development planning
Concept creation and project management for medium-to-large-scale creative hubs and zones that serve as creative work accelerators are also what CECP does.
​​The council shows investors business opportunities and retains talented individuals in the nation, accelerators that bring together creative people from various professions are essential.
Creative policy advocacy
Creative Economy Council of the Philippines also allows policy development and consulting for national government agencies and local government units in the creative economy.
Creative leadership and management consultancy
The CECP also develops strategic growth planning & consulting for creative enterprises, creative industries, and creative cities or communities in the country.
Creative conferences and international trade mission
CECP also assists with Trade Missions & Promotions of Philippine Creative Industries. They are committed to helping traders and investors in their international trade mission.
According to an interview with Paolo Mercado, president and founder of the Creative Economy Council of the Philippines, there is also huge potential to shift from business process outsourcing (BPO) to creative industries. 
BPO industries are an excellent model to follow since they have both vision and perseverance in pursuing international contracts. It is critical since it's about creating a creative economy and selling its goods.