Definition
What is a content marketing agency?
A content marketing agency is a company that helps other companies create content for their platforms and develop marketing strategies. These contents may be in the form of blog posts, infographics, or even videos and charts.
To put it simply, content marketing agencies provide services that can help other companies increase their brand awareness, generate leads, or connect with their target audience.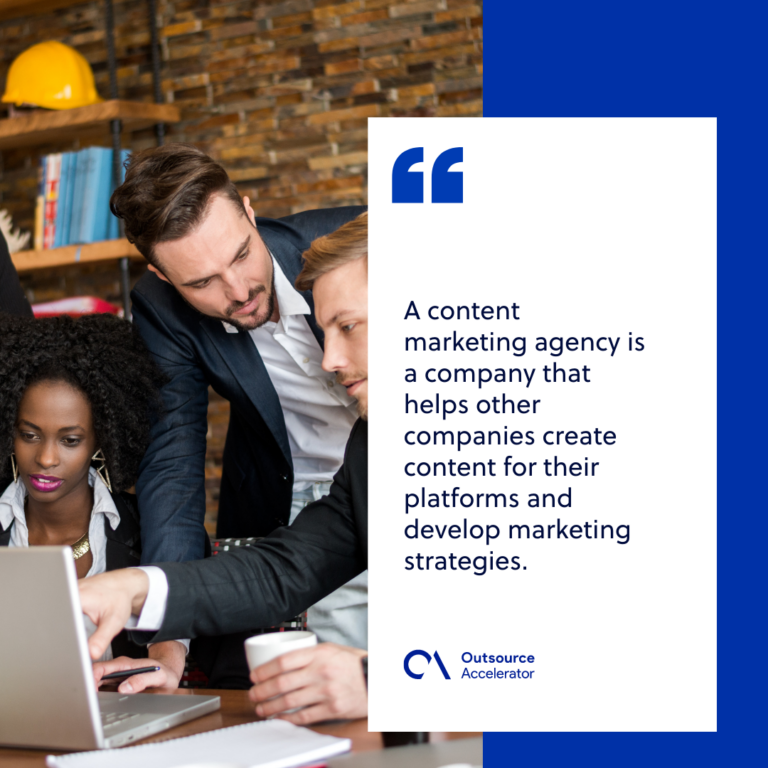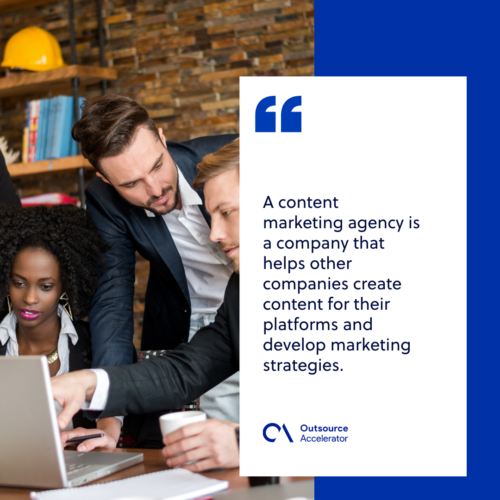 A brief history of content marketing
Content marketing has been around for centuries. However, the term "content marketing" itself was coined only in 1996 by John F. Oppedahl during a roundtable discussion at the American Society of News Editors' journalism conference.
However, the real beginnings of content marketing can be traced as far back as roughly 600 years ago, evolving from leaflets to radio programs up to today's web advertising.
1440s

. Johannes Gutenberg's invention of the printing press birthed brochures and pamphlets marketing goods.

1867

. Hartford Steam Boiler Inspector and Insurance Company published the first issue of "The Locomotive." The magazine is still in circulation today.

1895.

John Deere began publishing "The Furrow," a magazine catering to farmers. The Furrow is still in circulation today, with about 550,000 readerships.

1900s

. Michelin, a French tire company, published "The Michelin Guide," a publication about car maintenance and travel.

1900s

. Niche publications catering to particular audiences started gaining popularity, paving the way for

targeted ads

.

1924

. Sears-Roebuck and Company started its own radio station after the success of the company's radio campaign aimed at the farming community.

1938.

CBS Radio turned itself into a household name after being featured in over 12,000 articles following actor Orson Welles' "alien invasion" scare that gripped the entire U.S.

1940s.

Content marketing experienced a decline due to the rise in the popularity of advertisements and the Second World War.

1960s.

Televisions popularized multi-channel marketing campaigns.

1980s

. The popularity of comic book heroes like Spider-Man opened new avenues for brand marketing.

1990s

. Public access to personal computers and the internet revolutionized content marketing. The emergence of email and websites opened new avenues for marketers.

2000s – present.

The content marketing landscape has been shaped by multi-channel marketing, search engine optimization (SEO), and social media.  Various social networking platforms have led to new approaches to creating and distributing content.
How does content marketing work?
Content marketing works by attracting potential customers and directing online traffic to a brand's website. Once they're hooked, marketers can turn these prospects into loyal customers by using effective marketing strategies.
Content marketers utilize the three stages of the buying process to know the right content that would catch the attention of potential customers.
Awareness stage
During the first stage of the buying process, marketers focus their created content on the primary concerns of customers.
Content targeted at customers in the awareness stage revolve around the challenges, questions, and pain points these customers may have. Such content is educational and offers tips and advice about various topics.
Newsletters, e-books, blog posts, and even videos are the best forms of content for this stage.
Consideration stage
At the second stage of the buying process, content provides helpful information while subtly coursing toward marketing.
Marketers focus the content in this stage on educating readers about the features and functions to look out for in certain products. Needless to say, these selling points bend toward the goods or services that the marketer's brand offers.
The best forms of content for this stage are how-to articles and videos, checklists, and case studies.
Closing stage
This is the stage that focuses on marketing the brand's products. However, marketers still keep in mind to point out why their products are the best and not just keep repeating how great these products are.
The primary goal at this stage is to establish the brand's authority, knowledge, and expertise on a given product and to stand out from the competition.
Product-showcasing videos, user-generated content, case studies, and buyer guides are the best type of content to use in the closing stage.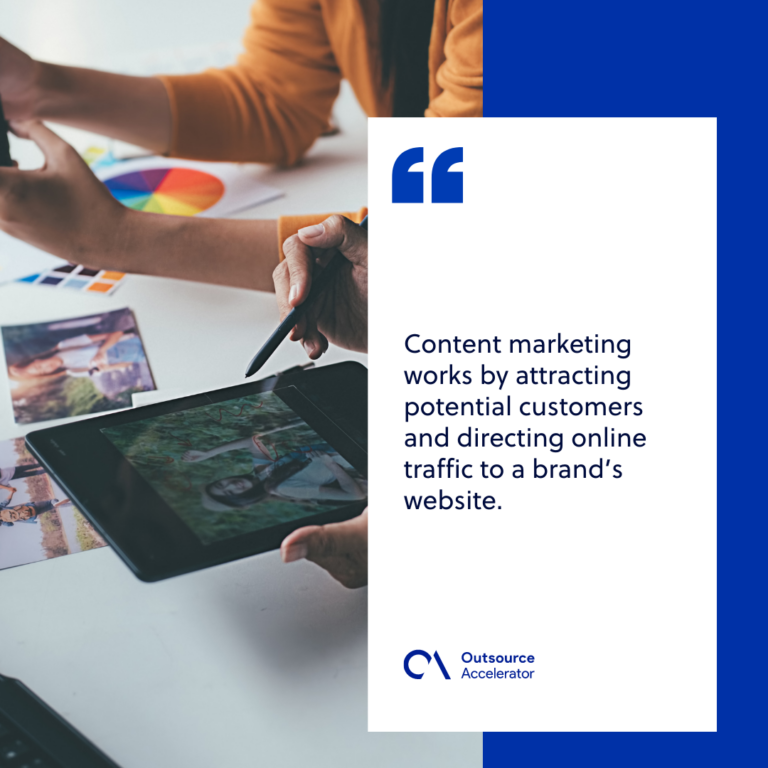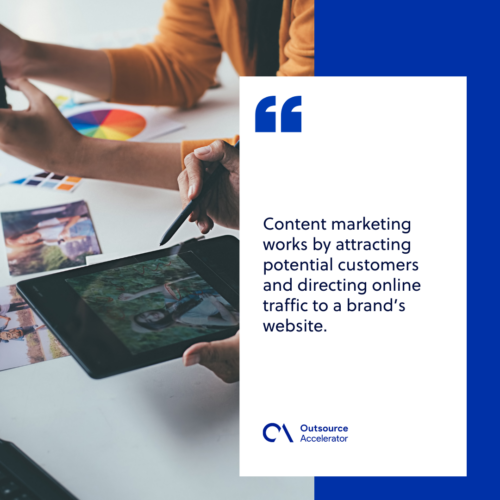 Content marketing agencies
There are no shortages when it comes to content marketing agencies. However, working with top agencies ensures that a brand's content would likewise appear on the top of search engine results pages.
Top content marketing agencies:
Brafton

focuses on content creation and strategy and has a team that writes specialized content supporting an overall strategy. Brafton also has a blog about everything content-related, a resources center, and its own "Above the Fold" podcast.

Brandpoint

employs the Entrepreneurial Operating System (EOS) in structuring its content marketing process into four parts: evaluation, planning, creation, and measuring and optimization. The company also boasts its own SaaS content marketing platform, BrandpointHUB.

Column Five

caters to all types of content and web development, data visualization, and brand strategy. This agency is also known for being the brain behind the

infographic handbook

.

Influence & Co.

provides its clients with a combination of a full-service content team, proprietary marketing software streamlining collaboration, and performance tracking and public relations. This company has been a Content Marketing Award Agency of the Year finalist for three years since 2015.

Verblio

offers expert blog and content writing service subscriptions to companies in need of writing support. Verblio took a novel approach wherein projects are uploaded to its platform, and writers choose to work on the ones they like and submit drafts of these contents. Clients can then choose what they want to use and only pay for those.