Definition
Cold email outreach definition
Cold email outreach is an outbound marketing strategy where the marketing or sales personnel initiates contact with potential customers via email. This is a common method in B2B marketing and happens between businesses in different industries.
The goal of cold email outreach is to catch people's attention and encourage them to consider the company's offer or service. Cold email marketing might be beneficial since it provides a new perspective for potential clients who have not had prior exposure to your brand.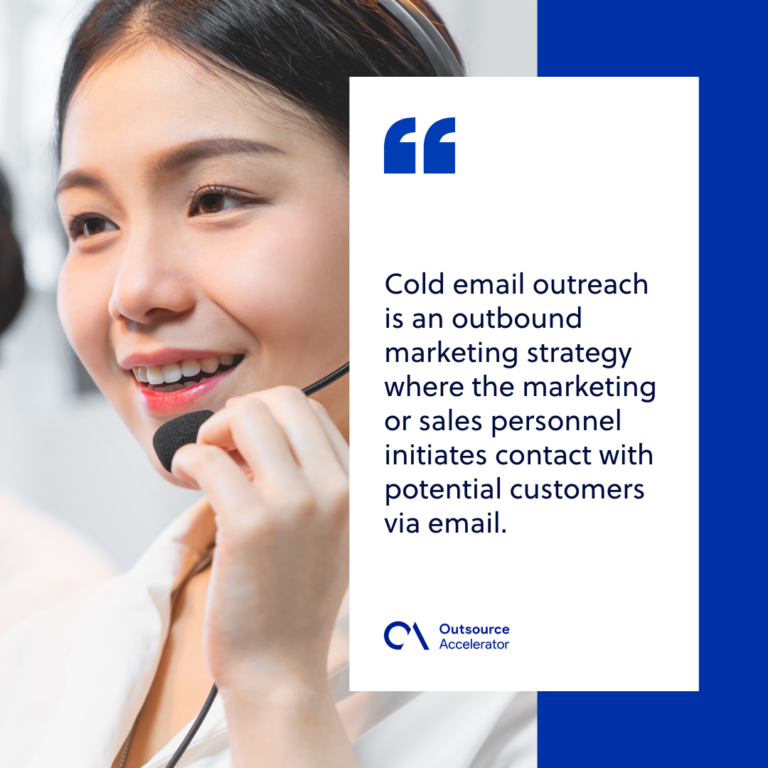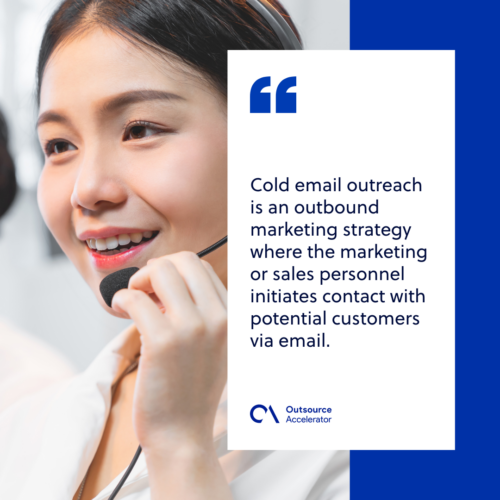 Is cold email outreach effective?
Outbound sales prospecting with cold email is a cost-effective way to generate leads. In this method, you send a cold email to prospective clients with whom you've never collaborated before.
Once you've formed this relationship, nurturing prospects who respond to your cold emails and eventually converting them into customers will be a lot easier.
What are the ways cold email outreach can drive your business growth?
While there are various factors to consider in the growth of a business, cold email outreach can reinforce all strategies when it comes to sales and marketing. Here are some ways cold email outreach can help your business expand.
Sales development
When you need to increase your startup sales, reaching out to prospects can be the only way to get leads quickly. Cold email outreach can gain first-hand market knowledge and validate your offerings. 
Moreover, getting suggestions or comments from customers would be a better cold email marketing technique than promoting your goods straight away.
Networking 
Your network is your most valuable company asset. You may use it to connect with other entrepreneurs in addition to bringing in more leads through word of mouth.
There are various ways networking outreach can help your business expand. You may seek mentoring or expert advice, inquire about cross-promotion opportunities, or invite other businesses to your affiliate program.
Developing long-term strategic collaborations with other organizations can also help your business expand, and unlike sales outreach, networking emails have a greater success rate.
Marketing
Aside from networking, think about connecting with recognized business organizations. Cold email outreach is a great method to spread the news. 
It can also gain press attention for a new product launch, an exciting collaboration, or business storytelling. It can create links effectively with other websites, which will distribute your material if it is original and valuable.
Recruitment
Recruiting qualified individuals for your business is as crucial as developing a strong sales pipeline. And this sector of your company may also be challenging, especially if you're starting from scratch.
If you're seeking the top software developers or experienced co-founders, cold email outreach may be your secret weapon. After all, even if they are not actively seeking work, they may consider your offer if you use an effective email outreach that speaks to them.
Lead generation
Cold email outreach can be used to generate leads. Using a list of leads, your emails may reach actual individuals who are interested in what you have to offer. 
As a result, you can ensure that every single lead has been validated as a live individual interested in the product or service being provided.
Link building
Cold email outreach to individuals about their material is an excellent method to get started with link building. The only rule of thumb is that the email has to be relevant to the website or business.
Business partnership
Cold email outreach may also help uncover potential partnerships with other businesses or individuals within or outside of your industry. It may be used to efficiently seek partnerships with suppliers or influencers that can help boost your brand growth.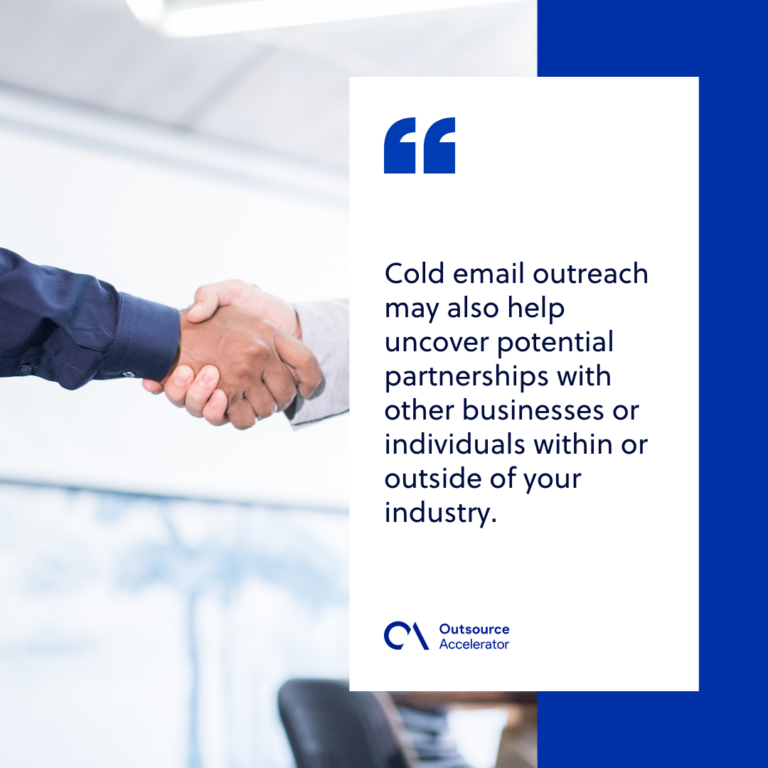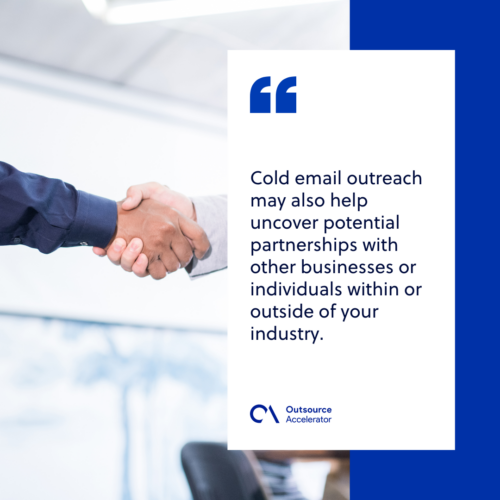 How do you send a cold email outreach?
Here are the most crucial tips to follow when doing cold outreach.
Create a customized message for the recipient
Research is essential to demonstrate to your recipients that you have taken the time to know them and understand their needs.
It is important to let them know why you're emailing them rather than anybody else. You can tell a tale that makes sense to them if you outline exactly where they fit in.
Establish your credibility
When we receive an email from someone, we want to know who they are and why they email us. That said, you must establish credibility and show that they can rely on you.
Mention any direct links you have. In the absence of that, if you have any authority, credibility, or social standing relevant to this individual and your request, say it briefly.
Keep it brief and simple
You can make the recipient feel good about themselves by asking for their assistance, but make sure to keep it straightforward and avoid too much flattery.
Long emails are less likely to get read than short ones. Emails that ask for a clear, specified action have a substantially greater response rate.