Definition
What is Call Closing?
Call closing statements are words used by a call center agent and other professionals to indicate the end of a phone session. After an agent has completed the primary goal of the conversation, they may say anything to the other person on the line to say goodbye and see if there are any questions.
Call-closing statements are crucial components of professional phone discussions as they summarise the key points. It is helpful to terminate a call on a positive note in a polite manner.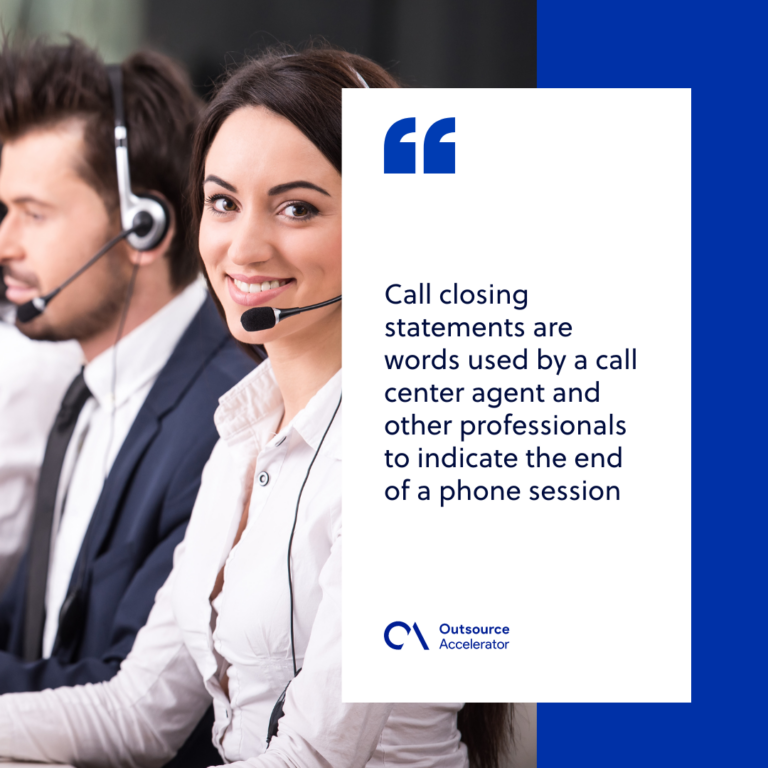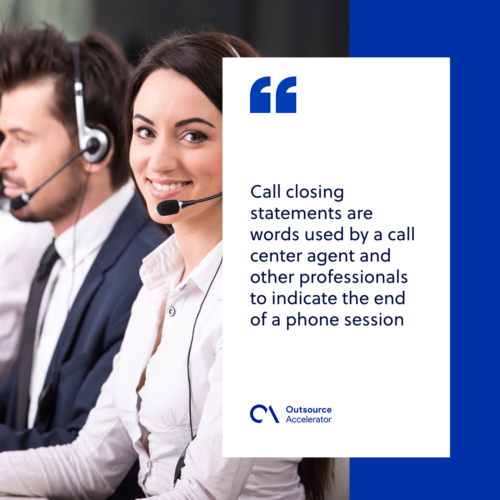 Call closing importance
Call closing is equally as important as the initial caller greeting. It is your last chance to ensure that the caller was entirely satisfied with the service they received and left with a great impression of your company.
Proper phone manners can help in customer experience and the development of positive impressions of your business. It encourages loyalty, customer retention, and brand awareness when you please a customer with the attention and service you deliver.
Courteous and formal closing call statements might also let clients understand that the call is about to stop. It will give them advance notice if they have any other questions and will allow them to prepare to conclude the call.
Effective call closing statements
Not every call will go the same way. Thus, it's important to have statements prepared beforehand that call center agents can use in appropriate situations.
These statements are called call closing statements. Using call closing statements gives agents a polite way of ending calls in a more positive tone.
Some examples of call closing statements are:
"Is there anything else I can do for you today?"

"Thanks for calling [Company name], have a great day!"

"Goodbye, [Caller's name], thank you for calling!"

"My apologies once again for any inconvenience. Thank you for your call."

"I'm happy we could make this right for you. Have a wonderful day."

"Again, my name is [Agent's name]. I'm happy I could provide clarity on [caller's query]. Thank you for calling, and have a great day."

"We're happy to hear from you. Is there anything else I can assist you with before we end this call?"
Effective call-closing strategies
Call closing statements are only as effective as the strategies that call centers use to ensure customer satisfaction.
Haphazardly terminating customer calls can end up bringing more customer complaints than resolving the customer's issue.
Here are some effective call-closing technique call centers can use for a more effective closing call process.
Allow customers to finish
Before starting your call closing statement, ensure the clients have finished airing their problems.
Once they are done speaking, summarize their concern to show that you've understood and ask if they have any further questions. If they have none, you can proceed with your closing phrase.
Offer alternatives
At times, you may need to offer calling clients alternatives for their present problems before you can move on to the next call.
For example, a customer calling to set an appointment at an unavailable date can be given two alternative dates. If these alternatives don't work, the agent can proceed to ask what specific dates work for them.
Once it's settled, the agent can then proceed with the closing statements.
Set a time limit
While giving customers as much time as they need is often preferable, setting a time limit can be helpful for both the customer and agents.
Having a set time for the call's duration can help you focus more on the issue at hand and resolve it faster.