Why must workplace safety be a priority?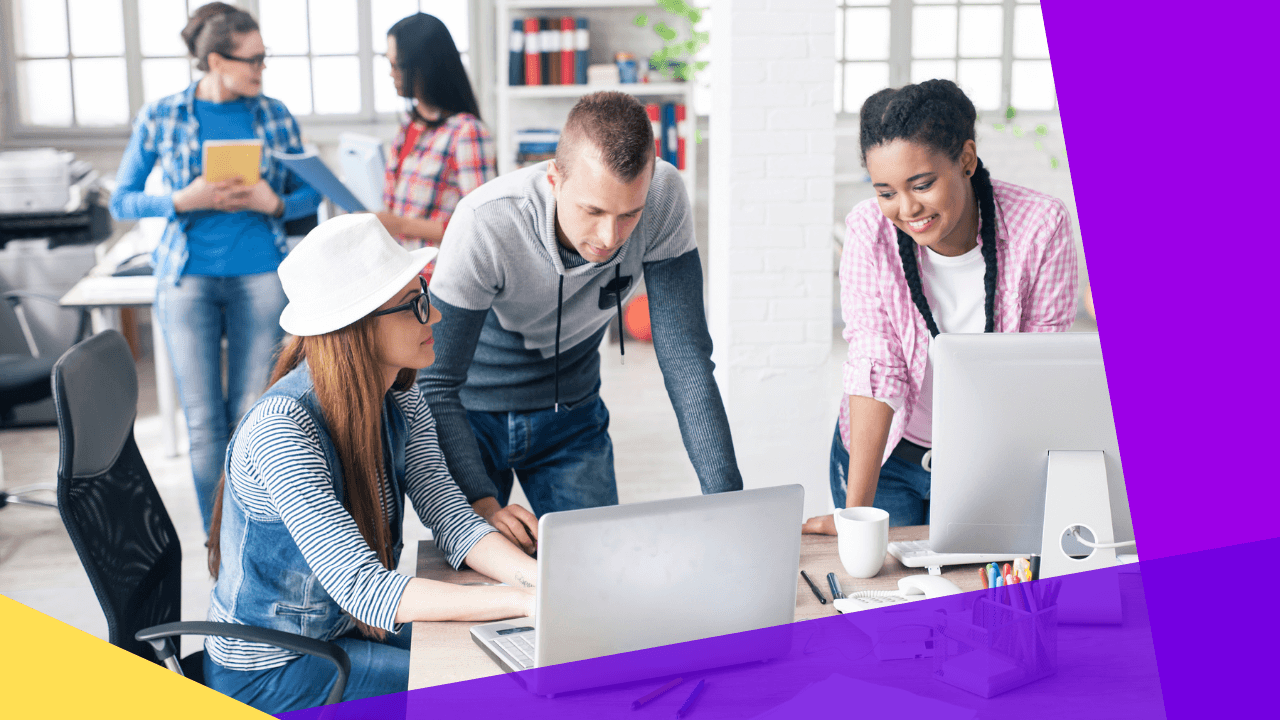 Safety is an essential concept concerning the well-being of human beings. It is the state of being "safe" and protected from danger, harm, risk, and injuries anywhere possible, including the workplace. 
Employees tend to focus better on their work when they feel safe. Productivity and efficiency can increase when organizations prioritize workplace safety, especially in post-pandemic times. 
What is workplace safety? 
Workplace safety implies applying necessary measures to avoid harm, accidents, and other dangers that impact the safety, health, and well-being of employees and other personnel.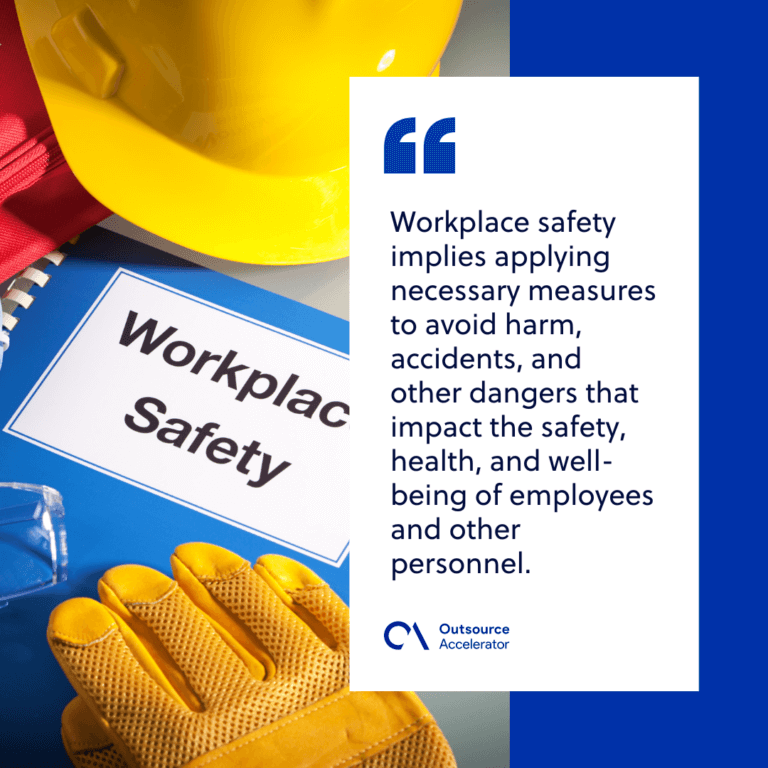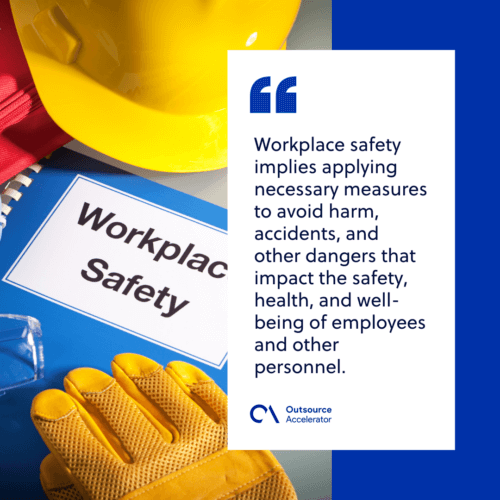 It includes strategies, policies, and precautions of a company or organization to harness a safe working environment that improves the condition of the workforce to produce quality results. 
Risks in health and safety are inevitable in every business or organization. Employers who care for their employees' working conditions must be responsible for mitigating possible threats they might encounter in the workplace.
Benefits of workplace safety
"A safe workplace is a sound business," the Occupational Safety and Health Administration (OSHA) of the US said. The wellness of the employees is one of the critical factors for a more productive and fulfilling workplace. 
Implementing workplace safety measures can benefit employers in these ways, according to OSHA: 
Prevent workplace injuries and illnesses

Improve compliance with laws and regulations

Reduce costs, including significant reductions in workers' compensation premiums

Engage workers

Enhance their social responsibility goals

Increase productivity and enhance overall business operations
Common threats and hazards in workplace safety
Below are some common workplace risks and hazards and ways they could be regulated, according to the International Labour Organization (ILO). 
Physical safety
Physical safety refers to the absence of physical, psychological, and emotional harm or injury that a person can experience. It requires a safe physical environment to achieve.
The following are the common risks to physical safety in the workplace. 
Transport accidents
These are the incidents directly caused by driving private (cars, motors, bicycles, etc.) and public (trains, buses) vehicles used for transportation. Workers may be exposed to this type of accident on their way to and from the workplace. 
Transport accidents include, but are not limited to, road or traffic-related accidents caused by irresponsible drivers (i.e., drunk-driving, overspeeding) and careless pedestrians.
In the United States, an estimated 5,000 fatal work-related injuries occurred in 2020. Among these fatalities, around 2,000 were employees killed in transportation collisions.
These kinds of accidents may be challenging to eliminate wherever the location of the workplace is. Still, it helps if it is situated in a location with strict adherence to road and pedestrian rules and regulations.
The ILO suggests employers do the following:
Risk assessments considering the workplace environment and transport activities, if any

Plan a safe workplace site, preferably with pedestrian lanes safe from vehicles

Provide safe parking lots for employees' and clients' vehicles 
Employers can also do a background check to see if their workplace is safe and accessible for public commutes and transportation. 
Electrical and fire accidents
Electrical accidents 
Electrical accidents occur when an unprotected person is exposed to high-voltage electrical outlets. It is a common workplace accident that can lead to minor and major injuries like electrical burns, shocks, fires, and death. 
Workers can be prone to these accidents when they deal with faulty electrical equipment or exposed power lines. In some cases, these can result to fire accidents when broken circuits and defective wirings come in contact with flammable items like paper and cotton. 
The Electrical Safety Foundation International reported more than 300 fatalities and 4,000 injuries in American workplaces yearly. 
To minimize electrical accidents, some precautions employers can take note of are: 
Have regular inspections for electrical equipment in the workplace

Discard faulty electrical equipment and replace it with safe and functional ones

Provide and wear PPE if necessary

Place electrical equipment in a safe place away from liquid or other areas at risk of contact 

Provide proper training for workers dealing with electrical equipment
Fire accidents
Fire accidents are one of the most dangerous accidents that can occur in the workplace, leading to fatalities and the destruction of companies' assets and property. 
This kind of accident can occur due to defective electrical equipment, cluttered and unorganized workplace, exposed flammable and combustible materials, and negligence of workers in adhering to safety precautions. 
Some safety precautions to take during a fire outbreak are:
Have fire exits readily accessible according to the size and composition of the workplace establishment

Install fire alarms and extinguishing systems

Practice regular obligatory fire drills 

Avoid overloading power circuits

Impose a non-smoking policy in the workplace 

Isolate flammable and combustible items away from power circuits and electrical outlets 
For electrical and fire accidents, ensure that the workplace has a prompt system for reporting and documenting electrical exposure incidents. Have local hotlines for hospital ambulances and fire department ready in the workplace's telephone directory. 
Machinery and tools risk
Industries like construction, building, and factories may expose workers to high-risk machinery and tools accidents when mishandled. 
Like electrical and fire accidents, machinery and tools risk occurs due to defective products and equipment and mishandling due to a worker's insufficient knowledge and negligence in practicing safety precautions. 
Accidents related to machinery and tools vary from minor injuries to major and long-term damages that can even lead to death.
Employees that experience these accidents due to faulty machinery and tools reserve the right to compensation the employer offers, like hospital bills and other expenses. Employers also have a product liability claim against its manufacturer. 
Regular risk assessments must be performed to prevent such accidents, like maintaining tools and machinery and replacing faulty ones, wearing PPEs when working, and organizing training for proper use. 
Exposure to hazardous substances or environments 
Businesses dealing with chemicals and substances are prone to accidents related to exposure to hazardous and toxic materials and should be foreseen before it occurs.
Employers of chemical-related businesses must put maximum effort into applying health and safety measures to protect their workers from inhalation, ingestion, and direct and indirect skin contact.
Some hazardous chemicals that workers may be exposed to are corrosives, irritants, teratogens, and carcinogens. 
Concerned officers must take extra measures like
Labeling chemical substances to lessen complications

Providing and wearing personal protective equipment when handling chemicals 

Having a work and duty roster for every employee to monitor daily activities and limit exposure 

Practicing strict health and safety protocols prescribed for dealing with chemical substances 
Theft and larceny 
Theft and larceny occurs when an employee illegally acquires monetary or property assets from their company due to adverse and unfavorable working conditions.
Theft in the workplace may occur in the forms of overcharged reimbursements, presenting fake invoices, falsifying documents, stealing directly from the company's vault or bank, and redirecting incoming payments to previously paid transactions or larceny.
Some employees might think taking home pens or paper clips is just minor, but it's already considered stealing private property.
Implementing anti-theft policies and workshops, installing CCTV cameras, heightening security measures, and verification of receipts and invoices for transactions are measures to reduce workplace theft.
Workplace harassment 
Lastly, harassment is a critical form of workplace issue that may take place in the form of physical, verbal, sexual, and emotional demeanors.
Employees, regardless of gender, can be affected by this risk. It is often rooted in a toxic and unhealthy work environment that can result in employee underperformance, trauma, and other mental health issues.
According to U.S. Equal Employment Opportunity Commission, prevention is the best tool for eliminating workplace harassment.
A company or organization needs to harness healthy relationships between coworkers by setting boundaries, having a safe space for victims to communicate and report abusers, and not tolerating such actions.
The human relations department must take charge of this issue, establish effective complaint channels and grievance processes, and organize anti-harassment training. 
Victims of workplace harassment are not the only persons concerned in this issue but also witnesses of the crime. Laws protect those reporting such offenses if an employee fears job loss or damages. 
Mental and emotional safety
Often, the workplace is under high pressure. Employees may find it difficult to avoid stress. In the worst conditions, it can affect their mental and emotional safety.
The World Health Organization (WHO) reports that approximately 12 billion working days are lost yearly due to depression and anxiety, costing up to US$ 1 trillion per year in lost productivity.
WHO also imposes that every worker has the right to a safe and healthy working environment supporting good mental health.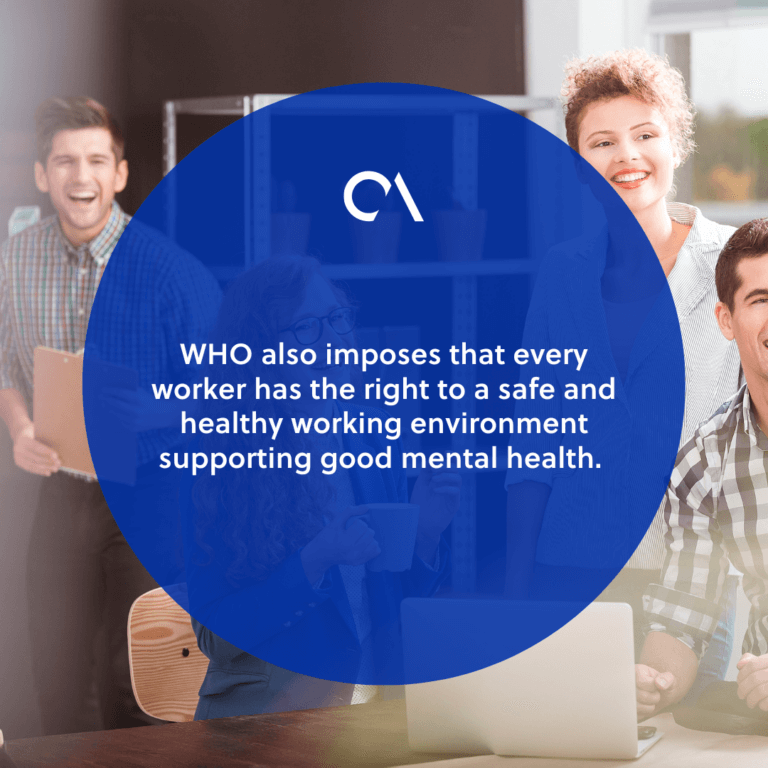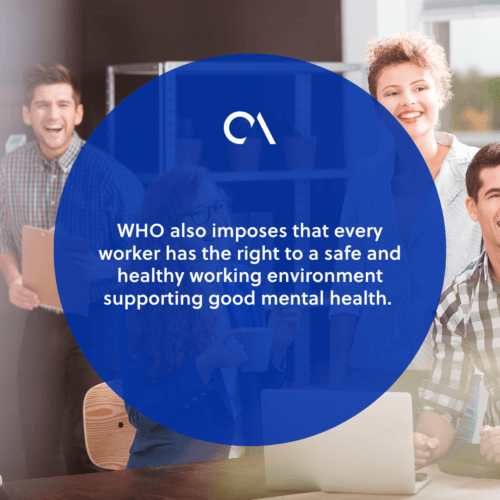 Providing an inclusive working environment with adequate structures and support systems can minimize the risks of workers' mental health problems and improve their confidence, social functioning, and overall job satisfaction. 
Having regular employee intervention, mental health check-ups, or organizing fun activities like team-building can build and improve workplace relationships. 
Employers must also be wary of burnouts, a common experience among stressed employees. While bosses and managers can find themselves accountable for it, as simple as offering words of encouragement can be a big help for their workers. 
A work-life balance mindset can also foster a mentally and emotionally safe workplace. 
Workplace safety in the post-pandemic era
The COVID-19 pandemic may have toned down, however, transmissions still occur and the workplace is not exempted from possible exposure to the virus. 
WHO partners with worldwide health departments in practicing health and safety measures to prevent chains of transmission "to save lives and livelihoods."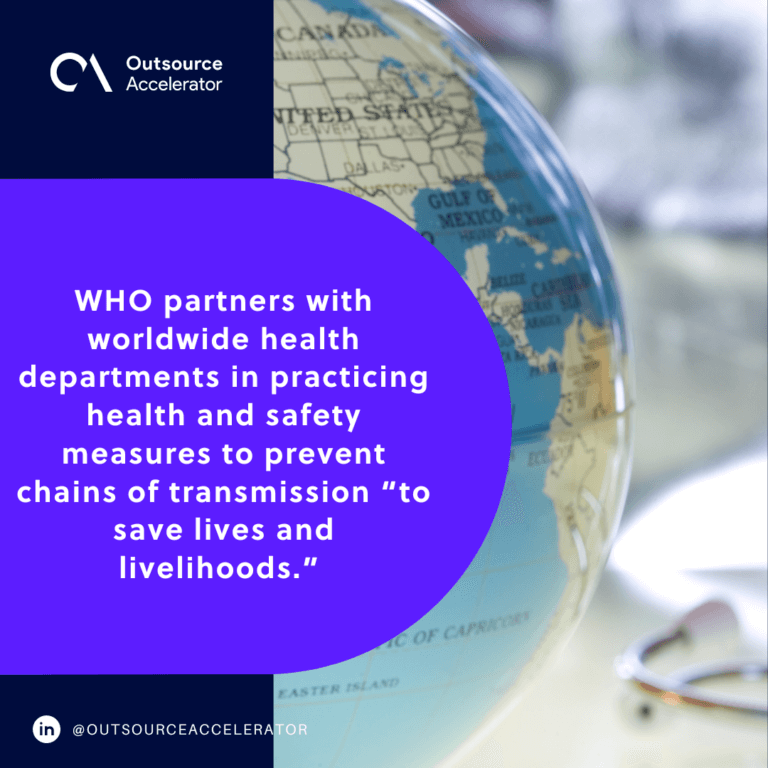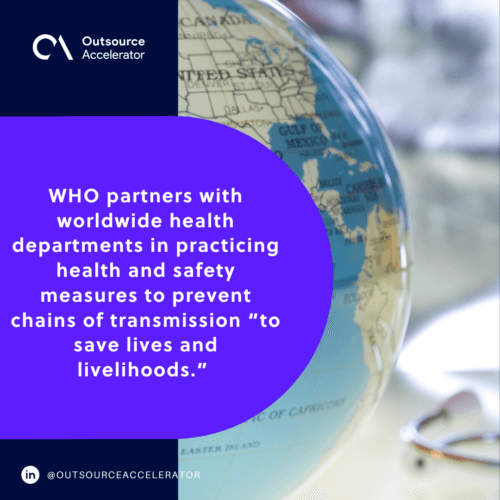 The organization suggested measures to assess and mitigate factors like
Conducting thorough risk assessment 

Contact tracing

Physical distancing

Improving ventilation

Regular disinfection 

Communicating with local health offices for cases and concerns

Strengthening occupational health and safety protocols in the context of COVID-19
Strict implementations of isolation and quarantine of affected persons are necessary in cases of detection to protect coworkers and family members. 
Organizations are required to practice setting and maintaining safe and sanitized workstations 
and undergo mandatory courses on Basic Occupational Safety and Health Training in relation to handling the COVID-19 virus.
Measuring workplace safety 
Every business or organization is expected to comply with their nation's policies on Occupational health and safety (OHS) measures under the labor department, specifically in the public health sector, to alleviate health and safety standards in the workplace. 
The International Organization for Standardization (ISO) introduced ISO 45001, an international standard that specifies requirements for OHS management systems to push for a worldwide effort to improve injury prevention and harm reductions while protecting the longevity of laborers.
Organizations must acquire an ISO 45001 certification to meet workplace safety requirements.