Why outsourcing is the next big step for your business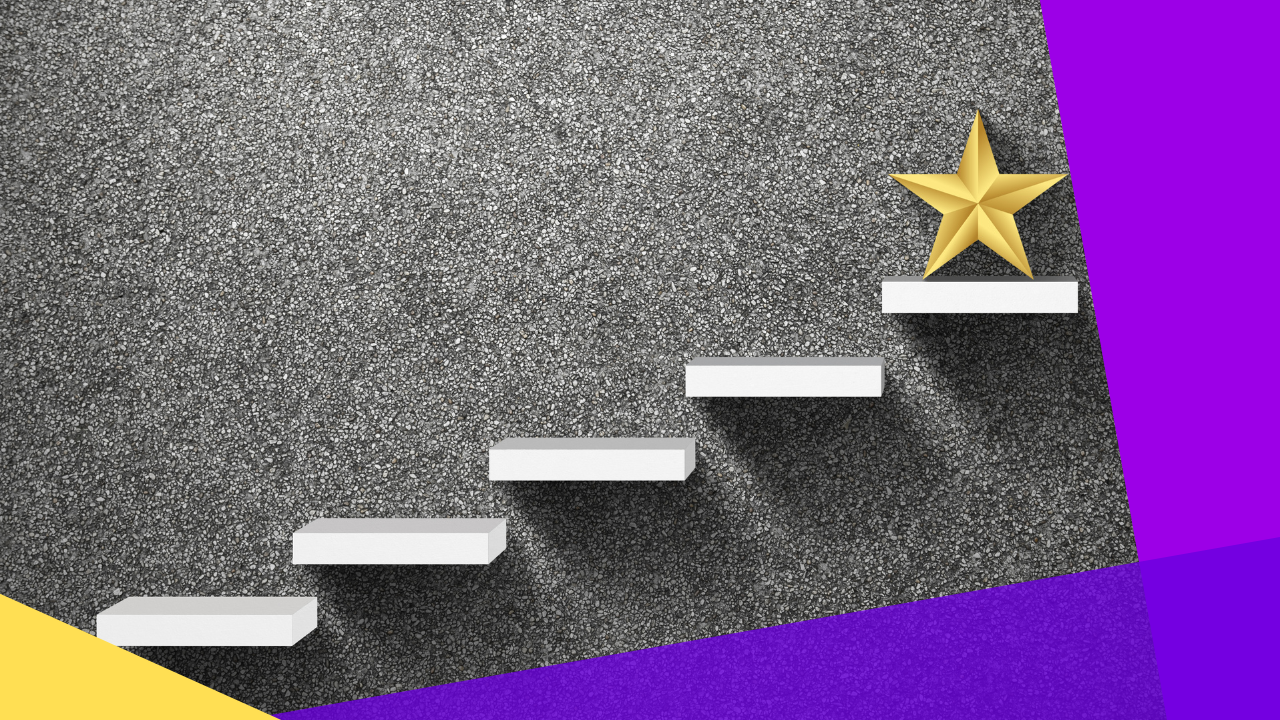 Are you tired of playing it small?
A lot business owners are. They want to expand but are unable to do so because of financial constraints. You don't want to sacrifice today's profits for the uncertainty of tomorrow.
And here's the thing: you don't have to.
Simply, you can outsource tasks and be on your way to better ROI, better business, and better life.
Benefits of outsourcing to your business expansion
 1. There are minimal risks
Because you don't have to invest as much in additional expenses that come with business expansion, you won't be risking a lot. You'd still have the same chances of success.
Thanks to outsourced labor, your business will remain stable even as it treads newgrounds.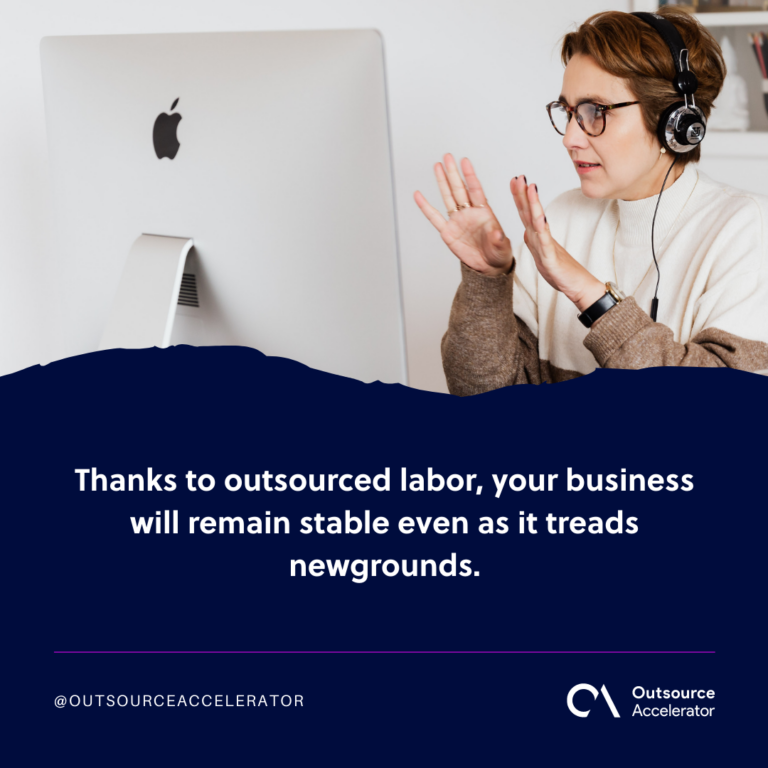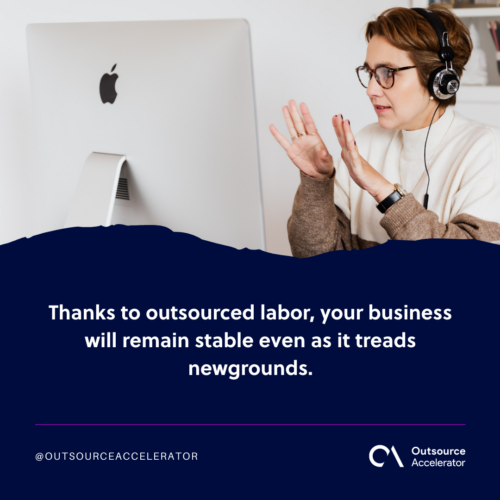 2. You won't have to take out business loans
Expansion will definitely make a dent on your profits, that's inevitable.
But do you really need to deal with paying for it with money you don't have? Interest rates is but another expense where you pay something for nothing.
Outsourcing doesn't take a huge chunk out of your profits and rids you of the tedious process of getting a business loan. And if you aren't successful, how are you going to pay your lender back?
So instead risking everything you worked hard for by taking out a loan, you can draw the funds right out of the company's coffers.
3. You will have more time to manage your growing business
When the expansion is already on its way, you have to keep a closer eye on everything. How are you going to do that when you're burdened by various responsibilities?
Outsourcing lets you allocate tasks to your choice of expert from anywhere in the world, and frees you up to take on bigger and more important duties.
Factors to consider in choosing the right talent for outsourced tasks
1. Track record
How effective was he in his role?
You shouldn't have to 'test drive' qualified candidates because it only delays business expansion. Instead, you should look at his track record.
If you're hiring a writer, look at relevant writing samples. For a graphic artist, check out his designs.
This is the closest you can get to gauging his competence without spending a single penny.
2. Recommendations
What do his past clients say about him?
For example, he's the most skilled out of the bunch. But if you find out that he's lazy, are you still going to hire him?
The need for client recommendations goes beyond his work ethics. Sometimes, you simply have different values: you like to be updated every day, but he only gets in touch when he has the output already.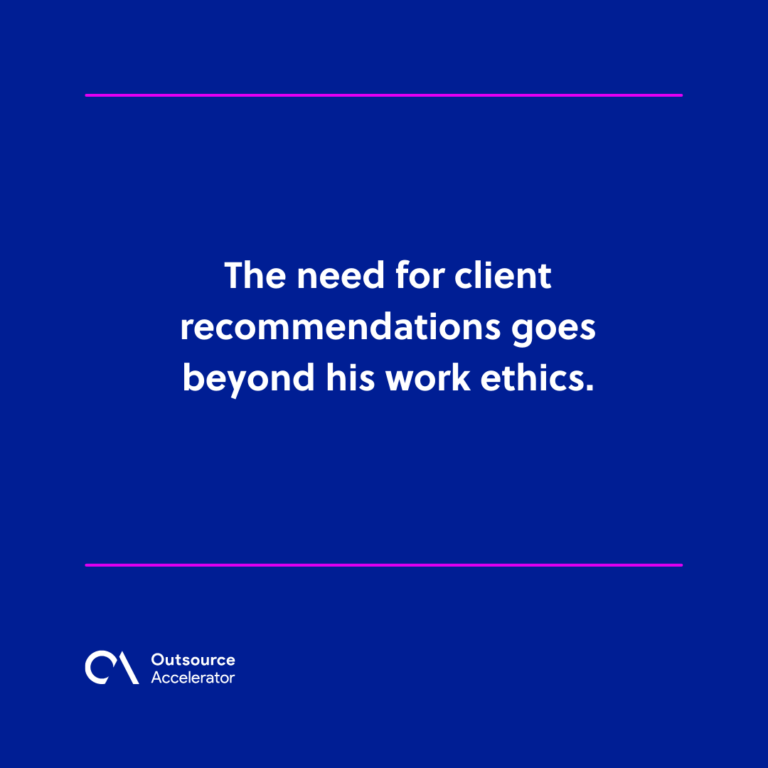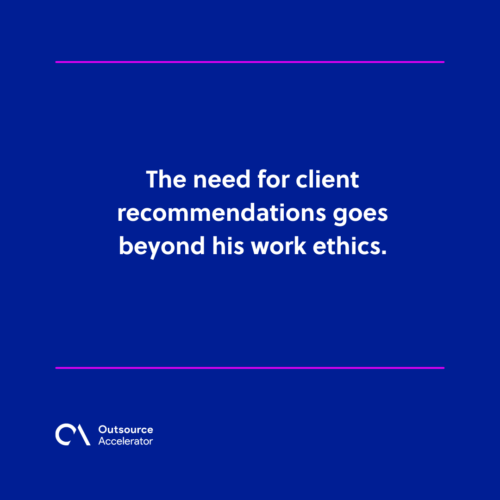 3. Rate
Consider your budget before deciding. Of course, you'd want to spend as little as possible, but it's not always a good idea to do so.
It's the same with shoes. You can get something for $10 a pair, but how long will that last you?
Don't go over your intended budget. Instead, find the right balance between talent and rate.
Thanks to outsourcing, success isn't risky at all! You can open new opportunities for business growth without spending a fortune.
Save 70% on staffing costs, increase your revenue, and out-compete your competitors with our outsourcing blueprint here.