Here's how OP360 can supercharge your website optimization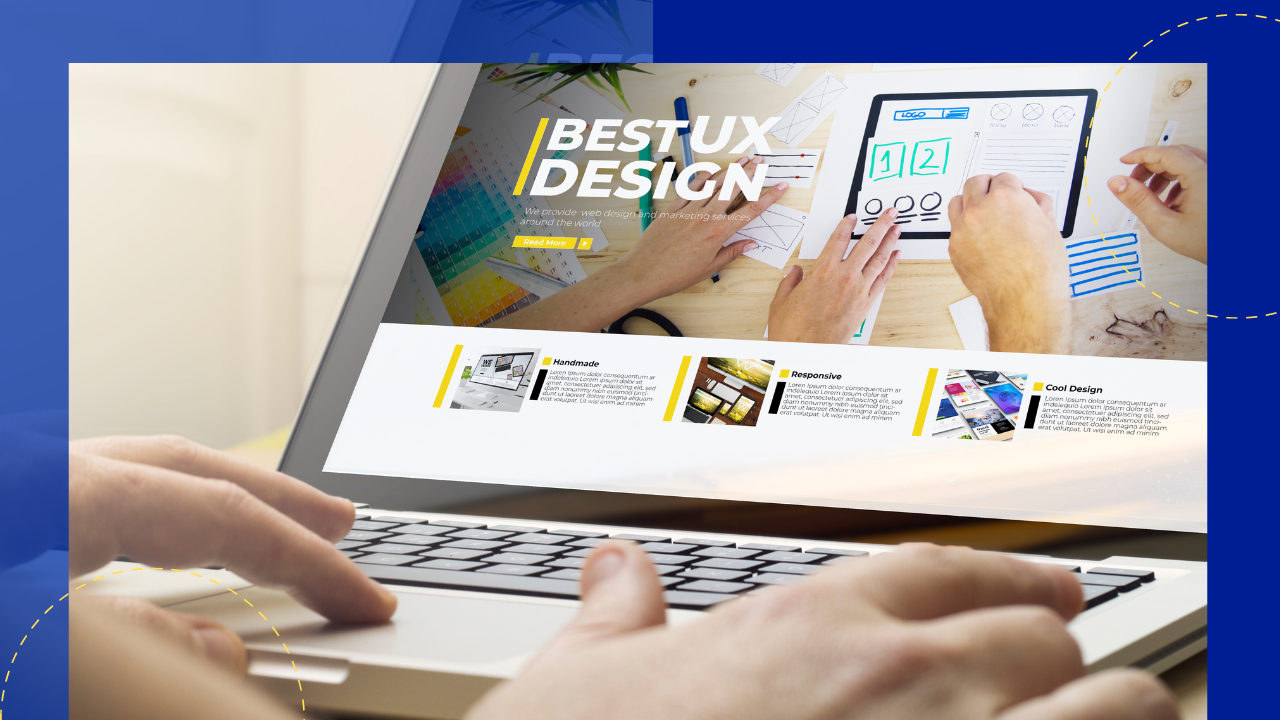 In the e-commerce industry, a website's performance is a critical factor that can lead the organization to customer success rates.
But when a website's performance is compromised—manifesting as sluggish loading times and inadequate optimization—it has the potential to repel potential customers. This sends them to seek alternatives that promise a more seamless and swift online experience.
According to The Digital Marketing & Ecommerce Experts, 74% of companies think enhancing customer experience would increase sales.
Websites that fail to meet user expectations rank lower in search results, thus limiting their visibility to a broader audience.
This is where you can trust OP360 to supercharge your website optimization via its relevant technical solutions.
Importance of website optimization:
Website optimization enhances your website's functionality, user experience, and search engine exposure.
This comprehensive process involves refining various website elements to ensure it operates at its best, creating a seamless user journey while maximizing its online presence.
A well-optimized website extends beyond aesthetics and convenience. It directly influences a company's bottom line, contributing significantly to its success.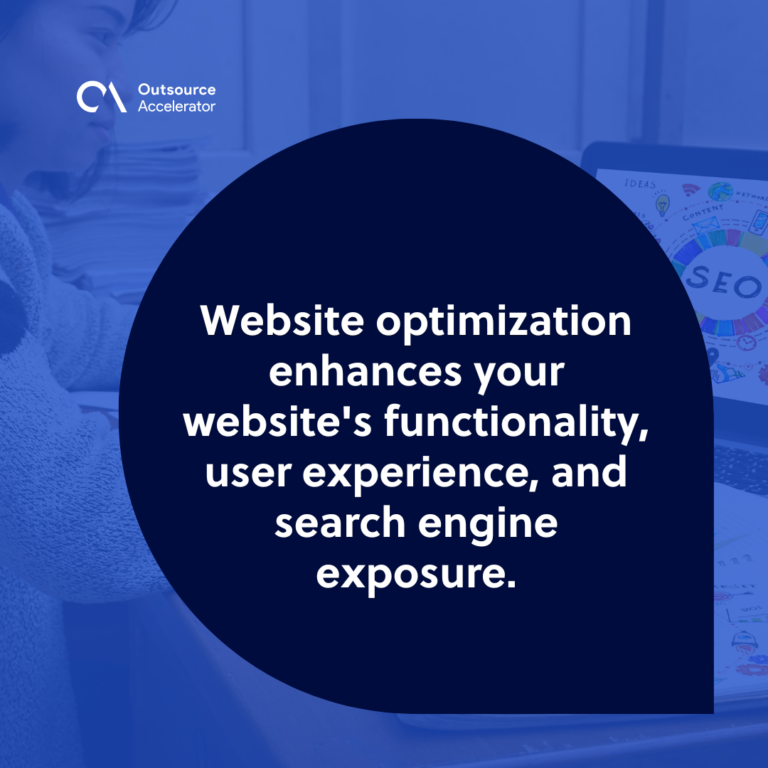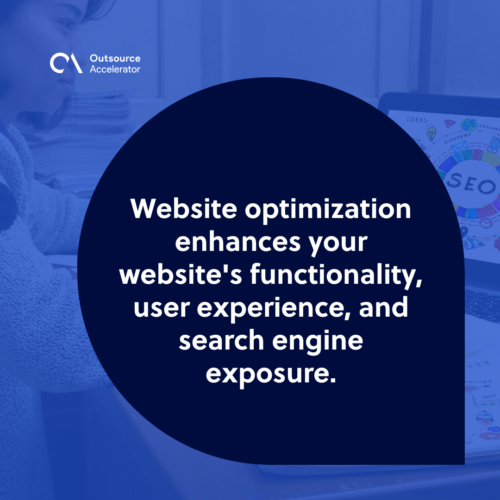 The advantages of effective website optimization are manifold and can drastically alter a website's performance trajectory. Among these benefits, one of the most noticeable is the significant improvement in page load times.
Research consistently shows that if a website takes longer than three seconds to load, 60% of users will leave it, and most won't return. This leads to higher bounce rates and reduced engagement. 
A website that is easy to navigate, aesthetically pleasing, and functional across devices encourages users to stay longer, explore more, and potentially convert into customers.
Common factors affecting website performance
Several elements can influence the performance of your website. Identifying and addressing these issues is crucial for delivering a seamless user experience.
Let's look at some of these factors:
Hosting and server configuration
A website's speed and stability profoundly influence its hosting quality. Slow or unreliable hosting can result in prolonged loading times, frequent downtimes, and a subpar user experience. 
As noted earlier, this scenario directly affects user engagement, as visitors will likely abandon a site that fails to load promptly. 
Content size and complexity
Large and complex website content, including images, videos, and scripts, can slow down your website. 
Your content should strike a balance between visual appeal and loading speed. This involves compressing images, minifying code, and implementing lazy loading for media elements.
Unoptimized images and media
Including high-resolution images and unoptimized media files within a website's content can substantially affect loading times. 
While visually appealing, these media assets often come with larger file sizes requiring more bandwidth.
Render-blocking resources
When a web page's scripts and stylesheets prevent the seamless rendering of content, it results in a sluggish user experience. These resources, crucial for functionality and design, can delay page display, frustrating visitors.

OP360's website optimization solutions
OP360 offers a comprehensive suite of website optimization solutions that cater to various aspects of performance enhancement:
In-app support
This unique feature is designed to empower clients with real-time assistance and guidance as they navigate the intricacies of website optimization.
With in-app support, clients can access a dedicated channel to interact with optimization experts directly from the OP360 platform.
Clients can swiftly seek assistance whenever a question or unexpected challenge arises. It does not need to switch between platforms or engage in lengthy email exchanges.
User behavior tracking and analysis
Understanding user behavior is the cornerstone of effective website optimization. OP360 employs sophisticated tracking and analysis tools to gather valuable insights into how visitors interact with your website. 
This data-driven approach empowers you to tailor your website to user preferences, resulting in enhanced engagement, longer visit durations, and increased conversion rates.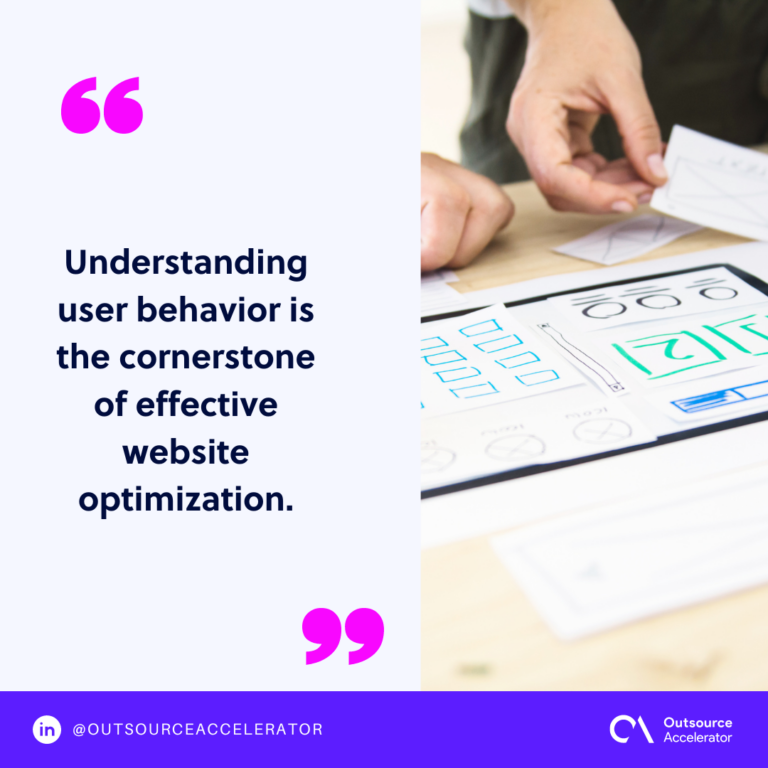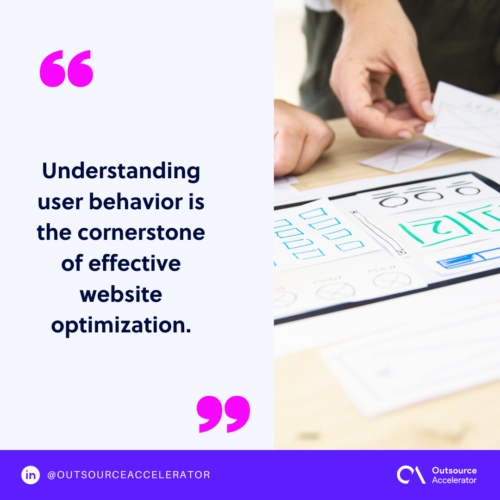 Mobile-friendly design suggestions
OP360 excels at providing actionable suggestions to optimize your website for mobile users. The firm's top-tier talents offer design recommendations that ensure your website looks and functions flawlessly across various devices and screen sizes.
Let OP360 take care of your website optimization process
Website optimization can be complex and time-consuming, especially if you're not well-versed in the technical aspects. 
By partnering with OP360, you can offload the optimization process to professionals who understand the intricacies of performance enhancement.
Furthermore, with this outsourcing firm's tailored solutions, you can focus on your core business activities while they fine-tune your website for optimal performance.