5 types of website moderation you must be aware of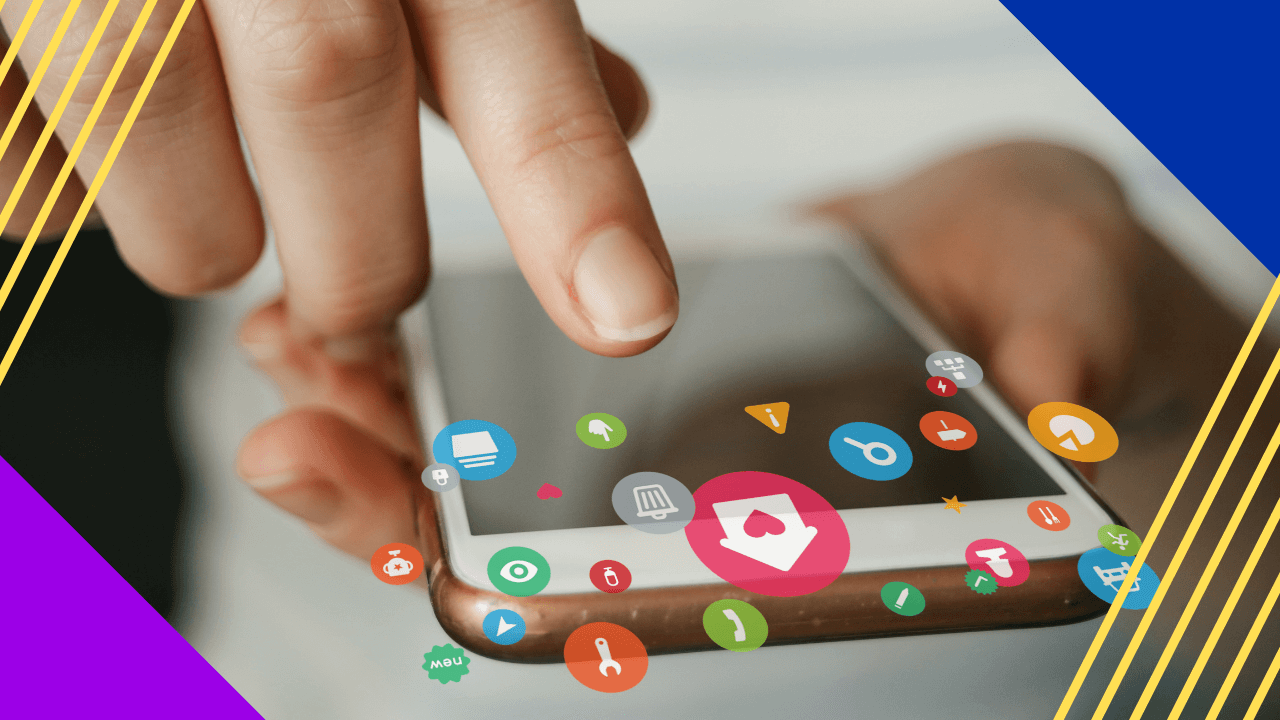 Having a website helps build your brand reputation in that you can showcase your products and services effectively. Users, on the other hand, can freely look into your brand and determine how your offerings can benefit them. 
Another great advantage of having a website is that your patrons can have a platform to share their feedback about your brand. 
User-generated content (UGC) that you publish on your site is a good way to enrich your customers' trust. At the same time, it helps you rank higher on search engines. 
As a site owner, you would want to post content that supports your brand. However, you cannot control what people will say about your brand, and this is why you need website moderation to protect your name. 
What is website moderation?
Website moderation is also referred to as content moderation. It is the process of making sure that all user-generated content submitted to your site follows your guidelines and is within acceptable behavior. This applies to all types of content like images, videos, or text. 
It is the responsibility of website moderators to ensure that your online platform has a safe environment for your brand and your users. 
The website moderation process happens once content is submitted to your site. From there, each piece of content will be screened and filtered to make sure that they are – legal, free of hate, non-violent, and appropriate to your brand.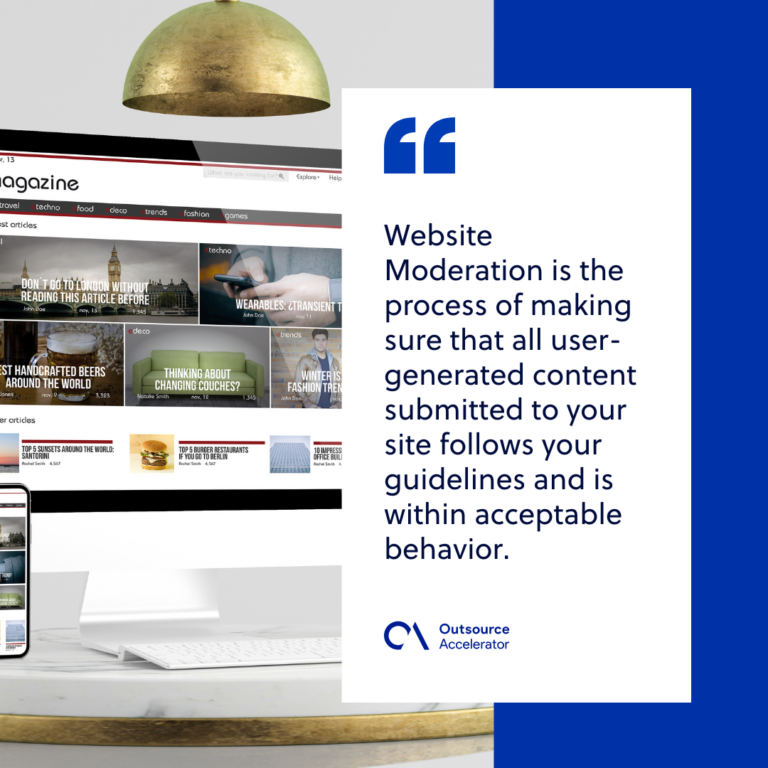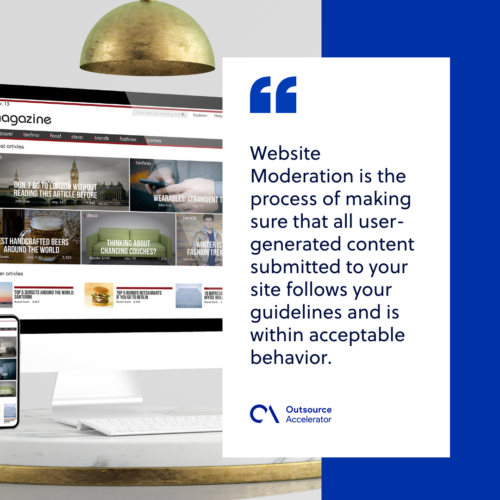 Website moderation: Community manager vs website moderator 
The goal of website moderation is to always safeguard your users and your brand reputation. Apart from that, it should foster a good customer experience for your patrons. Both a community manager and website moderator aim to look after the safety of your brand and customers.  
Although they have the same goals, a community manager has distinct differences from a website moderator. Below, we have outlined the specific functions of the two: 
Community manager responsibilities
A community manager has the following roles and responsibilities: 
Set up community rules and guidelines. 

Put together community structure. 

Describe specific community roles and responsibilities.

Determine and manage the most active users. 

Handle and manage moderators. 

Create and manage an engaging

content calendar

. 
Website moderator responsibilities
A website moderator, on the other hand, has the following roles and responsibilities: 
Maintain a positive atmosphere. 

Reply to abuse reports. 

Respond to member suggestions and requests. 

Make sure everyone abides by community guidelines and rules. 

Identify customer services concerns and issues. 

Review all community participation. 
Community managers oversee your brand's community whether it is online or offline. They interact and engage with customers on different communication channels like social media platforms, forums, and other communication apps. 
Meanwhile, website moderators solely focus on your website content. 
5 types of website moderation 
To successfully monitor and screen all your user-generated content submissions, here are the five classifications of website moderation you must be aware of: 
Pre-moderation 
Pre-moderation is considered the most popular type of website moderation. This type of website moderation is best for brands that manage high volumes of user-generated content. It is also the kind of website moderation used for sites with children as their target audience. 
One downside of pre-moderation is that, because sites have high submission volumes, it often leads to a lack of immediate gratification for the users. As a result, interactive content will lose its relevance. 
Post-moderation 
Post-moderation is best used for websites that need active moderation. In this type of website moderation, all submitted content will instantly be posted to your site. Later on, this user-generated content will be reproduced, either to be removed or passed by your website moderator. 
Website moderation of this type is immediate, and moderators act upon content that violates your community guidelines. 
Reactive moderation 
In reactive moderation, the members must call out behaviors and content that breach your rules and guidelines. A report button is placed on each user-generated content, wherein users can click on it to notify your site moderators. 
One advantage of this kind of website moderation is that you can use it as you scale your community without having to add on your cost or needed resources. It can be utilized alongside pre-moderation or post-moderation. 
Distributed moderation 
Distributed moderation uses a voting system. Members of the community will have to vote on whether the submitted content is in line with the community guidelines or not. They are also in control of screening comments or posts, usually upon the guidance of your senior moderators. 
Automated moderation 
Automated moderation is one type of website moderation that is not a human-powered system. It utilizes tools for website moderation to approve or reject a user-generated content submission on your website. This process, of course, will also be based on your defined community rules and guidelines. 
The most commonly used tool of today's brands is a filter function that lets you list down banned words or phrases on your site. The tool will either reject, replace the words, or block the UGC altogether.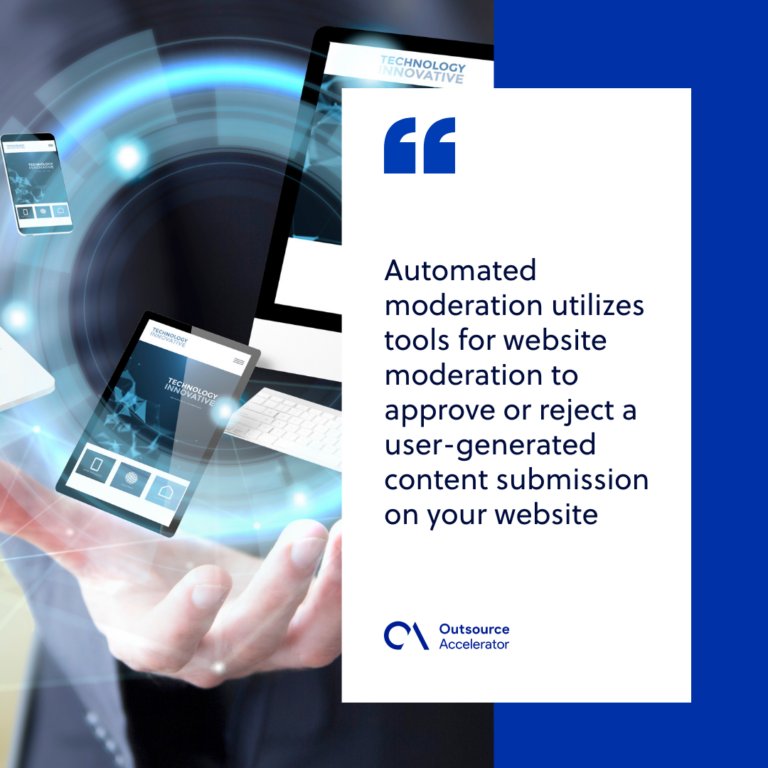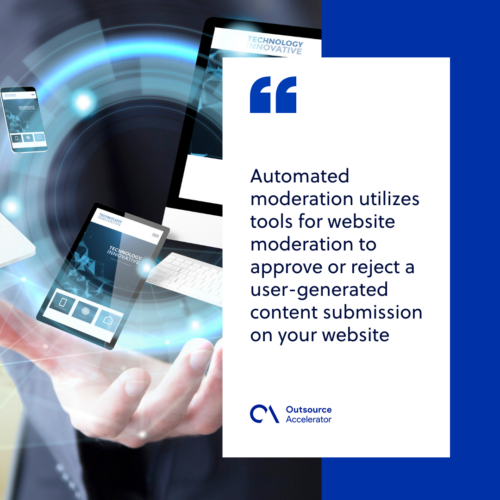 How can outsourcing website moderation help? 
Outsourcing website moderation can help you actively protect your online reputation as your site will be closely looked after by dedicated website moderation specialists. 
These experts in the outsourcing industry are usually well-experienced in handling website moderation for various industries. This means you will most likely not be required to train or even provide them with needed tools for the job. 
On top of that, outsourcing is a proven cost-effective business solution for companies of all shapes and sizes. Through outsourcing, you can take full advantage of skilled specialists while saving time and financial resources. 
Find your outsourcing partner today on Outsource Accelerator's BPO Directory!