10 video editing trends in 2023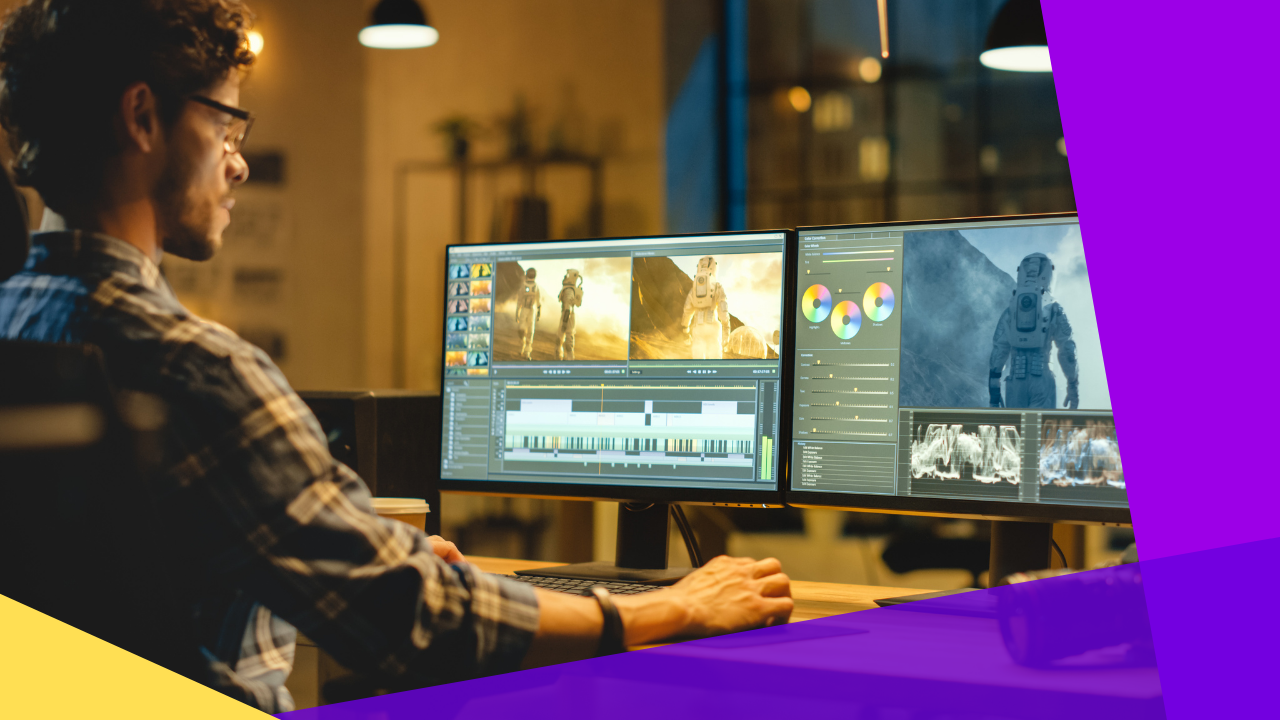 Video is now an essential component of most marketing campaigns.
It's a great way to get your audience more engaged on your digital and social platforms while also giving you new ways to connect with them.
With a focus on this year's video editing trends, we'll explore everything from short-form videos to full-length features.
What is video editing?
Video editing is the process of putting together production footage, special effects, text, and sound recordings to create new creative material.
The output can range from a few seconds to movie-length videos.
Video editing is a vital process in the movie and entertainment industry as much as it is a necessary skill in the digital world.
The primary purpose of video editing is to deliver the intended message through visuals and sounds and bring it closer to the target audience.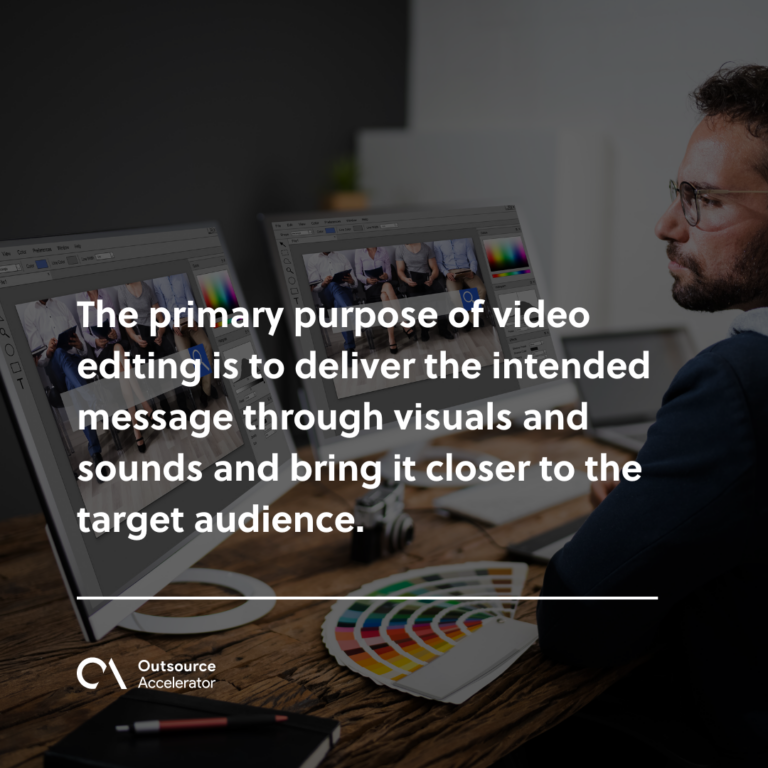 Types of video editing
There are different types of video editing, depending on the process:
Linear video editing. The process of cutting and editing movies or videos in a certain sequence, usually from start to end.
Offline editing. It uses raw footage in lower resolutions, which will then be converted to a higher quality during online editing.
Online editing. High-resolution videos are used to replace the offline edit.
Cloud-based editing. The final render is handled by the cloud, and it can even be published on social media.
Vision mixing. Live video from many cameras may be sliced and edited in real-time with video mixing.
Non-linear editing (NLE). A type of offline video editing where the content can be modified at any sequence.
Examples of video editing software
Any software application that can edit, change, generate, or manipulate a video or movie file is referred to as video editing software. Here are some examples:
Adobe Premiere Pro
Adobe Premiere Pro is an industry-standard video editing program used by professionals across industries. This video editing software boasts a comprehensive interface packed with advanced features to edit videos.
Professional or not, video editors find Premiere Pro useful for producing videos for social media, the web, film, and even television.
Final Cut Pro
Another industry standard is Final Cut Pro, which is exclusive to Apple Mac. This video editing software is a great tool for the stabilization and quick rendering of high-quality outputs.
It is an ideal software for users of the Apple ecosystem as it allows them to import projects easily from an iPhone or iPad to a Mac computer.
Shotcut
Shotcut is an open-source video editing tool with extensive video and audio features and support for a wide range of formats. This video editing software is an option for sharing on social media.
Video, audio, and picture formats are supported using FFmpeg in Shotcut. Multiple video tracks can be edited on a timeline using various file formats, such as MPEG and MPEG2.
FlexClip
FlexClip is an amazing online tool that has endless effects and features to edit your video clips. An intuitive user interface makes this editor easy to use.
All you have to do is log in, choose from the more than three thousand available templates, substitute the video you want to use, add different elements and transitions, and, finally, download the file in the desired resolution.
10 video editing trends to be aware of
Here are the top 10 video editing trends to gear up for:
1. Short-form videos
Short-form video is one of the top video editing trends today because of the rise of innovative video-sharing sites.
Marketers make use of short-form videos as brand-related materials, which allows them to reach more prospects in a shorter period of time.
Short-form content usually spans less than 2.5 minutes. These types of videos are usually uploaded on social media.
Although, different platforms have set restrictions regarding the length of videos.
For example, 2.2-minute videos on X is permitted. However, TikTok allows up to three minutes when recording videos and up to ten minutes when uploading them on the app.
Competitive content is vital in this type of video editing trend because of its limited time.
2. Live streaming
The live-streaming market has been seeing a steady rise even before the pandemic and is projected to grow as much as USD 416.84 billion by 2030.
In live streaming, the video feed is broadcast over the Internet in real-time rather than being captured and edited first as in traditional video-sharing.
Customer engagement is increased when videos are streamed live on social media; it is even three times more popular than pre-recorded videos.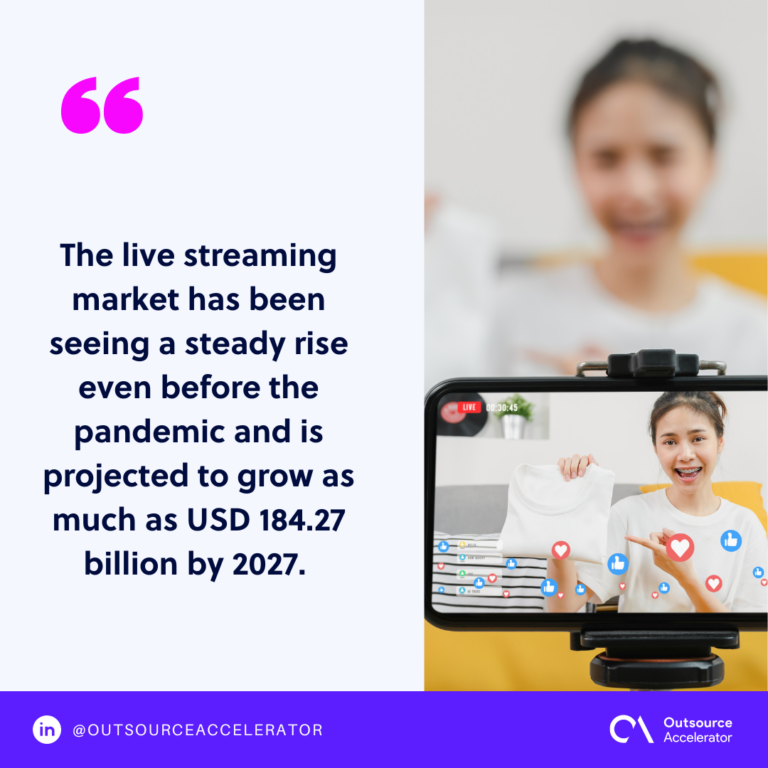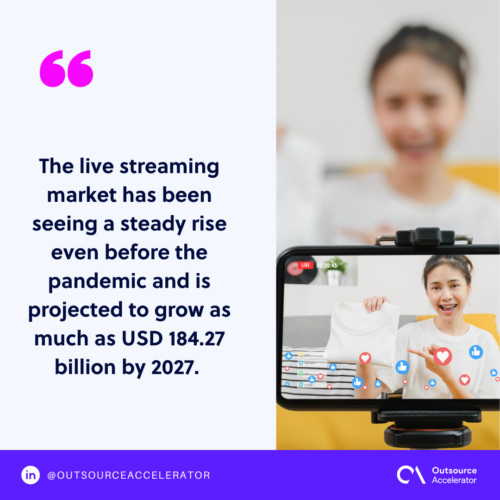 3. Vertical videos
Vertical videos became a hit even before 2020 and will still be in trend in the near future. This type of video content is already seen on social media apps like TikTok and Instagram.
Videos with a 9:16 aspect ratio are commonly used in vertical format. When seen on a smartphone, it fills up the whole vertical screen.
Marketers and editors consider the vertical format in the video editing process since people spend so much time with their smartphones.
Consumers expect their videos to match their devices, and video makers must adapt to keep their audience pleased.
4. Interactive videos
Interactive videos are a kind of multimedia content that can carry out some user activity. It might be as easy as directing the visitor to a different website.
For example, a shoppable video might show a product and include links to the company's website where users can discover more or buy the item.
5. Higher video resolution
High-resolution videos have more pixels per inch (PPI), while low-resolution videos have less. The more PPI, the higher the resolution and the clearer the videos will appear.
4K and high-resolution cameras are becoming more commonly available. People are now able to see 4K videos from their devices.
Soon, people will witness more high-quality video productions on every screen. Investing in the tools and editing software you'll need to produce high-quality videos is essential for the future of your content.
6. 360° videos
In a 360-degree movie, all of the angles are captured simultaneously. It is either by a single omnidirectional camera or by a group of cameras.
When compared to other video formats, 360-degree videos have a lower see-through rate, but they have a higher click-through performance.
Video marketing trends show that 360° films are cost-effective and worthwhile investments because of their cheap cost per view.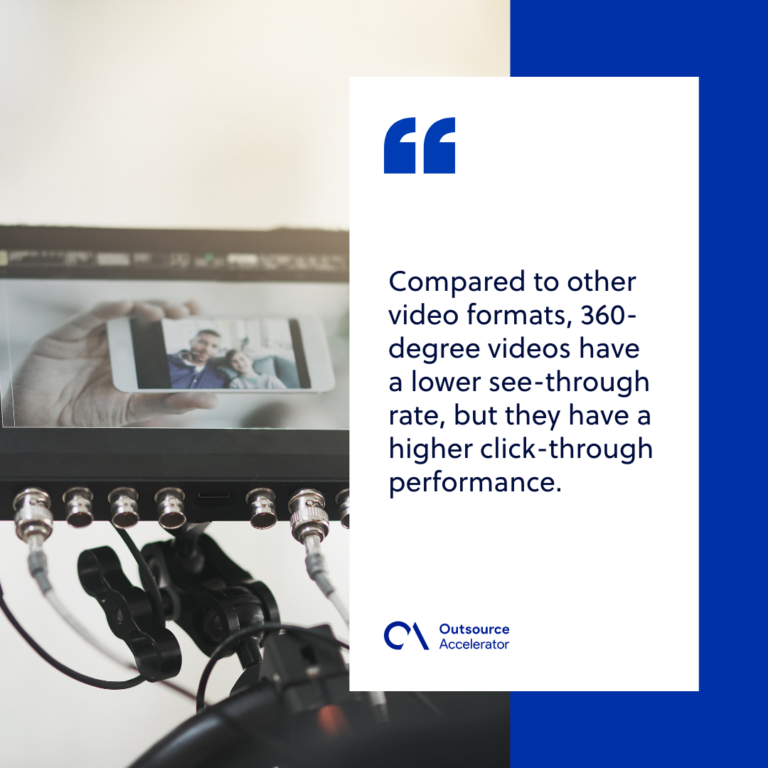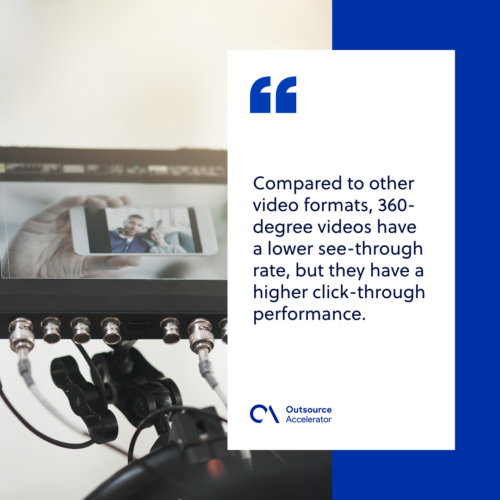 7. Live video editing
Live video editing happens when live streams are edited in real-time, akin to what people commonly see in television shows where pre-recorded clips and video effects are added during a live show.
Currently, live video editing online is limited to applying filters and emoticons.
On the streaming platform Twitch, there's already a prominent use of live video transitions and overlays such as titles, credits, and other branding elements.
8. More intelligent video editing software
Today's video editing platforms enable video production teams and even small companies to produce professional-quality work in just minimal time.
Render times can be sped up by increasing the speed of the hard disk, for instance.
In addition, AI technology may be utilized to replace or engage people in basic applications like video editing software.
9. Declining standard aspect ratios
In the late 2000s and early 2010s, TV and computer screens shifted from 4:3 to 16:9 as the standard aspect ratio for displays and laptops.
However, this was changed when cell phones were introduced. A wide variety of aspect ratios and even different orientations are common in today's media consumption devices.
New video marketing trends include squared videos.
Facebook's new guidelines recommend using a square or 1:1 ratio format in video editing as such videos have a greater chance of getting viewed on the platform.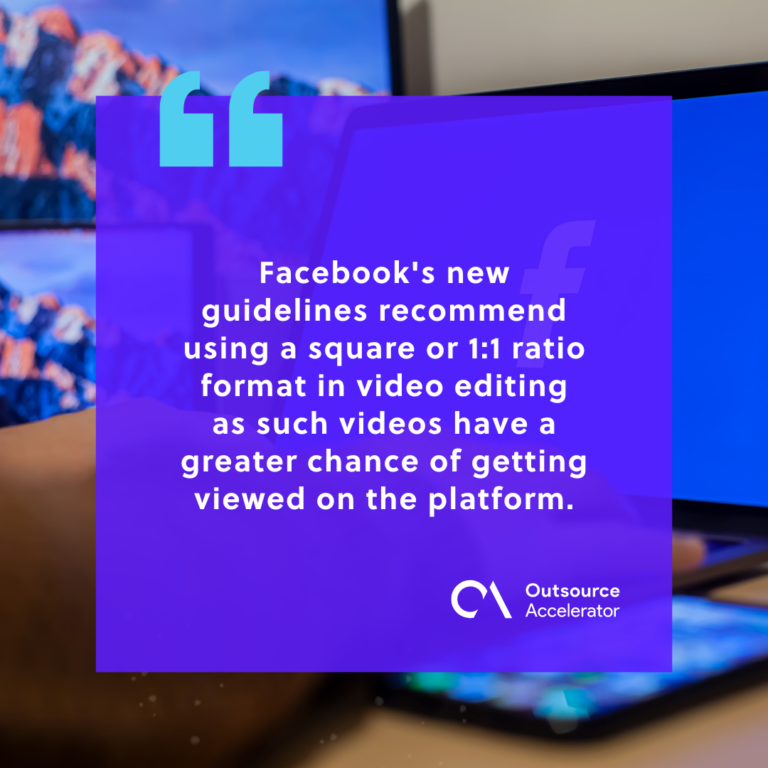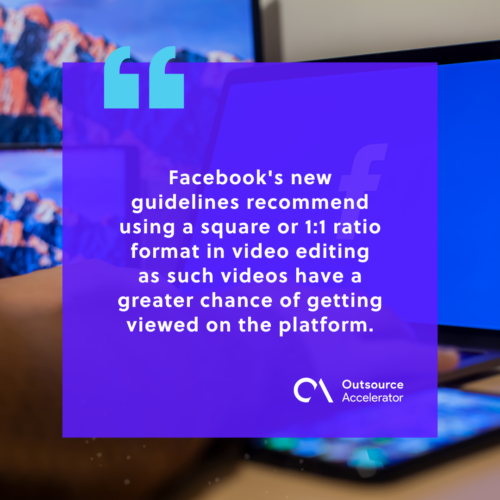 10. Repurposing content and cross-posting
Repurposing and cross-posting will still be among the top video editing trends in the future, and this will be beneficial for most businesses.
However, every platform has its own set of rules when it comes to reusing material. Each site has different criteria for video publishing, and you must be familiar with the rules.
Also, you must always consider your audience's specific needs while editing your videos.
Why are video editing trends necessary for business?
Whether it is for advertising or marketing, the editing of your videos is a vital stage in a media project.
There are two main advantages of being aware of video editing trends for your business campaign.
First, it gives you the power to control the message of your content. With editing, you can remove video clips or scenarios that don't fit your ideal output.
You can also enhance the color, add transitions, and include visual effects to set the mood of the videos.
Second, this process lets you express your creativity. Pre-production and post-production creative decisions are clearly seen from the editing process to the final result.
For businesses that don't have the capacity to build a video-editing team, outsourcing video editing services is a common option.
This allows you to get the expertise and precision needed to create video content without the huge costs.