Upskilling your team with Booth and Partners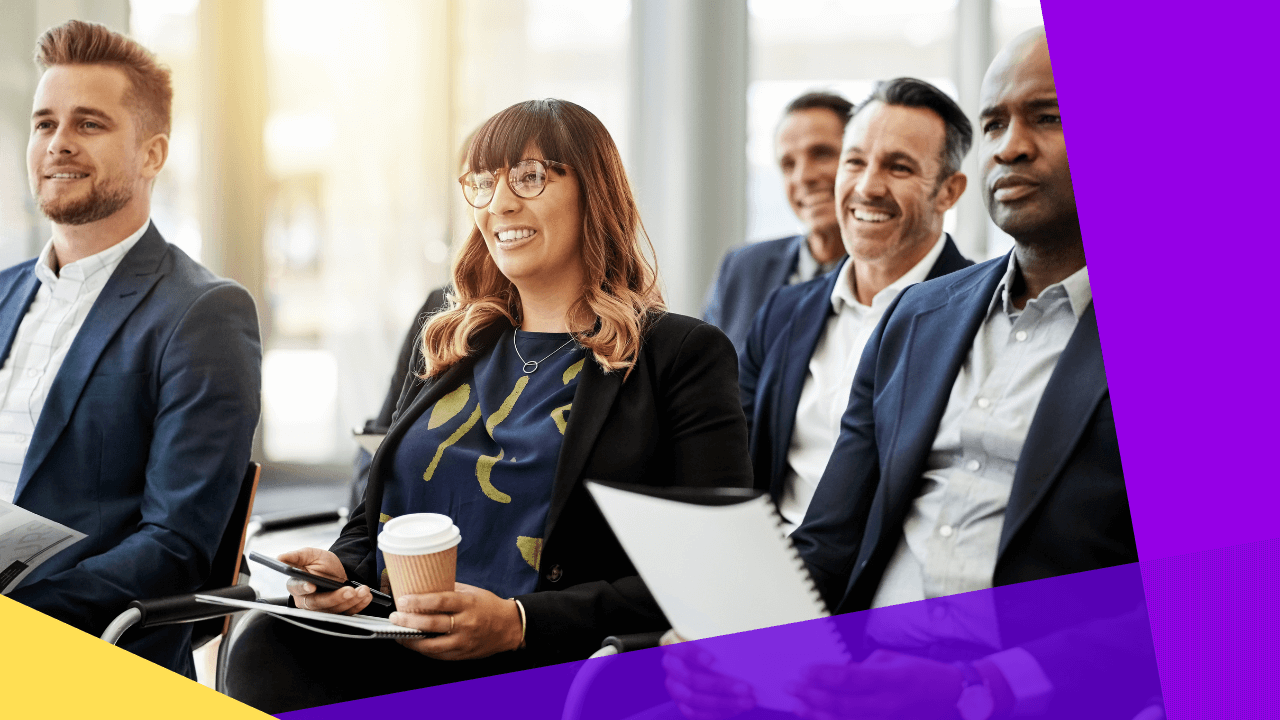 Upskilling your team with Booth and Partners
No one is born an expert. We all start somewhere basic and take the necessary steps to grow. 
That being said, developing your staff's skill sets to keep up with industry trends can lead to improved operations. Booth and Partners know this well, enabling businesses to stay competitive in today's work climate. 
A skilled workforce is always an advantage. In this article, read about what upskilling is and the training gaps it can help your organization close.  
What is upskilling? 
Upskilling is improving your skills and knowledge to reach a higher level. The goal is usually to help advance your career or prepare for a new job. Upskilling may include taking courses that teach the skills required by employers. 
Learning new skills is essential in today's job market. The 2019 BLS survey of Baby Boomers revealed that an average employee changes jobs 12 times in their lifetime to look for better opportunities elsewhere. 
Upskilling, therefore, allows higher retention as well as attracts fresh talent. There are other ways that upskilling can be beneficial for employers. 
A better-trained workforce means higher productivity and lower costs since you're not hiring new staff as often. Higher retention also reduces costs associated with having to replace staff constantly.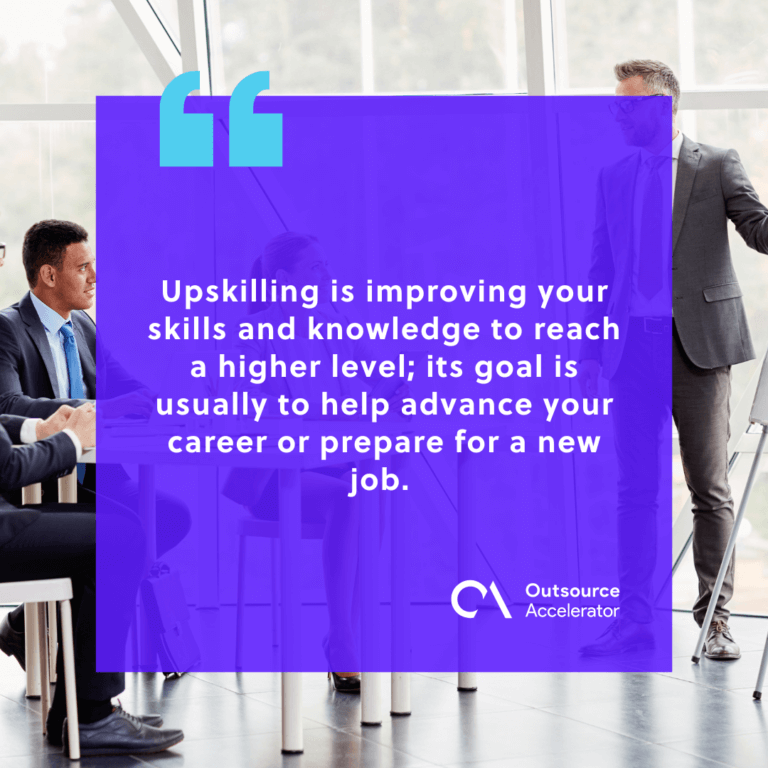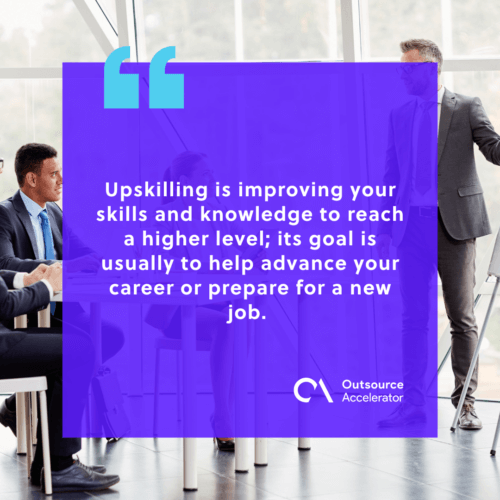 Training gaps that upskilling can solve 
Upskilling helps to eliminate these training gaps that hold your business back from achieving more:
Lack of skills
For those struggling at their job due to being incapable of performing all duties, upskilling can help. This can include technical knowledge or even basic soft skills, such as communicating effectively with co-workers. 
Many companies offer internal courses to cover this lack, but they aren't always practical.
Firms that provide upskilling can extend better solutions, such as giving employees access to online learning platforms that include relevant courses and assessments. 
New business systems and equipment
Companies frequently upgrade systems or purchase new technology through software consulting to improve efficiency and productivity. Updated software helps streamline tasks so more time can be spent with clients. 
However, employees unable to keep up with the technological changes their employers implement also risk stagnating their careers. 
Upskilling allows employees to stay relevant in their industry by equipping them with new skill sets to match the rapidly progressing technology.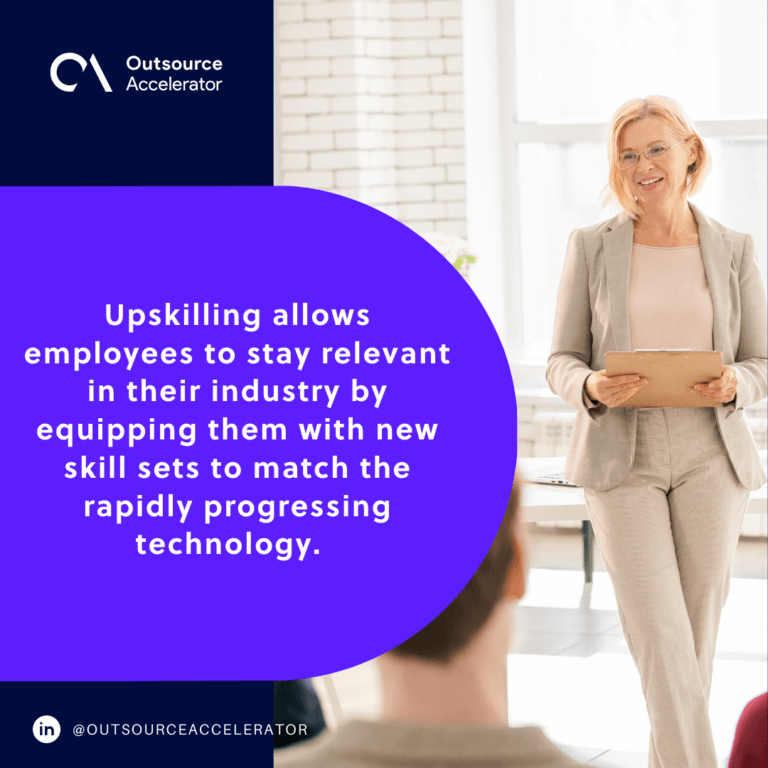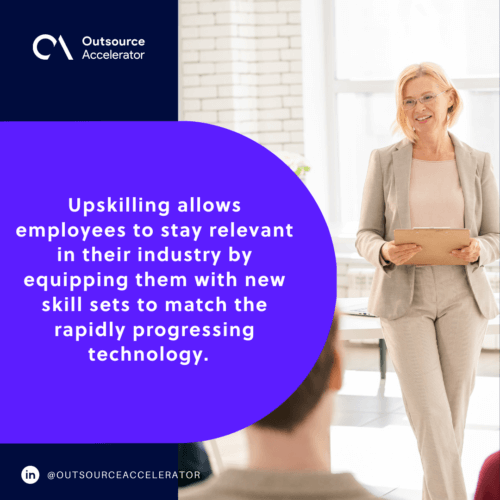 Poor task performance 
Improperly trained employees will struggle with tasks. Frequent mistakes will cost your company time and money as you correct them. 
Upskilling helps solve this issue. If your employees lack the knowledge or skills needed, you can provide them with training classes to help them do their job better.
Better task performance also leads to higher retention rates. 
Outdated compliance knowledge
Compliance is a rapidly evolving field, and it's crucial to stay on top of the latest regulations. This can be difficult when the requirements change all the time and employees work 40 hours a week. 
The growth of compliance roles has created a need for upskilling current employees and attracting new talent with compliance knowledge.
An upskilling program refreshes knowledge and skills as needed, ensuring up-to-date information. 
Employee onboarding 
Employee onboarding helps employees become productive and contribute more to the organization. It's about getting new hires up to speed and helping them feel like they belong. 
Upskilling programs can refine employee onboarding, which challenges even well-established companies. It's an even taller order for startups or small businesses, but upskilling reduces the learning curve so they can be productive sooner.
Broad training materials
Companies traditionally use a "one-size-fits-all" approach with their corporate training. HR departments usually create training, but there is often little room for personalization or catering to individual needs. 
Upskilling comes in to provide specific, tailored training. By focusing on particular skills relevant to the job or company's needs, you can fill in the gaps that traditional training leaves. 
Upskill with Booth and Partners' quality solutions 
Set up your company for success with Booth and Partners' training and quality solutions for upskilling. Look forward to improved employee productivity, higher retention rate, and more income and profits. 
Booth and Partners recognize that skill gaps in employee performance can prevent your business from living up to its full potential. Their approach to upskilling uses tailored training solutions through their learning management system (LMS) to transform and develop your team. 
Take the first step toward upskilling your workforce with Booth and Partners.