Understanding the outsourcing world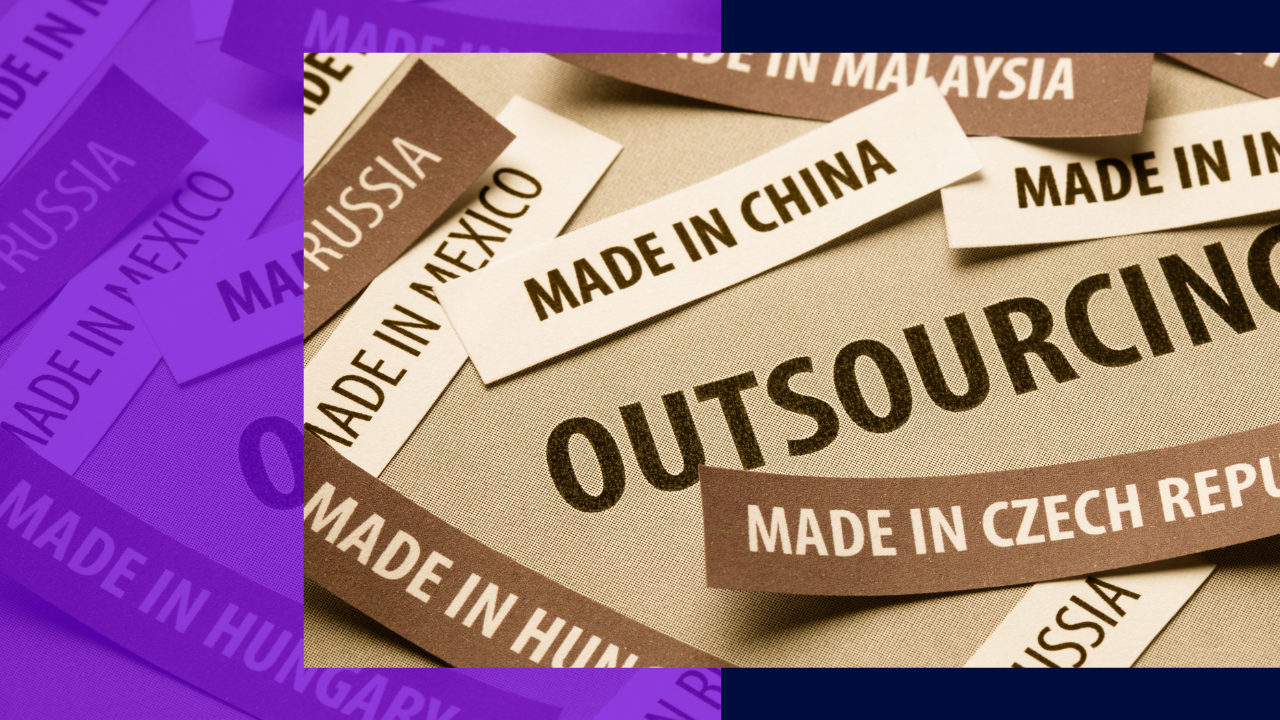 Outsourcing is the latest trend in the business world. With the help of advanced technology, companies can easily hire and manage personnel around the world, let them work remotely, and mainly focus on the business core of the company.
How outsourcing works
Generally speaking, outsourcing works when a company delegates its in-house tasks and responsibilities to a third party. This third-party agency then allocates workers and employees to their accounts—supervisors, team managers, agents, and everything in between. In turn, the client will pay for the billed seats and nothing more, depending on the contract.
For the parent company, this means that they will no longer be handling those extra expenses that come with acquiring extra employees.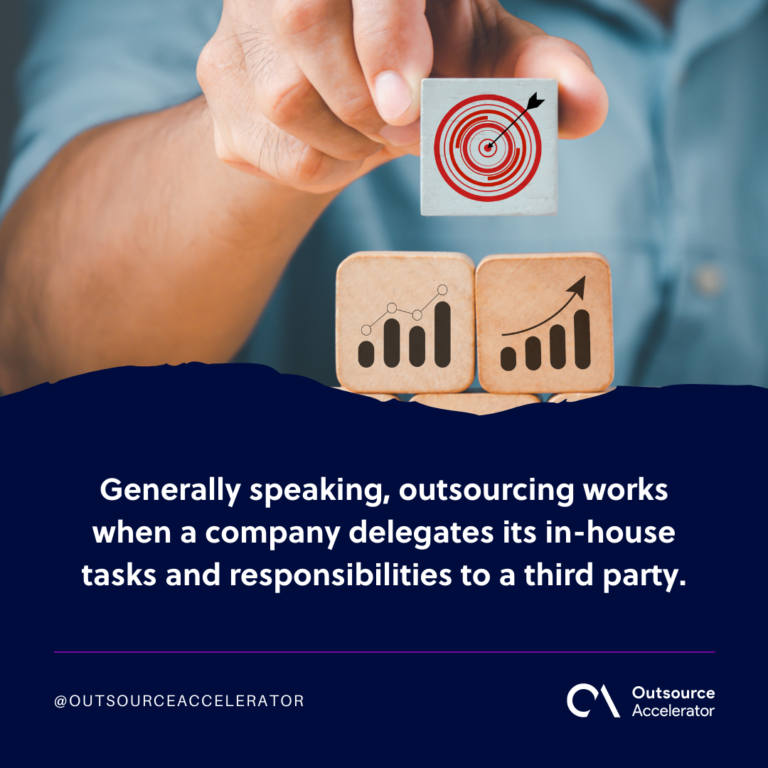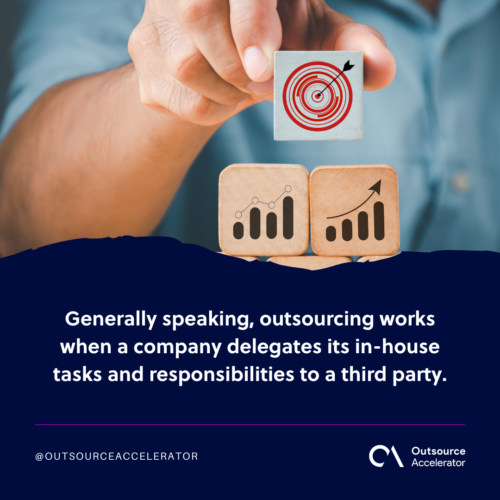 Definition of outsourcing
Outsourcing is the practice of handing over of services to a third-party enterprise. It may include both foreign and domestic contracting, and it may include offshoring (relocating a business function to a distant country) or nearshoring (transferring a business process to a nearby country).
Outsourcing or subcontracting, in a simple context, is mainly transferring the operations, jobs, or processes outside the company premises.
Advantages of outsourcing
SAVING COST.

This is one

of the major factors why businesses used outsourcing. As the outsourced workers are mostly from

third-world countries

, they are lot cheaper than their first-world counterparts.
FLEXIBILITY IN STAFFING AND MANPOWER MANAGEMENT.  With outsourcing, you can directly hire staff within an hour while conventional hiring staff will take at least a week to hire the best candidate.
MORE FOCUS ON YOUR CORE BUSINESS.  What every business wants is to focus on how to flourish their business and outsourcing can take care of the operations and personnel management.
COMPETITIVE SKILLED WORKER. Businesses can choose skilled workers and experts readily available.
INFRASTRUCTURE. Since outsourced personnel works remotely in other places, there's no need for company expansion to accommodate them.
FASTER AND BETTER SERVICE. If any business, needs a job to be done within a short period of time, outsourcing provides faster and better service.
Disadvantage of outsourcing
LOST OF CONFIDENTIAL DATA AND BUSINESS SECURITY. As you transfer the operations to a third party, all business confidential data can be passed too. To avoid loss of data and business security, it is always a good option to have NDA (Non-disclosure agreement) or a confidentiality agreement.
DELAYS OF WORK.  It is one of the major setbacks of outsourcing. If the work is not done within a specific time, it will greatly affect overall operation.
BUSINESS CONTROL. Since outsourced personnel is a third party, you don't have full control over your business whether it's personnel management or any uncontrollable situation.
Commonly outsourced roles
IT sourcing
The IT outsourcing sector provides world-class tech services to global companies of all sizes.
Did you know: India holds the title of the world's IT outsourcing capital according to multiple sources. With the country's labor force and costs, it's no surprise that most foreign investors would choose to establish their companies there.
IT helpdesk

Software developers

Backend programmers

Game developers

IT managers and consultants.
Recruitment
The recruitment process outsourcing, mostly known as the RPO sector, is another branch of outsourcing. With this, companies outsource their hiring efforts to third-parting hiring agencies. 
Did you know: RPO companies handle multiple client accounts and full-cycle recruitment for others. They also deal with hiring surges on both ends—including their own staff and for their clients.
Recruiters

Resume sources researchers 

Background checks assistants

Admin and clerical administrators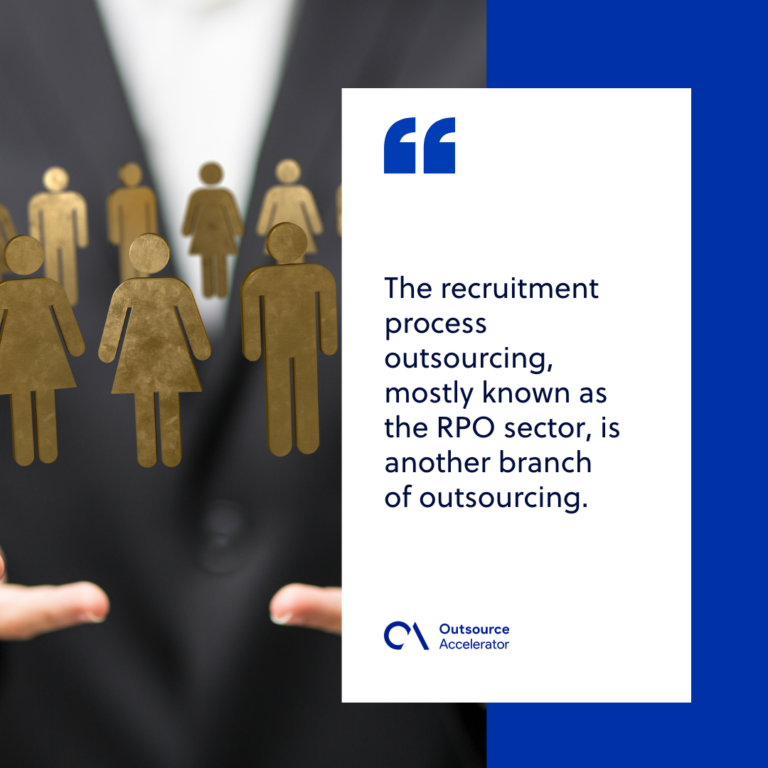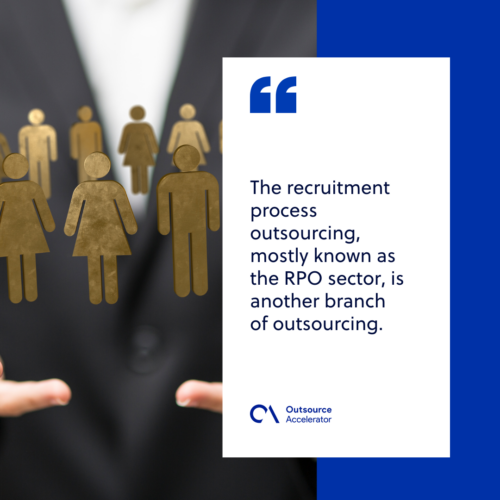 Customer support
One of the busiest divisions of every outsourcing campaign, the customer support subsector is undoubtedly the biggest aggregator of roles and responsibilities. Most BPO employees and call center agents start as customer service specialists.
Inbound and outbound campaign managers 

Call center agents 

Reservation specialists

Data officers

Chat and tech support technicians.
Content creation
Content creation is arguably one of the most important aspects of any company out there. It's not a surprise that most choose to engage in hiring freelancers and independent contractors when it comes to small projects.
Writers

Graphic designers and artists

Project managers

Content associates and managers

Editors

Animators
Web design and development
Nowadays, websites are considered as a brand's first impression to their audience. Most businesses are clamoring to have a user-friendly, organized, and aesthetically pleasing website.
These sites must hold all the information pertinent to a company, such as their products, services, their rates, contact information, and more.
Frontend developers

Web designers

Web developers

Project liaisons

Web administrators
Legal sourcing
These processes can be a tedious setup for legal firms. Most names in the business may choose to outsource their tasks, roles, and responsibilities to LPO agencies.
Legal process outsourcing trains degree holders, experts, and professionals to execute these tasks in a timely manner.
Transcriptionists 

Paralegals

Corporate lawyers

Legal assistants