Top 10 hedge funds in the world
Risk management, portfolio diversification, and profit maintenance–are just some of the advantages of hedge fund investing.
The industry was started by a group of wealthy individuals who wanted to invest their money without exposing themselves to the vagaries of traditional investing. Assets under hedge funds worldwide are currently at $5.14 trillion in 2022, as found by Statista.
Today, there are countless firms that can provide you with the advantages of hedge fund investing. But some service providers have the edge to help you grow your money despite the ever-changing market.
What does a hedge fund do?
A hedge fund is a private investment fund that pools money from individuals and institutions to invest in a variety of assets. This strategy of having mixed investments comes with high risk and is commonly done by people with a high net worth and aggressive investors.
Hedge funds are often used by large investors looking for high returns that aren't available from traditional investment vehicles like mutual funds.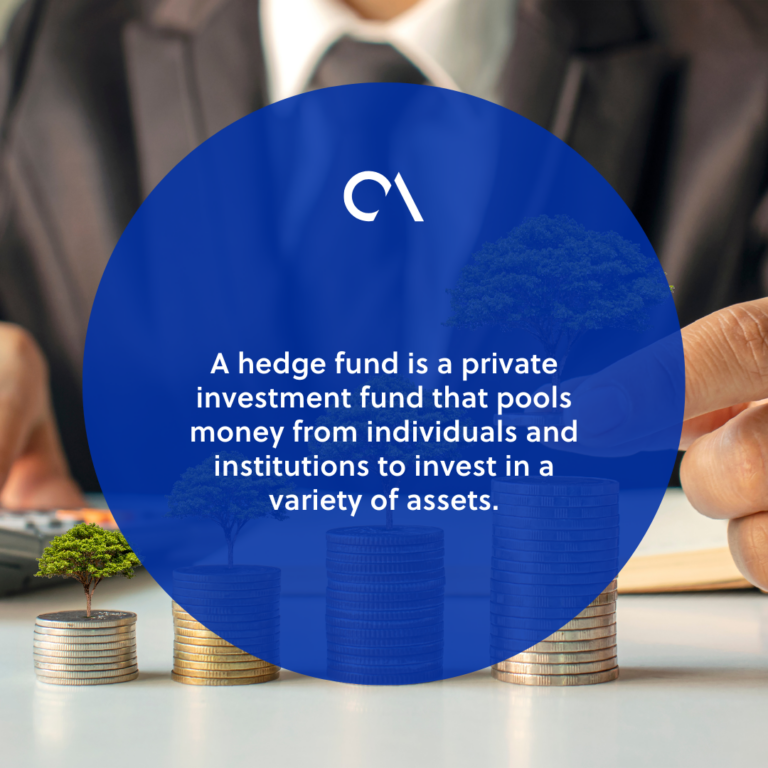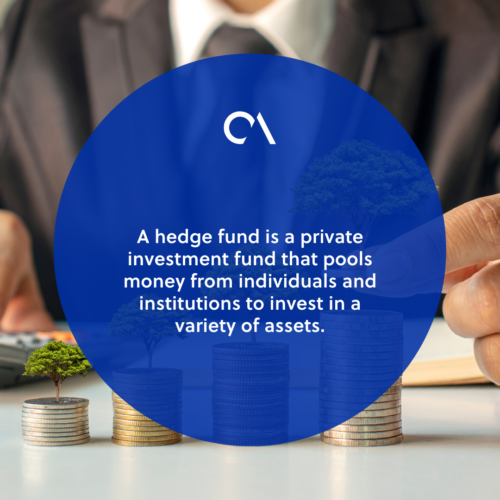 Why is it called a hedge fund?
The name 'hedge fund' stems from how these funds are designed to reduce business risk and take advantage of a volatile market.
They help shield high-risk investors from losing big by using a broad range of strategies—like investing in both stocks and bonds or betting against companies they think are overvalued.
How do hedge funds make money?
The managers of hedge funds get paid in two ways: management fees and performance fees. 
Management fees are payments made by the fund to cover operational costs like salaries and administrative expenses. They're usually 2% of the total assets under management (AUM). 
Performance fees are what you earn when your investments make money for you as an investor. They usually range from 20% to 50%, depending on how well your portfolio performs compared with other similar funds in its peer group. 
Hedge fund managers can also earn bonuses if their funds earn high returns or hit certain performance targets.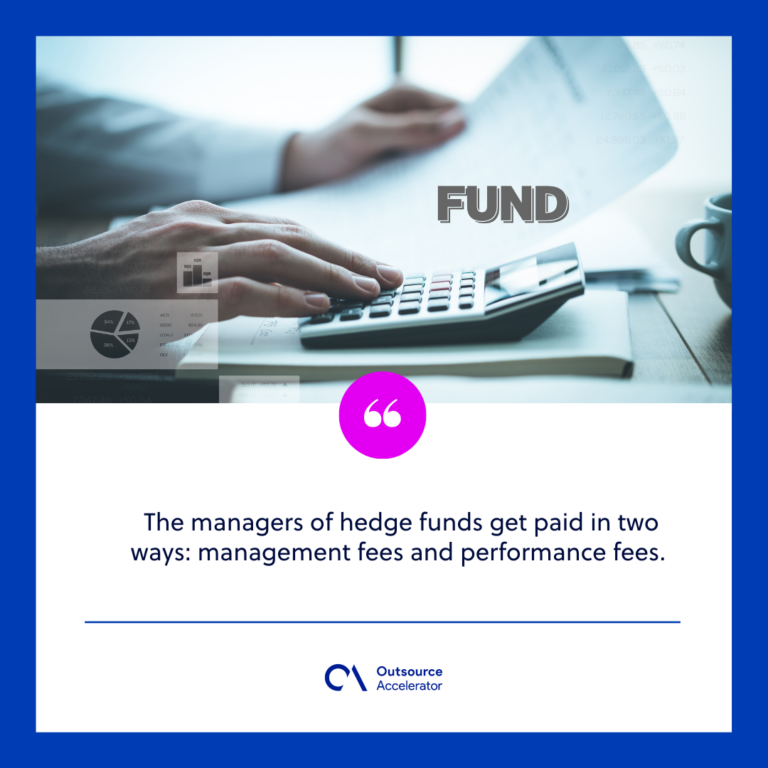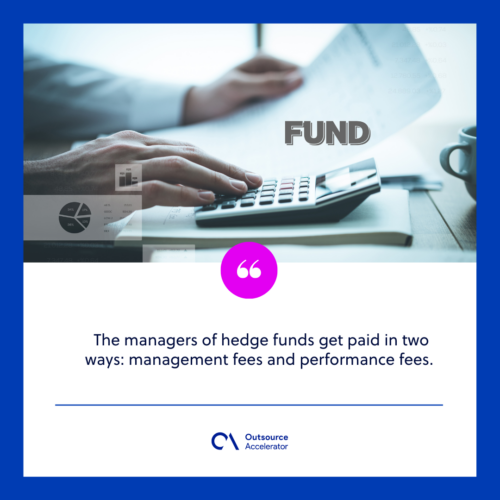 Top 10 hedge funds
The following are the top hedge funds worldwide to help you manage your investments better.
Bridgewater Associates is based in Westport, Connecticut. It was founded in 1975 by Ray Dalio and is currently run by him. The firm has over $140 billion worth of AUM.
The firm uses cutting-edge technology to guide its investment process. It involves steps such as research and validation to support projects. 
Man Group was founded by James Man in 1783. The firm offers a complete range of investment management services tailored to the needs of institutional investors and wealth managers. 
The company's processes are anchored on quantitative and data-driven methods. Its AUM is at $142 billion. 
Renaissance Technologies is based in East Setauket, New York. 
It was founded by Jim Simons in 1982 and has since grown to be one of the largest hedge funds in the world. Its AUM is approximately $130 billion.
Millennium Management is headquartered in New York, with offices in London and Hong Kong. 
The firm was founded by Israel Englander in 1990 and has grown steadily since then to become one of the largest hedge funds with over $58 billion in AUM. It uses a large-scale operating system to support its operations.
Citadel is an American financial services company. Citadel was founded in 1990 by Kenneth C. Griffin. The firm manages assets with an AUM of $50 billion.
Its investment strategies include global quantitative strategies, global fixed income and macro, equities, credit and convertibles, and commodities. 
D.E. Shaw Group is a global investment firm that provides a broad array of investment management services to institutions, governments, and individuals worldwide. The firm has over $60 billion in AUM.
Its investment process combines top-down and bottom-up research with a proprietary system for portfolio construction.
Two Sigma Investments was established in 2001 in New York City by John Overdeck and David Siegel, who co-founded the firm together. 
The investment philosophy of Two Sigma is quantitative investing, which involves using mathematical models to analyze data and make predictions about financial markets. With this process, the firm currently has an AUM of $58 billion. 
Davidson Kempner is a global institutional alternative investment management firm offering a comprehensive partnership-based approach for all its clients. It has over 39 years of experience.
They have over $38 billion in assets under management and are headquartered in New York City. It also has locations in London, Dublin, Hong Kong, and Philadelphia.
Farallon Capital Management is a multi-strategy hedge fund founded by Tom Steyer in 1986. 
Its investment strategies include credit investments, long/short equity, merger arbitrage, risk arbitrage, real estate investments, and direct investments. The firm has an AUM of $39 billion. 
Children's Investment Fund Management (TCI) is a London-based hedge fund management firm founded in 2003 by Chris Hohn. Equities and real estate are the primary strategies used by this firm to grow its fund. Its AUM is at $36 billion.
The firm has a history of charitable acts that help children experiencing poverty, HIV and AIDS patients, and other underserved communities. 
Grow your wealth with trustworthy professionals
Hedge funds are typically run by professional investors who manage the portfolio and attempt to increase returns through a variety of strategies. Being familiar with the top financial services companies allows you to make informed decisions and get a firm grasp of the industry.