Top 5 advantages of outsourcing parts of your business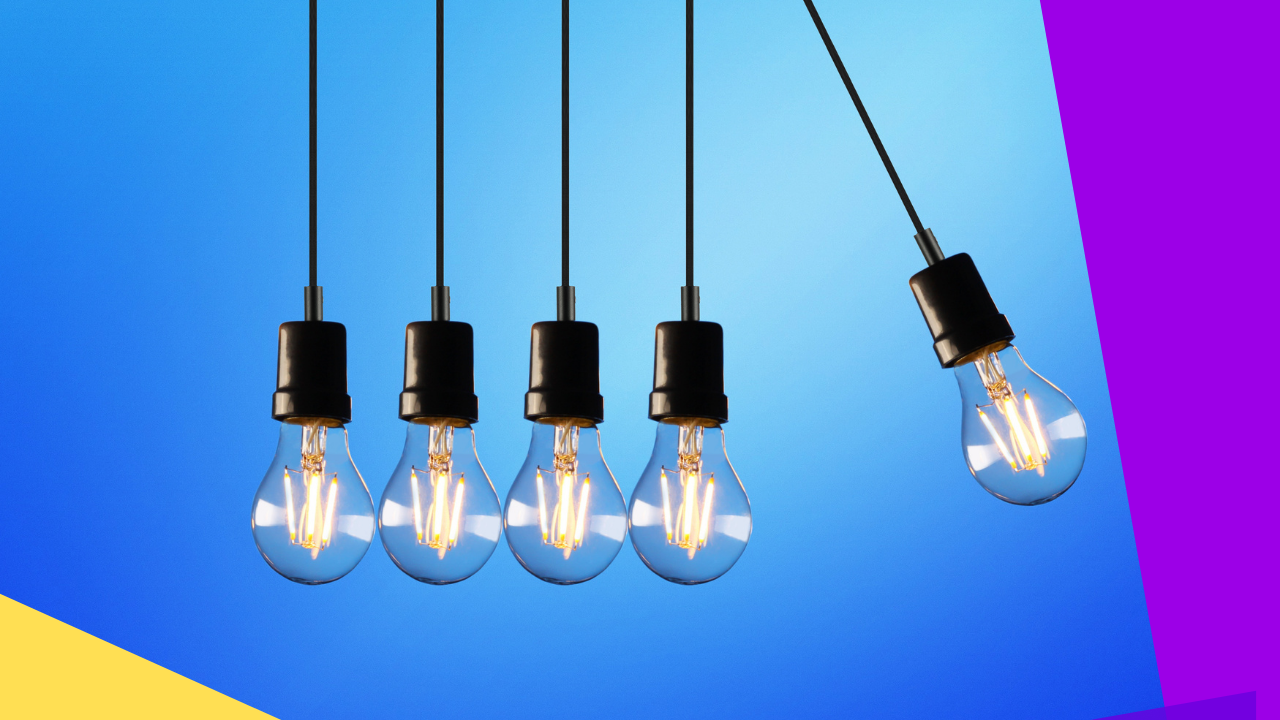 Today, outsourcing has evolved into a behemoth of an industry across the globe. After it's widespread popularity followed by a string of successes, many now wonder if businesses should still aim towards outsourcing their business.
New developments and technological innovations such as automation, robotics, and even talk of artificial intelligence (AI), has long since threatened the need for outsourcing today.
Ultimately these fears at this point in time still dwarf from the benefits businesses can reap from the very idea of outsourcing.
What is outsourcing?
Outsourcing refers to the practice of farming out parts of your daily work or specified projects to a third party. Traditionally, outsourcing is one form of a strategic business practice that organizations undertake to save financial resources. 
In terms of outsourcing services, the BPO sector offers a wide array of roles and specializations for businesses in all kinds of industries. Organizations of all sizes can contract out from simple repetitive tasks like administrative processes to complex tasks that involve specific expertise.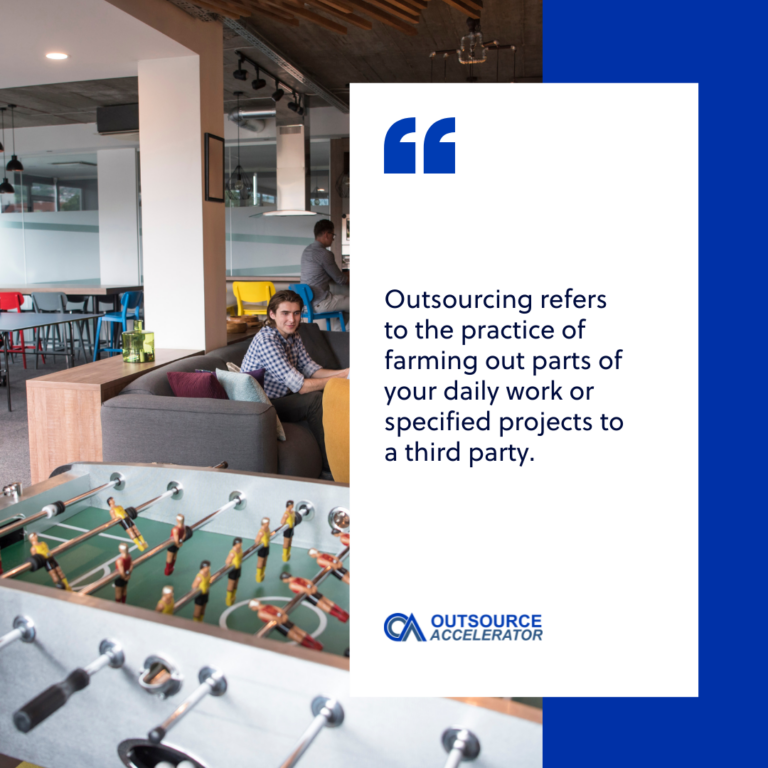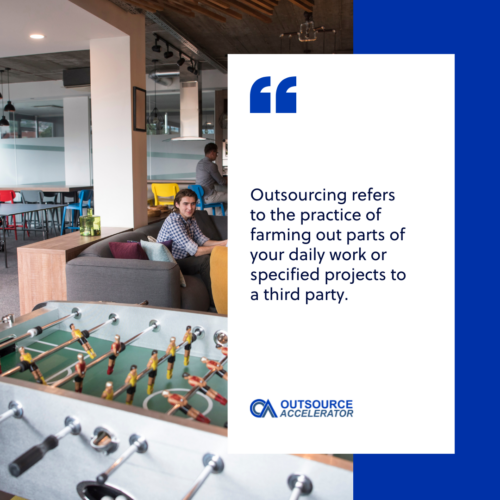 Top 5 benefits of outsourcing specific parts of your business
Below are five foundational advantages that make outsourcing a primary tool and a necessary step to a business organization's process.
1. Focus on core activities
For most startups and growing SMEs there are only so many hours a day to handle various tasks. Outsourcing allows business owners and key people to relinquish various hats. 
Through outsourcing they are able to delegate tasks to well skilled and experienced third party personnel. As a result, they can dedicate themselves to pressing, sensitive, and essential core duties.
2. Cost and efficiency savings
Outsourcing to developing countries like the Philippines helps foreign companies to greatly cut costs. This is mainly due to the country's rates allowing businesses to pay a fraction of what they would pay regular contractors or employees. 
Being able to outsource also eliminates the need for additional staffing expenditures. In hiring in-house employees companies are also required to provide training, equipment, office space, and tech tools. 
3. Access to resources
Business owners no longer need to invest on the latest resources and technological innovations for the mundane and day-to-day tasks that they can outsource. 
Reduced overhead is a result of being able to delegate the stress usually allotted in ramping up or scaling your workforce for improved productivity. Outsourcing enables businesses to streamline their budget to a complete all-in service package. 
Overall, businesses are able fill in talent gaps through a much wider talent pool in the outsourcing industry. On top of that, it also gives them access to the latest technological innovations as outsourcing providers are always up-to-date with technology.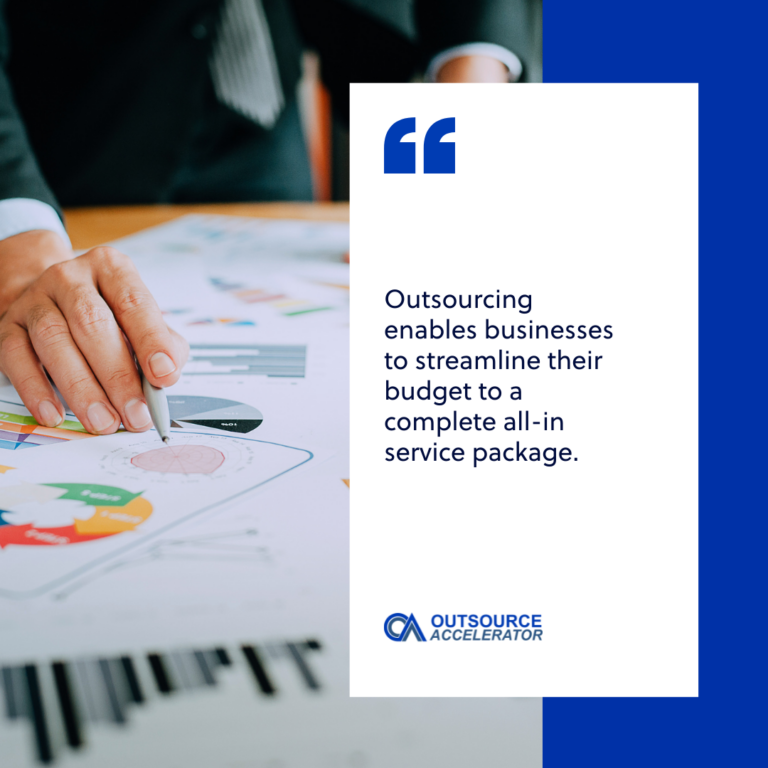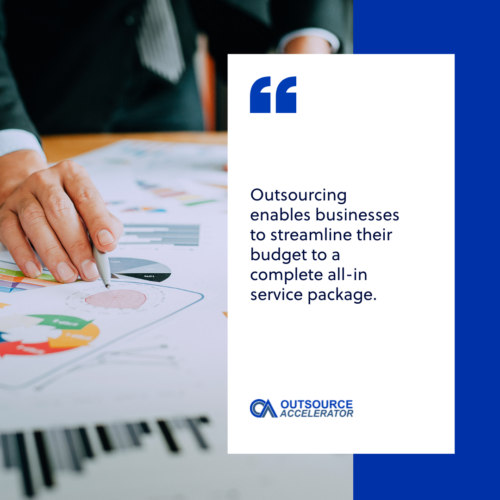 4. High-quality leaders and team
Outsourcing companies are able to hire well-educated and highly experienced employees at a fraction of the cost in the US or Canada. These employees are highly competent in various verticals as most have experience in health, finance, technology, and other relevant disciplines. Add to that excellent English communications skills in which Filipinos are well-known for due to their colonial history and good educational system.
Filipinos are also widely known to be hard-working individuals with the passion to always excel. 
5. Scalability and flexibility
Outsourcing companies are well-equipped with top-of-the-line resources and teams to help you ramp up your workforce in a considerably short time. 
This added with the ability to be flexible in terms of outsourcing options creates a great opportunity for businesses to take on bigger projects. In turn, it can surely increase their profitability. 
Being able to leverage on BPO's to scale up can be very useful in landing high demand and high paying projects and contracts.
Outsourcing has been supporting businesses growth and development even up to today. It's a testament of how the world has fully globalized connecting more people from across the world. 
The Philippines has been one of the best countries to outsource because of its people, values, and economic situation.
Learn more and avail the right kind of outsourcing through Six Eleven Global Services. Click this link to connect with a trusty outsourcing consultant today.