Top 7 types of jobs and tasks you can outsource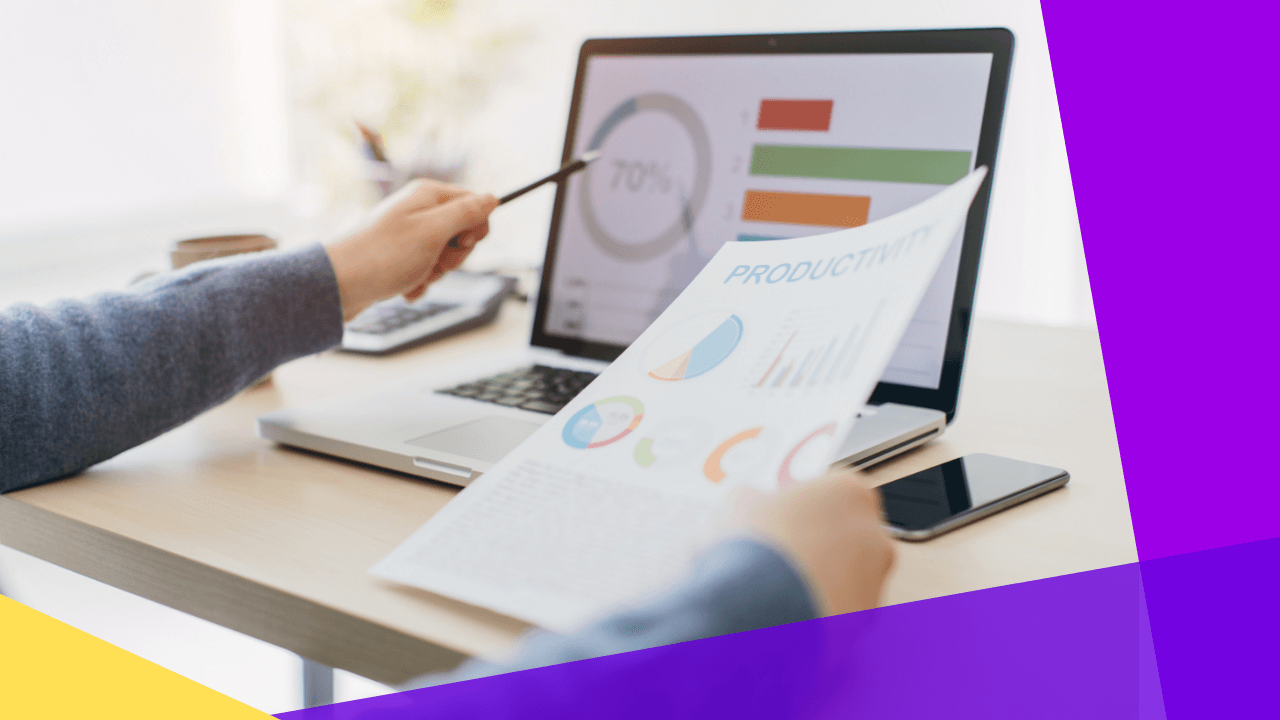 Top 7 types of jobs and tasks you can outsource to boost productivity
Sometimes, deciding which tasks to outsource can be a bit tricky especially for startups or small and medium-sized businesses. Everything has been managed properly under your care and you'd think that outsourcing tasks may disrupt the system you already have in place.
However, reality sets in and sometimes having to do everything in your business and putting on different hats just wouldn't cut it. 
It's not sustainable to pursue a business when its key persons cannot effectively delegate. This oftentimes stunts a company's growth and becomes inflexible to change.
Reasons to outsource to a BPO company
Why do companies outsource in the first place?
More than the cost savings, companies take pride in outsourcing their services to improve their work performance. This is since non-core functions are done by globalized talents who can do them better.
Aside from this, outsourcing as well helps them save time and effort in doing a function. From this, they can allocate their time better in creating strategies for the company's growth and expansion.
However, you should be strategic and smart on which tasks and roles you can outsource. Not everything can be delegated to a service provider, while some tasks can be better with having a hybrid one.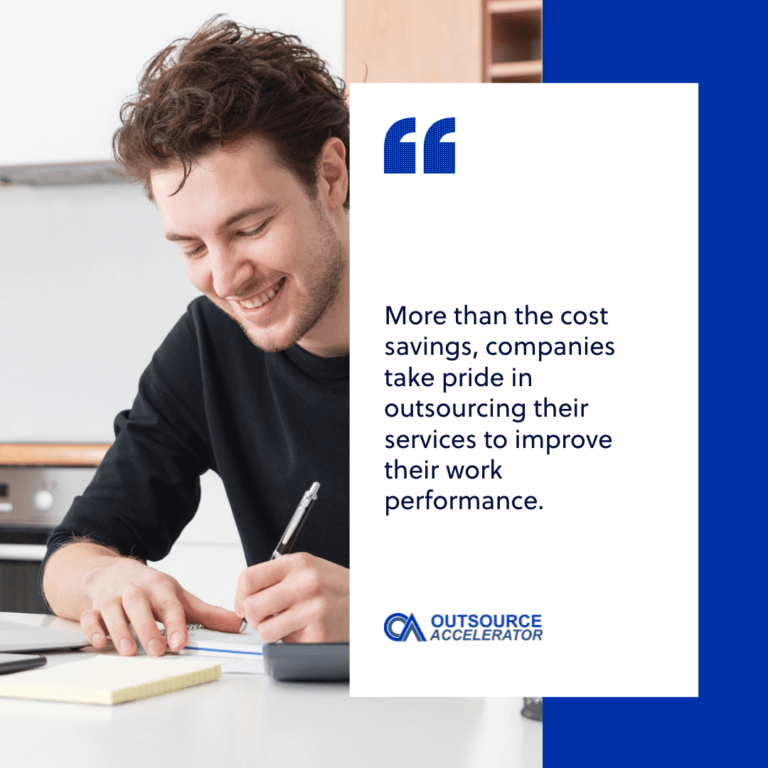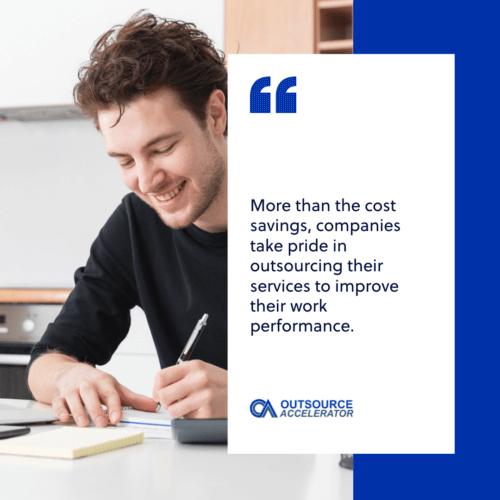 Top roles and tasks to outsource offshore
To help identify verticals and tasks you can outsource, below is a helpful list that can be your guide in delegating:
Clerical work
Clerical or administrative works are the usual office tasks done to maintain an office setting. These are mostly repetitive tasks that are part of a usual work operation and are handled by administrative professionals, whether in-house or remotely.
Some of the usual clerical tasks include:
Email management
Chat support
Appointment setting
Inbound/outbound calls
Transcribe audio voice
Bookkeeping
Creating reports
Preparing meeting minutes
Documentation updates
Data entry
Research
Online shopping
E-commerce
On the other hand, e-commerce tasks are functions done when handling online stores. Compared to a physical store, handling an e-commerce business requires strict attention and more tech-savviness since everything, from payment to shipping and order tracking, is done online.
As an e-commerce company, you can delegate the following to an outsourced team:
Online listings
Description writing
Photo posting
Review maintenance
Price canvas
Market research
General advertising
Bidding items
Amazon ecommerce
Fact-checking
Reimbursements
Real estate
Modern real estate businesses now utilize online strategies to manage listings and attract customers. An increasing number of real estate companies and agents now hire virtual assistants or a small team to manage their daily functions.
As a startup, you can as well manage to increase your profitability, close more deals, and improve your workload by outsourcing the following:
List building
Paperwork documentation
Transaction coordination
Database and property software management
Property valuation
Receptionist
Fill-out questionnaires
Appointment setting
Create virtual tours
Website maintenance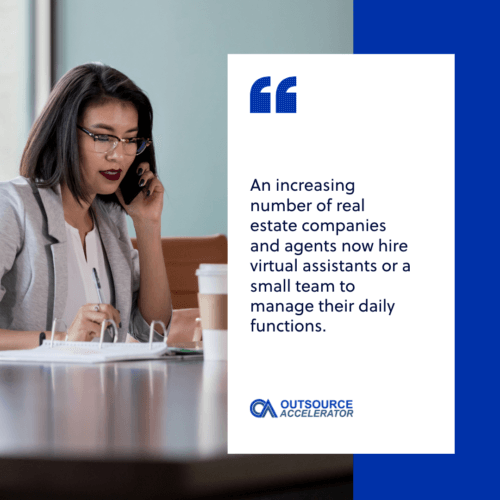 Social media
Nowadays, customers expect companies to be easier to reach. With this, you have to be wherever they are, including on social media. As your business grows, you would need help in monitoring and maintaining your social media accounts.
Your outsourced social media team can do the following tasks for you:
Set up social media accounts
Post informative content and articles
Uploading to YouTube
Managing social media platforms
Generate social content
Social media analytics
Monitor social media pages
Maintain Hootsuite accounts
Reposting and reblogging
Answering to personal messages
Replying to relevant comments
Updating social media information
Human resources
A growing company requires an increasing human resource management effort on the company's side. HR BPOs and PEOs can help you accomplish the following tasks on your behalf.
Job postings
Resume and profile screening
Initial phone interviews
Book office interviews
Send work requirements and job contracts
Facilitate onboarding process
Facilitate payroll tracking
Background checking
Administer screening tests
Employee attendance tracking
Conflict resolution and documentation
Digital marketing
You can at first create your campaigns and attract customers at a single location when your business is still starting. However, there comes a time when you have to rely on digital marketing executives in advertising your company and products.
Delegating digital marketing can help you accomplish the following tasks.
Set-up Google Analytics
Complete Website SEO Audit Report
Social bookmarking
On-page and Off-page site optimization
Create landing pages
Build quality content for users
Utilize Pay-per-click ad campaigns
General keyword research
Register to directories and listings
Repost popular blog posts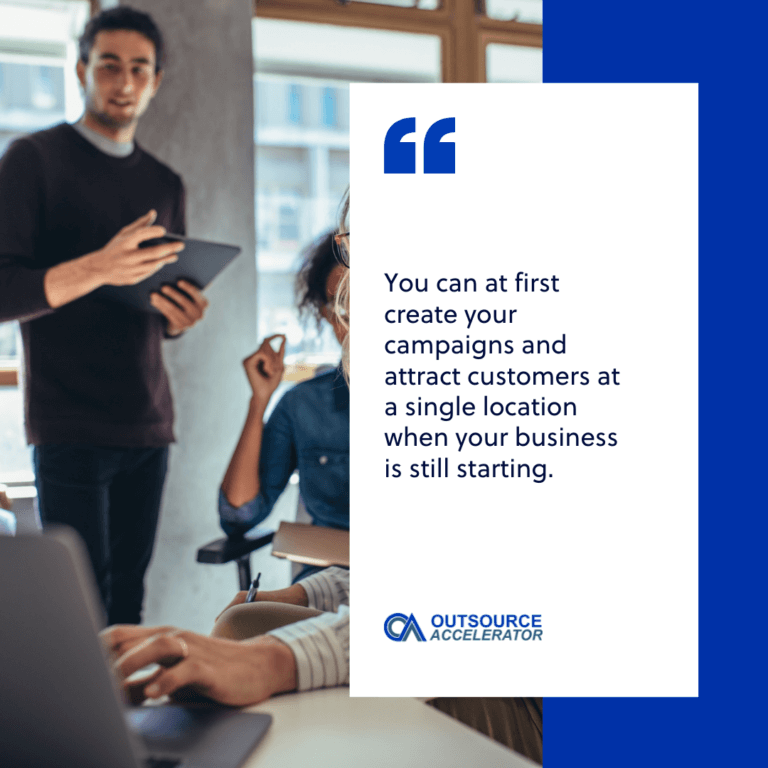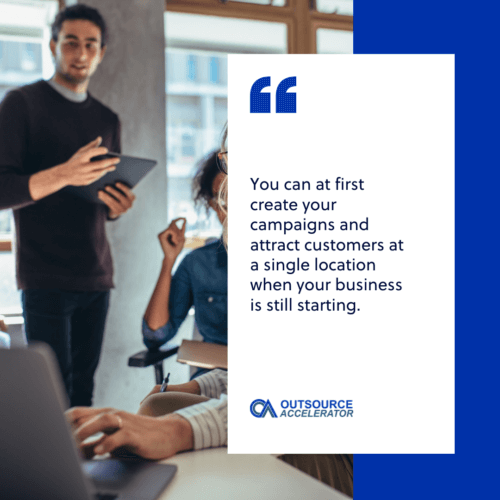 Design and creatives
Lastly, you cannot always maintain your creatives single handedly. Design work must be done by a staff that can focus on this function better. What's more, outsourcing design can even improve the appearance of your website, social media pages, and products. 
You can delegate the following functions to your outsourced creative team.
Logo creation
Poster and ads creation
Billboards design
Designing collaterals
T-shirt design
Format of ebooks and white papers
Online magazines
Designing illustration for books
Creating Canva presentations
Branding campaigns
Label and product packaging design
3D Rendering of Mockups
How to determine what to outsource
One of the main criteria for outsourcing effectively includes finding out if a particular task can be done remotely. Determine if the task is not too sensitive to be outsourced nor if it is too complicated. 
Before outsourcing, assess how you can improve on your tasks to leverage the benefits of outsourcing and if it is a worthwhile decision. These types of jobs and more can be outsourced effectively if you have a battle-tested partner in the industry. 
Six Eleven has decades worth of handling outsourcing projects and campaigns from various verticals and multiple types of businesses. The company is reliable and highly effective in doing certain functions including inbound support and lead generation.