The do's and don'ts of terminating a remote employee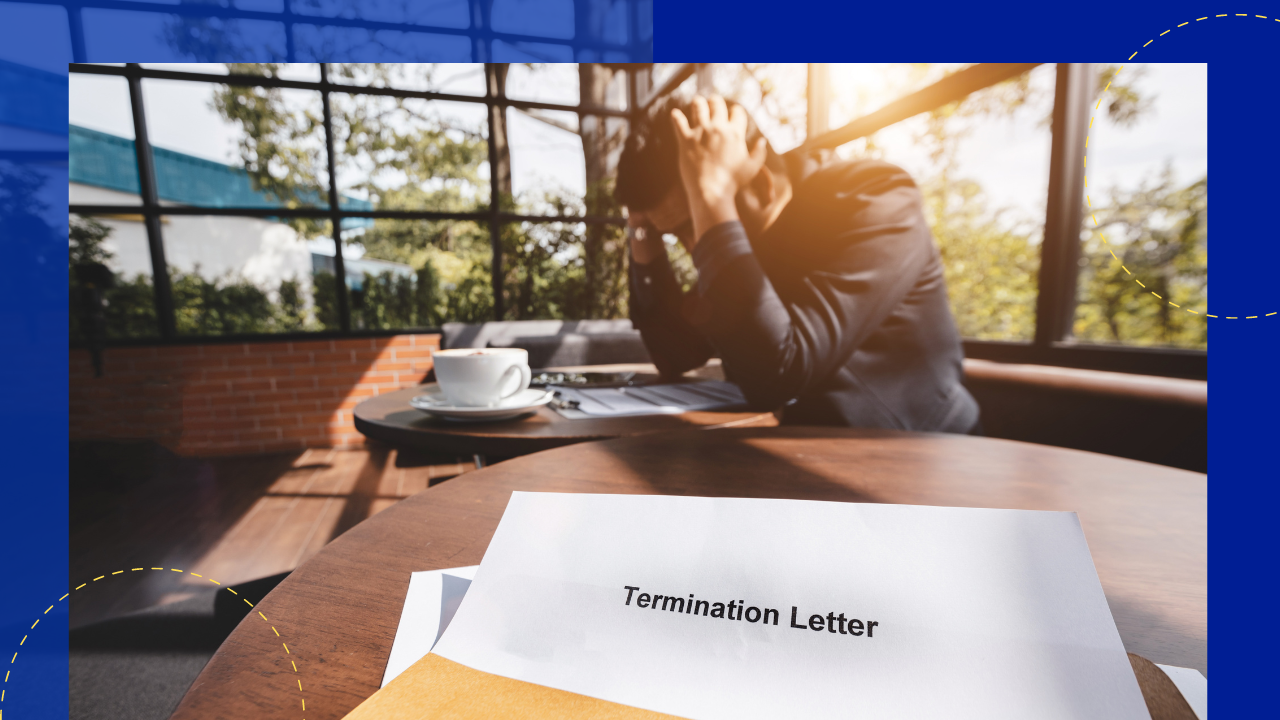 In today's dynamic work environment, remote employees have become integral to many organizations.
However, there may be instances where terminating a remote employee is necessary for various reasons. Handling such situations with sensitivity, professionalism, and empathy is essential to ensure a smooth process for the employee and the company.
There are ways in which you can conduct termination without facing legal and moral repercussions.
Remote Employee walks you through the considerations and do's and don'ts of terminating a remote employee.
What to consider when terminating a remote employee
Reasons for remote employee termination may fall under three types:
Termination with cause

. Termination with cause happens when a remote employee does something against a company's policy, leading to serious repercussions.

Termination without cause

. Contrary to the first type, termination without cause can occur due to unstated reasons such as downsizing or restructuring.

Termination at will

. Sometimes, employers may enter an "at-will agreement" with their remote staff. In the US,

at-will employment

is allowed in most states, except in Montana.
Like terminating an in-house staff, terminating a remote employee requires careful consideration in different circumstances.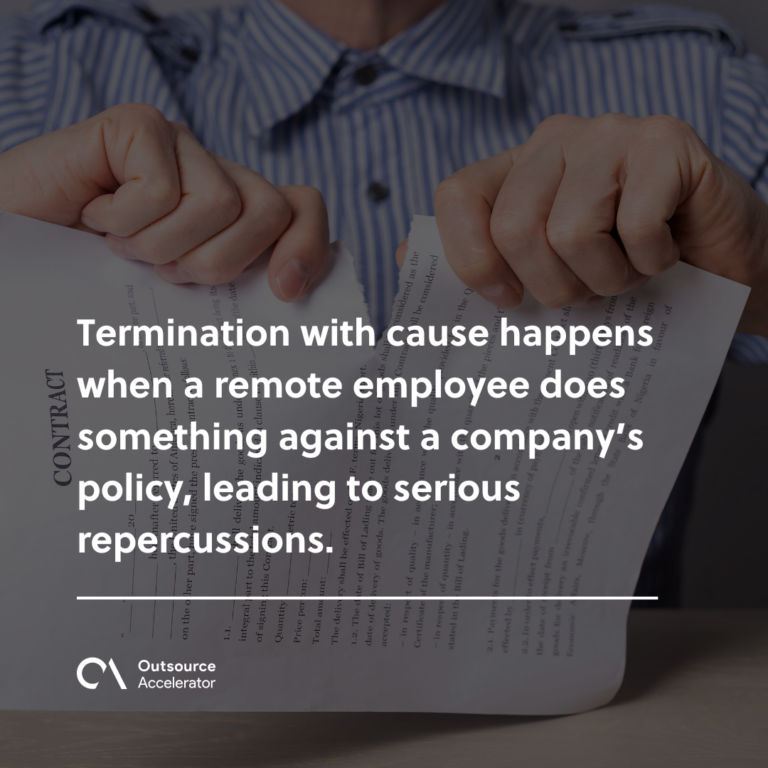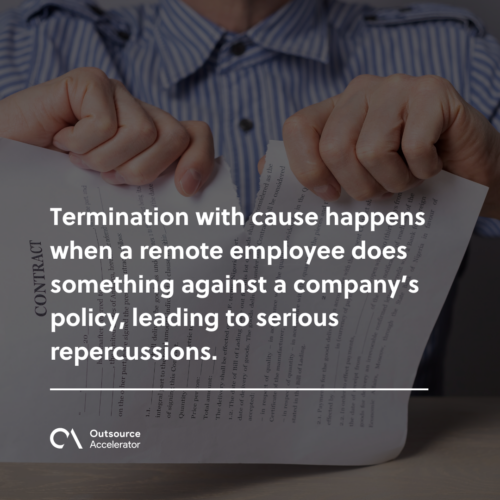 Employee performance
Employers may terminate remote employees if they do not meet certain standards and metrics expected for their role.
Review the remote employee's performance over a significant period. Assess whether their work meets the required standards and has consistently met targets.
Company policies and procedures
Remote employees are subject to termination for breach of contract, conflict of interest, or other aspects that goes against the company's policy.
Ensure that the termination aligns with the organization's policies and procedures. Follow the established guidelines to avoid any legal implications and maintain ethical standards.
Labor regulations
Labor regulations in a location should also be considered when terminating a remote employee. For instance, remote employees hired in the Philippines are not qualified for at-will termination, depending on the agreement with their service provider.
In this case, employers must review the labor regulations of their remote employees' locations.
Documentation and evidence
Maintain detailed documentation of performance reviews, warnings, and instances of misconduct. Having proper documentation can help support the decision and prevent potential legal disputes.
Impact on the company
Consider how the termination will impact the remote employee's team and the company as a whole. Assess whether the workload can be redistributed and how the termination might affect team morale.
Do's and don'ts of terminating a remote employee
Even when terminating with a just reason, it is still imperative for a remote employee to undergo the proper process of removing them from the company.
Thus, you must remember the do's and don'ts of terminating a remote employee, as seen below:
Do conduct a private meeting
When it becomes clear that termination is necessary, schedule a private and confidential meeting with the remote employee.
Conduct the conversation one-on-one through video conferencing, ensuring privacy and respect.
Do explain the reasons clearly
During the termination meeting, explain the reasons for the decision clearly and concisely. Be honest and compassionate while providing constructive feedback.
Do offer support and resources
Provide the remote employee with information about available resources, such as career counseling or job placement services, to assist them during this transition.
Don't use email or text
You can send a termination letter to the employee and discuss it through video conference for formality. However, avoid terminating the remote employee through email or text messages alone.
Such methods lack empathy and can be impersonal, causing unnecessary distress to them.
Don't blame or humiliate
The last thing the terminated employee should feel during your call is humiliation or degraded confidence.
No matter the gravity of their reason for termination, treat them with dignity and respect. Focus on the performance-related reasons for the decision and avoid name-calling as much as possible. 
Don't rush the process
Lastly, take the time needed to ensure all necessary steps are followed correctly. Rushing the process can lead to mistakes and stress for all parties involved.
How to avoid terminating a remote employee
Prevention is always better than cure. It starts with hiring remote employees the right way by checking for their compatibility and suitability in the role they will be assigned to.
Here are other strategies to help you avoid terminating a remote employee.
Set clear expectations regarding job responsibilities, performance goals, and communication protocols. Regularly provide feedback and opportunities for improvement.

Invest in training and development programs to enhance remote employees' skills and performance.

Promote a positive work culture that values open communication, teamwork, and employee well-being.

When performance issues arise, consider implementing performance improvement plans to help employees overcome challenges. Offer support and resources to facilitate growth and success.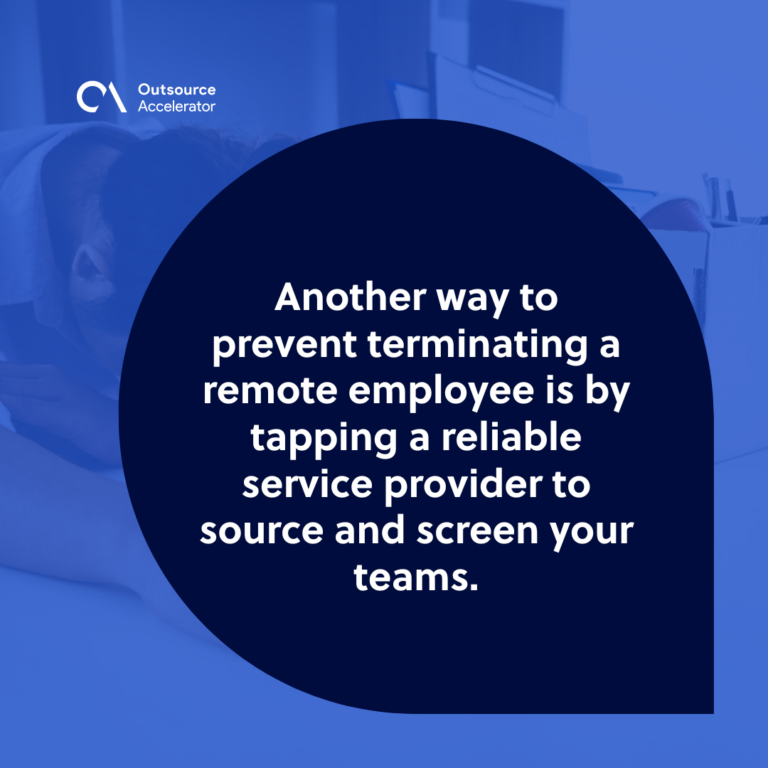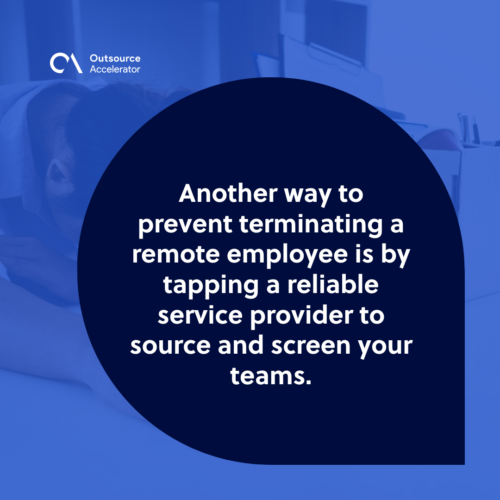 Another way to prevent terminating a remote employee is by tapping a reliable service provider to source and screen your teams.
Remote Employee, for instance, guarantees to help you curate the perfect team in the Philippines through offshoring.
From accounting to creatives and customer service, they can screen and hire the right candidates at a fraction of the cost of local teams while allowing you to monitor and train them.
Terminating a remote employee is a challenging decision that should be considered carefully. 
By following the do's and don'ts outlined in this article and implementing preventive measures, organizations can create a supportive work environment that fosters growth and success.