Tech support cloud staffing: The pros and cons of hiring an external team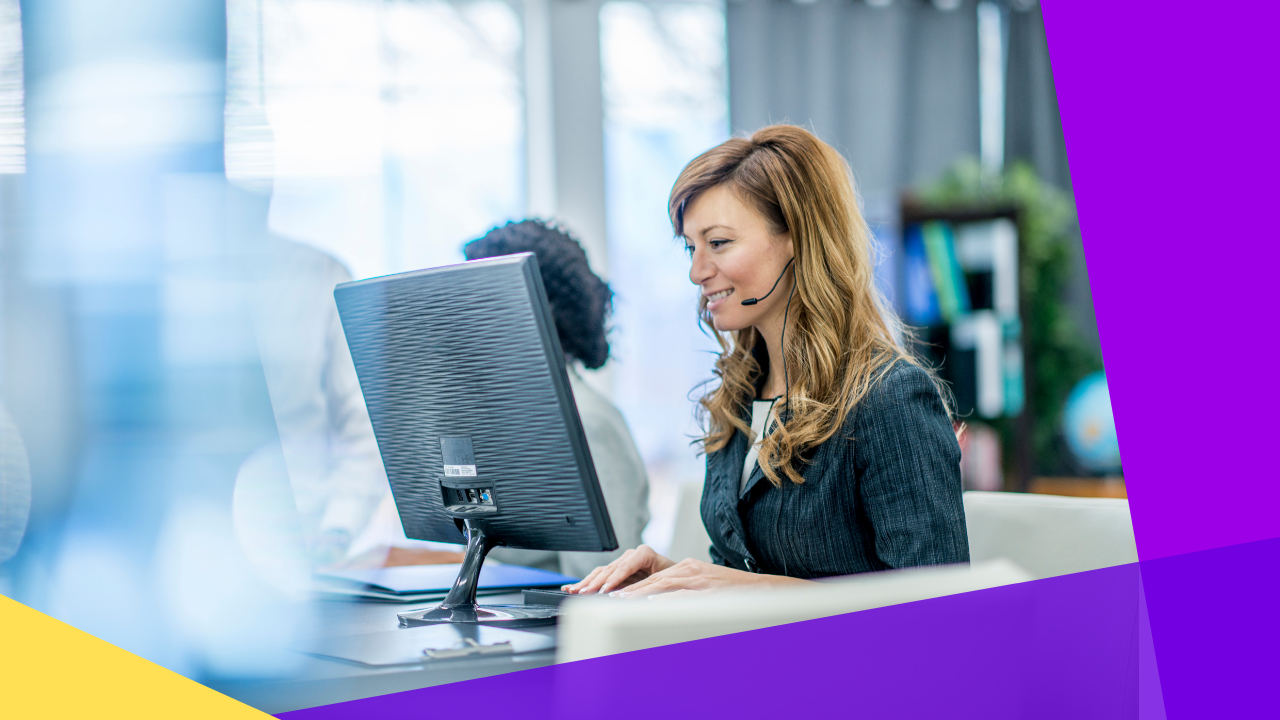 Tech support is important in the company's operations but it can be tricky. Clients could request technical assistance any time, and most of them do not like to be left hanging.
You either have to spend a lot of money hiring an in-house team or turn to cloud staffing to address this problem.
In this article, we will have a closer look at tech support cloud staffing, as well as its benefits and potential disadvantages that your business might run into in the future. 
How do you hire a cloud staff for your tech support services?
Tech support is a service usually provided by businesses to help their customers deal with technical or software issues. Cloud staffing this function means hiring a third-party provider to perform this task in your organization.
When looking for a service provider, you first need to list your needs and limitations on your tech support services. Being crystal clear about your needs will make the search for the perfect cloud staffing agency easier and smooth sailing. 
Second, you have to seek out their credibility. Confirm their performance through reviews and testimonials. You can also request to see their certifications, trust seals, and awards to grasp their level of professionalism, security, and popularity.
Most importantly, find a partner that best fits your needs. Look for outsourcing agencies that are experts in the industry and provide only the best support agents that could assist your clients.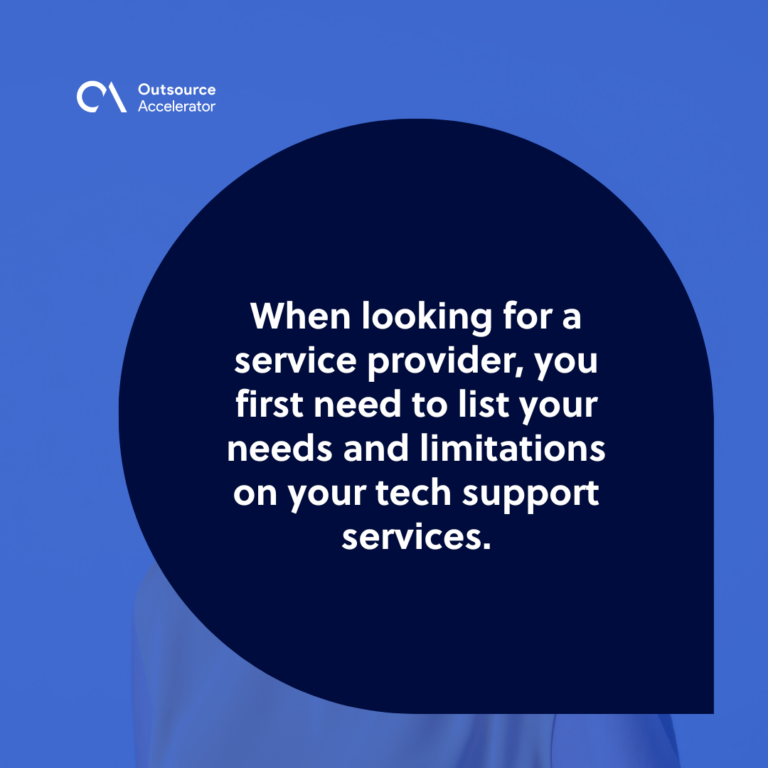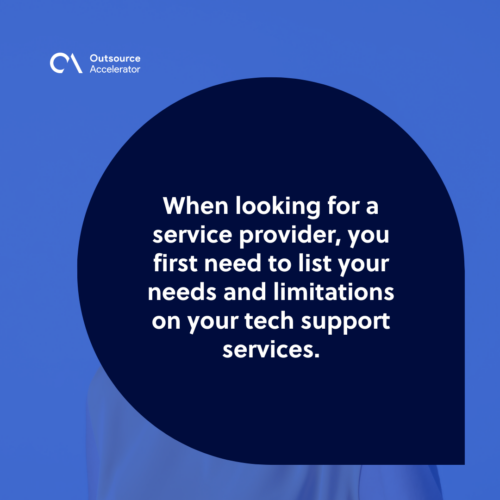 Advantages of tech support cloud staffing
There are a lot of advantages that come with tech support cloud staffing. However, different benefits appeal to various businesses.
Here's a look at some of the most common reasons people hire a tech cloud staff.
Reduced costs
The cloud staffing industry is growing exponentially due to the availability of highly skilled agents in countries with lower salary brackets.
By working with an external tech team, you could cover your customer's entire pre and post-sales lifecycle at a cheaper cost.
Additionally, a cloud staffing agency can take care of the hiring and training of support agents, as well as overhead expenses. This means that you could save money and focus on other essential processes in your company.
Focus on your core process
When you are running a business, the development of your core business is always the priority. With a cloud staff, you could delegate secondary functions — like tech support — to external agents without sacrificing the quality of the service. 
You can let your cloud staffers deal with daily technical concerns and customer interactions while you focus on your primary product or service. 
Use the latest technology
Businesses not within the technical industry usually do not prioritize their tech support services. Therefore, investing in the latest technologies is not at the top of the expense list.
Cloud staffing your tech support helps you with this dilemma. Most service providers like to be well-informed and equipped with the latest advances in IT services to serve their clients better.
By partnering with them, you can use the latest technology without shouldering the costs of buying or upgrading equipment or software.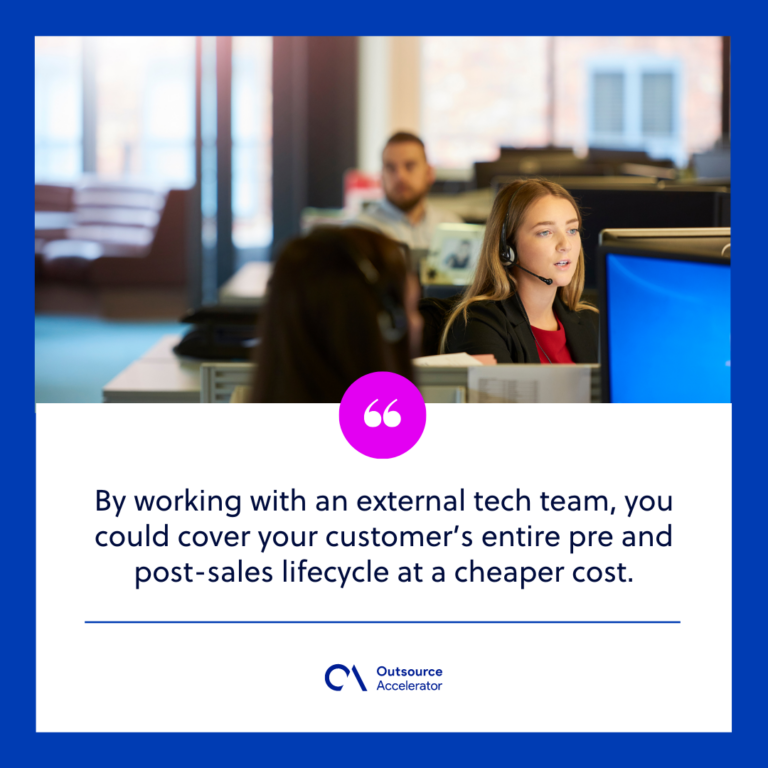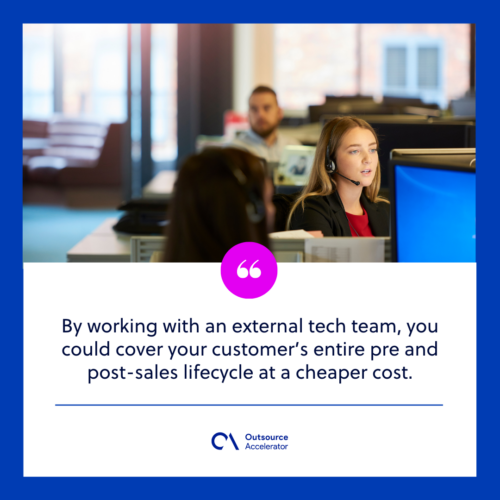 Disadvantages of tech support cloud staffing
Just like other business strategies, cloud staffing is not always viable. While it gives benefits throughout the partnership, it also presents some drawbacks.
The following are the common problems you could face when hiring a cloud staff for your tech support services.
Service quality is not always in your control
As tech support cloud staff are initially unfamiliar with your products or services, they would probably need to adjust first to learn how to handle your usual customers correctly.
Additionally, you have a limited scope on how they deal with inquiries as you are not interacting with them in person.
However, you usually do not have to worry about this. Most cloud staffing agencies hire the top talents in the industry who are highly professional when dealing with technical questions and inquiries.
Limitations in answering complicated problems
A cloud staff is not under your direct employment. They don't have in-house experience working on your products or services. 
When a tech support query falls outside of your standardized problem resolution, they would likely have to revert the question to you to help them solve the problem.
That is why if out-of-the-box questions are not typical for your customers, then cloud staffing can be an ideal option for your company. But when your guidelines are too complicated, an in-house team could be more worthwhile.
Less direct feedback from customers
A customer's review can help your business improve and provide the best quality of products and services possible.
However, having an external tech support team means that you have a buffer between you and any client feedback. Reviews or complaints can go through several people before it reaches you.
If your company mostly relies on buyer reviews and comments, then going back to an in-house support service could help your brand more.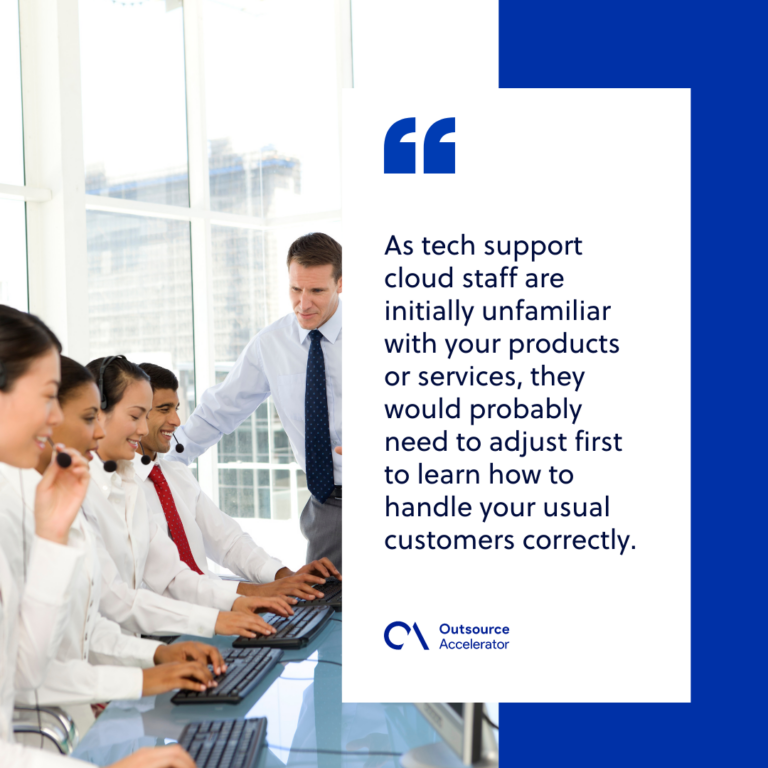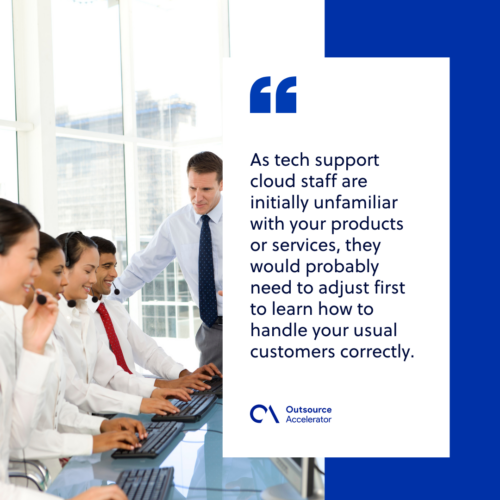 Partner with Cloudstaff for your tech support 
Finding the right partner for your tech support is the key to improving your customer service. Cloudstaff can be that partner for you!
Cloudstaff can help you create your dream offshore team to increase your profitability and grow your business. Plus, partnering with their highly-skilled team costs a lot less than building an internal support service.
Their top tech support talents across six different locations can help you affordably maximize uptime and allow you to relocate your resources to other essential functions in your organization.
Get in contact with Cloudstaff now to learn more about their services.