What to look for in a talent acquisition specialist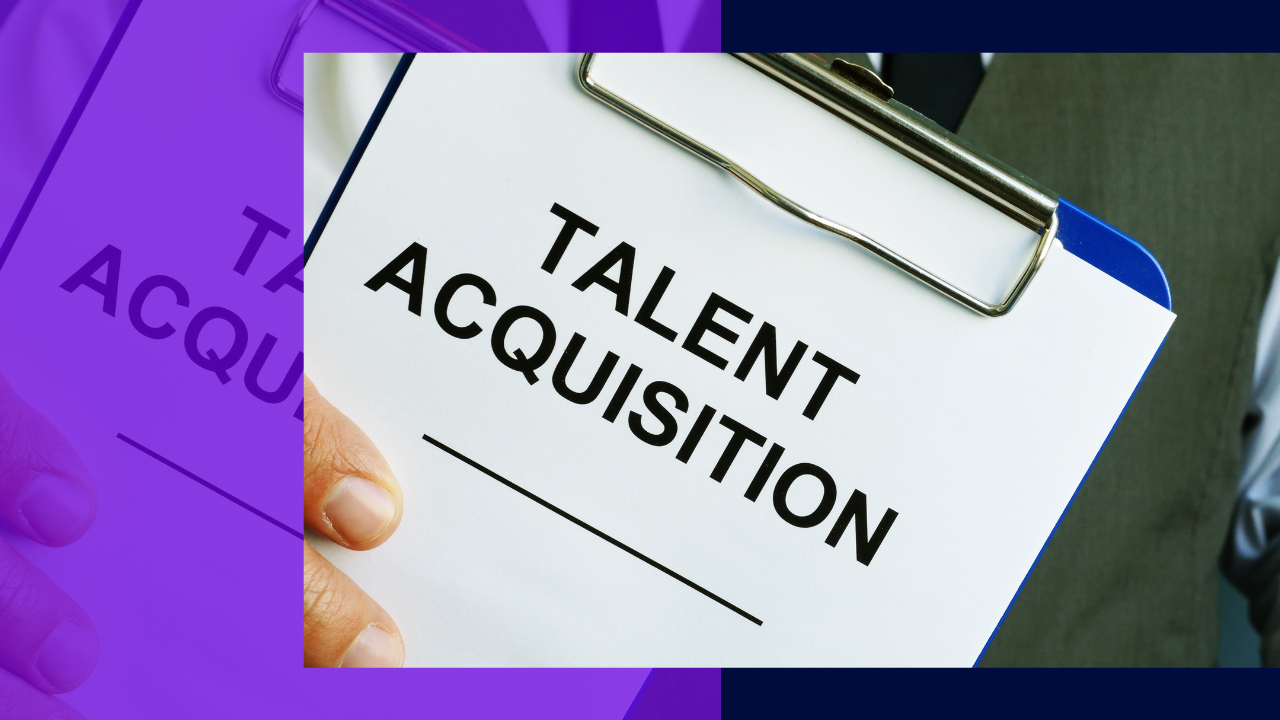 The widening talent and skills gap calls for increased competition in hiring worldwide.
Establishing a strong business requires the right employee for the role. A bad hire, meanwhile, only produces time, effort, and costs wasted in managing them. According to a Northwestern study, a bad hire costs at least 30% of an employee's salary for the first year.
All of this can be prevented by hiring a talent acquisition specialist.
Talent acquisition specialists are the experts in attracting and hiring the most suitable roles for your organization. They are the most effective staffing that modern businesses and service providers such as ConnectOS have in matching the best talents.
Get to know about talent acquisition specialists and what skills to look out for when getting one in this article.
What is a talent acquisition specialist
A talent acquisition specialist is responsible for attracting, interviewing, and hiring potential employees based on a company's goal.
Talent acquisition specialists are tasked with a company's recruitment and hiring needs. They coordinate with several key persons, including hiring managers, for the specific roles they are looking for. These experts draft the selection criteria and screen potential candidates through several sites.
More so, talent acquisition specialists create long-term recruiting strategies and nurture strong relationships with applicants to maintain the organization's reputation.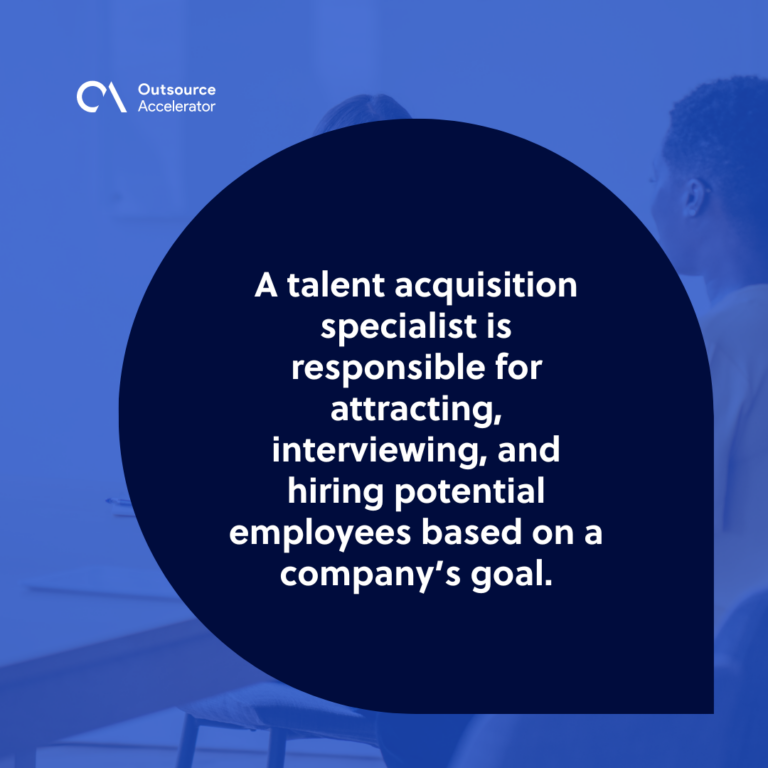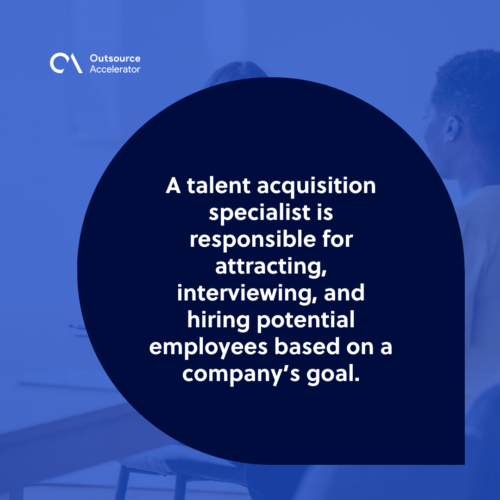 Skills to look for in a talent acquisition specialist
Talent acquisition deals beyond simply hiring and recruitment.
Mainly, a talent acquisition specialist must be a good communicator and have interpersonal skills to connect more easily with hiring managers and applicants. They should also manage and maintain digital platforms for recruiting and hiring potential candidates.
Other skills to look for in a talent acquisition specialist include the following:
Industry-wide knowledge
Some roles may be in-demand in other industries while some are not required in another. Talent acquisition specialists are the best persons for this as they help in the company's decision-making process regarding hiring roles.
A talent acquisition specialist is expected to have a wide knowledge of the company's industry and the specialized roles they need as they see fit.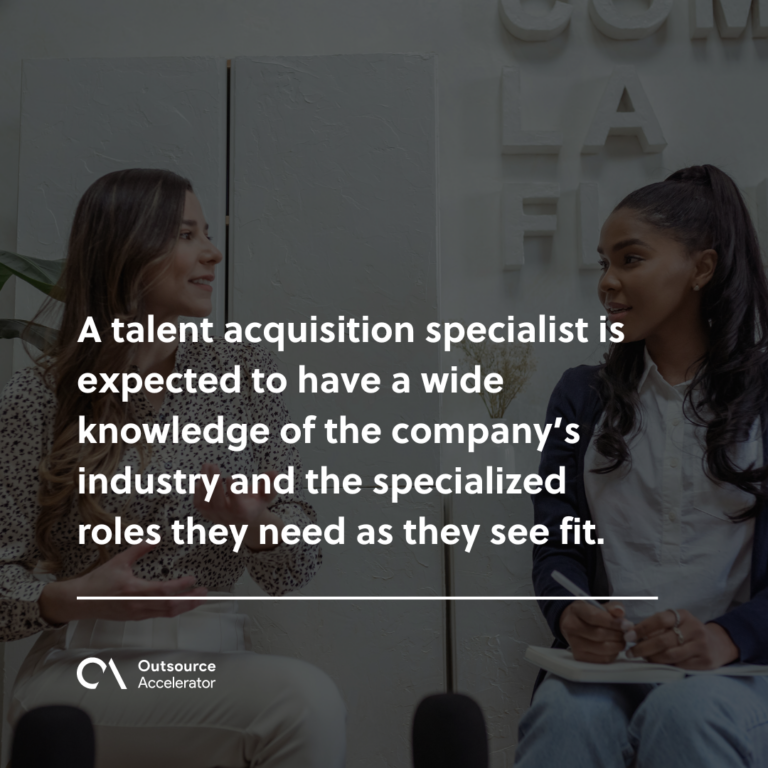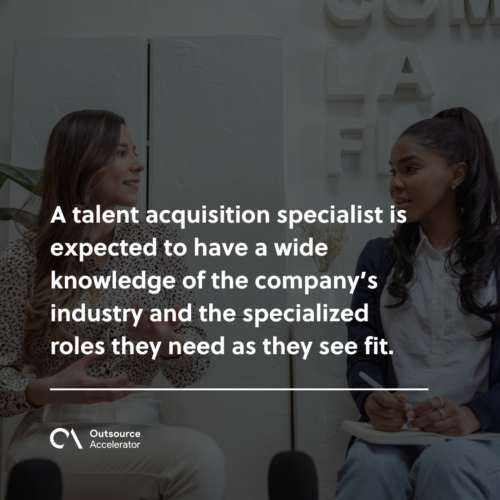 Social media skills
Nowadays, recruitment and selection of potential hires go beyond recruitment sites. Organizations widely use social media sites to connect with their audiences—including potential hires and existing employees.
Talent acquisition specialists should be knowledgeable in social media for headhunting and recruiting. 
They must know how to leverage these platforms to filter their applicants according to expertise, reach out to qualified applicants, and schedule their interviews.
Recruitment planning
As mentioned, talent acquisition specialists must form long-term strategies for quality recruitment.
With this, specialists should possess proper planning skills for recruitment and see the bigger picture in hiring talents. They must know how to prepare a talent pipeline, recruitment reports, and other tools needed to see the bigger picture in their recruitment process.
Negotiation skills
Effective recruitment strategy involves negotiating with applicants for their desired outcome.
A talent acquisition specialist must know how to negotiate with the candidates to convince them to stay with the company. At the same time, they should be firm with some aspects of their offer to not compromise the company's interest in return.

Recruitment marketing
Lastly, recruitment marketing has gradually enhanced talent acquisition in terms of building brand awareness and attracting quality hires.
Talent acquisition specialists must be knowledgeable of the marketing strategies most suitable for hiring employees. They should know how to target applicants according to different aspects and get them as leads for available roles.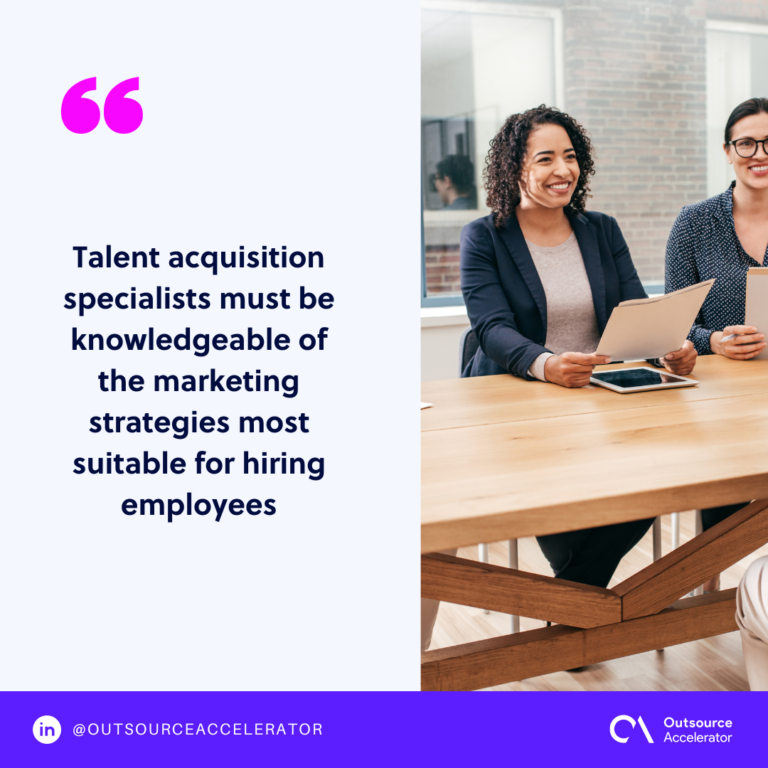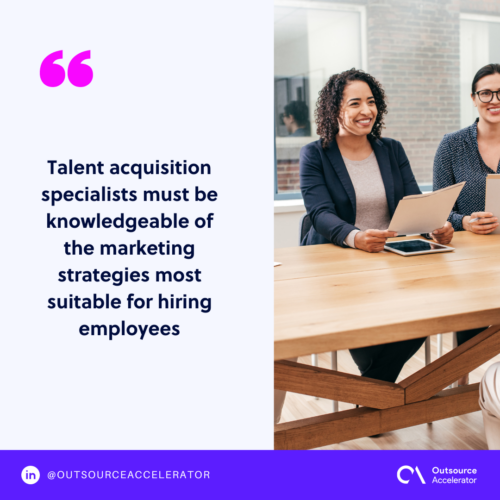 Hire a talent acquisition specialist in the Philippines
An efficient way to hire talent acquisition specialists is through offshoring. 
Hiring in-house specialists could work in localized and limited employment. However, offshoring this role helps you expand your teams when it comes to location, specialization, and work environment.
What better place to hire offshore staff than the Philippines?
ConnectOS, one of the most reliable providers in the country, makes offshoring possible for clients worldwide. They can help you source and match the best talent acquisition specialist for your business quickly without extra charges.
By hiring in the Philippines, you can get qualified staffing at a fraction of the cost compared to local teams.