What is the role of syndicated research in the business industry?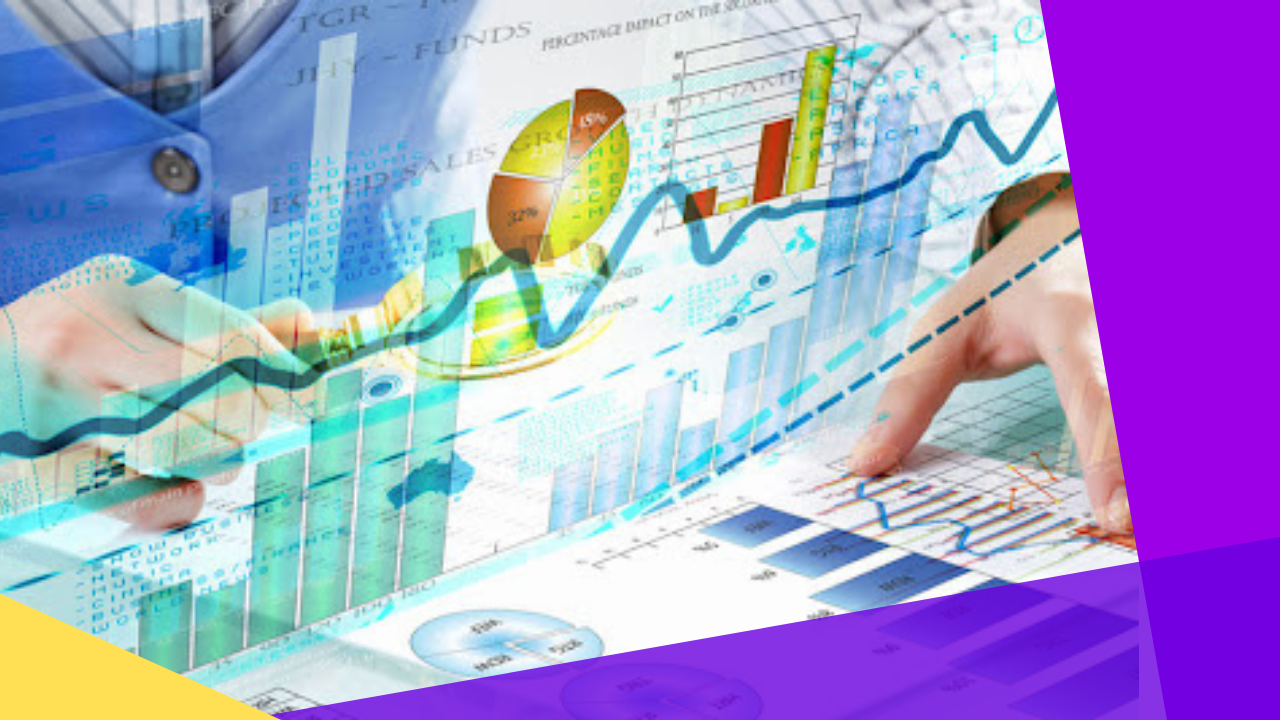 Trends come and go like lightning as time passes, and brands need to keep up with these vast changes. Businesses should obtain a deeper understanding of their target market to determine which products or services to offer to people. 
On top of that, the competition in today's business world is more cutthroat as brands pretty much offer the same products and services. Market research lets companies collect information about their customers and target market.  
Market research comes in different forms like qualitative, quantitative, surveys, or focus groups. These kinds of research, however, are executed primarily by companies themselves. 
Nevertheless, businesses also have the option to purchase syndicated research. This is one type of secondary research that is produced by other firms or institutions. 
What is syndicated research? 
Syndicated research is capitalized, conducted, and published typically by a market research firm. This type of market research is not for any specific client. Thus, the research outcome is usually presented in the form of presentations, raw data, and reports.
Syndicated research is readily available for purchase by any company or individual in the industry. Since the research firms are responsible for the study, they are also in charge of its scope, questions, and target population.  
This is also a good opportunity for market research companies to showcase their industry expertise and experience.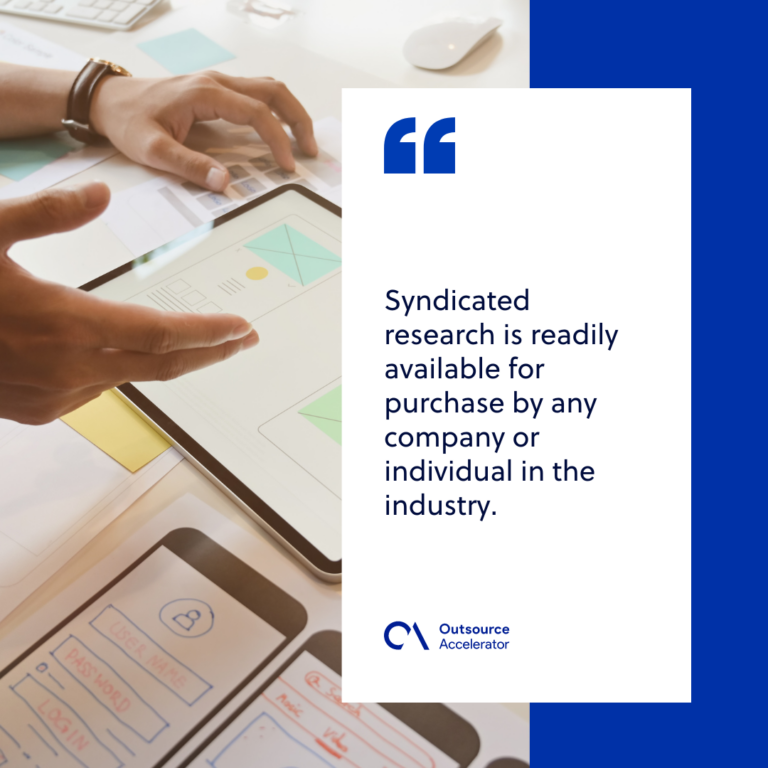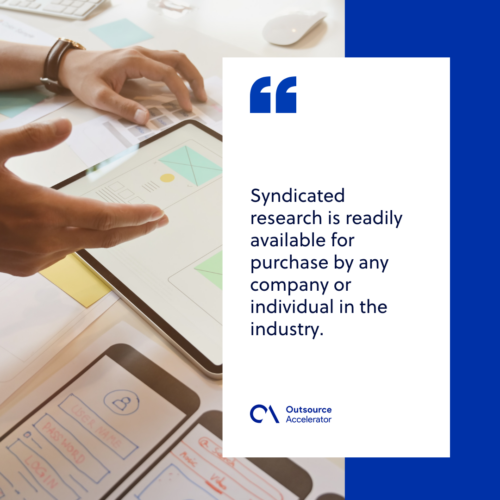 Custom vs syndicated research
Market research firms, in general, perform two classifications of research: custom and syndicated research.  
Compared to syndicated research, custom market research is funded and executed specifically for one client company. More so, the results of the custom research will be owned solely by the client. 
The results of syndicated research, on the other hand, are owned by the market research company itself and will be sold to different clients. 
The difference between the two boils down to who will capitalize on the research, as well as who will own the results. 
One of the main advantages of syndicated research is its cost-effectiveness. Considering its results will be sold to various companies, the cost for the overall research will be divided among those organizations.   
When to use syndicated research?
Apart from companies saving on costs, syndicated research also provides valuable insights into the market industry. To be more specific, here are ways it can help a business: 
Measure brand awareness
Syndicated research can provide multiple companies with data on how their offered products or services are viewed. It includes perspectives from both their patrons and potential customers and comparisons with their competitors. 
Access competitive intelligence
Syndicated research is an ideal source of competitive intelligence as it provides valuable information on specific trends in the macro-level industry. 
Moreover, it gives companies comprehensive insights into various customer experiences and current issues in specific industry sectors. 
Determine current industry trends
Syndicated research is usually performed on a large scale, and because of that, organizations get more accurate information on the consumers' needs and demands. Further, it also provides businesses with specific issues that will most likely impact their industry in the future.   
Get insights into the overall market
Custom research focuses only on a particular subject matter and in a smaller population. In contrast, syndicated research gives significant information on the general market industry. 
In addition to that, it provides insights to all players in the market, namely the customers, businesses, and clients.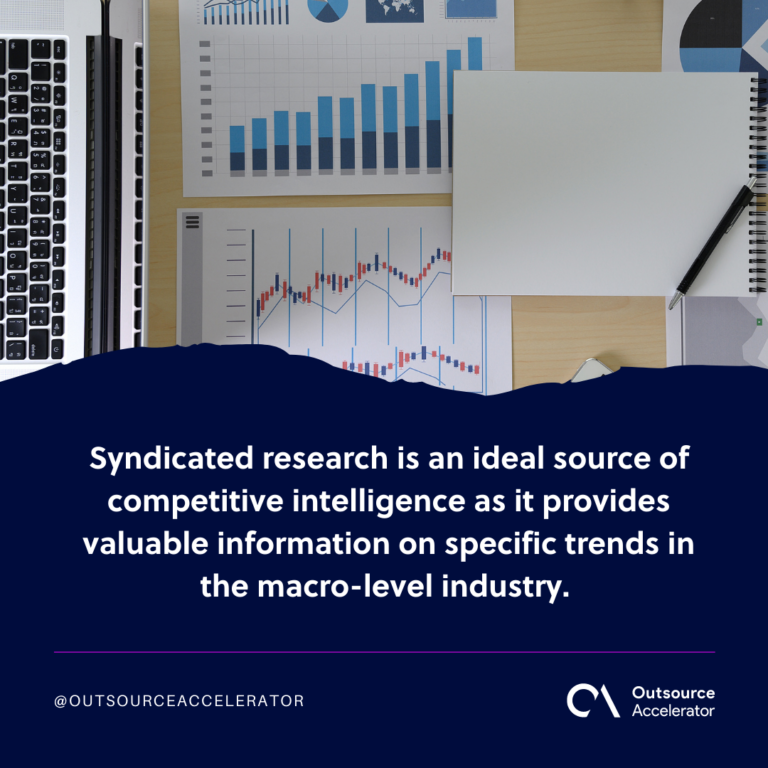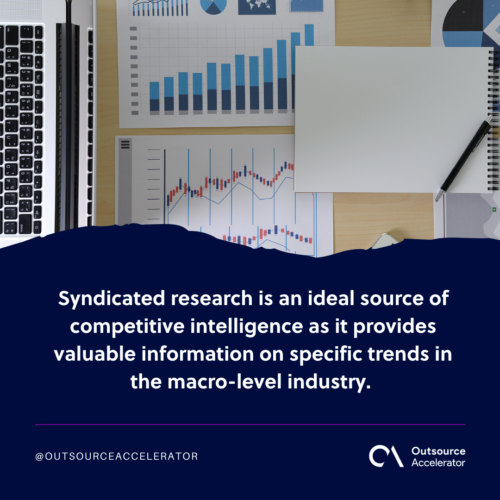 Where to acquire syndicated research reports
For businesses looking to acquire syndicated research, it can be procured from the following: 
Market research reports providers
Market research report portals are a great place to start for companies to look for and purchase syndicated research reports. These portals commonly work with renowned global market research firms. 
Market research report providers can also help organizations in looking for the right research suited to their business requirements. 
Industry associations 
Different industry associations can also be a viable source of syndicated research specific to one's industry. 
These industry associations often hire market research firms to conduct research for them. In most cases, they make the study available to the public.  
University libraries 
University libraries usually have access to different research studies on various digital databases. Organizations that gain access to these university libraries are given the privilege to tap into a wide collection of research studies. 
However, these collections carry limited information, but they're often enough to help companies with specific data they need. 
In terms of the cost of syndicated research, it will always depend on the type of report and its publishers. One thing is for sure: it costs less than custom market research.