Support Shepherd vs. Upwork: Which is the better option?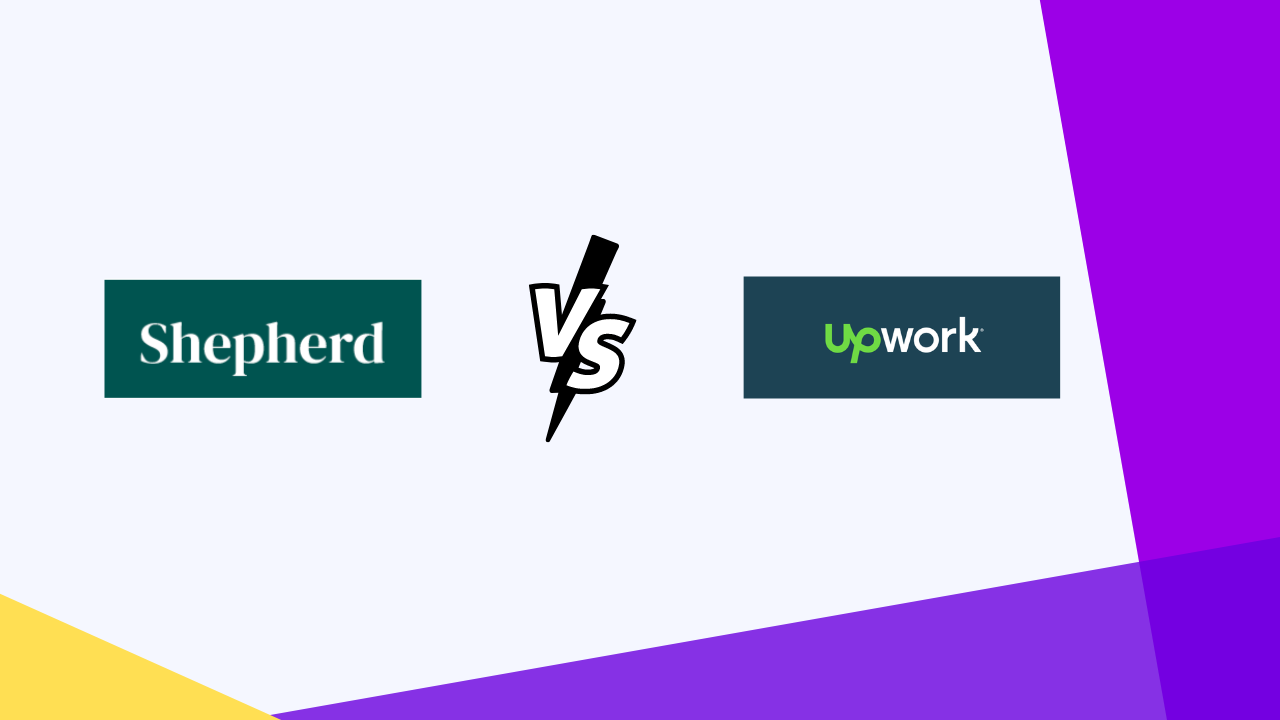 When it comes to hiring remote workers, businesses have a multitude of platforms to choose from, including the rising Support Shepherd and the well-established Upwork. 
In this article, we will compare Support Shepherd vs. Upwork to help you determine which platform is the better option for your business needs. We will explore their features, benefits, pricing, and the services they offer.
Let's dive in!
About Support Shepherd: Pros and cons
Support Shepherd is a Philippines-based headhunter agency that specializes in providing "top overseas talent for your company."
Let's take a look at the pros and cons of using Support Shepherd:
Pros of Support Shepherd
Streamlined hiring process
Support Shepherd handles the entire recruitment process, including candidate sourcing, screening, and onboarding. This saves businesses time, resources, and effort.
Quality assurance
Support Shepherd ensures that remote workers are highly skilled and competent through strict screening processes and ongoing support.
Cost-effective solutions
Support Shepherd promises businesses to save up to 80% on labor costs. This page will show the costs you can save if you outsource specific roles.
Personalized matching process
Support Shepherd takes the time to understand the unique needs and requirements of businesses. They perform personalized matching based on the specific criteria provided by businesses.
This increases the likelihood of finding remote workers who not only possess the required skills but also fit well within the company culture.
Cons of Support Shepherd
Client dependency
Engaging Support Shepherd for managed services means relying on their capabilities and availability. Businesses may experience challenges if they encounter issues or require additional assistance beyond the scope of the firm's services.
The level of support may not always meet the unique demands of every business, leading to potential limitations or constraints.
Limited control over the hiring process
While Support Shepherd handles the recruitment process, businesses have less control over candidate selection and negotiation.
Some businesses prefer to have more involvement in the hiring process, such as conducting interviews themselves or negotiating terms directly with candidates.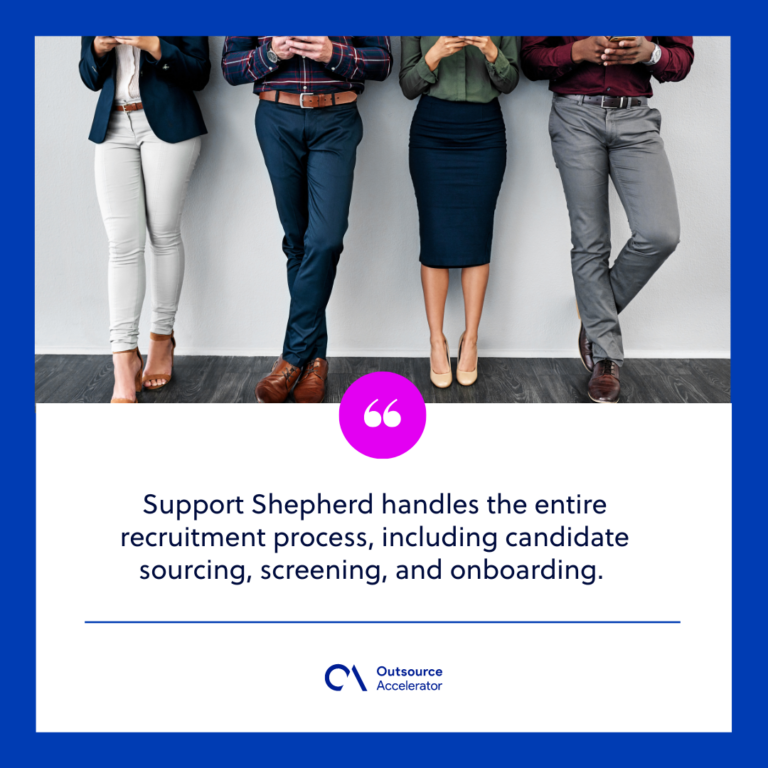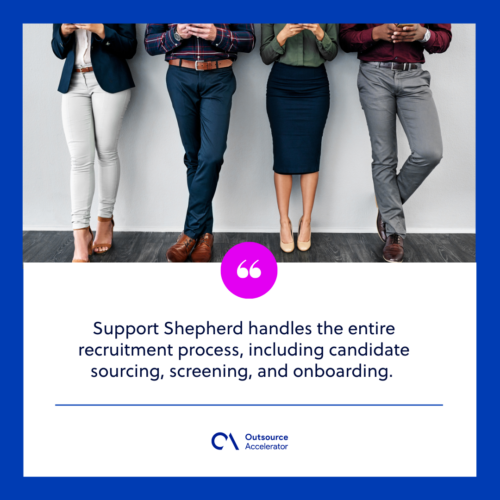 About Upwork: Pros and cons
Upwork is a well-known freelancing platform that connects businesses with freelancers from around the world.
Let's explore the pros and cons of using Upwork:
Pros of Upwork
Access to a vast talent pool
Upwork provides businesses with access to a vast and diverse pool of freelancers from around the world. With over 12 million registered users, businesses can find professionals with a wide range of skills and expertise across various industries.
This extensive talent pool increases the chances of finding the right candidate for specific project requirements.
Transparent work monitoring
Upwork offers built-in features that enable businesses to monitor the work progress of freelancers.
Businesses can track the number of hours worked, review work-in-progress, and ensure that tasks are being completed according to their specifications. This transparency provides businesses with visibility and accountability throughout the project.
Secure payment system
Upwork also provides a secure payment system that protects both businesses and freelancers. 
Businesses can fund milestones or pay hourly rates through Upwork's platform, ensuring a safe and reliable payment process. This helps mitigate potential payment issues and provides a level of security for both parties involved.
Cons of Upwork
Competition and oversaturation
Upwork is a popular platform, which means there is a high level of competition among freelancers.
Oversaturation in certain skill categories may result in a larger pool of freelancers than available job opportunities, making it more difficult for businesses to stand out and attract top talent.
Risk of unreliable freelancers
Despite efforts to vet freelancers, there is still a risk of encountering unreliable or fraudulent individuals on Upwork. Businesses need to exercise caution and due diligence when selecting freelancers, thoroughly reviewing their profiles, portfolios, and client feedback.
This risk is inherent in any online freelancing platform and requires businesses to be proactive in managing it.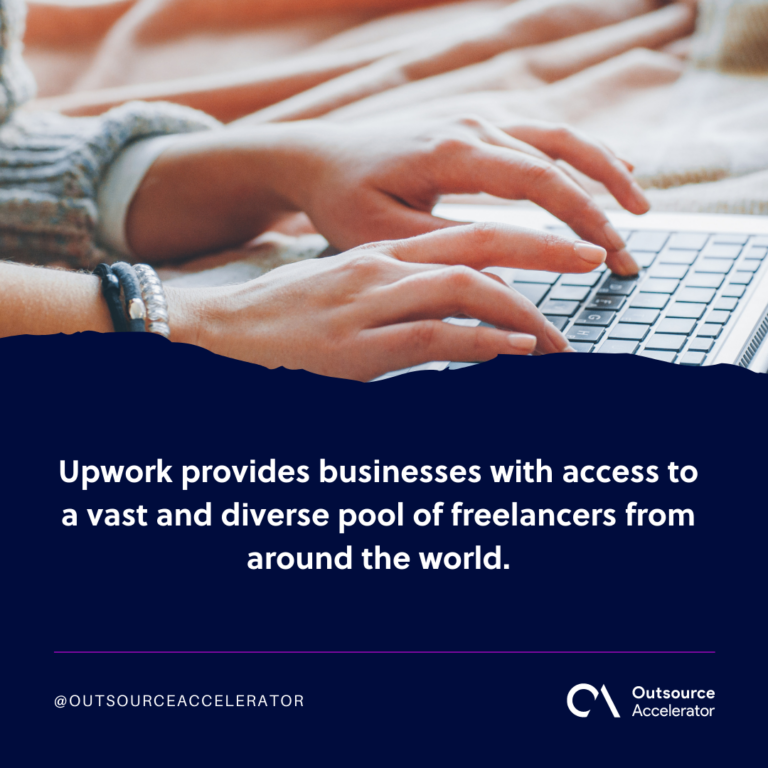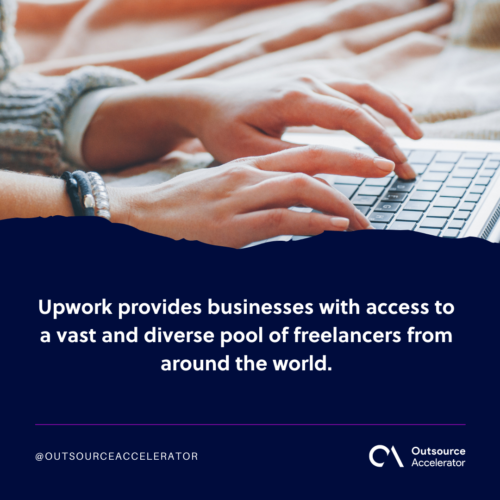 Support Shepherd vs. Upwork: A comparison
Now, let's compare Support Shepherd and Upwork across different aspects to determine which platform is the better option for your business:
Benefits of Support Shepherd vs. Upwork
Support Shepherd benefits:
Access to a diverse talent pool of skilled professionals from various industries.

Streamlined hiring process and managed services.

Quality assurance and reliable support.

Flexible working arrangements to meet your business needs.
Upwork benefits
Large talent pool of freelancers with diverse skills and expertise.

Direct communication between businesses and freelancers.

Flexible hiring options (hourly or fixed-price contracts).

Cost-effective options for short-term or project-based work.
Pricing
According to available online sources, here is the pricing structure for both Support Shepherd vs. Upwork.
Company
Pricing structure
Guarantee

Support Shepherd

35% one-fime headhunter fee

90 days. Second hiring will be done for the same role if client is not satisfied with the first option.

Upwork

Freelancers will pay a 10% freelancer fee on all earnings, including bonuses

There are exceptions to this rule.

See here.
Services offered
Here are the services offered by Support Shepherd vs. Upwork:
Support Shepherd services:
Comprehensive candidate screening and vetting processes.

Matching businesses with suitable remote workers.

Onboarding and training support.

Ongoing management and performance tracking.

Replacement or additional hires if needed.
Upwork services
Job posting and search functionality.

Direct communication and hiring with freelancers.

Advanced search filters for tailored candidate selection.

Self-service management tools for tracking time, assigning tasks, and monitoring progress.
How do Support Shepherd and Upwork differ?
Support Shepherd and Upwork differ in several aspects:
Managed services vs. Self-service

. Support Shepherd offers a managed service approach, handling the entire hiring process, while Upwork provides a self-service platform where businesses have more control over candidate selection and management.

Quality assurance.

Support Shepherd emphasizes

quality assurance

through strict screening processes and ongoing support, whereas Upwork requires businesses to carefully vet and evaluate freelancers to ensure quality.

Cost structure.

Support Shepherd's pricing is customized based on the level of support and services required, while Upwork charges a percentage fee based on the freelancer's earnings.
Consider your business requirements, preferences, and budget when choosing between Support Shepherd vs. Upwork.
Support Shepherd may be a better fit for businesses seeking a managed service approach and specialized support, while Upwork may be more suitable for businesses looking for a larger talent pool and more control over the hiring process.