Exploring strategic staffing in modern organizations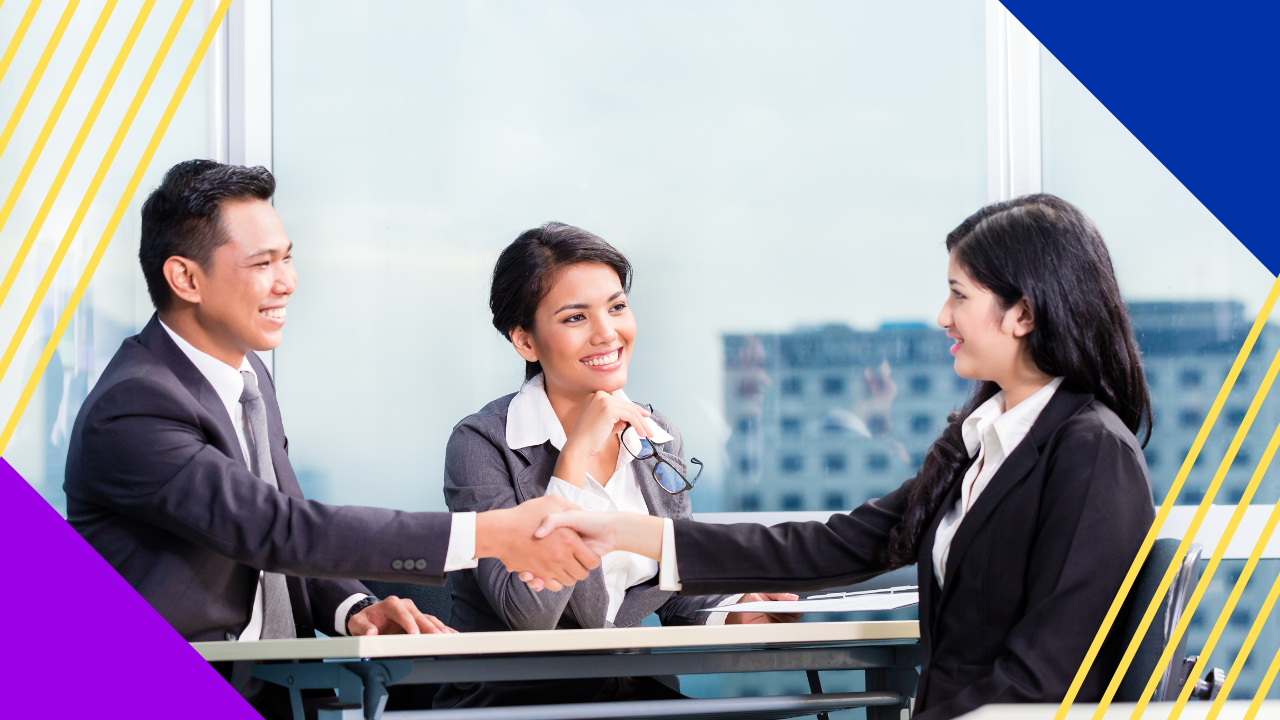 Staffing, in essence, is the lifeblood of any organization. The workforce is a vital contributor to a company's collective success.
With the increasing talent gap, challenges in finding the right staffing, and getting bad hires, employers should care much more than filling positions. Instead, they should learn to align their hiring strategies with the goals and needs of the organization.
Strategic staffing has emerged as a crucial practice that helps businesses achieve long-term success by making this possible.
In this article, learn about the essence of strategic staffing for modern organizations.
What is strategic staffing?
Strategic staffing is a systematic and proactive approach to acquiring, managing, and deploying the workforce needed to achieve company goals. It focuses on the long-term alignment of workforce capabilities according to an employer's objectives.
This approach integrates recruitment, selection, training, development, performance management, and succession planning to create a cohesive, high-performing workforce.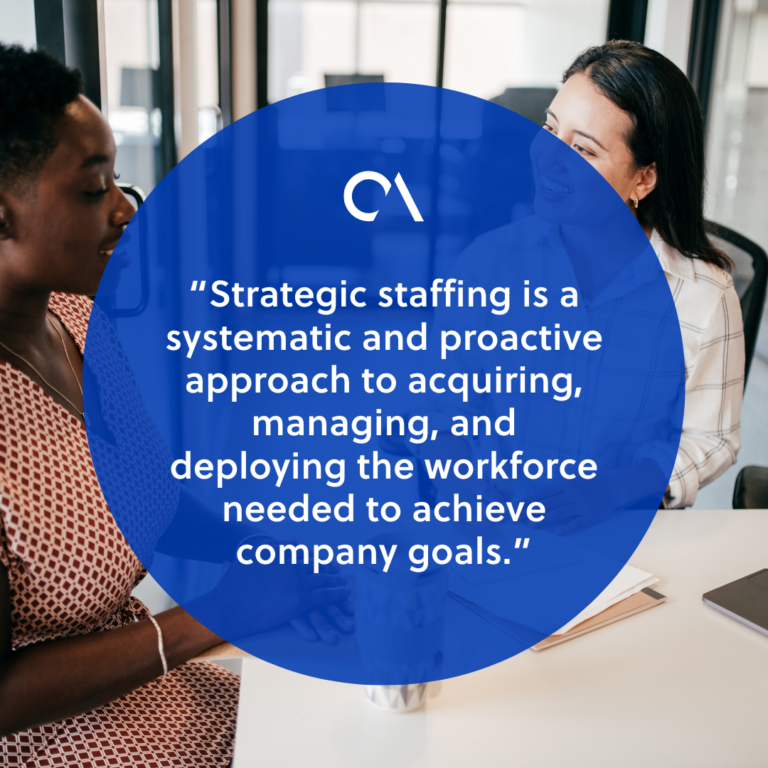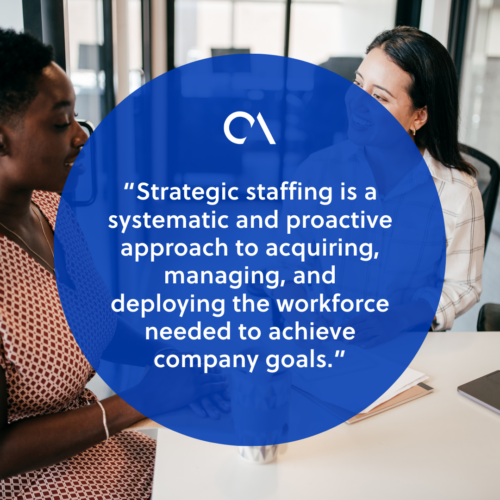 Foundations of strategic staffing
Strategic staffing is comprised of a strong foundation of aspects for effective understanding and implementation. It is formed based on various requirements that affect the quality of their hires, such as company culture and objectives.
This foundation includes the following:
Organizational strategy
Strategic staffing starts with deeply understanding a company's long-term goals and objectives. Staffing decisions aligned with their objectives help them direct their teams to the company's success.
Workforce planning
Effective strategic staffing requires a comprehensive analysis of current and future workforce needs. This analysis involves identifying key competencies, skills gaps, and potential resource shortages to develop targeted staffing strategies.
Talent acquisition
Attracting and selecting the right talent is a critical component of strategic staffing. 
Organizations must focus on identifying and attracting individuals with the required skills, experience, and cultural fit to drive the organization forward.
Talent development
Strategic staffing involves investing in talent growth and development. 
Employers should provide employees with opportunities for growth, skill enhancement, and career progression to maximize their potential and contribution.
Strategic staffing process
The strategic staffing process involves several key stages that organizations must follow to ensure effective workforce alignment.
It undergoes the following steps:
Assessing workforce needs
The first step in the strategic staffing process is to assess the organization's current and future workforce needs. This involves identifying skill gaps and forecasting future staffing requirements.
Sourcing and attracting talent
HR and recruitment teams must apply a proactive talent-sourcing approach to successfully implement strategic staffing.
This includes utilizing various channels such as online job portals, social media, employee referrals, and professional networks to attract high-quality candidates.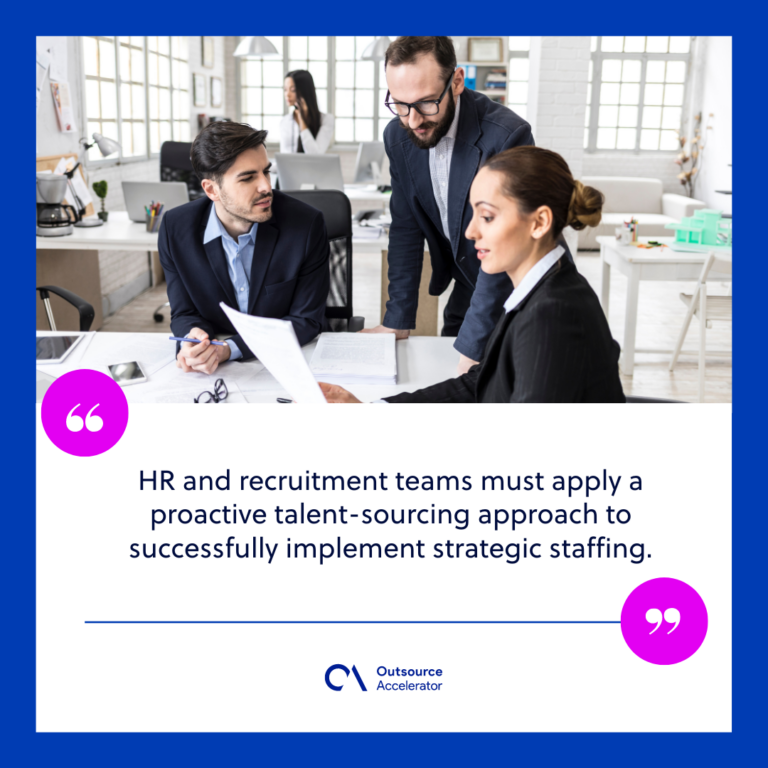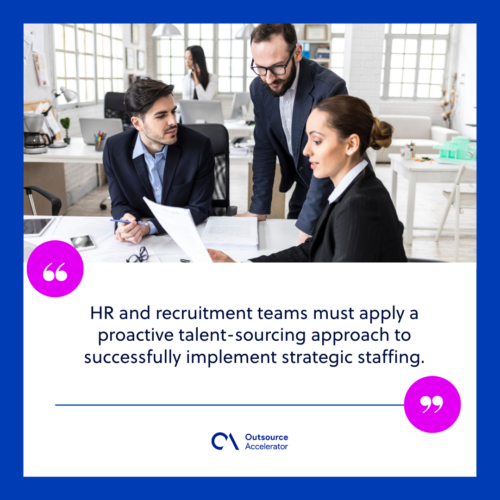 Selecting and hiring
During the selection and hiring phase, candidates are evaluated based on their qualifications, experience, cultural fit, and potential for growth.
By employing rigorous selection processes, organizations can ensure that they hire candidates who align with their strategic objectives.
Onboarding and integration
Once candidates are hired, HR teams will implement a structured onboarding process to help them integrate into the company seamlessly.
Effective onboarding programs give them initial insight into the company and accelerate their productivity and engagement.
Advantages of strategic staffing
Implementing strategic staffing offers several benefits to modern organizations, allowing them to thrive in a competitive business environment:
Improved organizational performance
Strategic staffing ensures that organizations have the right people in the right roles. This alignment of talent and business objectives improves the company's performance due to workforce productivity.
Reduced employee turnover
By proactively identifying and addressing skill gaps and career growth opportunities, strategic staffing helps organizations retain their top talent.
Employees feel valued and motivated, increasing job satisfaction and reducing turnover rates.
Enhanced talent pool
Strategic staffing enables organizations to cultivate a diverse and highly skilled talent pool. 
This diverse talent pool brings fresh perspectives and broad expertise, fostering innovation and creativity within the organization.
Adaptability to change
Organizations must be agile and adaptable to change, especially with emerging recruitment trends.
Strategic staffing allows organizations to anticipate future skill requirements and develop a workforce capable of responding to evolving market demands.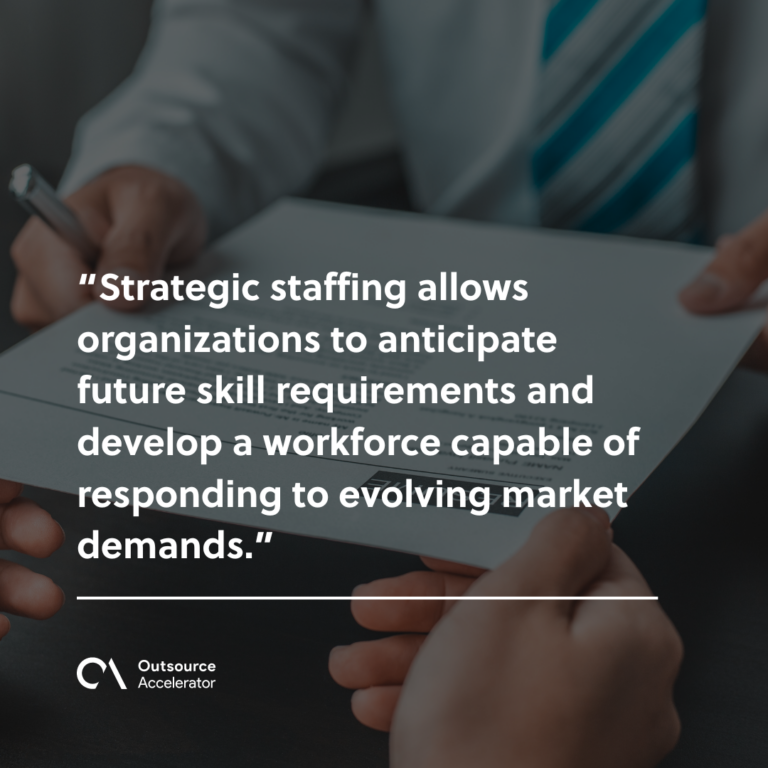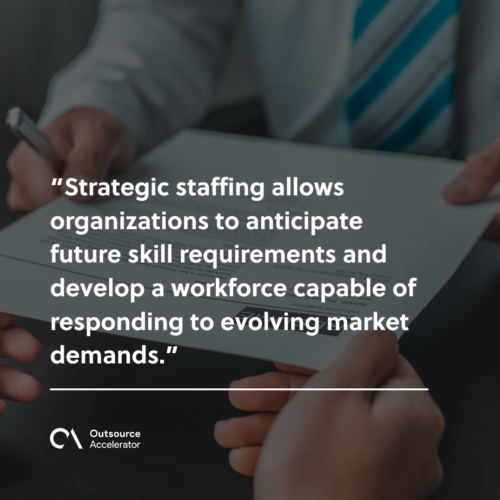 How to implement strategic staffing effectively
Strategic staffing is vital for modern organizations aspiring to achieve long-term success. Doing so can help organizations build a high-performing workforce that drives performance and adapts to change.
To implement strategic staffing effectively, organizations should consider the following strategies:
Align staffing with organizational goals

. It is crucial to align staffing decisions with the company's long-term goals. This helps them match the skills they need while

avoiding career stagnation

within their staff.

Invest in workforce planning

. Firms should develop robust workforce planning processes. They can proactively address workforce challenges and minimize disengagement in their workforce throughout the organization.

Promote a culture of continuous learning

. Organizations must foster a culture of continuous learning to stay ahead in today's competitive environment.
Encouraging employees to develop new skills and providing training programs can enhance their capabilities and ensure they are well-prepared for future challenges.