Startup statistics you should know about in 2023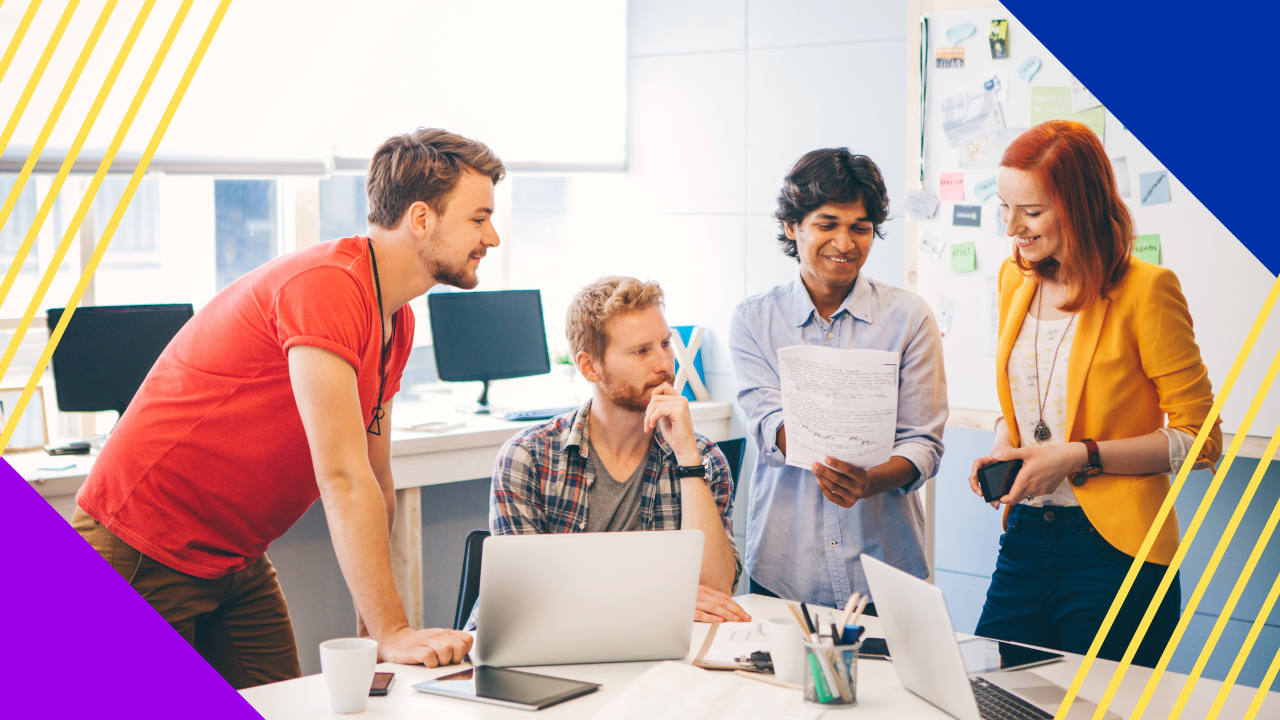 The power of data has contributed to many aspects of innovation and advancement, particularly in running a business of any size.
With statistics, collecting data accelerates various business strategies that translate to reliable analysis. In other words, statistics is a fundamental process contributing to sound and appropriate decisions.
Although some companies base their action on the results of their overall customer experience, statistics is still competitive because of its scope and ability to provide better understanding.
Because of its impact in improving the systems and mechanisms in various industries, statistics is now considered an integral element in business development.
All kinds of businesses, specifically startups, are utilizing the benefits of acquiring helpful analysis and interpretations with startup statistics. 
This article will help improve your understanding of how crucial the work of startup statistics is in addressing the challenges of your business more effectively.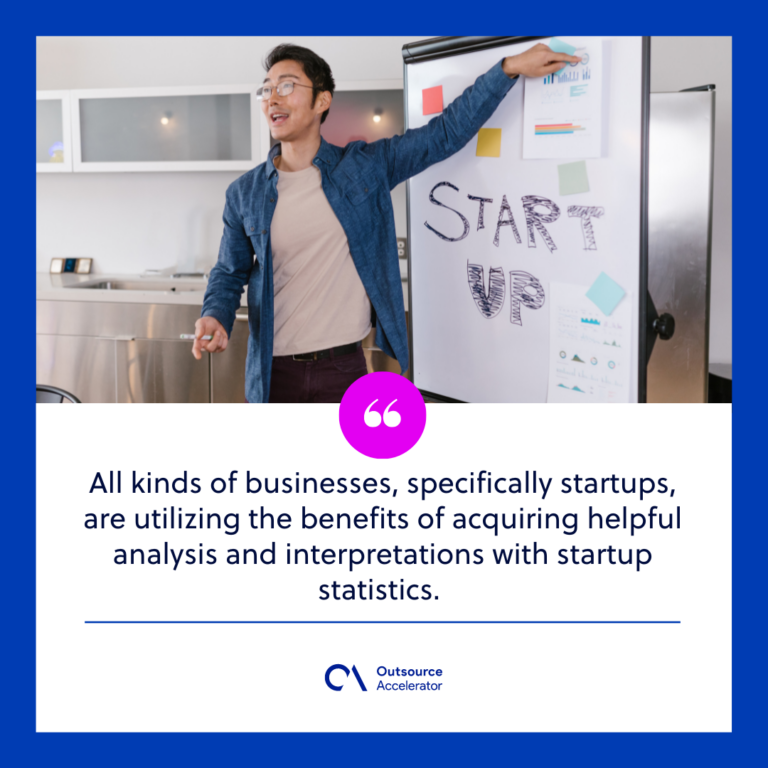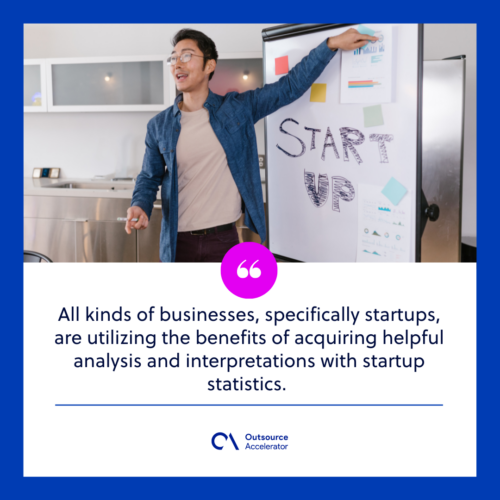 Importance of understanding startup statistics
In stages of business establishment, the startup stage is one of the most difficult. Once your physical store exists, ensuring the availability of services and products is needed to establish an excellent market presence. 
However, the challenge is not only limited to the availability of resources. Introducing products and services requires monitoring in terms of lead generation, interaction with customers, and flow of transactions, to name a few. 
It is the reason why it is necessary to understand startup statistics. Interpretations and analysis based on these processed data can help and guide many firms in taking proper actions.
Apart from observation, startup statistics can give appropriate quantitative data to complex forms such as graphical, tabular, or diagrammatic presentations. It stretches the limitation of usual data interpretations.
It architects effective ways to address and eventually avoid the unfavorable outcomes of business challenges.
On the other hand, startup statistics can also serve as a guiding tool that can motivate businesses to continue exploring innovative ways to deliver an excellent customer experience. 
Startup statistics: Insights on success rates
Acquiring advanced information can help you assess your way ahead and strategic plan for your business. Systems and processes are becoming more advanced, highlighting the call for continuous improvement.
Insights on success rates of startup statistics will guide and motivate you to put extra effort and benchmark those practices that can help your business grow.

According to Small Business Trends, at present, startup businesses starting operations at home grow at around 69%.

As a cost-effective solution, most startup businesses start operations at home. For business founders, startups are usually associated with high costs and low revenues.
Startup Ranking's survey revealed that the United States breaks the record as a country with the highest number of startups.

The country has recorded the highest number of startups, with over 70,000 businesses. India is second with 12,556, and the United Kingdom with 6,155 startups.
Meanwhile, Statista reports that Fintech is one of the most successful industries in startups today. 
With about 7.1%, the fintech industry acquires the most number of startups in the global market today. This is followed by the life science and healthcare industry with 6.8% and artificial intelligence with 5.0%.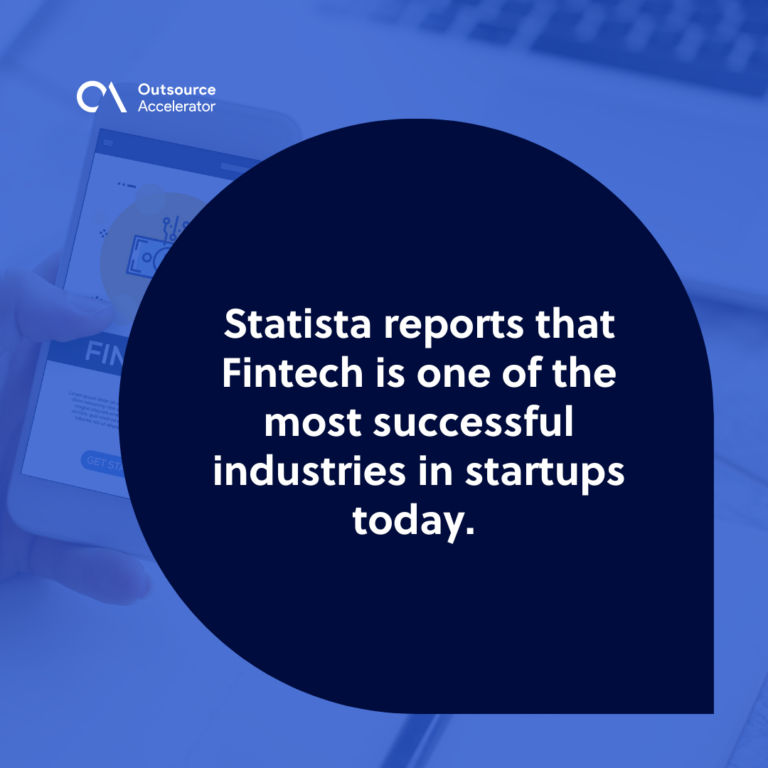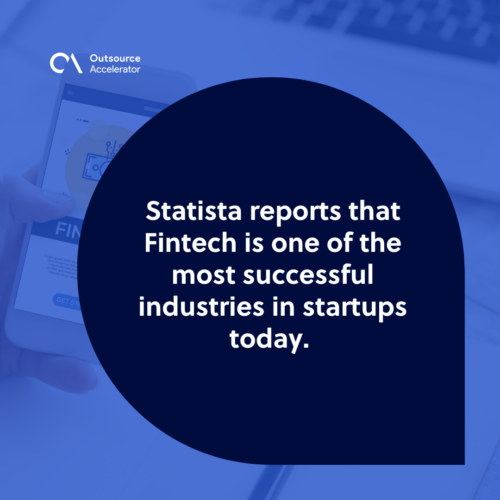 Startup statistics: Insights on failure rates
Given that any business is a risk, it is necessary to learn the factors to avoid and help you understand the dynamics of setting up a business. 
Aside from success rate, identifying insights that will expand your knowledge on possible challenges you may encounter along the process is an intelligent response.
Here are some of the startup statistics on failure rate that you may consider in establishing opportunities for your business:
As per CB Insights, the top factor why startups fail connects to lack of funding or capital. It rationalized 110 startup failures and determined the factors that caused failures. 
Based on the report, 38% reflects running out of financial resources or new capital is one of the main reasons, while 35% is due to lack of a market that needs their products and services.
Failory, on the other hand, notes the information sector as the top industry with the highest failure rate for startups. 
The information industry set a 63% failure rate compared to other industries. Transportation and utilities recorded 55%, construction 53%, and manufacturing with 51% failure rate.
National Capital Business also found that one in five startups fail in the first year. Almost all startup businesses have a 21% chance of failing during their first year of operation. 
It anchors to a variety of factors, including financial challenges and poor product market fit.
Global startup statistics
The global market trends are rapidly changing, and the way businesses adapt to these changes can affect their sustainability and the impression they can give to their customers.
An overview of global statistics, especially on startup businesses, is a competitive advantage. 
Here are some of the global startup statistics that can guide you:
According to CB Insights, Startups with billion-dollar costs or unicorns have doubled since June 2023.

Several startups that cost over $1 billion, known as unicorns, have continuously expanded over the years. The record shows that its number almost doubled from 2020 to 2021.
Startup Genome noted that Agtech and New Food is the fastest-growing startup industry.

Exceeding an increase of 100% in funding, Agtach and New Food is considered the fastest-growing startup industry. Startup statistics say it has recorded a 128% funding increase from 2021 to 2022.

Statista's survey estimates that Asian smart city startups will generate $50 billion in global revenue by 2025. 
As these startups revolutionize public urban infrastructure with IoT, they are forecasted to generate nearly $50 billion in earnings by 2025 from $10 billion recorded revenue in 2020.
A survey conducted by Hurun revealed that TikTok is the world's most valuable startup. 
TikTok is now one of the world's most popular platforms for startups. Its capability to feature short-form videos in social media helps many businesses to expand their reach and generate more profit.
Going back to unicorn businesses, Hurun reports that the overall value of these businesses worldwide is around $4.3 trillion.
More than 1,200 unicorns today are estimated to be worth $4.3 trillion, equivalent to an average unicorn value of $3.5 billion. TikTok is the most valuable, with a $225 billion cost.
Exploring business opportunities through these startup statistics
The power of startup statistics for any business industry is extensive, as it delivers many forms of interpretation and a variety of contexts. 
We can derive analysis using observation, but a conclusion backed with properly sourced data can be more competitive. It stretches deeper analysis and points of view on business trends.
Companies use these statistics to strategize sales generation, monitor production, establish short and long-term plans, and remodel organizational structure. 
As a result, businesses exploring business opportunities through startup statistics are observed to be more stable and consistent in delivering services and managing operations.
Here are some of the notable factors to which startup statistics can help business succeed:
Analyze trends and patterns
Startup statistics helps business leaders identify emerging trends and patterns using data analysis. It forecasts operational movements, like sales fluctuations or changes in customer behavior.
This information allows organizations to handle marketing, product innovation, and resource management-related decisions.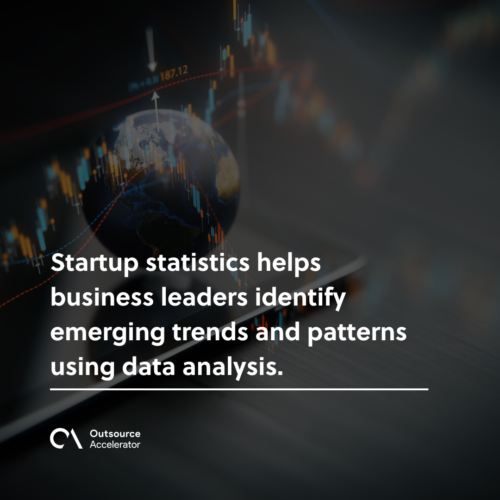 Drives data-based decisions
Decisions have a high impact on the overall business process. The vitality of its context should be firm and backed with reliable data analysis.
Statistical analysis drives data-based decisions generated with evidence, not just by observation. It helps firms avoid mistakes and maximize more of their resources, resulting in a higher return on investment.
It also improves the risk management system of an organization by helping leaders identify risk factors ahead of time.
Projecting future trends
As mentioned earlier, startup statistics can help project trends in different industries. It includes monitoring consumer behavior, technological advancement, and economic changes.
Learning the curve of global trends is an intelligent way to establish a consistent and impactful presence in the industry despite the vast market competition.
Projecting future trends requires additional efforts beyond boundaries. If your business is aware of the cycle and movement of the industry, adapting to the changes will require less challenge.
Cultivate processes
Data information can give direction by directly pointing out inefficiencies in business processes. It cultivates maximum efficiency by analyzing ideal timelines and areas of improvement for higher productivity.
Enhancing your process is a great source of success. It allows flexibility that ensures high marketability to your product or services offered.
Being consistent is good, but cultivating your business strategy is exceptional. Proper information and analysis will guide your future organizational plans.
Upgrade customer experience
Startup statistics is an intelligent move to understand customers' needs and preferences. As a result, organizations can easily tailor products and services to cater more options. It drives customer loyalty and improves overall customer experience.
Customer experience defines the overall product value or services offered. Startup statistics plays a vital role in painting an exceptional relationship with the business to its customers.