Importance of spend management in achieving organizational success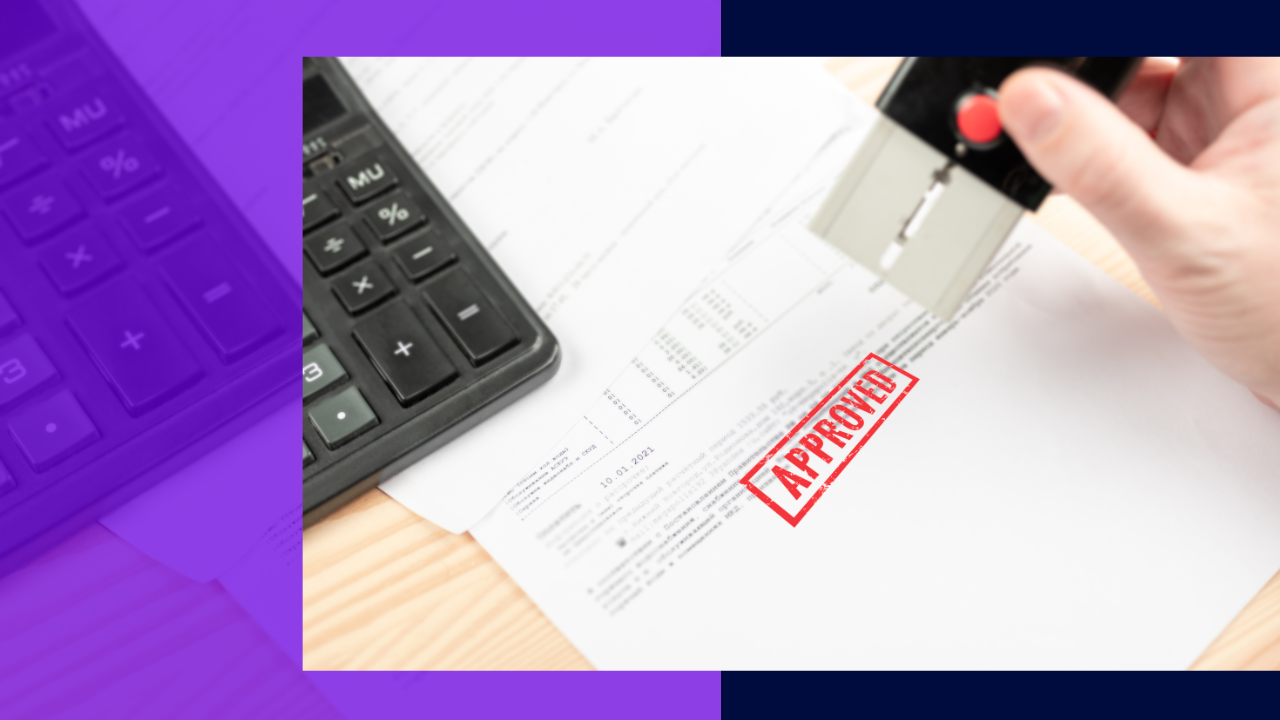 In today's business landscape, many organizations struggle to make smart and strategic decisions. Without spending management software, companies risk losing valuable assets such as profitability and overall market performance.
One tested and proven business strategy is spend management, which pertains to efficient procurement and strategic sourcing processes. 
In this article, we'll delve deeper into how spend management works and why companies need to start looking into their purchasing habits.
Understanding spend management
Organizations need to maximize their procurement decisions and spending habits. By decreasing costs, businesses can optimize their spending management patterns.
Read on to find out how to streamline your investment decisions and sourcing methods.
How spend management works
Organizations need to spend to acquire new assets and gain business stability. 
Implementing efficient purchasing practices can help you align expenses with your business goals and priorities.
Spend management refers to monitoring and improving a company's purchasing habits through smart procurement decisions. That is why it's important to know the steps in mitigating your financial risks.
The first step is to determine your sources of expenditure, including supplier invoices, purchase orders, and receipts. 
Second, gather your data in a central database to easily monitor and analyze your purchases based on your spending patterns.
Finally, forecast and plan depending on the market opportunities and changes in supply and demand.
By utilizing a cloud-based platform, organizations can easily implement these steps and gain insight into the digitization of their expenditures, such as:
Daily, monthly, and quarterly expenses

Staff training costs

Improvement purchases

Infrastructure spending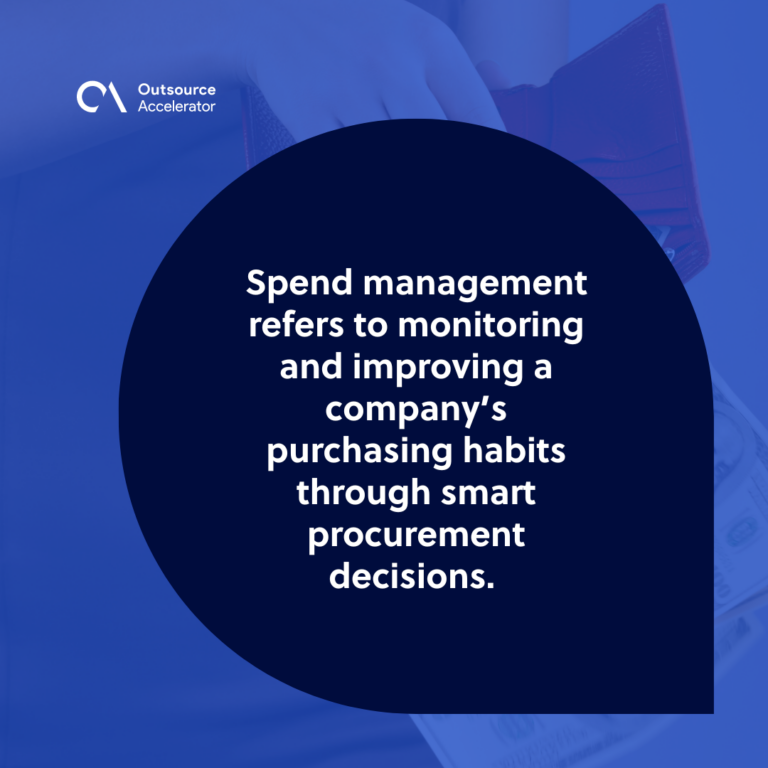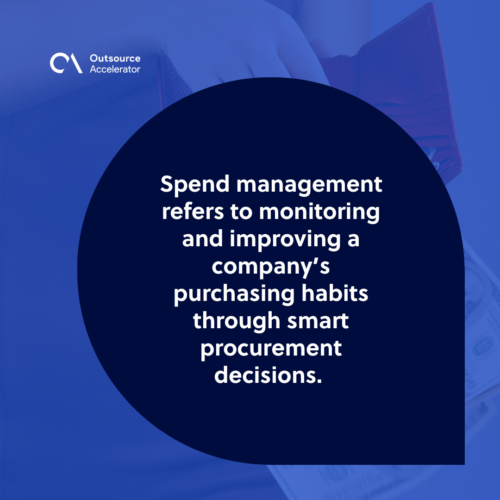 Why is spend management important?
Good spend management is important to secure the financial goals of your company. Unnecessary spending will only negatively affect your cash flow. 
You will lose your suppliers and increase cash leaks without improving your spending patterns.
Benefits of spend management
The key to organizational success is having the digital tools and resources to implement good spend management.
If you are looking for additional hand to help, MVP Asia Pacific's offshore staffing can help you mitigate your spend management better.
Here are the advantages of spend management:
1. Real-time inventory and purchase visibility
Spend management give businesses greater control of their cash flow and resources to grow revenue. 
A comprehensive view of your inventory, purchase history, and spending data enables you to follow through with your expenses in real time. 
Thorough spend management ensures end-to-end restructuring. This will help you plan your budget and combat any financial hurdles ahead of time.
2. Greater efficiency and resiliency
Integrating cloud-based software allows you to automate your purchases within your preferred limits.
With a reliable tracking system, you can save time and focus more on growing your business. You can also focus more on improving your internal processes.
Manual tracking of spending can often lead to human errors. But with efficient software, you can guarantee data accuracy across your departments.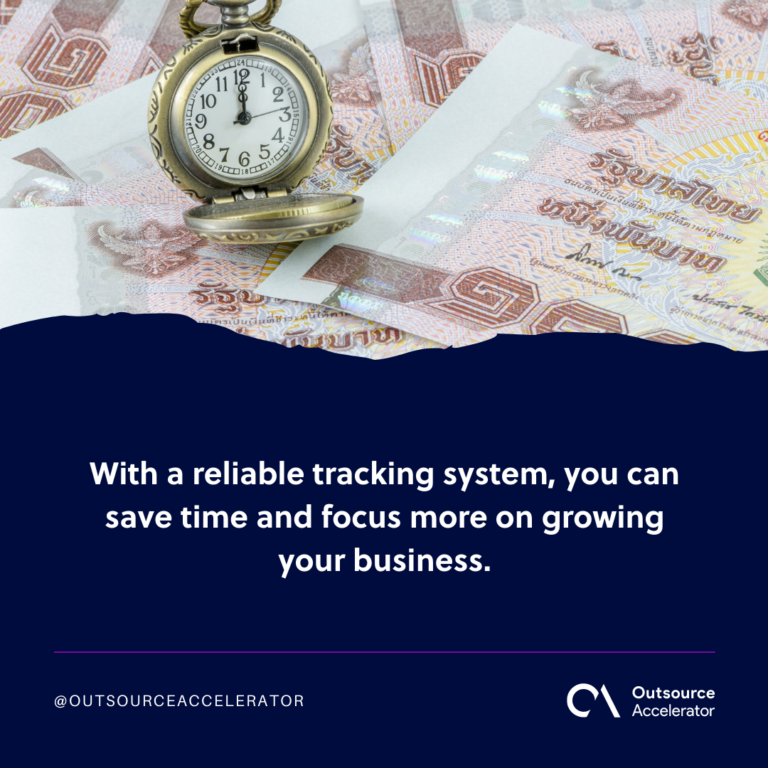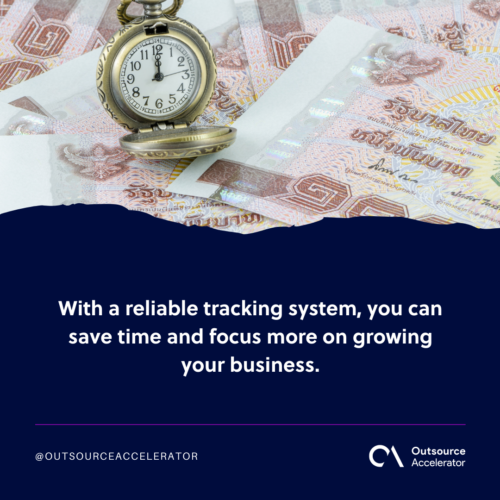 3. Improved cash flow
The more you cut costs and streamline your spending, the more you enhance your profitability. 
Tracking and analyzing your short-term and long-term expenses can help you optimize your daily costs. Accurate cost optimization allows businesses to attract more sales. It gives a holistic view of your pricing structures to plan and forecast revenue growth.
4. Reduced fraud risks
Establishing strict purchase policies can avoid individual employee spending and company-wide purchasing irregularities.
When you have a clear picture of how the money is spent within your organization, you can allocate your resources more efficiently.
Transparency and real-time visibility help strengthen your company's financial security. Better control of expenses can also guide you in making informed decisions about cost opportunities that may come your way.
5. Lower spending and higher cost savings
Optimize your working capital through sustainable spend management. Aside from avoiding late fees, you can also catch duplicate invoices.
If you perform a structured spend analysis, you'll successfully enhance your business profitability. Start by identifying your direct and indirect expenditures. 
This way, you'll determine what you need to keep or not.
6. Better supplier relationships
Strategic spend management drives meaningful collaboration with suppliers. Further, companies can identify and compare the amount they're spending.
With a centralized purchase database, you can easily visualize the rates and how much you're willing to pay and negotiate with suppliers.
Moreover, digitized spend management makes communication and collaboration with suppliers fast and easy.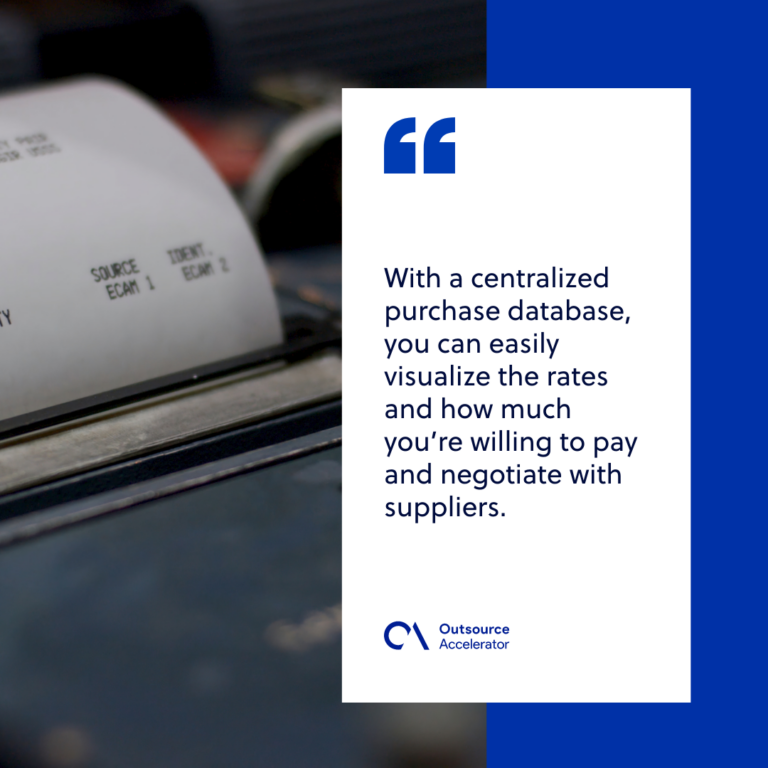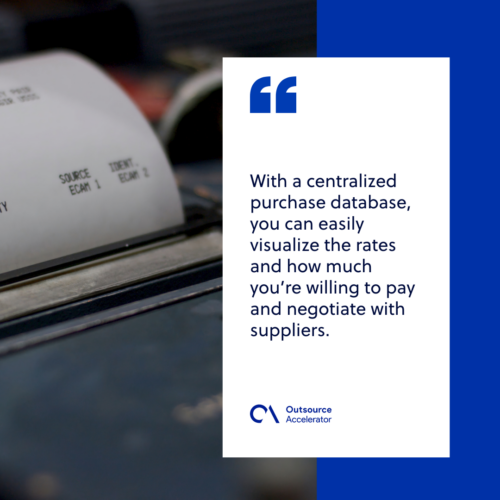 Streamline your spend management strategies
Leveraging internal processes is the best way to manage the overall performance of a company. With a good and reliable spend management system in place, your business will run smoothly and efficiently while cutting costs and improving profitability.
Maximize your company's financial goals to avoid unnecessary spending. Having a good spend management software can help streamline your budget and overall cash flow. 
After all, your business won't succeed without mitigating financial risks.