Sep Outsource Report: 2,781 Jobs Worth $83M, 1,315 Inquiries, 189k Visitors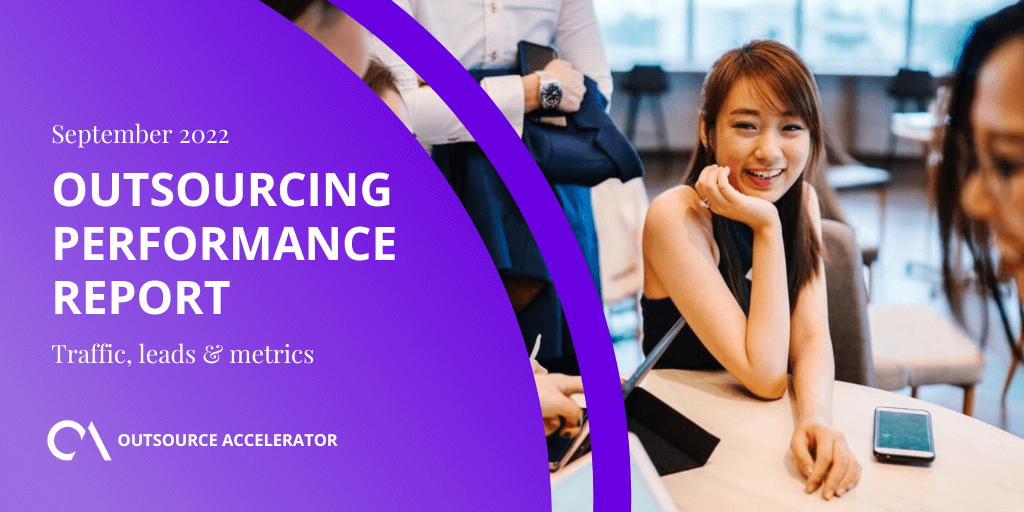 September outsourcing performance
Outsource Accelerator's web presence and authority has grown stronger. The OA website continues to be the go-to source of outsourcing information, and as a result, it outperformed its own record after peaking at 189,152 visitors (up 8.18%) and 577,637 page views (up 25.29%) in September.
Despite the holiday season being just around the corner, the volume of inquiries remained stable on the platform, generating a total of 1, 315 inbound inquiries, coming from 69 countries, representing 28 sectors. Of the 1,315 inquiries, there were 990 quotation requests representing an estimated 2,781* full-time staff with an outsourcing value of $83,430,000*. See all statistics in the Source Partner dashboard.
For the last 12 months, outsourcing quotation inquiries came to a total value of $768,090,000* requesting a total of 25,603* full-time roles.
*Conservative client value calculation: take the lowest end of their role request numbers, multiply by conservative top-line revenue of $1,250/role/month, multiplied by 24 months (conservative team lifetime value & duration)

Key metrics for September




Total outsourcing inquiry value – (12 mo.)


Total outsourcing inquiry value – (September 2022)


Notable inquiries
Outsource Accelerator generated over 43 inbound outsourcing inquiries for every day of the month in September. Of these 1,315 inquiries, there were 990 quotation requests. Here are six interesting examples:
Quality analysis
Outsource Accelerator analyses the data form all inquiries monitoring them for quality. The platform now assesses lead quality on a range of validation, quality and engagement metrics.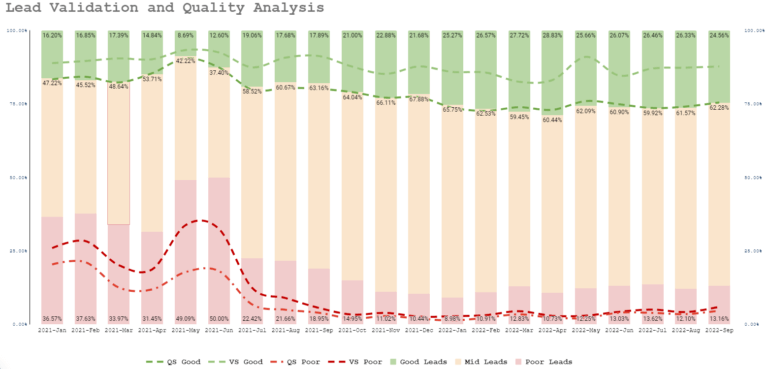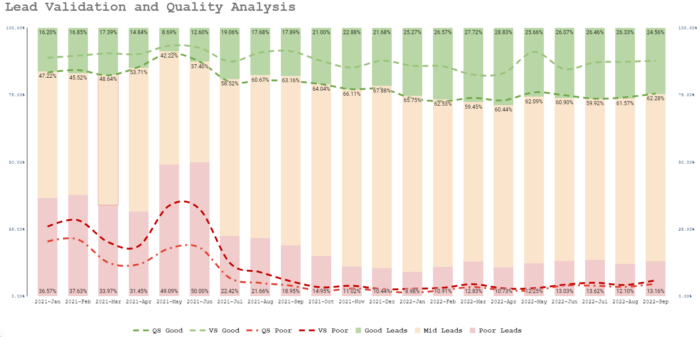 Source Partner v3.0 is now live!
The new Source Partner dashboard is now live!  The v3.0 release is a complete rebuild and offers unrivalled tools to help outsourcing firms attract new clients, and make more sales. It offers:
➤ Powerful business intelligence tools to identify outsourcing client prospects.
➤ Get introduced to hot inbound outsourcing inquiries.
➤ Powerful analytics and business intelligence tools to assist the sales process.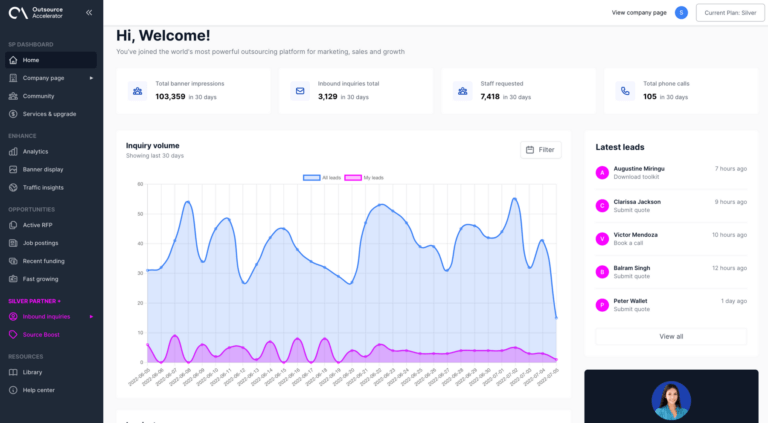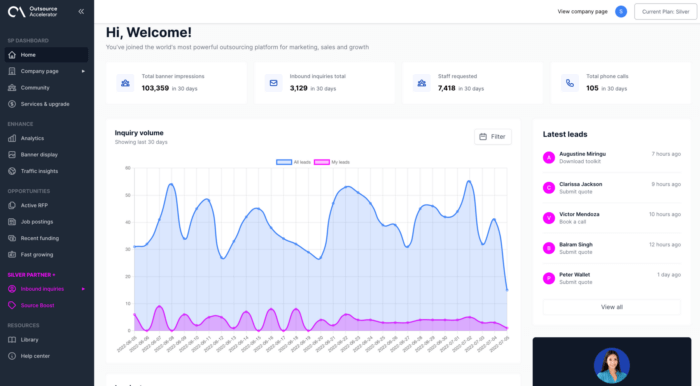 The most powerful outsourcing platform
The Source Partner platform is the world's most powerful outsourcing marketing platform, business intelligence tool, and community. Join us in this journey. Early birds catch the worm!
We are about to offer a one-off launch deal to get you all onboarded.  Stay tuned for this. 
List or claim your company page today – and get access to the SP dashboard. It's free.
Outsourcing inquiry insights – September
The Source Partner dashboard provides live analysis and deep-dive insight into the traffic and inquiries coming through. Some insights from this month:
Number of roles initially required
Clients typically start with a smaller requirement and then grow the team once they settle the team
Size of clients' company
The inbound inquiries come from companies of all sizes – from startups to multi-national enterprise
Location of clients' company
The client inquiries come from across the globe – typically from the high-cost English-speaking nations
Clients' company sector
The client companies cover almost every sector possible, and the roles they seek are also very varied
Outsourcing is booming!
More companies than ever are turning to outsourcing. There are 40 million SMEs in the high-cost English-speaking world.  As the economy tightens, they are all exploring offshore staffing to support their business.
However, we are also seeing a massive proliferation of outsourcing firms. There are relatively low barriers-to-entry into outsourcing, resulting in many mom-and-pop BPOs appearing almost overnight.
In addition, we are seeing many countries join launch and fortify their outsourcing efforts. Fiji, Jordan, Uzbekistan, Peru, Vietnam, Egypt, and the Balkans are all eager to benefit from the fruits of the global economy.
The market is expanding at breakneck speed.  But so too is the competition. Outsourcing firms need to ensure that they are well-positioned to capture the vast upside potential of this booming market cycle.
The outsourcing industry faces unprecedented opportunity over the next two years.  We suggest that all small and mid-tier BPOs should shoot for a minimum of 50% growth this year.
Are you ready?