Champion your strategies with a sales development representative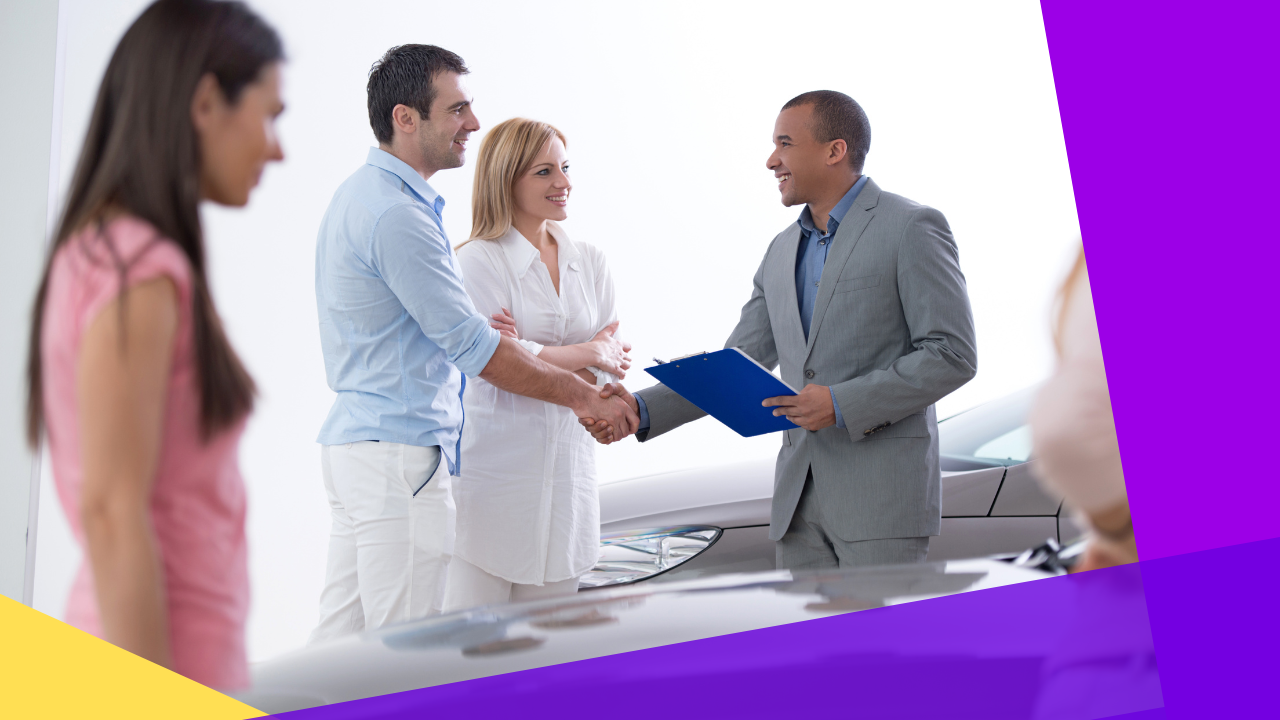 Time usually comes that you get stuck with your sales strategies.
You always have to optimize your ways in getting new customers as your business grows. Hiring a sales development representative is a great way to champion your strategies right away. 
What does a sales development representative do?
A sales development representative (SDR) is a salesperson tasked to identify, qualify, and reach out to potential customers.
Sales development representatives are assigned to contact as many leads as they can and find out their preferences and needs. Once a lead becomes a good fit, they will move the leads to the next steps with higher sales reps.
Usually, SDRs are evaluated through the leads they moved through the pipeline and the revenue generated from them.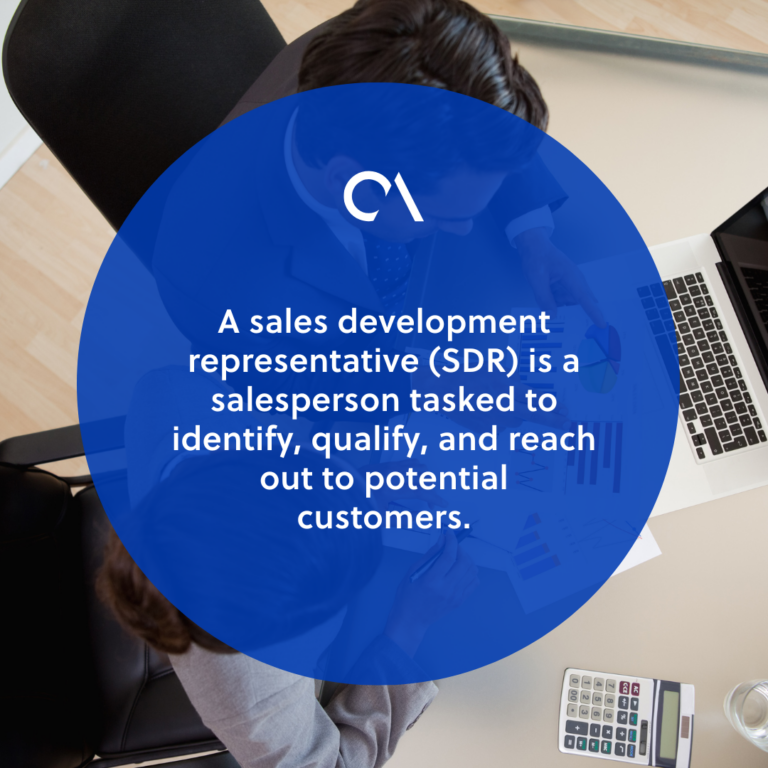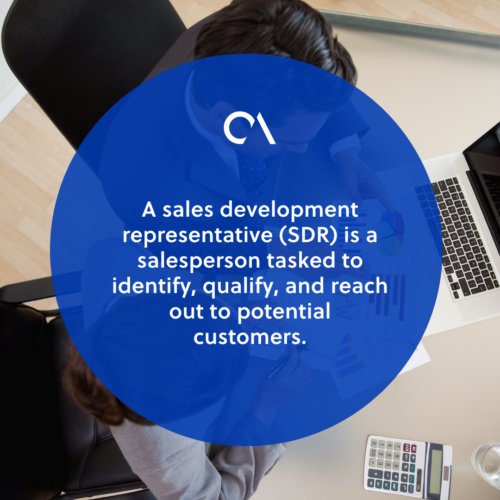 Where are they in the sales organization structure?
Sales development representatives are the first liners of the sales organization structure. They are the first to get in touch with potential clients and qualify them. Once qualified, they forward these leads to higher sales reps, such as account executives.
In larger organizations, SDRs team up with business development representatives. They work with inbound leads, while business development reps work with outbound ones.
Responsibilities of a sales development representative
A sales development representative is responsible for various tasks, including the following.
Generating leads and opportunities
SDRs generate business opportunities from existing leads by identifying customers beforehand. They review their lead's given information and filter those they think will qualify accordingly.
At the same time, they help generate leads and networks by attending trade events and helping with marketing campaigns.
Communicate with leads
Sales development representatives reach out to leads through different channels, including email, social media, and calls. They maximize these tools to get to know their leads and collect further details about their needs.
They are also tasked to follow up with potential customers at every step.
Lead nurturing
While they don't get to move the leads through the sales pipeline alone, they are responsible for setting them up for their next move.
Sales development representatives nurture their leads by setting up appointments and assigning them to account executives. They maintain client relationships at every stage, ensuring they are guided through the process.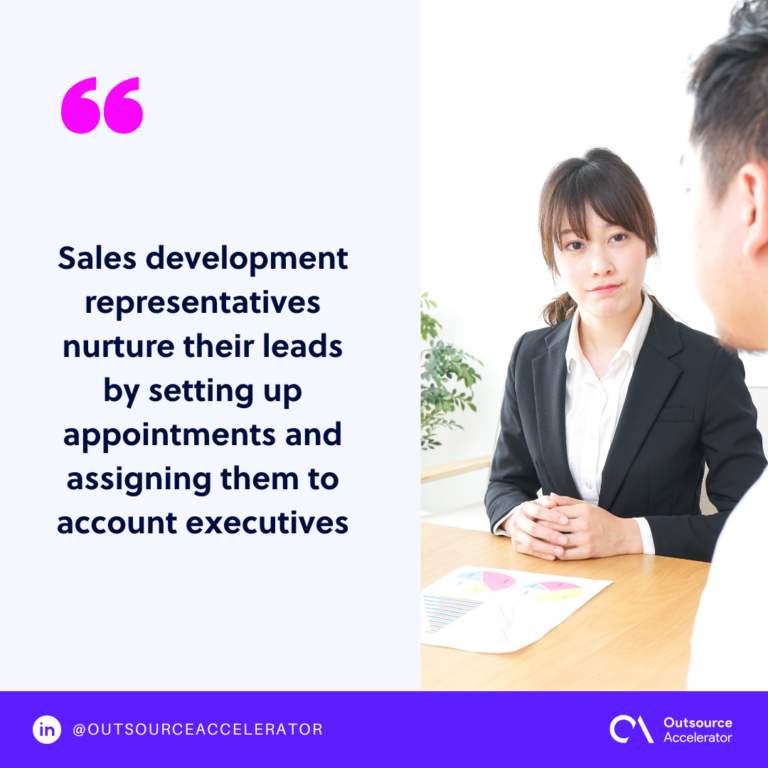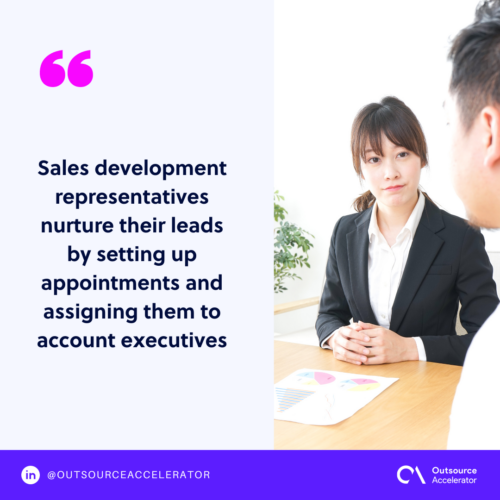 Maintain tools and activities
SDRs must maintain sales records, tools, and activities related to their function. Basically, they are knowledgeable about using CRM tools to manage records and activities.
Sales development representatives also know how to maximize collaboration tools such as calendars, email, and video conferencing to their advantage.
Collaborate with sales teams
Lastly, as a part of the sales team, SDRs must be able to communicate with their colleagues as needed. They have to contribute to improving sales plans and strategies as a way to increase their leads and revenue.
Apart from this, they must collaborate with marketing and customer support departments to address concerns that would arise.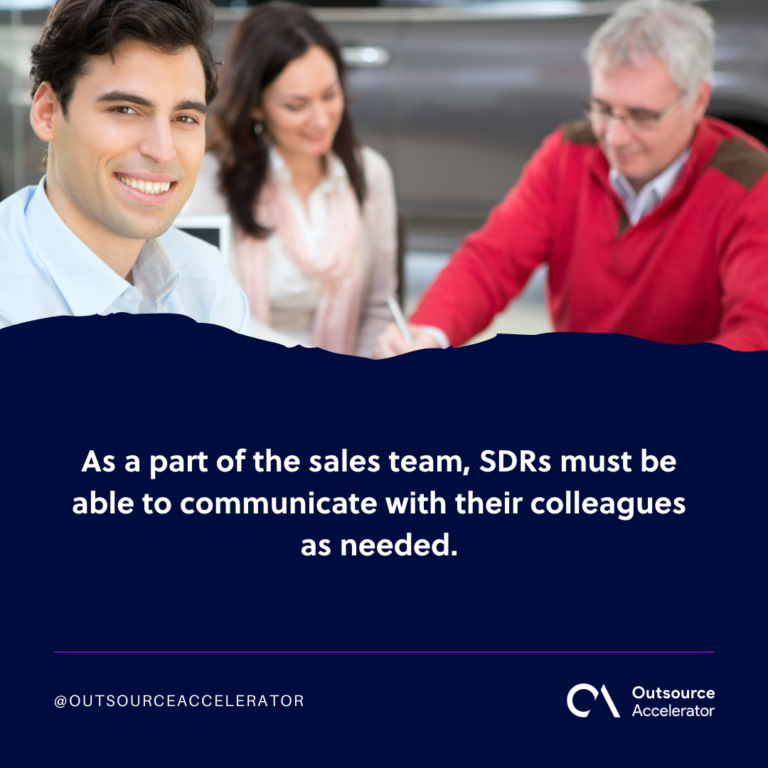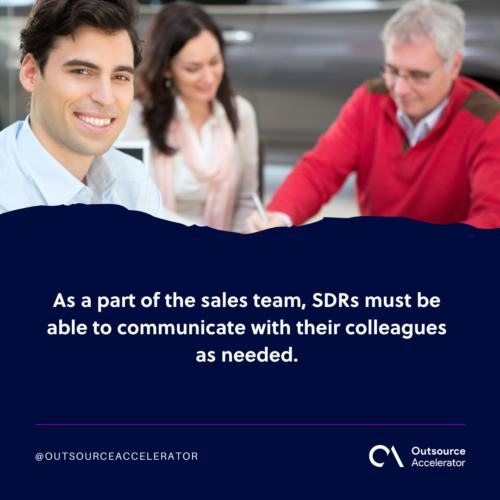 Sales development representative salary
Being entry-level work, a sales development representative in the US usually earns an average of US$50,422.00 yearly.
Per Glassdoor, their pay can increase by over US$19,000.00 with bonuses, cash incentives, and profit sharing.
Another option for hiring sales development representatives
Having sales development representatives on your wing increases your chances of finding the right customers for your business. They can represent your brand and use their expertise to analyze how your services can help customers better.
Hiring US-based sales development representatives on your own takes up much of your budget and resources. You have to consider and monitor everything, from recruitment to training and providing equipment, making you lose focus on more valuable tasks.
Luckily, service providers like Wing Assistant give you another option to hire Wing SDRs through outsourcing. You have the option to hire local or offshore sales development representatives to work on your team remotely at an all-in price.
Ultimately, it's good to have SDRs to help you with your sales, especially through a reliable provider. All it takes is an inquiry and being open to collaboration.
Reach out to Wing Assistant now to learn more.