Safety and Health Guidelines During Quarantine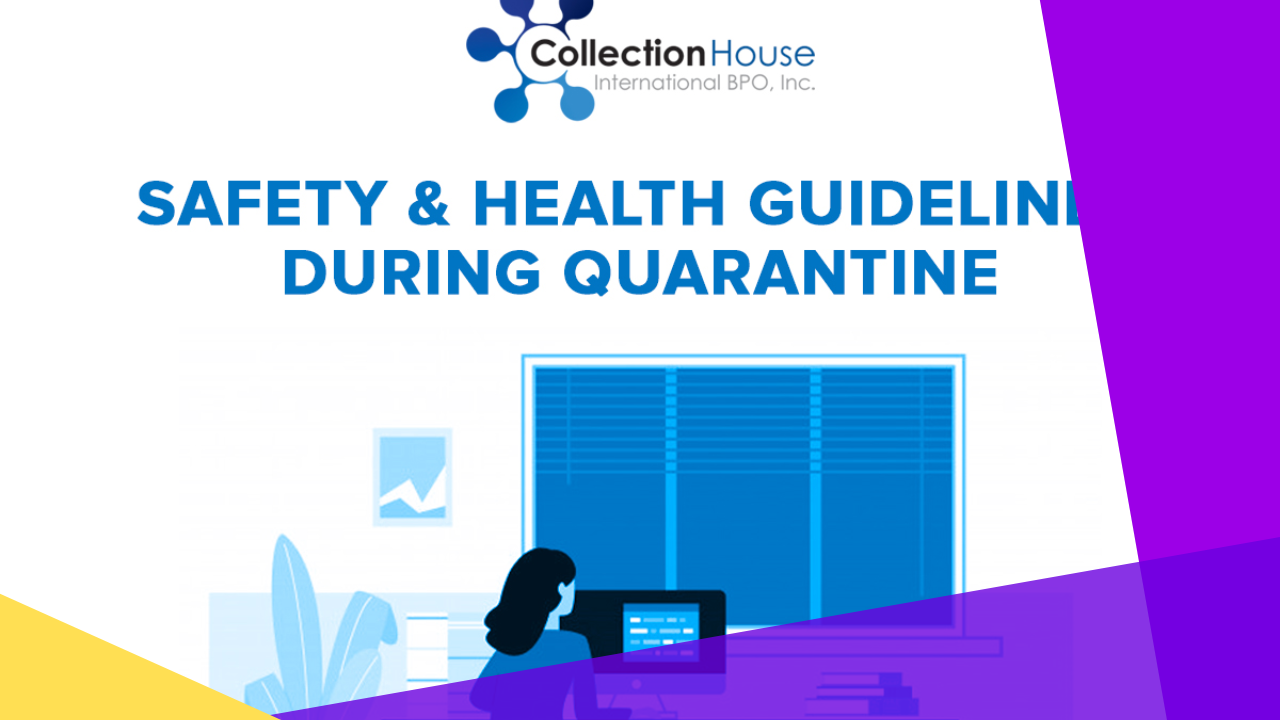 As the Government continues to enforce strict implementation of the Enhanced Community Quarantine to curtail the spread of COVID-19, various organizations and agencies across the country face a new challenging task: ensuring the safety of thousands of employees who are working from home and are out of their sight and supervision.
While getting your work done is important, staying safe and maintaining one's physical and mental health is just as crucial to becoming productive in a home office environment. All Collection House International BPO Inc. employees share the responsibility in keeping their own homework environment safe and healthy by following the tips below:
A. Setting up and maintaining a safe work station
1. Choose an appropriate location to serve as your workstation – just like in our office, your work stations should follow below criteria:
The space should be adequately lit where you can clearly see the letters on your keyboard.
Your work table should be spacious enough to contain your PC or laptop, keyboard, and mouse.
Your workspace should be located in an area away from any ambient noise or distractions especially when you're attending meetings.
Work space should also be well-ventilated
2. Choose a desk and chair which are at the appropriate height and make
Desk height should fall between 0.64m-0.69
Chairs should also be at the appropriate height, must have a sturdy backrest with lumbar support, and preferably adjustable to allow the user to place their feet flat on the floor while sitting.
3. Ensure that your work station is free from any types of hazards
Only use spill-proof containers – spilled liquids will not only damage your computer's electrical components, it will also pose as an electrocution hazard for the user.
Keep your desk free from any object that might fall or cause any injuries – if you don't need it for work, then you don't need it near your desk.
Keep the floor area and walkways free from any clutter that might cause tripping or slipping – e.g. children's toys, power cables, scattered household objects, spilled liquids, obstructing furniture, etc.
4. Ensure safe use of power boards, outlets, and cables for electronics
Avoid overloading your power boards by plugging multiple extension cords – this might damage your electronics, bust a fuse, and pose as a fire hazard.
Inspect outlets and power adaptors for loose or worn components – these must be replaced immediately.
Inspect cables for damaged or worn insulating cover – cables with exposed inner wiring must not be used and replaced immediately.
B. Emergency preparedness at home
Most people consider their homes as a place where they can get a sense of safety and security. However, there is no telling when a disaster will happen in your area. The best practice is to always be prepared for a disaster even in the comfort of our own homes.
1. Identify, plan, and train family members in an emergency evacuation at home – a simple diagram showing the evacuation route and exit points from all areas in the house will be useful in case of emergencies.
2. Keep your evacuation routes clear and free from obstacles and obstructions
3. Have a list of contact numbers for emergency services available at all times. It is also a good idea to have your mobile phone pre-programmed with emergency contacts for speed dial.
National Emergency Hotline – 911
Philippine National Police Hotline – 117
Bureau of Fire Protection – (02) 8426-0219 or (02) 8426-0246
Your local government unit emergency hotline
Emergency contact person information
4. If working at home alone, regularly keep in touch with your supervisor, family members, or friends and let them know your exact location and your contact details should you need assistance in an emergency.
5. Stock up on essential supplies and purchase equipment that will be useful in case of emergencies
Non-perishable food items such as canned goods and freeze-dried foods
Drinking water – the average adult requires two (2) liters of water per day
Portable power supply such as power banks and battery packs
Basic first aid kit and medicines
Fire extinguisher – a two (2) kilogram tank of ABC Dry Chemical (Red) type will be sufficient for the average household.
Flashlight, whistle, and battery/or rechargeable lamp
Emergency cash
6. Know the exact location of the nearest evacuation center in your area.
C. Practices to ensure physical and mental well-being while working from home
Working from home for an extended period of time will not be a pleasant experience for most people, especially for those who are used to a normal office environment. As such, everyone needs to make certain changes in their routine in order to comfortably adjust to a home office environment. Sticking to your normal office routine while working from home might cause stress, anxiety, isolation, and even depression.
1. Develop a daily routine – as the physical boundaries between home and work become blurry in a home office environment, it is essential to have a flexible routine that will allow us to separate the demands of work and the relaxation of your home. Creating a schedule of activities will help everyone to strike a balance between finishing your daily workload while still having time to spare for enjoyment.
2. Take some time to connect and socialize – working from home can make us prone to isolation and burnout especially while in quarantine where going out is not an option. Taking some time to connect with family members, friends, and colleagues on a daily basis will help ease the feeling of isolation brought by working from home for extended periods of time.
3. Exercise – with the restrictions for travel and movement during the quarantine, people who work from home will have less time for physical activity. As such, people need to make time for home-based exercise or other forms of physical activity to reduce weight gain and other health risks such as hypertension.
4. Adopt proper posture while working – bad posture places great strain on your lower back, shoulders, neck, and eyesight. The following includes several tips to ensure you're following proper posture
Feet must be flat on the floor
Forearms and hands must be at a 45 degree angle when typing on the keyboard.
Lower back must be supported by the chair's backrest.
Monitor or screen must be slightly lower than eye level and should be 45-70cm away from the screen.
5. Take stretch breaks while at work – stretch breaks reduce the physical stress of sitting for longer periods of time and decreases risk of acquiring musculoskeletal disorders brought by poor ergonomics.
6. Make time for to do your hobbies and other activities that engages you mentally – aside from alleviating boredom, engaging in your hobbies or other mentally-stimulating tasks boosts your morale and decreases the likelihood of being burned out from work.