The three biggest challenges in revenue cycle management and how to address them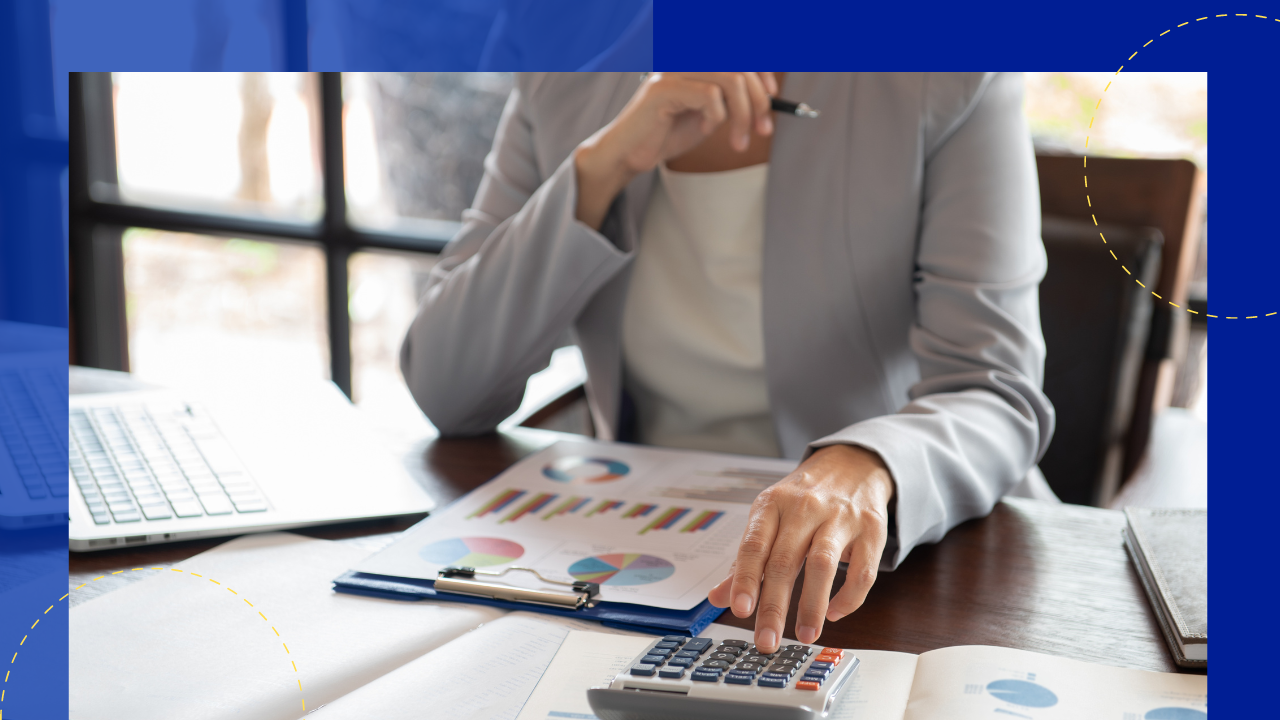 The three biggest challenges in revenue cycle management and how to address them
An effective revenue cycle management is important to run a profitable medical practice. 
However, the process is complex and can be filled with mistakes if not done correctly.
What is revenue cycle management?
Revenue cycle management (RCM) refers to the financial process of healthcare providers in tracking a patient's activities in their facility — from registration, and appointment scheduling, to the final balance payment. 
RCM helps combine the administrative and clinical sides of healthcare by integrating essential patient data with the treatment that they have received. Due to this, most healthcare providers choose to use specialized systems to store and manage patients' billing records. 
Some facilities choose to partner with third-party service providers who are experts in developing and organizing an effective RCM system.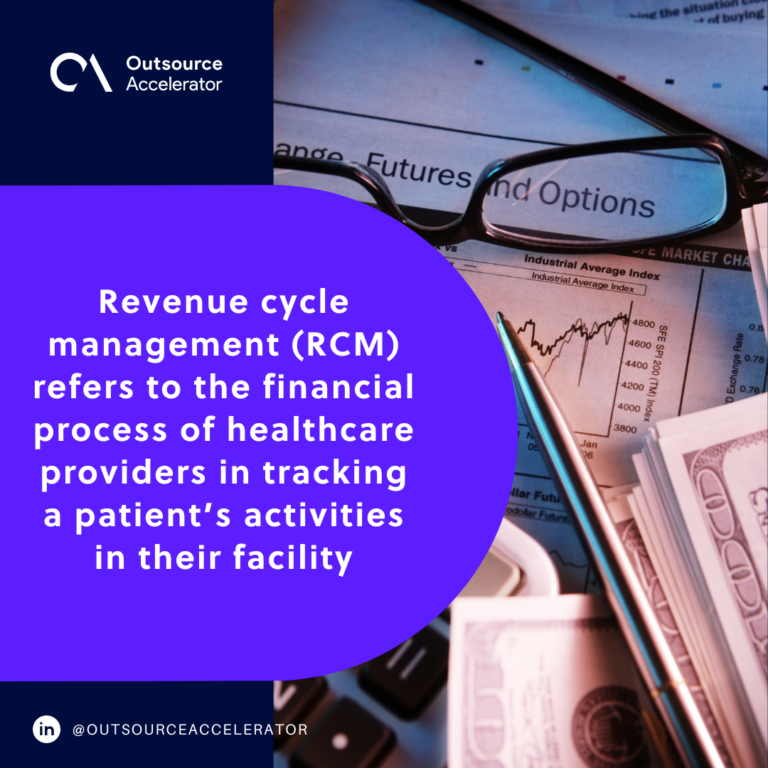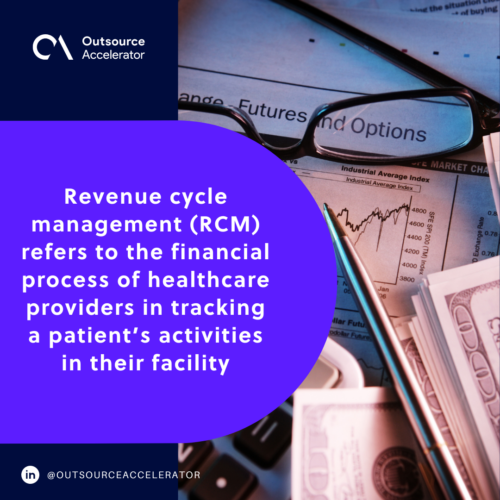 What are the top challenges in revenue cycle management?
An organized revenue cycle management is the key for medical practices to stay financially secured and able to focus on their core mission of providing high-quality patient care. But, there are many reasons why facilities are struggling to improve it.
Here are some of the challenges a healthcare provider can encounter during RCM and ways to solve them:
Challenge #1: Billing and collections errors
Healthcare providers need to have the correct data at the first point of service while patients are still onsite. Information errors, mistakes in ICD-10 coding, and not verifying the insurance eligibility of a patient can have a negative impact on your revenue cycle. 
Additionally, unspecified bills can also leave a patient confused with their balance. An individual may leave bills unpaid when there is little price transparency or when the amount is not clear to them. 
The solution: Employ well-credited medical coders and billers
To solve this dilemma, you can hire well-credited coders and billers who can prioritize the revenue cycle. They can accurately and efficiently collect and verify patient details while you focus on other essential services.
With the right information, you can have more timely reimbursements and a better reimbursement rate.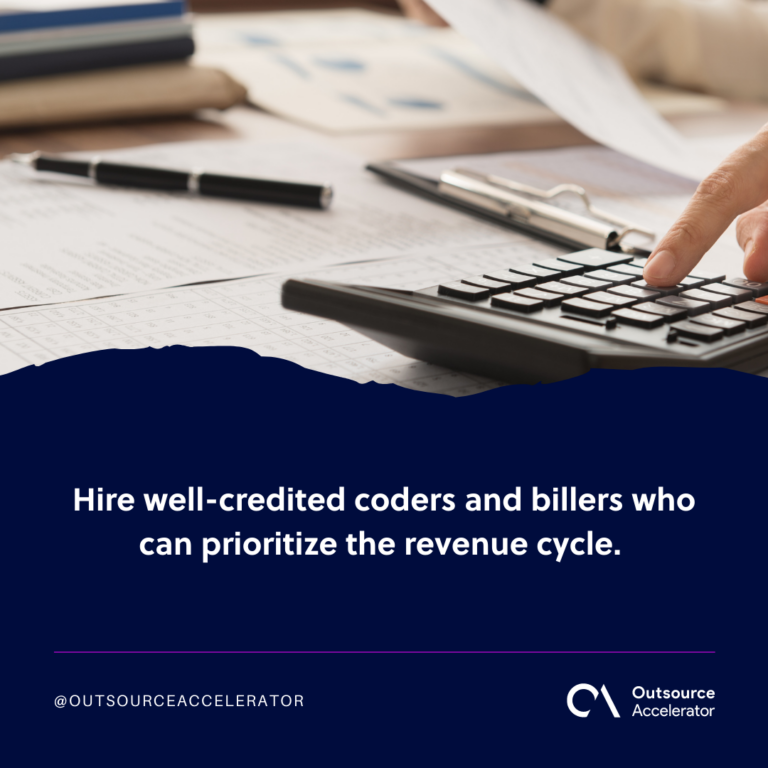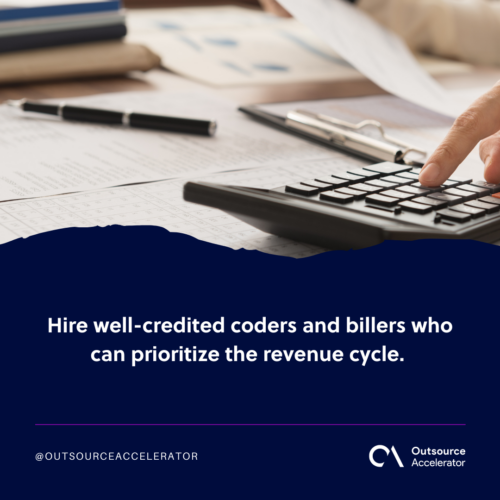 Challenge #2: Manual processing and monitoring claims processes
Many hospitals and clinics don't have the capital or infrastructure to update the systems that keep track of the revenue cycle. Most of them still depend on manual processing of claims and follow-up work. 
Manual processes, combined with a poor outdated IT system, can be extremely unreliable and time-consuming for your employees. Moreover, it can be more costly if no one understands how to use it correctly. 
In addition, another common RCM challenge is the inevitable mistakes in monitoring claims processes.
Monitoring every step of the claims process is important to detect possible errors that may cause denials or rejections. However, mistakes in the claiming process can delay the reimbursement and may result in some claims being forgotten. 
Claims can easily be denied due to improper filing. If a mistake is made upon submission, re-credentialing may take time and may result in being swept under the rug without proper follow-up.
The solution: Invest in RCM software
To improve your revenue cycle process, you can seek the help of an RCM software. These RCM software can help your team easily keep track and collect medical payments or cut down entry errors. 
An effective RCM software could also enhance your revenue cycle so that you can make data-driven decisions for the improvement of your financial outcomes. 
Many RCM software vendors advertise a lot of features in their products. To find the right one, you need to look at your financial workflow and choose one that is compatible with your regular process.
Here are some examples of RCM software that you can use:
RXNT EMR

. A cloud-based healthcare software that allows the customization of patient encounters through Smart Forms, templates, and macros. It helps healthcare providers collect data faster and streamline the workflow. 

AllegianceMD EHR

. This is ideally designed for small and mid-sized practices and offers services like evidence-based clinical knowledge, AI, E-prescribing, E-claims management, E-billing, and a practice management module, among others.

ChartLogic EHR Suite

. This software offers different features to simplify every operation in a healthcare facility. It also boasts an integrated 'PrecisionVoice' that uses dictation in charting patient information. 
Challenge #3: Limited access to the right talent
Having limited access to highly skilled employees can also affect your entire revenue cycle management. Your entire operations can easily go downhill if your in-house team is not capable of their tasks.
RCM experts and top talents in the field can also be costly to directly hire, making it impractical for a healthcare facility to hire them in-house. 
Luckily, you can choose to partner with an outsourcing company to find a capable RCM team for your medical practice.
Solution: Outsource your RCM team
You can rely on a third-party service provider to assist your medical facility. Partnering with an outsourced RCM team could help solve all your staffing problems. 
Outsourcing companies have access to dedicated teams made up of employees who are experts in the field. A highly skilled RCM team could aid your in-house staff to develop accurate processes for your organization. 
Additionally, you could increase your healthcare provider's revenue by hiring an external RCM workforce. They can submit claims faster with fewer errors to ensure payments and reimbursements in the shortest amount of time. 
With the help of an outsourced team, you can ensure an accurate RCM process, save on operational costs and labor expenses, and improve your facility management while your in-house clinical staff focuses on your core tasks — which is mainly to provide better patient care to your clients.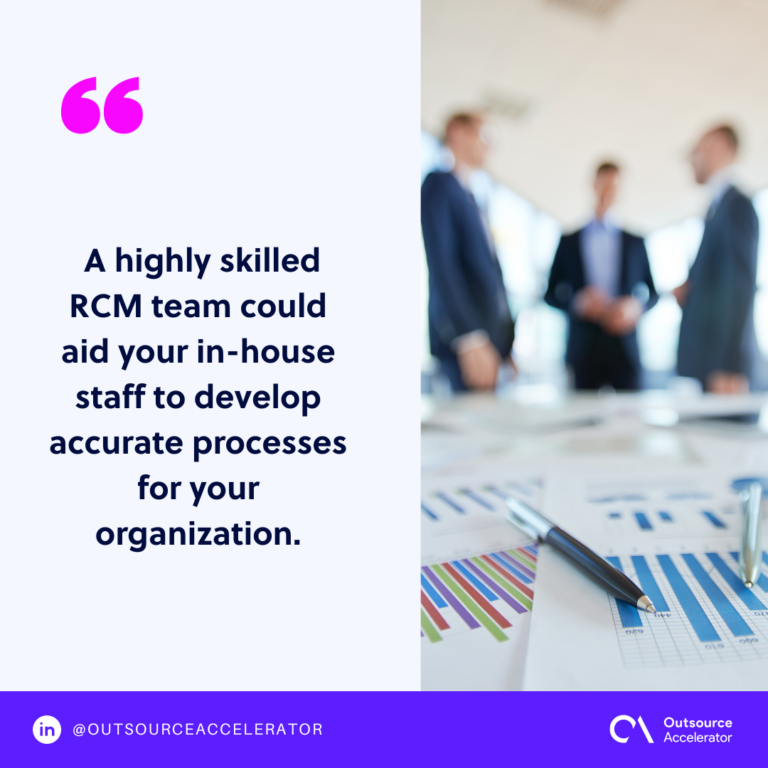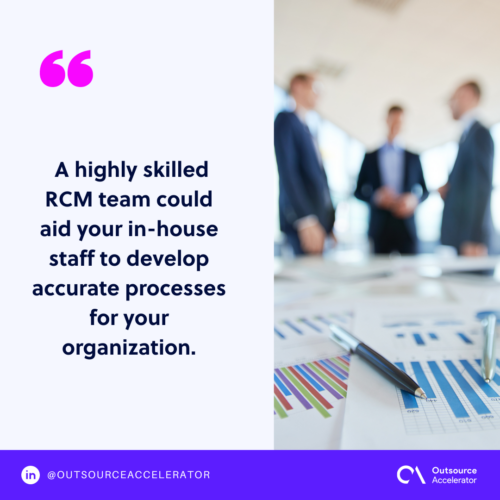 Address these difficulties with the help of Infinit-O
If you're looking to expand and improve your healthcare facility, you'll need to work with a team that can help you build an effective revenue cycle management system.
You can depend on Infinit-O for that. With their various healthcare solutions — from telemedicine to CDI, and everything on the RCM spectrum — you can have the right results in a short amount of time with minimal errors. 
With their help, you can now focus on taking care of your patients. Partnering with Infinit-O guarantees these five key benefits:
Cost reduction.

High-quality service and teams with 70% savings on operational costs.

Scalability.

With Infinit-O, you can easily scale your operations according to your needs. 

Access to world-class talent.

Infinit-O's A+ recruitment process attracts world-class talent with an industry-leading retention rate

Operational excellence.

Collaborative SLAs and metric-intensive performance

Trusted partnership.

Infinit-O has a >97% client retention rate and 75 Net Promoter Score. It is also ISO 27001 & 9001 certified, GDPR, and HIPAA compliant.
Visit Infinit-O's website now to see their other offerings.