Pros and cons of outsourcing real estate data entry services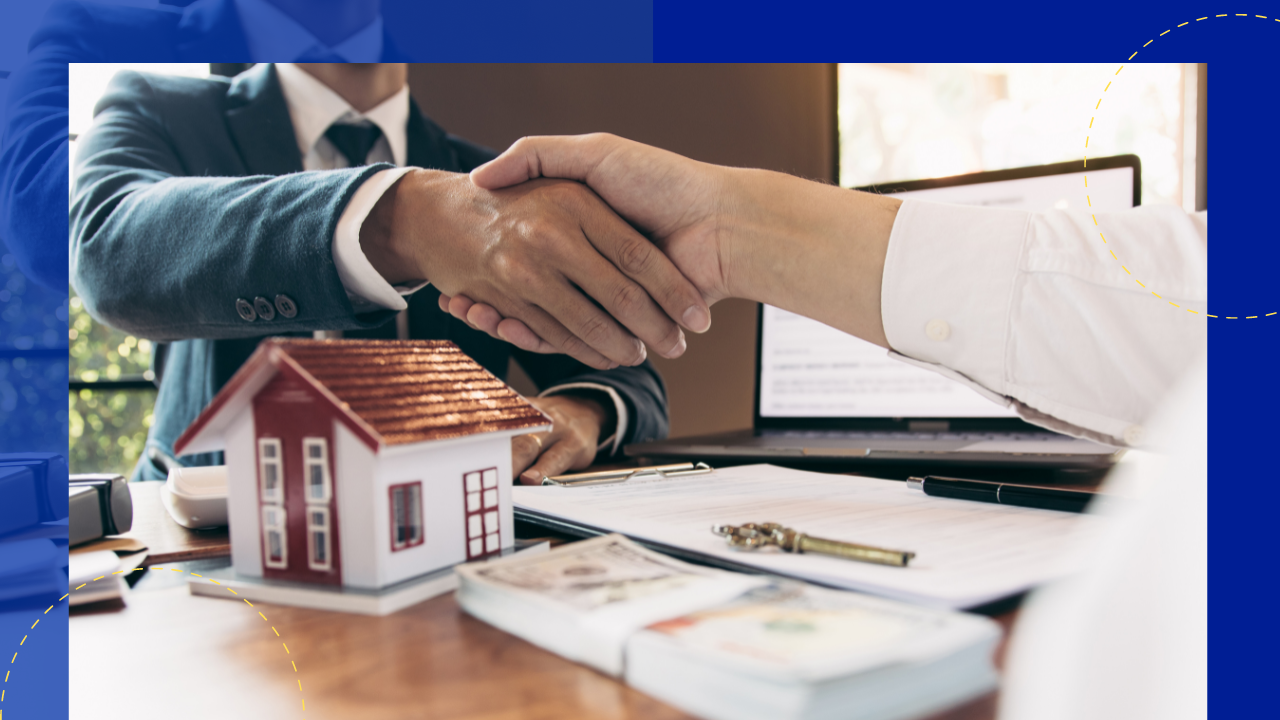 Real estate agents and companies deal with massive amounts of data daily, from property listings to client information. One team alone cannot manage this workload.
To streamline operations and stay ahead of the competition, many real estate professionals are turning to outsourcing for their data entry needs.
This article discusses the pros and cons of outsourcing real estate data entry services.
What are real estate data entry services?
Real estate data entry services provided by outsourcing companies like Cloudstaff encompass a wide range of tasks tailored specifically to the needs of the real estate industry.
These services typically include:
Property listing management

– Refers to managing reports and listings, including details such as location, size, amenities, and pricing.

CRM management

– Entails upkeeping client databases, including contact information, preferences, and transaction history.

Data mining and research

– Collecting and managing market data, property records, and other relevant information to aid real estate agents in making informed decisions.

Data validation and cleansing

– Ensuring real estate data's accuracy, consistency, and integrity through validation and cleansing processes.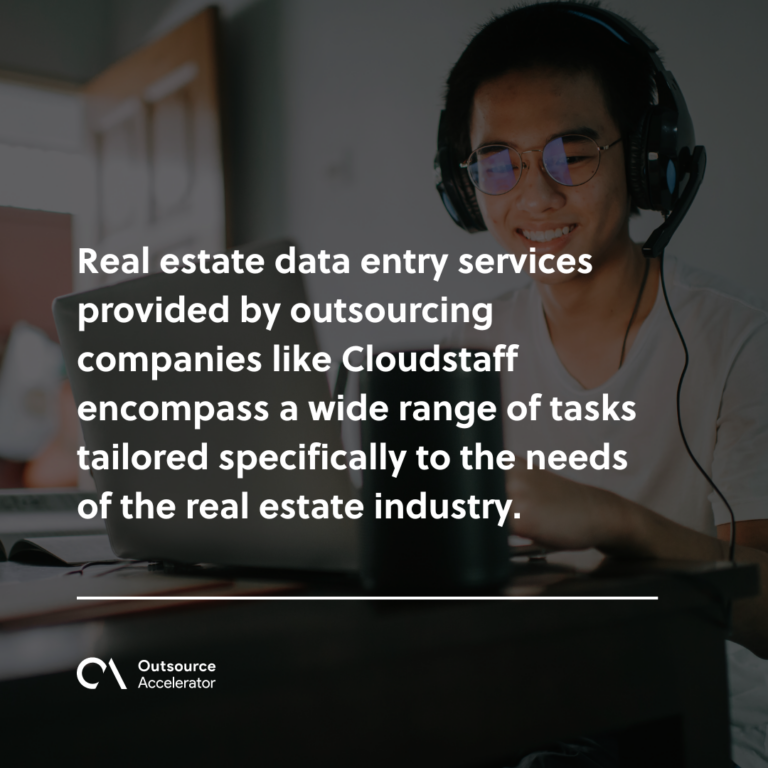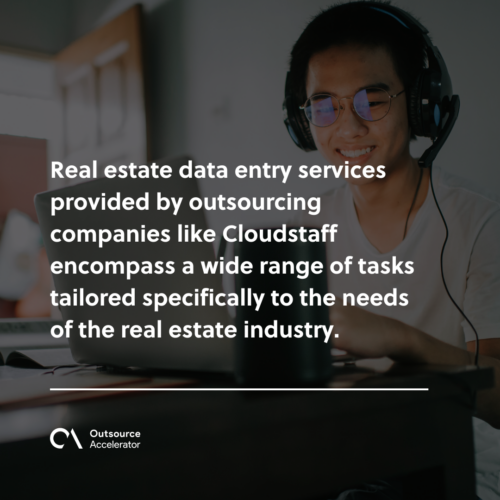 Outsourcing real estate data entry services: Pros
Outsourcing real estate data entry services can benefit real estate professionals. Here are some of its key advantages:
Cost savings
Outsourcing real estate data entry helps businesses decrease operating expenses. Most third-party provider offers fixed and transparent prices.
This reduces the need for recruiting, training, and administrative costs, allowing businesses to allocate resources better.
Businesses may access a pool of highly qualified data entry experts with a specialized outsourcing provider like Cloudstaff. 
Improved accuracy and quality of data
In real estate data entry, data accuracy is critical. A little inaccuracy in property information or client information might snowball into a bigger issue.
Employing a dedicated team of specialists to enter real estate data ensures high accuracy and quality control.
Cloudstaff, for instance, has rigorous quality assurance methods to ensure exact and trustworthy data input. This firm can assist real estate agents in maintaining a great reputation.
Increased efficiency and productivity
Real estate professionals may focus on their core talents and strategic efforts by outsourcing data entry services. 
Companies can increase efficiency and production by transferring time-consuming and repetitive data entry operations to efficient third-party providers.
The time saved may be allocated to activities directly contributing to income production, such as:
Leadership development

Customer relationship management

Property analysis



Outsourcing real estate data entry services: Cons
While there are various advantages to outsourcing real estate data entry services, there are disadvantages that you should consider:
Quality control
Maintaining quality control can be a concern when outsourcing real estate data entry. You are not directly working with the service providers. There might be a chance that you will receive an output that doesn't match your expectations.
Data security
Data security is a crucial concern when outsourcing services because of the sensitive nature of the information involved.
When outsourcing real estate data entry services, you disclose sensitive and important information to the outsourcing supplier. Client information, financial records, and other sensitive information may be included in this data.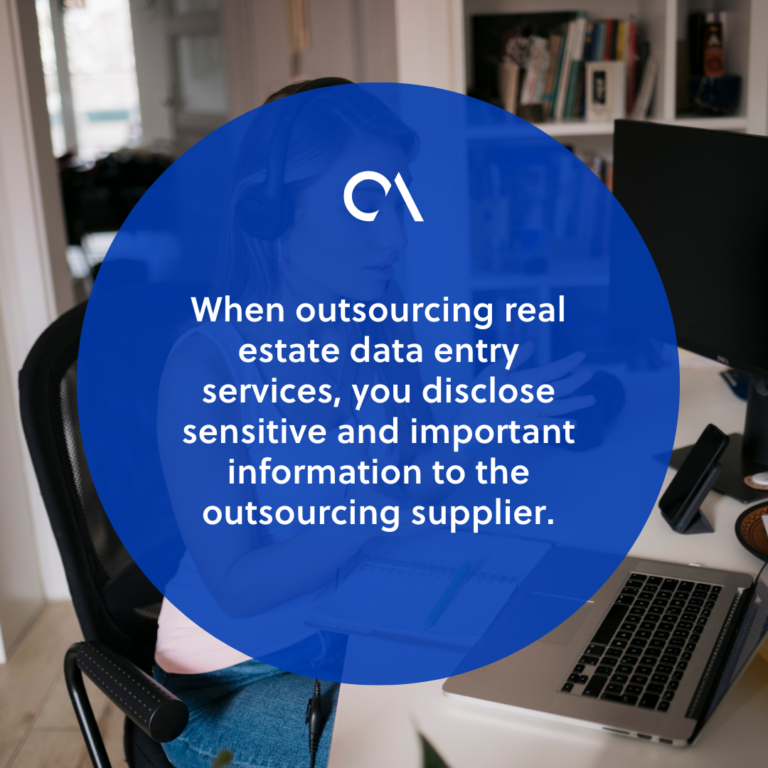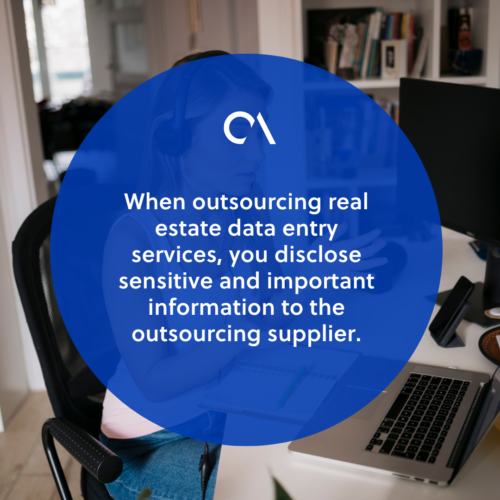 Data breaches are highly likely, especially if you work with a distanced service provider. Protecting sensitive data is a top priority in any sector, including real estate.
When outsourcing real estate data entry services, selecting a company with strong security measures is critical.
Cloudstaff, for example, uses cutting-edge security procedures to protect data, such as secure networks, encrypted communications, and stringent access limits.
Collaboration and communication
Effective collaboration and communication can be difficult when working with an outsourced partner in a different time zone. There are times when projects don't meet deadlines because of time constraints.
Outsourcing services like Cloudstaff, on the other hand, efficiently bridge these gaps using innovative communication tools and a competent project management team. 
This firm simplifies communication channels, delivers frequent progress reports, and provides round-the-clock assistance to ensure a coherent workflow.
Choose the right real estate data entry outsourcing partner
Before you venture into outsourcing, weighing its pros and cons and choosing the right outsourcing partner is critical. 
Among the best leading-industry service provider is Cloudstaff. This firm's highly skilled professionals undergo rigorous training to ensure accurate and reliable results. 
If you're pondering whether to outsource your real estate data entry, connect with their team today!