About RCEP: its impact on the Philippines and its outsourcing industry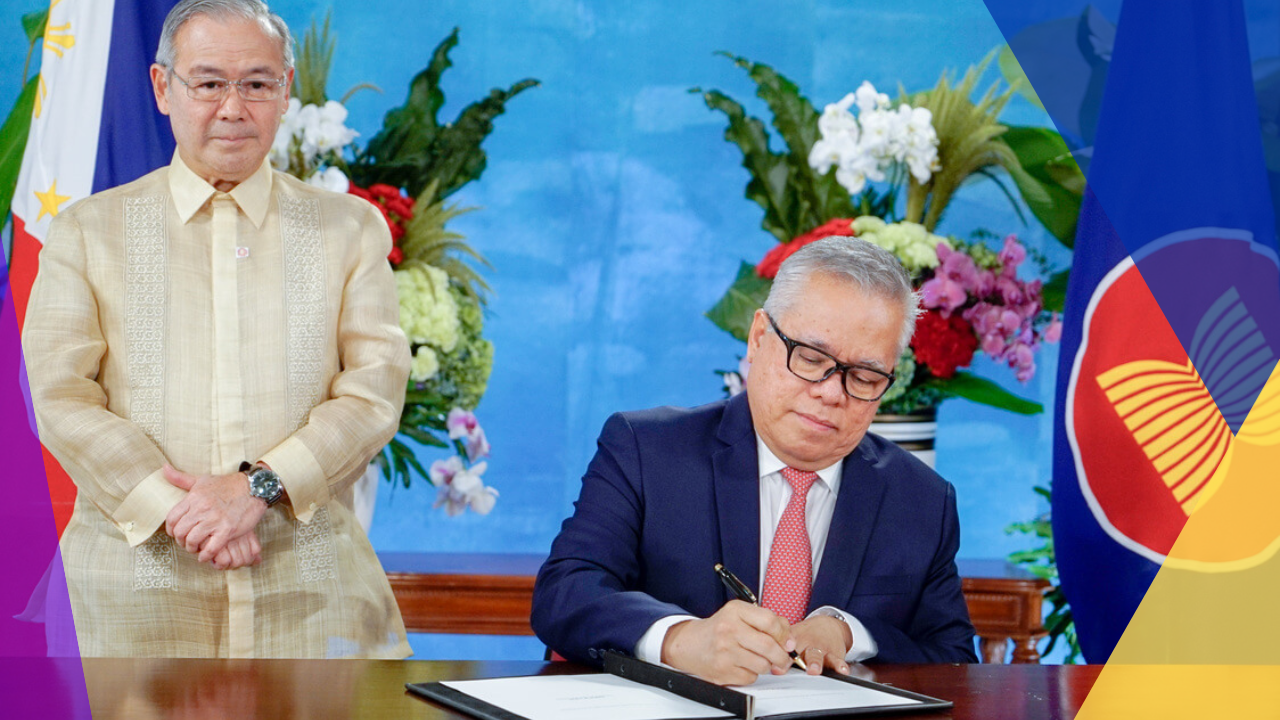 The Philippines has joined the Regional Comprehensive Economic Partnership (RCEP).  How will this impact the Philippine economy, its people, and the all-important outsourcing and BPO industry?
Fifteen countries have joined forces to form the Regional Comprehensive Economic Partnership (RCEP) – the world's largest trading block, which covers nearly a third of the global economy. Talks and negotiations over this deal went as far as 2012. Finally, the participating nations signed the agreement in a virtual ceremony as part of the annual ASEAN summit in Hanoi, Vietnam, held on November 15.
The RCEP is made up of 10 Southeast Asian countries: Brunei, Laos, Vietnam, Cambodia, Myanmar, Thailand, Malaysia, Singapore, the Philippines, and Indonesia, as well as South Korea, China, Japan, Australia and New Zealand.
The deal excludes the United States, which withdrew from a rival Asia-Pacific trade pact in 2017; and India, which pulled out of the negotiations last year.
What is the Regional Comprehensive Economic Partnership (RCEP)?
The Regional Comprehensive Economic Partnership is now the world's largest trading block in terms of population and Gross Domestic Product (GDP). Basically, RCEP will minimize or even eliminate tariffs on a wide variety of goods and services within 20 years. RCEP can also establish provisions on the participating countries' professional services, e-commerce, and intellectual property, including digital copyright.
This new free trade agreement is bigger than both the US-Mexico-Canada Agreement and the European Union.
RCEP will connect about 30 per cent of the world's people and output, which is expected to bring out significant gains. In a computer simulation recently published by nonprofit research organization Peterson Institute for International Economics (PIIE), it revealed that the RCEP could add $209 billion annually to world incomes. In addition, the partnership could possibly add $500 billion to the world trade by 2030.
Additionally, other features of the RCEP include:
Reduction or elimination of customs duties; 

Duty-free temporary admission of goods; and

Non-tariff measures that complement "tariff liberalization outcomes"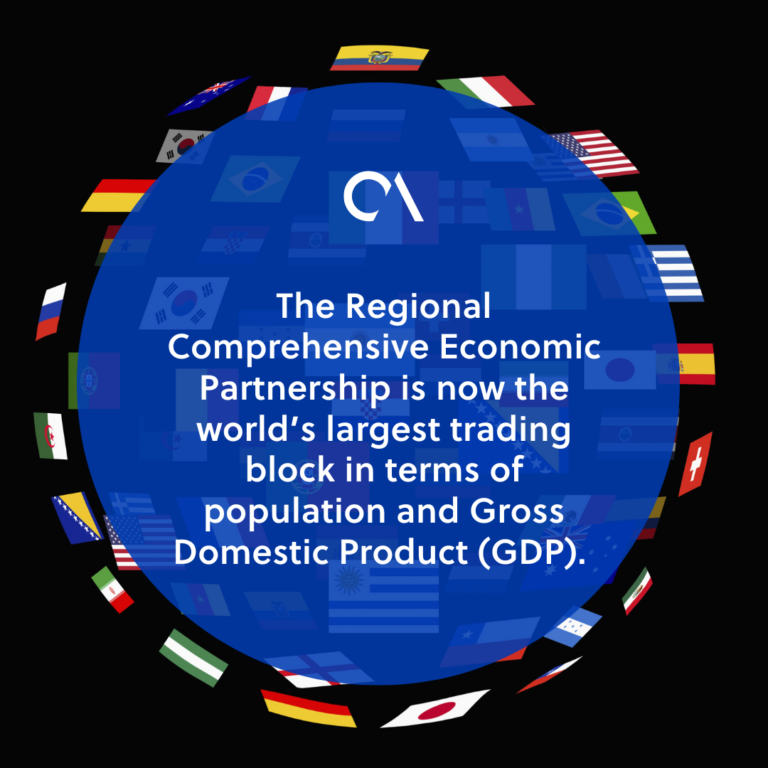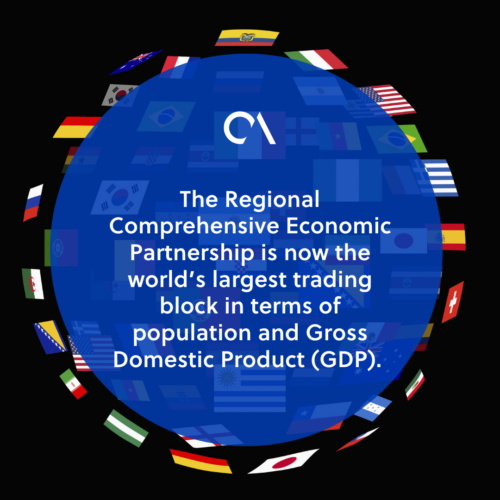 The Philippines and the RCEP
The Philippines' economic leaders and company heads look forward to the opportunities and benefits to be brought by the RCEP. In a BusinessWorld interview last year, Department of Trade and Industry (DTI) Secretary Ramon Lopez has said that ASEAN's deals with each major trading partner currently benefit around 80 per cent of products in the Philippines' tariff and customs code. RCEP would open markets for 92 percent of the country's products.
Additionally, University of Asia and the Pacific (UA&P) Economist George N. Manzano stated that the RCEP could "jump-start trade in this corner of the world" and can serve as a catalyst to further open up the Philippine economy.
How can RCEP improve the Philippine economy?
Creation of more jobs
Lopez, in a statement released in August, said that the mega trade deal will have a huge economic impact on the Philippines, as it will create more jobs. The trade secretary further noted that there will be an enhanced participation of budding entrepreneurs in the global value chain.
Improved export competitiveness
According to Lead Negotiator and Trade Assistant Secretary Allan Gepty, RCEP can establish enhanced market access for trade and investment, "which means that the Philippines can improve its export competitiveness in key products—such as garments, automotive parts, and agricultural products like canned food and preserved fruits— while encouraging more investments in the country in vital sectors such as research and development, financial services, game development, and IT-BPO (information technology-business process outsourcing)."
Aid in vaccine and protective equipment distribution
Aside from digital trade, Manzano added that the RCEP can help facilitate the trade and distribution of vaccines and personal protective equipment (PPE). He said, "Small countries, those who don't have much bargaining power in the world, the only way you can [get access to COVID vaccines and PPEs] is by signing into an international cooperation because it's difficult for you to bargain with China or the US."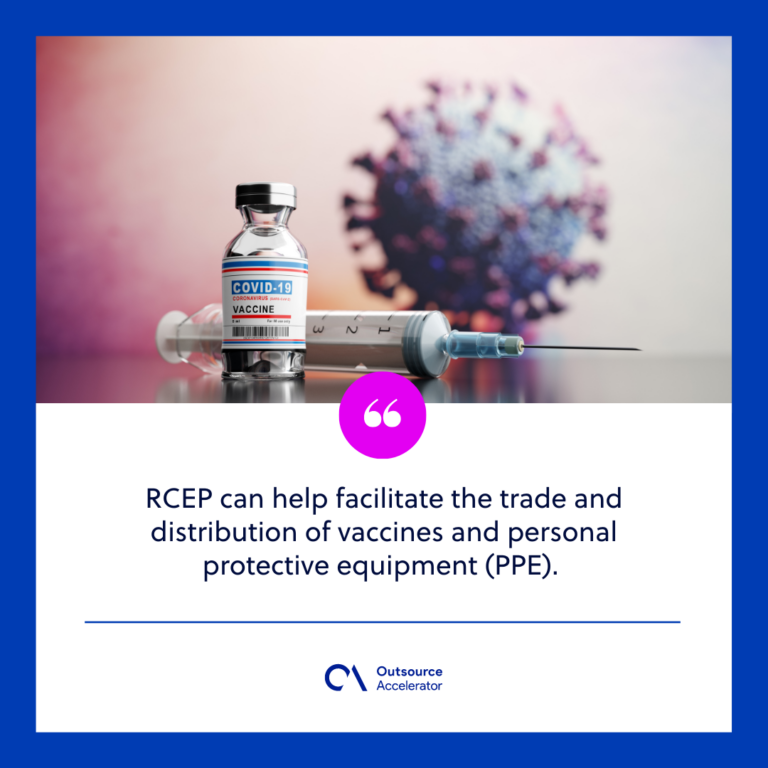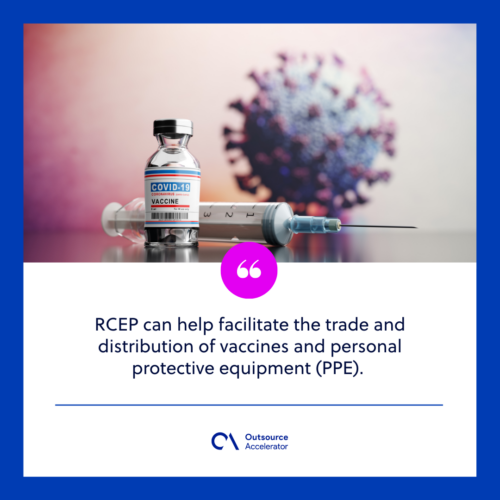 Criticism of the RCEP
The signing of the Regional Comprehensive Economic Partnership was denounced by some organizations, such as the Trade Justice Pilipinas, a group dedicated to trade justice for global south countries. In a statement, the group raised their concerns over the negative implications of RCEP on the Philippine economy.
Trade Justice Pilipinas said, "RCEP will further prop up a broken economic model that we need to radically transform in favor of one that is more resilient…
A new report finds that most Asean nations will see rising imports and declining exports in the wake of RCEP. For the Philippines, we would see the cost of imports rise by as much as US$908 million, with sharp increases in imports from South Korea, China, and Vietnam. On the other hand, the value of exports to RCEP countries is only expected to increase by around US$4.4 million. Trade balance with RCEP countries will worsen by US$904 million per year. RCEP's agenda is skewed in favor of corporate interest."
Further, Thailand-based women's rights group Asia Pacific Forum on Women, Law and Development (APWLD), "will continue to resist RCEP." In a press release, the group stated, "Leaked chapters of RCEP indicate that [the agreement] will most likely undermine production of more affordable generic versions of life-saving medicines, negatively impact farmers and indigenous peoples' rights to seed and food sovereignty, lock-in privatisation of public services, push workers' wages down and constrain the creation of decent jobs, and restrict the ability of governments to introduce industrial and fiscal policies necessary to protect and regulate in the public interest.
In the new post-pandemic reality, these vulnerabilities will be further deepened, marginalising communities even more."
However, we will see in the next few years how this will all turn out.
How RCEP will affect Philippine outsourcing and BPO
The outsourcing industry is the single biggest sector in the Philippines, constituting over 11% of the country's GDP.  Outsourcing is by nature an export industry, and so it is important to have open trade agreements with as many countries as possible in order for outsourcing to flourish.  Outsourcing employs over 1.3m people in the country and the Business Process Outsourcing (BPO) industry is often credited for being the primary catalyst of the country's thriving economy. 
Despite the positive aspects of the RCEP for regional trade, the Philippine BPO industry relies mainly on clients from US, UK, and other major developed countries – specifically countries that are external to the RCEP region.
Epictetus E. Patalinghug, an economics and finance professor at the University of the Philippines-Virata School of Business and former tariff commissioner, stated that "advantages and risks to Philippine industry will depend on which sectors are finally included in the trade agreement, but surmises that inclusion of more service sectors would be an advantage."
Fortunately for the BPO industry, Patalinghug said that "if trade in services will not be restricted, PH[ilippines] will benefit like in labor-intensive BPO, while China will benefit in high-tech industries.
On the other hand, he added that "service workers like seafarers, teachers, ICT (information and communication technology) programmers and engineers can benefit [due to] the demand from labor-scarce Japan, Korea and, soon, China." The country's telecommunication services are also expected to improve if businesses elsewhere in RCEP were allowed to compete with local players.
India is the country's main competitor in the outsourcing space, and its withdrawal from the Regional Comprehensive Economic Partnership is an advantage for the Philippines.
Outsourcing is generally not politically popular amongst developed nations due to the assumption that offshoring staff causes the loss of local jobs. Joe Biden, for example, is proposing to implement a Biden Offshoring Tax Penalty' in an effort to force US companies to onshore their staff. There is an argument that the Philippines as an individual state, would have no political sway on the US in this regard but as a member of RCEP, it might have more chances of opposing such taxes and encouraging a more open global marketplace and workforce.