Quiet promoting: A silent workplace menace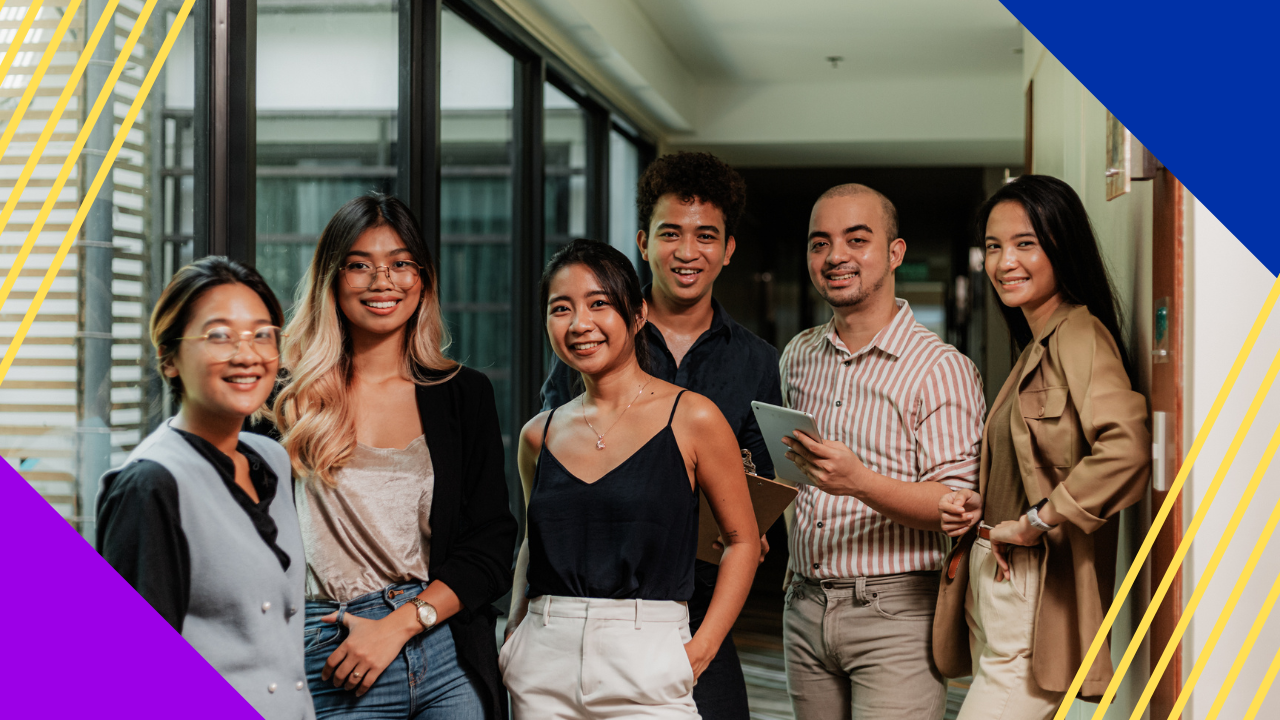 Quiet promoting A silent workplace menace
Being handed additional responsibilities that aren't explicitly under one's job description is common in workplaces.
These additional duties are typically filed under the "ad hoc tasks" part of job descriptions.
However, ad hoc requests are generally one-off affairs arising from unforeseen circumstances. When these tasks seem to become part of an employee's daily job responsibilities, they may fall prey to one of the common issues plaguing workplaces:[1] quiet promoting.
But what exactly is quiet promoting, and how does it affect employees and workplaces? This article answers these questions.
What is quiet promoting?
Quiet promoting pertains to an employer's practice of giving employees additional responsibilities without granting them a promotion or equivalent compensation.
For instance, an employer might give a medical encoder added duties of managing the database where they send encoded data. While it may relate to their primary responsibilities, managing databases isn't technically their job but that of RHIAs and RHITs.
Quiet promoting is the latest fad of adding the word "quiet" as a prefix to borderline passive-aggressive workplace behaviors.
Like quiet quitting and quiet constraint, quiet promoting isn't a novel trend so much as an old phenomenon with a new name.
A job survey conducted by JobSage, an employee transparency platform, revealed that 78% of the surveyed employees had experienced quiet promotion.
Among these numbers, 67% received an additional workload after another employee left the company. The same survey also showed the industries where quiet promoting is most prevalent:
Art and design (89%)

Hospitality (89%)

Food services (88%)

Government (88%)

Education (81%)
In a way, quiet promoting can be seen as the opposite of quiet quitting. Instead of employees doing just enough not to get fired, employers give them more than their share of work and still do not promote them.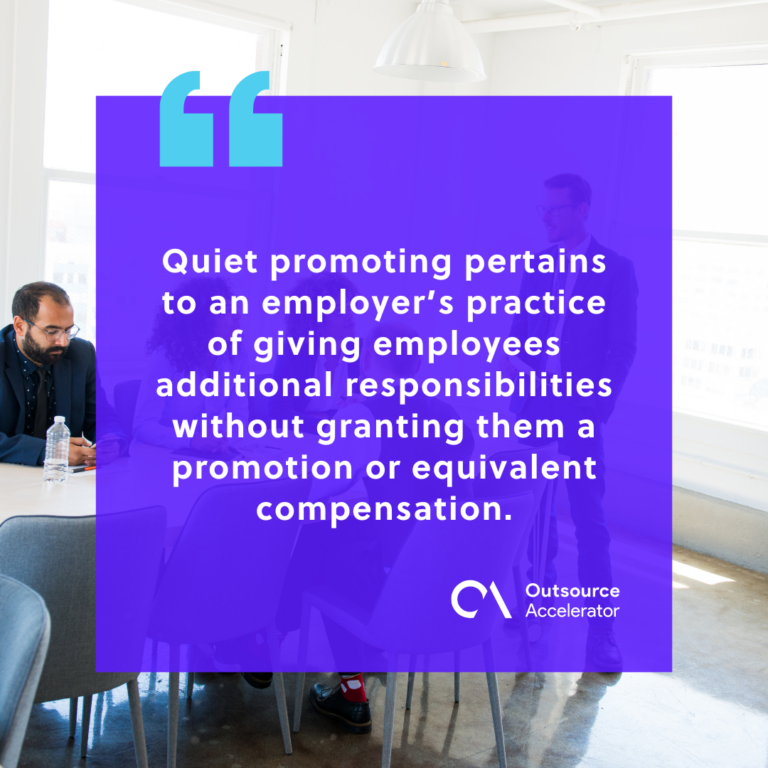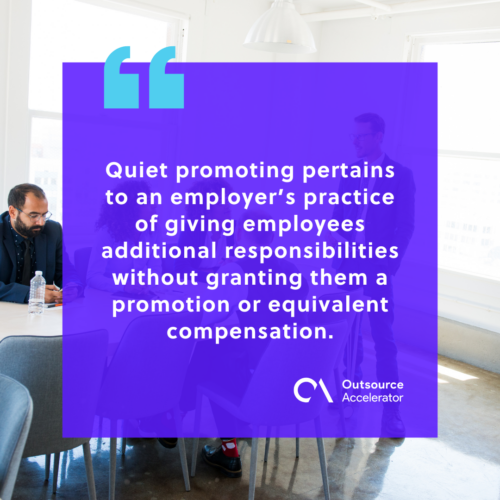 Telltale signs of quiet promoting
It can sometimes be hard to tell if an employer is quiet promoting an employee or preparing them for an actual promotion.
Because quiet promoting and the prelude to promotions start the same (i.e., employees receive more responsibilities), employees may not immediately recognize they're being quietly promoted.
Below are some common signs of quiet promotion employees can look out for:
Being directly asked by their employer to handle responsibilities beyond their position

Having significantly more workload than coworkers with the same job or title

Taking over the duties of a resigned coworker

Feeling like their employer is taking advantage of them when asked to take on more tasks

Knowing their employer or company will suffer if they don't accept more responsibilities
It's worth noting that these are just symptoms and not necessarily diagnoses of quiet promotion in the workplace.
As said earlier, promoting and quiet promoting employees are generally alike in the beginning. They are only differentiated by whether or not the employer follows through with an actual promotion.
What causes quiet promoting?
Many events can precipitate quiet promotions.
Managers often give workers additional workloads when other employees are on leave or in the interim of finding replacements for resigned employees.
Over time, employees may notice that their supposedly temporary extra duties have become part of their daily routine.
While there are unintentional quiet promotions, many cases of this phenomenon result from undesirable working conditions.
Some employers try to cut salary costs by giving employees responsibilities that more than one employee should be doing. These employers can easily take advantage of workers wanting to advance their careers.
The earlier-mentioned JobSage survey results showed that 68% of employees actively seek out additional responsibilities in hopes of being promoted.
In the same survey, only 22% of employees reported actively refusing attempts to be quietly promoted.
These numbers set a bad precedent on why some employers get away with quiet promoting in the workplace.
How does quiet promoting affect employees?
Quiet-promoting employees can be detrimental not only to workers but to the organization as well.
Having increased responsibilities without additional compensation can make employees feel neglected[2] and unappreciated.
Employee neglect invariably drives down employee engagement. This can lead to a higher turnover rate, affecting the company's reputation and bottom line.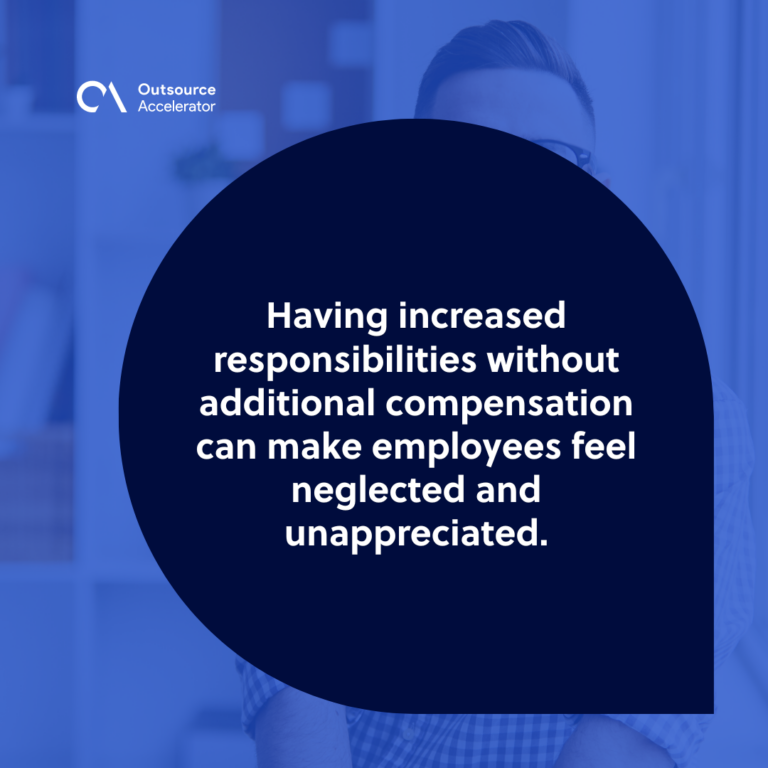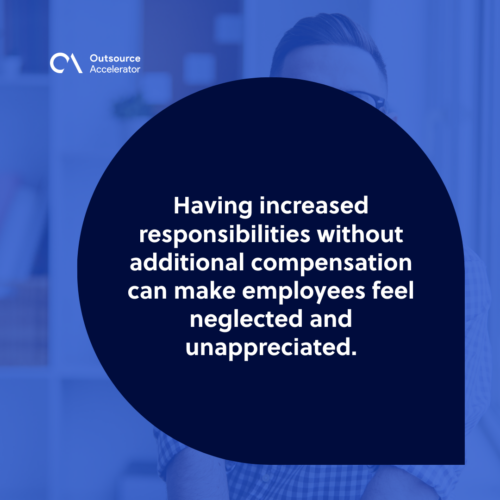 How to deal with quiet promotion
Quiet promotions are often negative experiences for employees. Fortunately, workers don't have to put up with this situation.
Below are steps you can follow to cope with quiet promotion at work:
1. Evaluate the situation
Employees who feel like their employer is quiet promoting them must evaluate their present situation. 
It's advisable to look at similar job listings and compare the responsibilities and compensation with your own. This way, you can assess whether you're being quietly promoted or on your way to an actual promotion.
2. Document everything
Quietly promoted employees should list everything they do at work, whether part of or beyond their job description.
You should take note of the results of your efforts and if these garnered positive feedback from your colleagues or superiors.
3. Fill in possible gaps
Go back to the job listings earlier and assess why (aside from finances) your employers may be against your promotion. It may be due to skills deficiencies.
In such cases, undergoing training and getting certifications for the perceived deficient skills will strengthen the case for your promotion.
4. Time your request
Decide when is best to confront your employer about your quiet promotion.
You can coincide this with an upcoming annual performance review or when you're about to finish a big project that can further strengthen your case.
It's also important to take note of your company's present financial situation and adjust your timing accordingly.
5. Ask for a promotion
Decide whether you want to ask for a promotion or just a pay raise commensurate with your increased workload.
Take time planning how you'll deliver your ask.
6. Take your experience elsewhere
If you've asked your employer for fair compensation or a new title for your additional work and received "no" for an answer, it may be time to consider taking your talents elsewhere.
Use your increased responsibilities to your advantage and showcase to your new potential employers how well you've handled additional work.
References:
[1] issues plaguing workplaces. Liang, H-L. (2021). "Does workplace bullying produce employee voice and physical health issues? Testing the mediating role of emotional exhaustion." Frontiers in Psychology, 12:610944. doi: 10.3389/fpsyg.2021.610944
[2] employees feel neglected. Kong, D.T. & Belkin, L.Y. (2021). "You don't care for me, so what's the point for me to care for your business? Negative implications of felt neglect by the employer for employee work meaning and citizenship behaviors amid the COVID-19 pandemic." Journal of Business Ethics, v. 181 pp. 645-660. https://doi.org/10.1007/s10551-021-04950-w