Signs of quiet firing in the workplace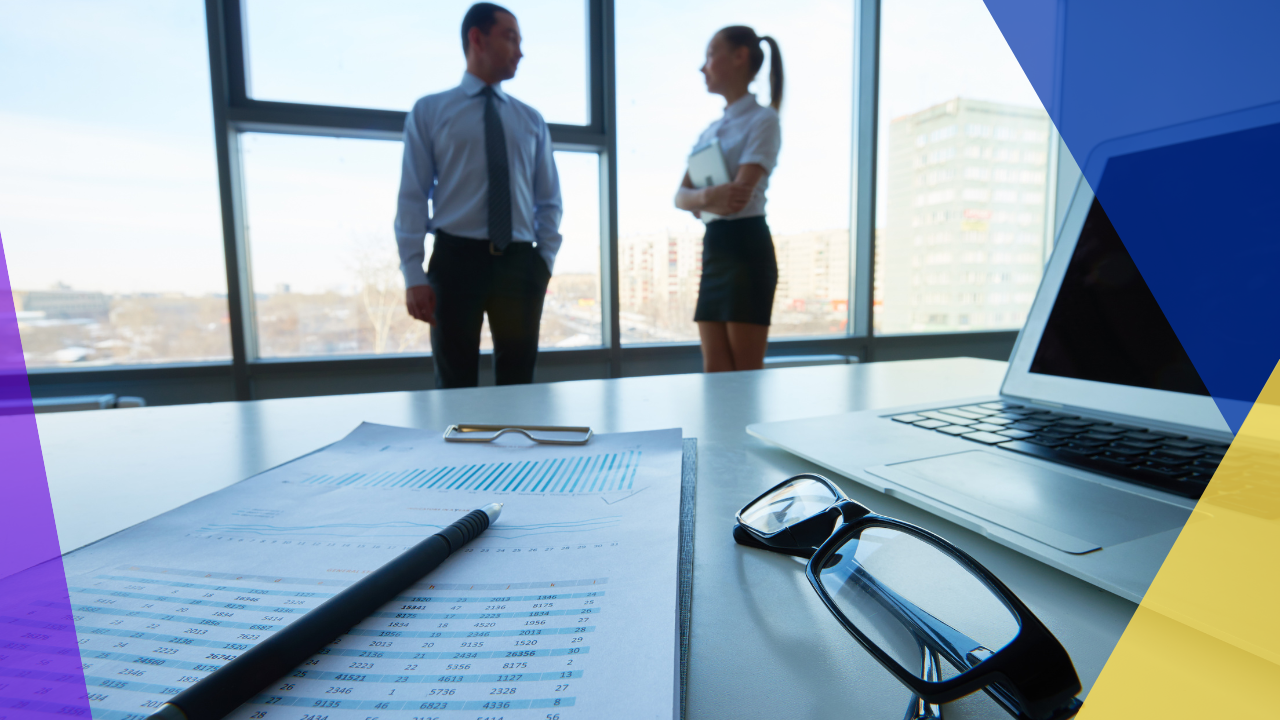 Signs of quiet firing in the workplace
Some businesses have begun "quietly firing" workers to shrink their workforces by creating a negative work climate. This then motivates people to leave voluntarily.
Although this may be a usual practice in the workplace today, quiet firing is not a sign of effective leadership, let alone morally right or a decent thing to do.
Some businesses purposefully foster a toxic work environment that encourages individuals to resign voluntarily. This, in turn, damages the employees' (both resigned and retained) morale.
When workers feel like they are experiencing quiet firing in the office, it causes a decline in the quality of their performance. As a consequence, the team, and even the whole company suffers.
What is quiet firing?
Quiet firing is a term for making a workplace unpleasant in the hopes that a worker will eventually leave. It proposes a passive-aggressive approach to performance management. 
Employers gradually make the workplace intolerable for the employee until the person eventually leaves voluntarily. Workplace admins do this rather than address an employee and fire the person or develop a plan for improvement. 
Supervisors may not intentionally build up a hostile workplace, but when it gets so unfulfilling, the employees have no choice but to leave the company.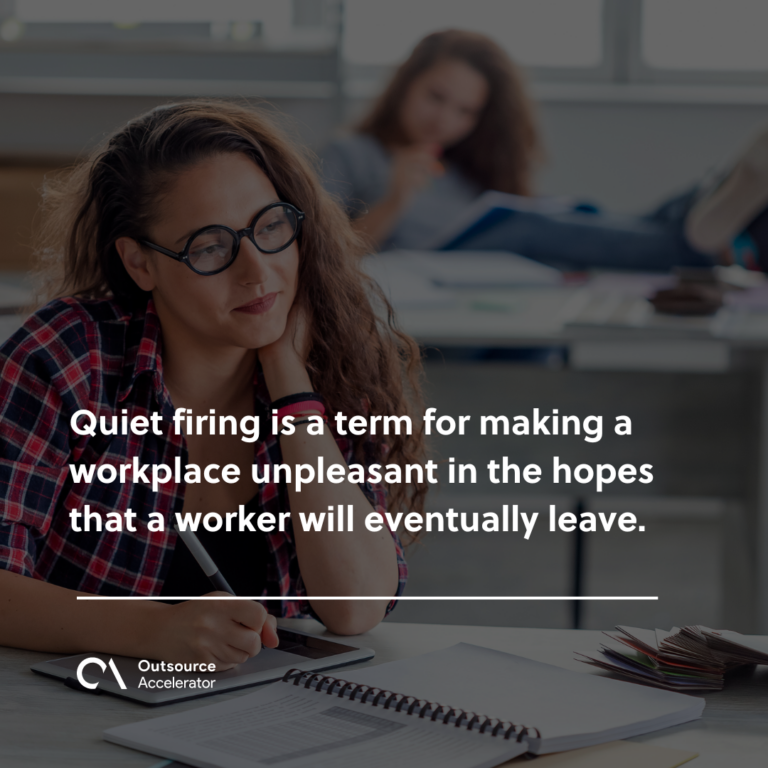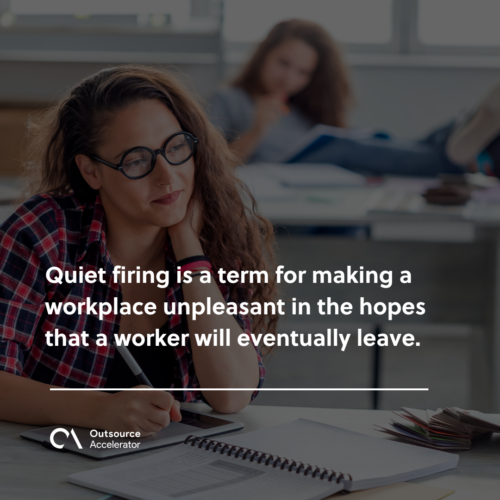 What are the signs of quiet firing?
The indications of quiet firing are frequently subtle and easy to ignore. Nevertheless, there are a few ways to determine whether you are being quietly fired:
More challenging work responsibilities
Receiving monotonous, pointless, and horrible work on a regular basis can be one of the warning indications of quiet firing. Quiet firers may reserve the most unpleasant tasks for their targets when allocating workloads so the worker would grow weary and quit.
The warning signs of quiet firing can be overwork or underwork. For instance, supervisors may reduce the number of scheduled shifts, making it difficult for coworkers to obtain enough hours to support the same standard.
Other times, management could give eager workers too few assignments, causing them to be bored for most of the workday.
Stalled promotion
A stalled promotion is one of the most obvious indicators of quiet firing. A targeted personnel may frequently be overlooked for opportunities and promotions. 
Leaders set expectations for what workers must accomplish to advance to the next stage of their careers in healthy workplaces. However, in quiet firing scenarios, managers continually move the goalposts or even promise a promotion without actually fulfilling it. 
Employees who have been quietly fired frequently observe as their peers advance around them while remaining in their position.
Altered compensation
Withholding compensation is a tactic that some employers use to quietly fire some employees. 
A manager may refuse requests for pay increases or renegotiate compensation packages when quietly firing an employee. Sometimes, in order to seem in good faith, the corporation can offer a salary increase that is far smaller than what was expected. 
The company could make hazy assurances regarding potential increases, but those raises never materialize. This refusal can be a calculated move to persuade workers to change jobs in quest of a better compensation package.
Deteriorated work conditions
Quiet firers may implement new strict policies to upset their targets. These managers could add additional unnecessary routines to make simple processes seem complicated. 
Tasks become incredibly frustrating or unattainable. Administrative chores take up a disproportionate amount of time from employees' schedules and prevent them from fulfilling other obligations.
Everything becomes much more difficult than it has to be, which causes employees to quickly lose patience.
Scarce feedback
The management usually labels their targets of quiet firing as hopeless cases and considers mentoring to be a waste of time.
These managers could forgo 1:1s or performance evaluations and stop praising and recognizing their employees. Instead, they provide ambiguous instructions or do not provide the specifics of a task.
It is easy to overlook or forget about giving feedback. Most organizations probably rely too much on events, prizes, and certificates. Even though these things can be crucial for developing a culture of appreciation, they are not the most effective psychological stimulants for daily performance.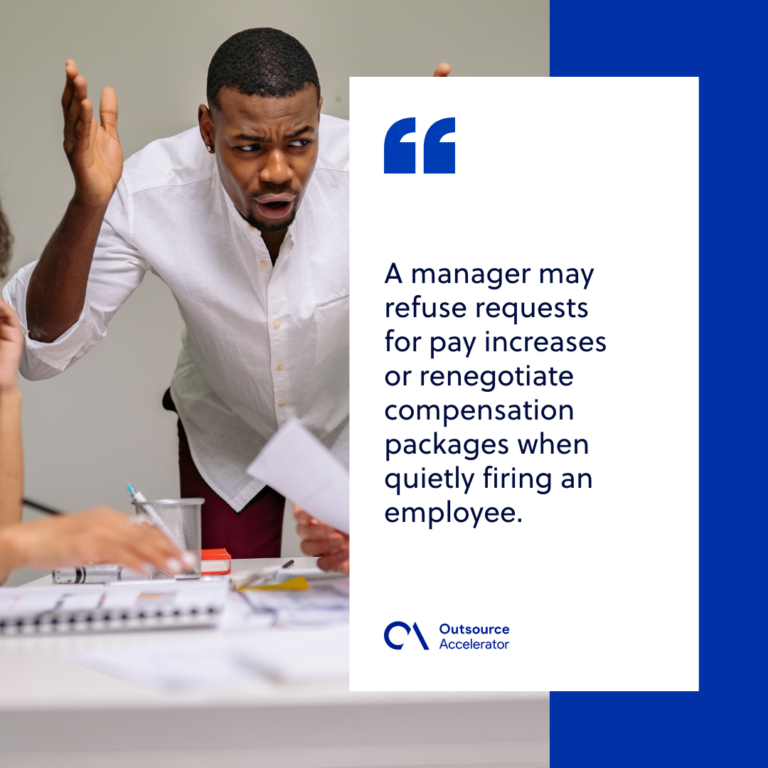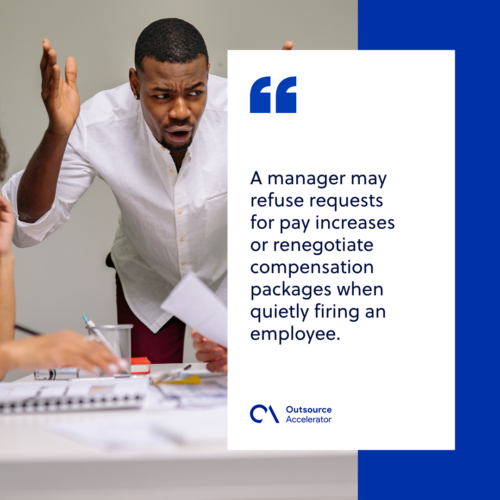 How to deal with quiet firing?
These changes in the workplace can be incredibly disheartening. It is only natural to think of leaving your job or boss if they make you feel unqualified, undervalued, or alone.
However, quitting is not the only option you can take in response to quiet firing. Here are some things you can do to face quiet firing head-on:
Communicate
If you believe that you are being quietly fired, talk with your leaders and speak up for yourself.
If you are worried about your position in the company, talk to your supervisor about it in an open and sincere manner.
Be as explicit as you can and try to concentrate on the improvements your boss could make instead of simply venting out. After some time has passed, check back to see if the changes you are seeking have been implemented.
Establish relationships with workmates
Join forces with those who share your sentiment or who seek different improvements in the workplace.
Although building relationships with coworkers may be more challenging when working remotely, it is still achievable. Know how to benefit from the relationships you already have. 
If you want to meet new individuals, ask your boss if they can connect you with someone from another team. These days, building a career comes down to who you know and the connections you have made within your company.
Know your rights
Read the employee handbook. Employees should get familiar with the procedures for promotions and raises at work. This can make difficult conversations about growth simpler to manage.
Employees can also support their case for promotions and salary increases by keeping a record of their accomplishments. Add to that the value they have added at work, as well as the pay scales for their roles.