What is quality evaluation, and why is it important?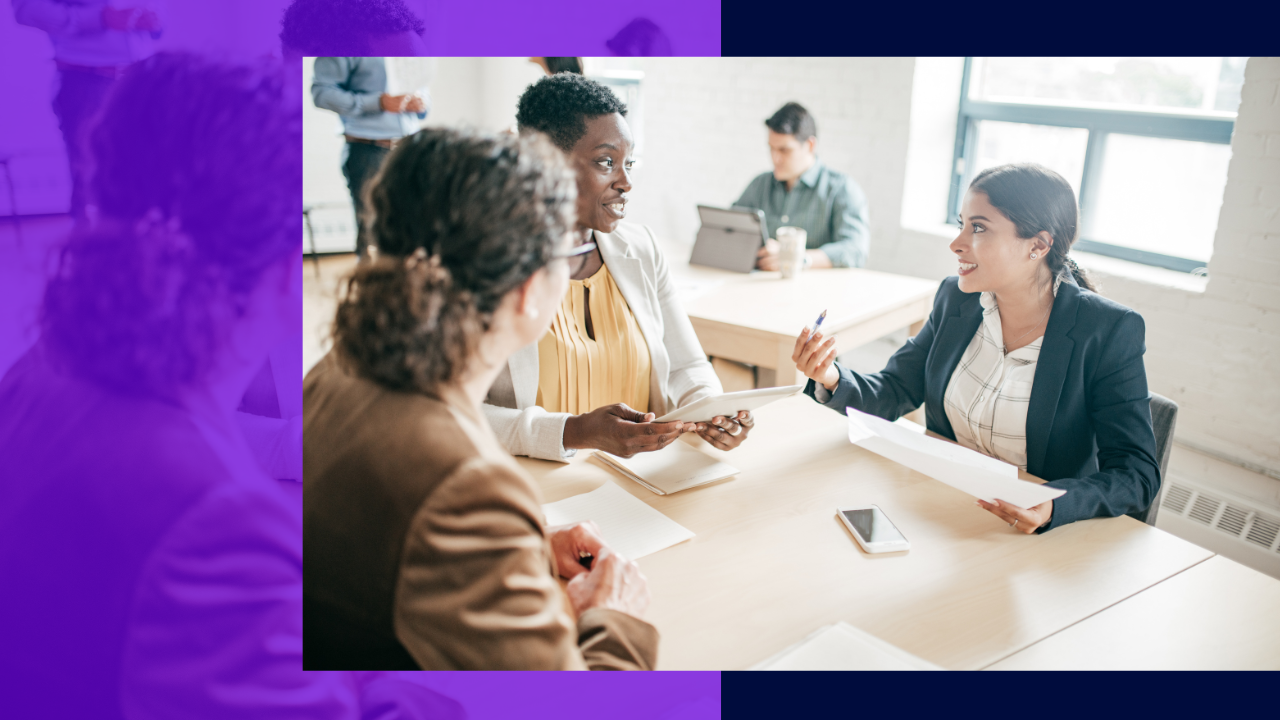 What is quality evaluation, and why is it important
The quality evaluation is an important process that helps companies and teams determine the level of excellence of their outputs. 
Businesses and service providers worldwide now use this to ensure and maintain a level of service for their operations. This is also how Cloudstaff, one of the leading providers in the Philippines, ensures the best service for their clients.
In a world where customers have high expectations and a plethora of rivalry, it is essential to understand what quality evaluation is and why it is important. 
Defining quality evaluation
The quality evaluation is the process of objectively and systematically determining the value of a product, service, or process. It is a technique to gauge the accomplishment of a project, program, or activity and offers a chance to identify the areas for improvement. 
As part of the quality evaluation process, data on a product, service, or process are collected and analyzed. Their quality is then assessed using the information gathered, and any areas that need improvement are identified. 
Quality evaluation can be carried out on several points during the development, implementation, and post-completion phases of a project, program, or activity.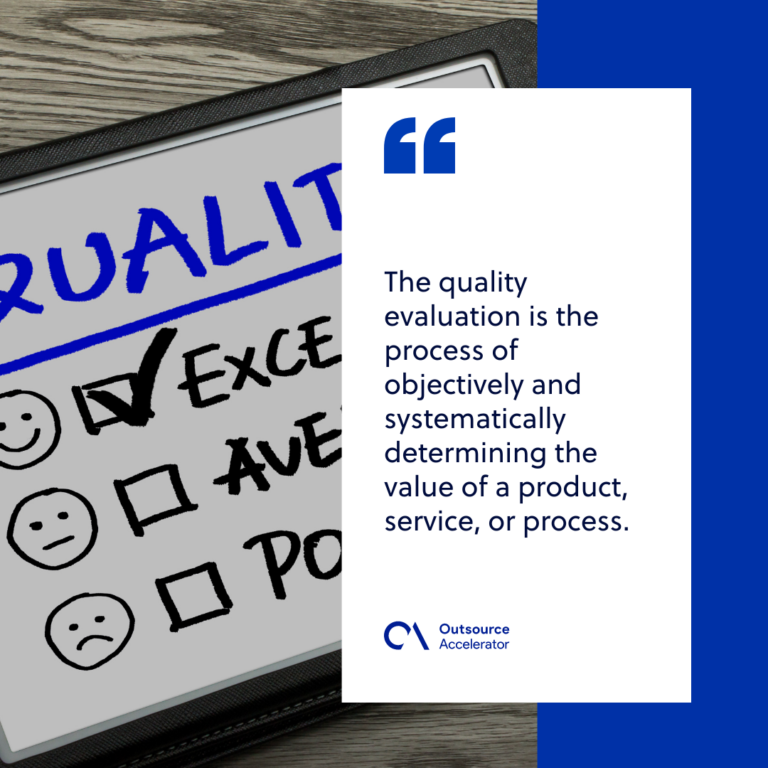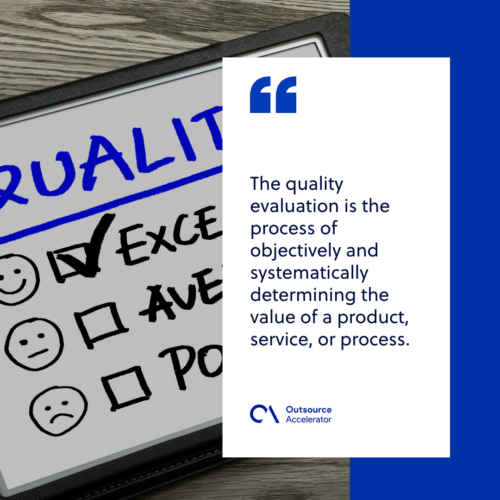 5 types of quality evaluation
Quality evaluation comes in different types, depending on the data that needs to be assessed. 
Here are five of the most commonly used:
1. Formative evaluation
Formative evaluation is a continuous process that happens as a product, service, or process is being developed. The major objective of this type of evaluation is to offer feedback and identify areas of improvement while the product, service, or process is still in progress. 
Formative evaluation is designed to help groups, companies, and people make adjustments and enhance their projects' quality before they are completed. 
It provides an opportunity to spot flaws or challenges so they can be addressed early on before they become larger issues. 
2. Summative evaluation
Summative evaluation is used to assess the efficiency and success of a completed project (product, service, or process). 
In contrast to formative evaluation, summative evaluation happens after the project has been completed. It aims to provide an overall review of its efficacy and success. 
The major objective of this quality evaluation is to identify areas for improvement and assess the value and impact of the project. It usually entails gathering and evaluating data to conclude the quality of the project. 
3. Process evaluation
Process evaluation assesses the project's implementation methodologies, systems, and processes. Its main goal is to monitor the efficacy, efficiency, and quality of the procedures and methods used to carry out a project, program, or activity.  
This type of quality evaluation is a continuous process that happens throughout the execution of the project. It is designed to provide feedback and make suggestions for enhancements to guarantee that the methods and procedures used are high-quality and efficient. 
4. Impact evaluation
Impact evaluation focuses on the overall effects and outcomes of the project. The core objective of this evaluation is to determine the degree to which the project has accomplished its objectives. Further, it also aims to identify its effect on the target population, community, or environment. 
This quality evaluation is usually carried out following the conclusion of the project. It offers a comprehensive review of its effectiveness and influence. 
Impact evaluation may involve gathering and evaluating data, completing surveys and questionnaires, and speaking with stakeholders, clients, or users in interviews. 
5. Outcome evaluation
Outcome evaluation concentrates on the particular results of the project. Its key objective is to determine whether the project has achieved its intended goals and objectives. It also gauges the project's effects on the target population or audience. 
This type of evaluation usually happens after a project or activity has concluded. Like impact evaluation, it may involve data collection and analysis, surveys, and interviews with stakeholders, clients, or users. 
Why are quality evaluations important?
Any company or business must have quality evaluations. For one, they offer valuable insights into the effectiveness and performance of different processes and systems. 
Without quality evaluation, identifying the areas that need development can be tricky. This also makes it difficult to guarantee that the business is operating efficiently.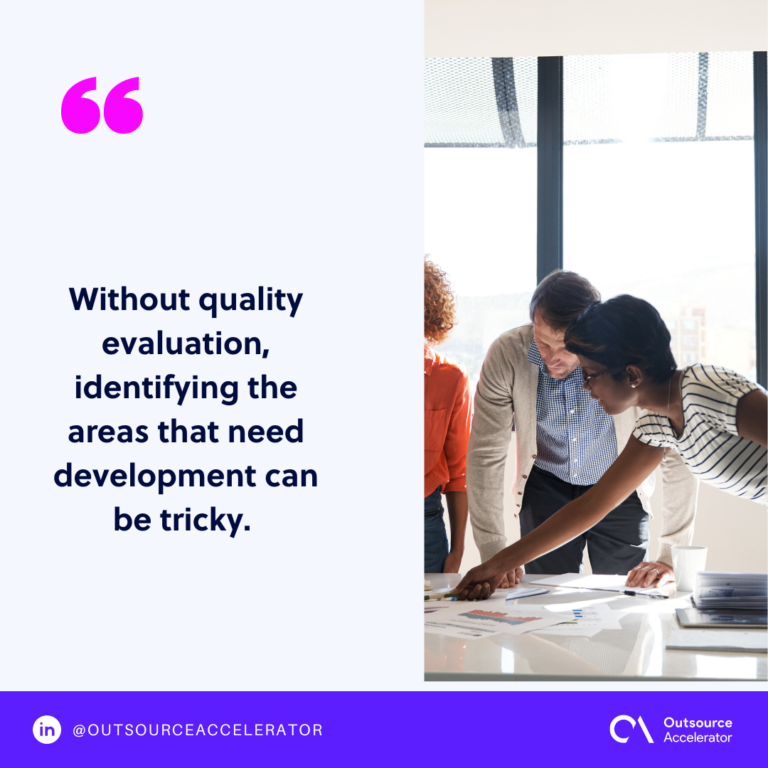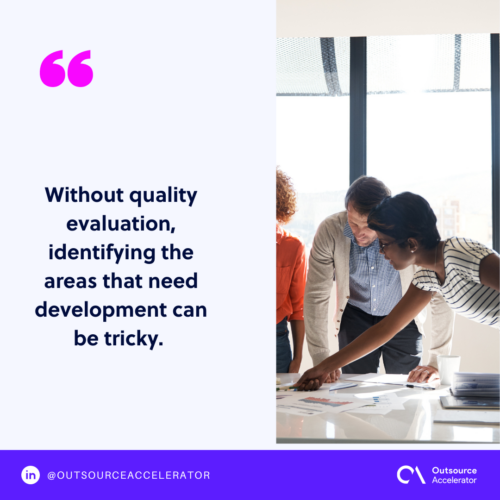 Here is a closer look at why quality evaluations are important. 
Discover the story behind the results
Organizations can better recognize the underlying factors of their results using quality evaluations. 
It thoroughly analyzes the benefits and drawbacks of various teams, systems, and processes. Finding any potential obstacles or difficulties that might be affecting performance also helps. 
Organizations can make decisions that produce better results by clearly grasping the background behind the results.
It paves the way for improvement.
Quality evaluations do more than only identify issues. They also help organizations in coming up with solutions.
Companies can create a roadmap for implementing changes that will produce better results by identifying areas that need development. Quality assessments serve as the cornerstone for ongoing development, enabling firms to stay competitive and innovative.
Every feedback is important
Organizations have the chance to get feedback from a range of stakeholders during quality evaluations, including clients, staff, and partners. This input can be beneficial because it provides a fresh perspective on the organization's systems and operations. 
Every form of feedback should be taken into account because it may help businesses improve significantly and raise their level of performance.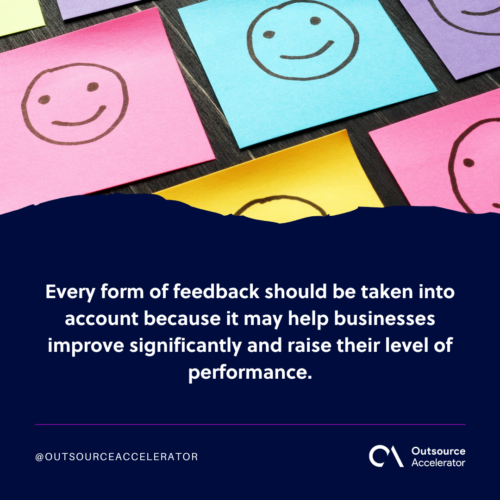 One size fits all isn't true at all
Businesses have different and specific needs that should be taken into account while designing quality evaluations. It should consider the fact that no two businesses are exactly alike. 
Hence, companies should also construct these assessments customized to their needs. This way, they can gain a more comprehensive understanding of their company's performance.
Quality evaluation leads to positive outcomes 
Quality evaluations provide an objective and systematic assessment of a project. It can help organizations, businesses, and individuals make informed decisions about their future efforts. It guarantees that products, services, and processes are efficient and useful. 
These evaluations play an important role in helping companies to understand their performance and determine areas for growth. They also allow organizations to get feedback, offer helpful ideas, and open the door to improvement. 
In today's fast-paced business world, businesses that invest in quality evaluations can better accomplish their objectives and remain competitive.