How productivity ratios improve business performance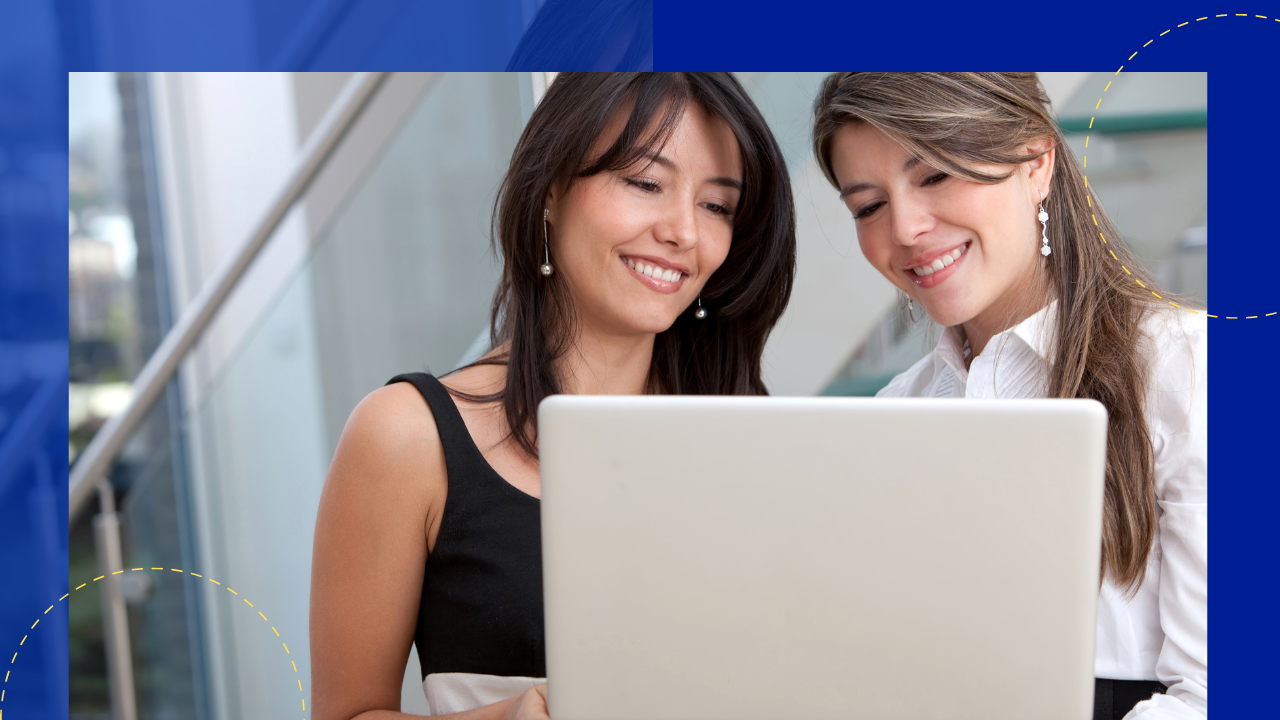 Measuring the productivity ratio is crucial for businesses to improve overall productivity. It is the key for companies to thrive and generate profit in the long run.
But to grasp the concept better, it is vital to understand the company's productivity in general.
In business terms, productivity is the ratio between output and input volume. It measures how a company or an individual maximizes inputs like capital, labor, and materials to produce a given output level.
Many people have related productivity to the production process and its efficiency. The common idea of productivity is by working harder and faster.
However, this wrong definition leads to burnout among employees and poor performance. Staff tends to "work" for a few hours and not operate at maximum productivity. This results in failure in operational delivery and strategic risk for the company.
It is time to redefine workplace and employee productivity to ensure business success.
What is productivity ratio?
Companies and individuals use a labor productivity ratio to measure the efficiency or the overall productivity of an organization in converting inputs into relevant outputs.
They use the data to determine the product impact and labor market regulations on economic performance.
Think of it like this: the closer the productivity ratio is to 1.0, the higher the productivity. If the ratio is closer to 0.0, the lower the productivity is.
However, this baseline depends on the industry to which the company belongs.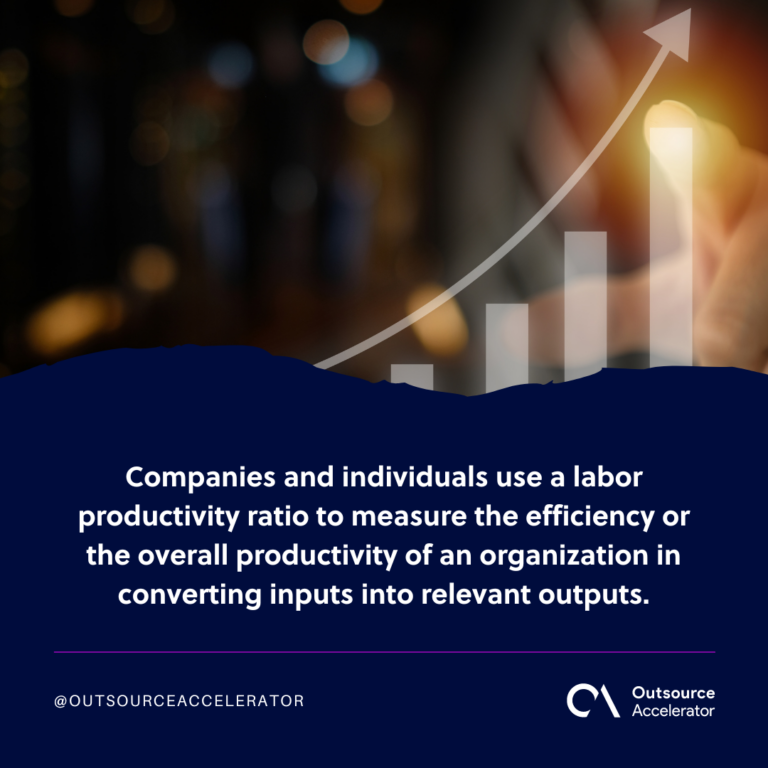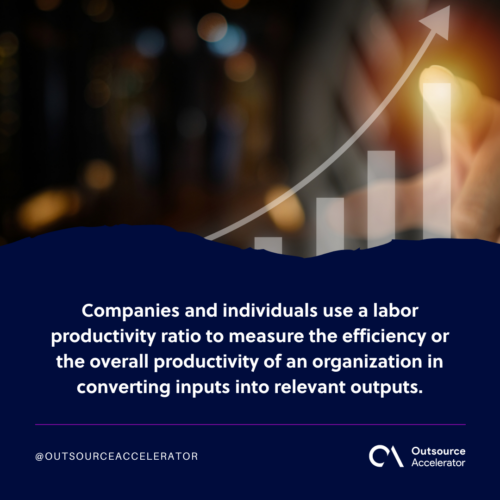 How do you calculate productivity ratio? 
The formula for productivity measurement is simple:
Productivity = Output / Input
Follow these step-by-step guides on calculating the productivity ratio:
Step 1: Determine the inputs
The input is the number of units used to produce a product or provide a service. It can be anything, depending on the industry. Some examples of inputs are work hours, human resources, energy costs, and capital.
Step 2: Determine the outputs
The output is the number of products or services provided based on the amount of input spent to calculate revenue. Some examples of outputs are clients acquired and units produced.
Step 3: Calculate using the formula
After determining the inputs and outputs, apply the values in the formula to get the productivity ratio.
Step 4: Compare it to a baseline
Businesses should set a baseline to compare and evaluate how close or far they are from the industry standard.
The calculated productivity ratio can also be used in computing productivity metrics like sales growth, focus hour per day, or revenue generated per hour.
Why is the productivity ratio crucial in business performance?
Monitoring workforce productivity can help several areas of the business. It allows companies to evaluate and analyze the different operations and processes.
Here is a list of benefits that goes with regularly calculating and monitoring productivity:
Drives employee engagement
Most companies have disengaged employees. Some of them feel overwhelmed, not recognized enough, and unsatisfied. As a result, their productivity declines.
One way to boost their performance is through evaluations. If the employees know that the company will monitor their productivity and get incentives, they will feel motivated.
Highly motivated workers have exceptional work ethics and efficiency, resulting in higher productivity.
Utilizes resources better 
Productivity results from how well skills and resources are used to provide output.
Knowing how employees work, what tools and software they use, and how they work with others will give organizations an idea of how they maximize their resources.
It is one way to know whether it is time to provide additional training or get new tools and software.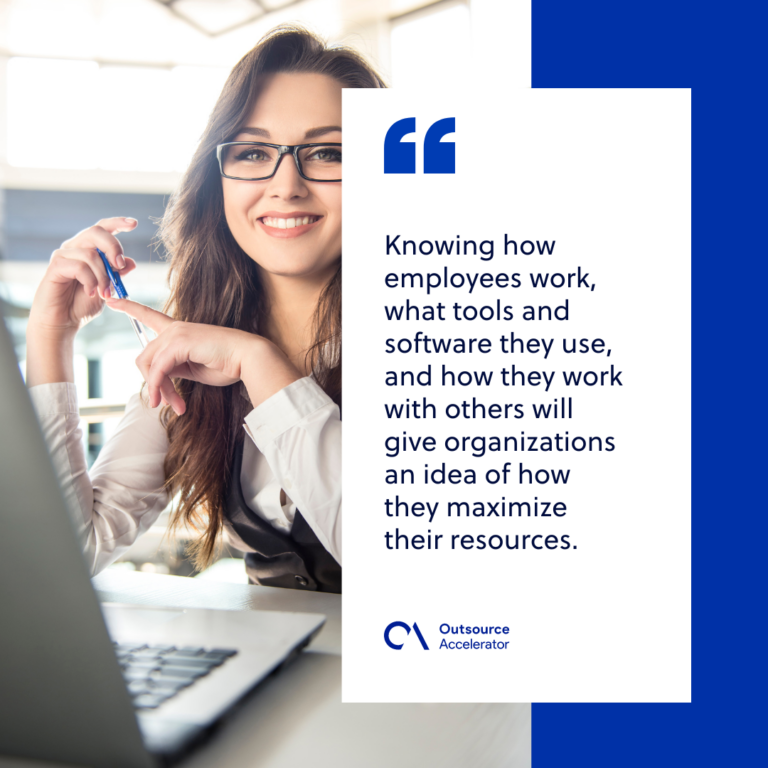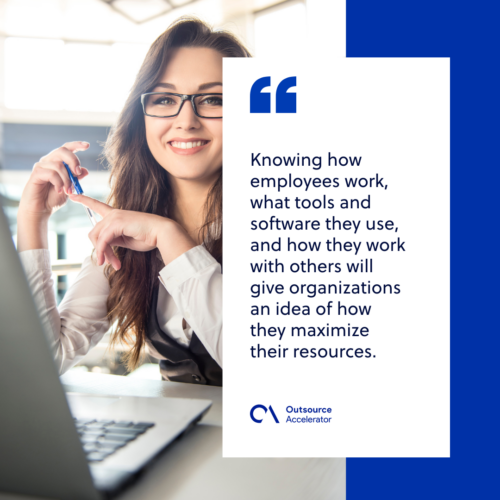 Focuses on more crucial business matters
Productivity analysis is about time management and focusing on core tasks rather than menial ones.
Calculating the productivity ratio can help in determining unnecessary steps in operations management. It can help businesses identify the practices and areas slowing down the operation.
With the productivity ratio, these companies can reevaluate their work processes and remove redundant steps, resulting in increased productivity.
Helps in goal development
Knowing the number of output businesses can expect from their workforce can help them set achievable goals.
For instance, if a company wants its employees to produce 150 widgets every hour, it can use its set productivity ratio.
The result will determine the company's number of employees to achieve the goal.
Aside from that, knowing the amount of output produced per hour can help businesses set a goal that can benefit the whole organization.
Sustains productivity for long-term growth
Productivity is the key to improving business performance and increasing business results. However, measuring productivity is not a walk in the park or an overnight job.
Calculating the productive ratios is one of the stepping stones in achieving desired business results, increasing customer loyalty, and keeping the team engaged.