Outsourcing radiology services: What you need to know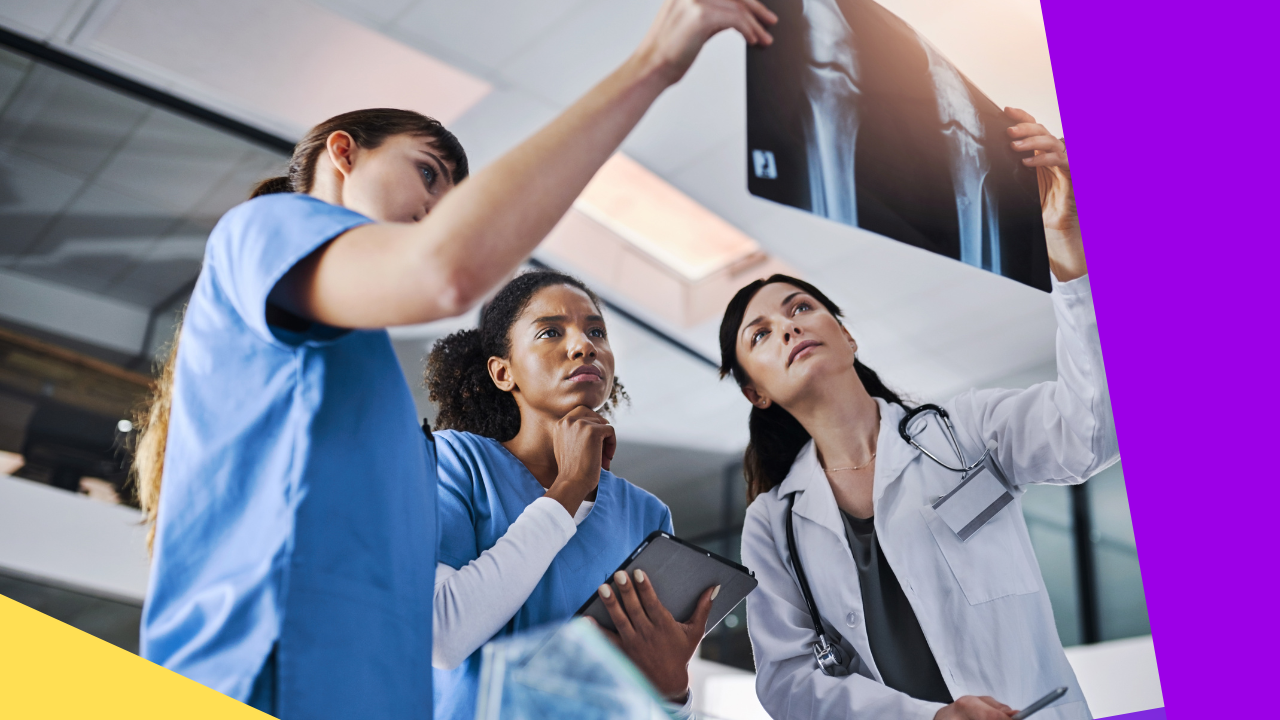 Outsourcing radiology services What you need to know
Outsourcing is not a foreign concept in the healthcare industry. In North America alone, the healthcare business process outsourcing (BPO) industry market size is expected to reach USD 173.67 billion by 2027.
While most outsourced healthcare processes are not inherently medical (e.g., claims processing), clinical outsourcing – delegating clinical services to third-party companies – is also gaining popularity.
Outsourcing radiology services, also known as teleradiology, is a practice that has risen from the healthcare industry's newfound fascination with outsourcing.
Despite the many benefits it brings to healthcare systems, the practice of outsourcing radiology services still has its share of detractors.
Read on below to learn more about outsourcing radiology services, how it works, and the advantages and dangers associated with the practice.
What are radiology services?
Radiology is a secondary healthcare service that covers various clinical processes. These include imaging processes, such as:
General radiology (using standard X-ray technology)
Magnetic resonance imaging (MRI)
Positron emission tomography (PET)
Computerized axial tomography (CAT)
Dual-energy X-ray absorptiometry (DEXA)
This service is concerned with diagnostic imaging – using scanned body images to help specialists diagnose and treat their clients.
There are three types of radiological services: diagnostic, interventional, and therapeutic.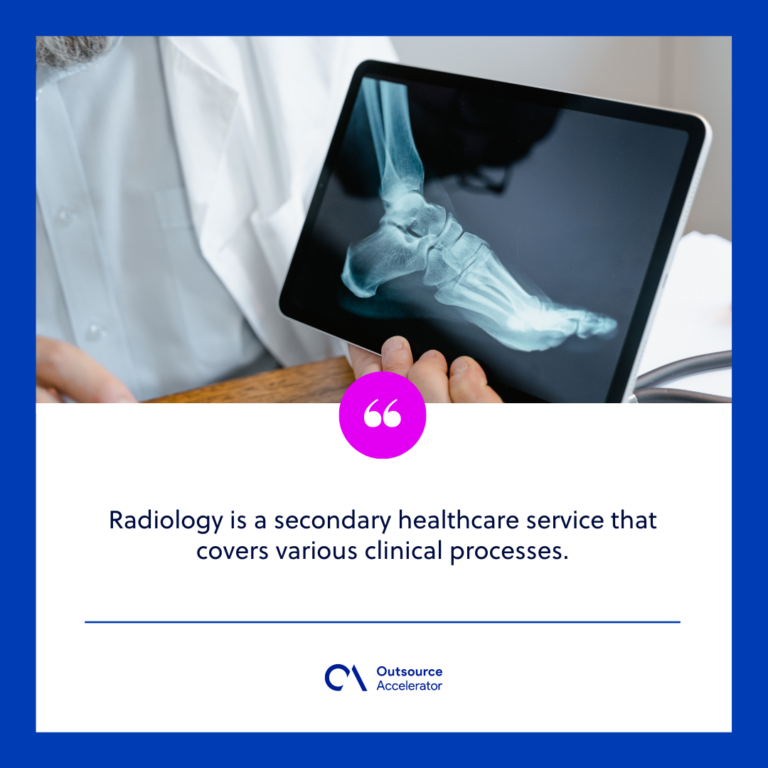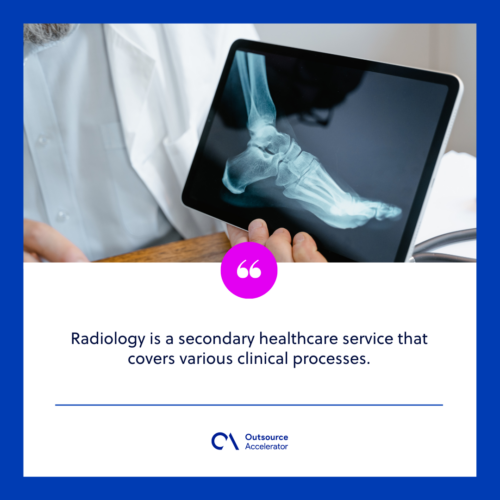 Diagnostic radiology
This type of radiology is the most commonly known radiological service. It's also the radiological process involved when outsourcing radiology services. Health professionals use diagnostic radiology for several reasons, such as:
Look at the structures inside a patient's body
Assess how well a patient's body responds to treatments
Screen patients for signs of illnesses like cancer or heart disease
MRIs, PETs, and CATs are examples of diagnostic radiology.
Interventional radiology
Interventional radiology refers to image-guided surgical procedures.[1] In these types of surgeries, interventional radiologists utilize diagnostic imaging tools (e.g., MRI, fluoroscopy, and ultrasound) to guide them throughout the process.
These are some examples of interventional radiology:
Catheter placements
Feeding tube placements
Needle biopsies of organs
Embolization
Therapeutic radiology
More commonly known as radiation oncology or radiotherapy, therapeutic radiology is the process of treating cancer and other diseases using radiation.
How outsourcing radiology services work
Outsourcing radiology services — or sometimes an entire radiology department — to BPO firms with teleradiological capabilities has become commonplace among private radiology practitioners.
The demand for faster interpretation of diagnostic images[2] is among the reasons why many healthcare providers are outsourcing radiology.
There are various radiology outsourcing arrangements healthcare providers can subscribe to when outsourcing radiology services. These models depend on each organization's financial and operational capabilities, as well as their unique goals.
Below are some of the arrangements followed by healthcare organizations outsourcing radiology services:
Management contract
Under this arrangement, radiologists have delineated management responsibilities and authority, but hospitals retain ownership and employees.
They are compensated on management fee bases, regardless of additional performance targets and incentives.
Leased department
In the leased department model, radiologists provide complete technical radiology services, from employees, rent, and supplies to billing agents and marketing.
However, the leased department is still required to be integrated and operated within the provider's hospital licensure and regulatory requirements
Joint venture
Healthcare providers and radiologists can also opt to enter joint ventures. Healthcare providers outsourcing radiology services through this model draw up agreements with radiologists to own and operate part or all of their technical radiology services.
Sale of department
In this model, radiologists buy the technical radiology operations assets from healthcare providers. The providers outsourcing radiology services from them then pay for their services on a contractual basis.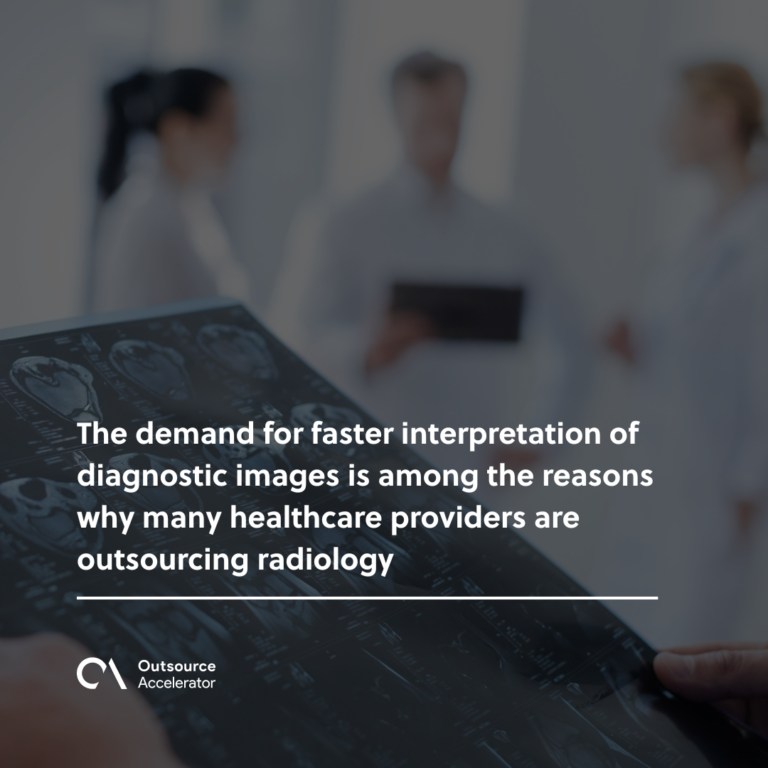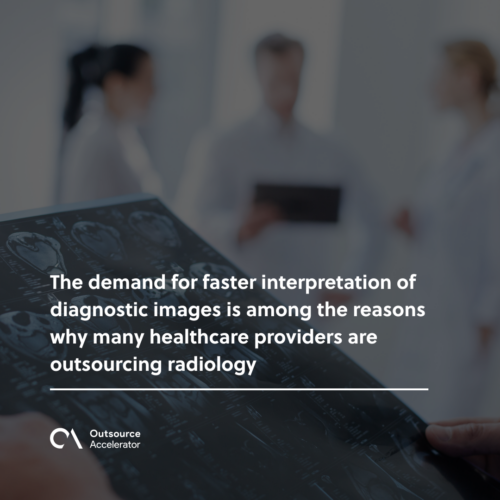 Outsourcing radiology services: Benefits and risks
Outsourcing radiology services gives healthcare many opportunities. However, these opportunities are not without risks.
Foremost among the concerns about outsourcing radiology services is the potential health hazards it poses to patients.
Detractors of teleradiology often point to past cases in the US where hospitals outsourcing radiology services ended badly for the patients.
Loss of clinical quality is another cause for concern. A healthcare service quality researcher from Texas A&M University posits that "…outsourcing may not provide the anticipated financial benefits … especially when discounted pricing is used to secure an outsourcing contract with the intention to raise prices later."
Despite the words of caution heaped against outsourcing radiology services, teleradiology is here to stay.
Outsourcing radiology provides more than just financial benefits to healthcare providers; it also adds more value to the services they provide patients.
Below are some of the value added to medical services when radiology is outsourced.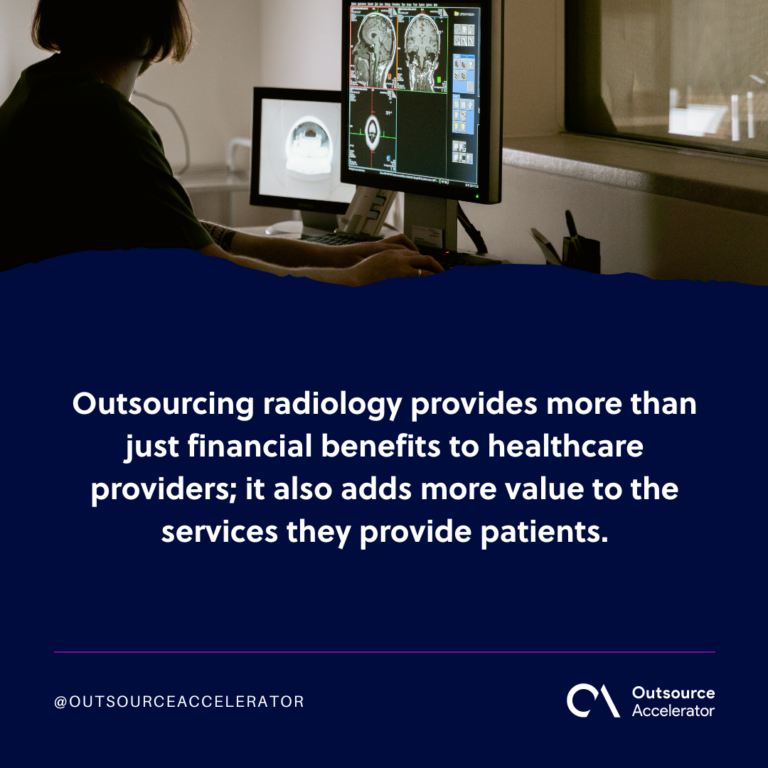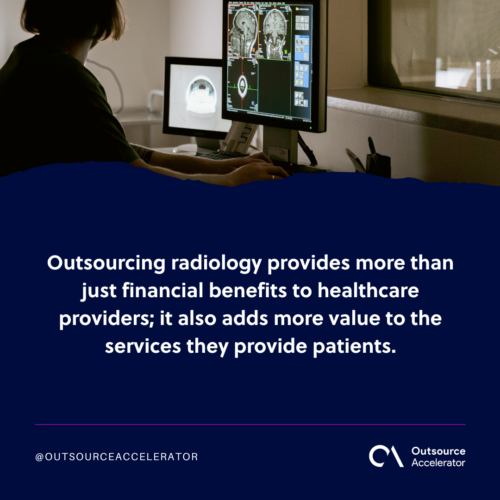 Faster diagnostics
With today's technologies, teleradiology allows almost instantaneous viewing of diagnostic imaging results. This lets clinicians reach diagnoses more quickly and provide better treatment for patients.
Improved consultation
Teleradiology allows radiologists and physicians to collaborate and develop the most suitable treatment method for patients.
Through outsourced radiology, it's easier and faster to get second opinions from remote subspecialist radiologists. This is especially helpful for smaller towns with no quick access to radiologists with subspecializations.
No shortage of radiologists
Being able to tap radiologists from another city or even continent ensures that hospitals will no longer face a shortage of radiologists.
Teleradiology gives hospitals operational continuity by giving access to licensed radiologists from other regions. These outsourced radiologists can cover the off-shift duration of a hospital's local radiologists.
References
[1] image-guided surgical procedures. Jud, L. et al. (2020). "Applicability of augmented reality in orthopedic surgery – A systematic review." BMC Musculoskeletal Disorders 21, 103. https://doi.org/10.1186/s12891-020-3110-2
[2] faster interpretation of diagnostic images. Mintz, Y. and Brodie, R. (2019). "Introduction to artificial intelligence in medicine." Minimally Invasive Therapy & Allied Technologies, 28(2), pp. 73-81. https://doi.org/10.1080/13645706.2019.1575882