Outsourcing medical credentialing with Connext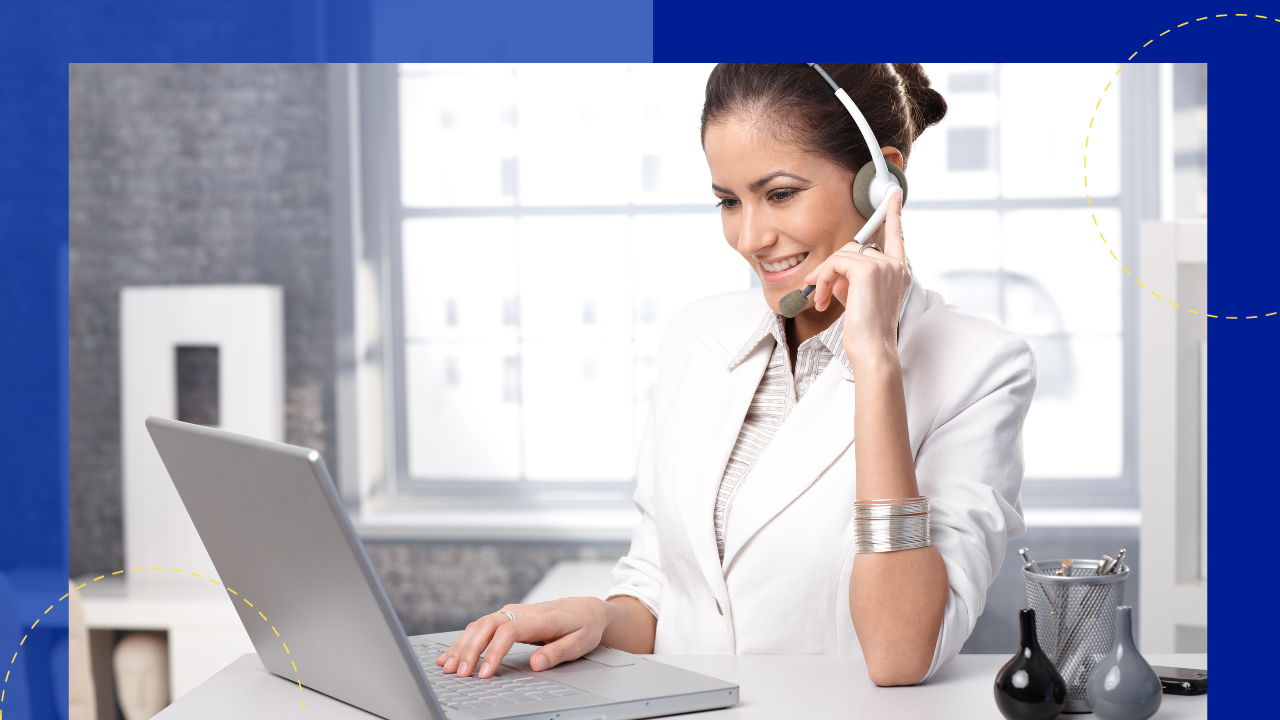 The significance of streamlined medical credentialing cannot be overstated in a healthcare landscape where the focus is increasingly shifting toward improved patient care.
Amid the ongoing demand for healthcare services, organizations face the challenge of ensuring their providers are highly skilled and compliant with regulations and standards. Outsourcing medical credentialing has always been a practical and strategic solution.
Healthcare entities, from hospitals and clinics to individual practices, recognize the inherent advantages of entrusting this crucial function to specialized providers like Connext.
What is medical credentialing?
Medical credentialing is a multifaceted procedure to rigorously evaluate and validate a healthcare provider's qualifications, professional experience, and personal background. This is to guarantee compliance with stringent industry standards and regulations.
Medical credentialing also involves thoroughly investigating medical providers' educational history, which verifies the authenticity of degrees and certifications.
This process delves into the specifics of their training, ensuring they have received hands-on experience in their field.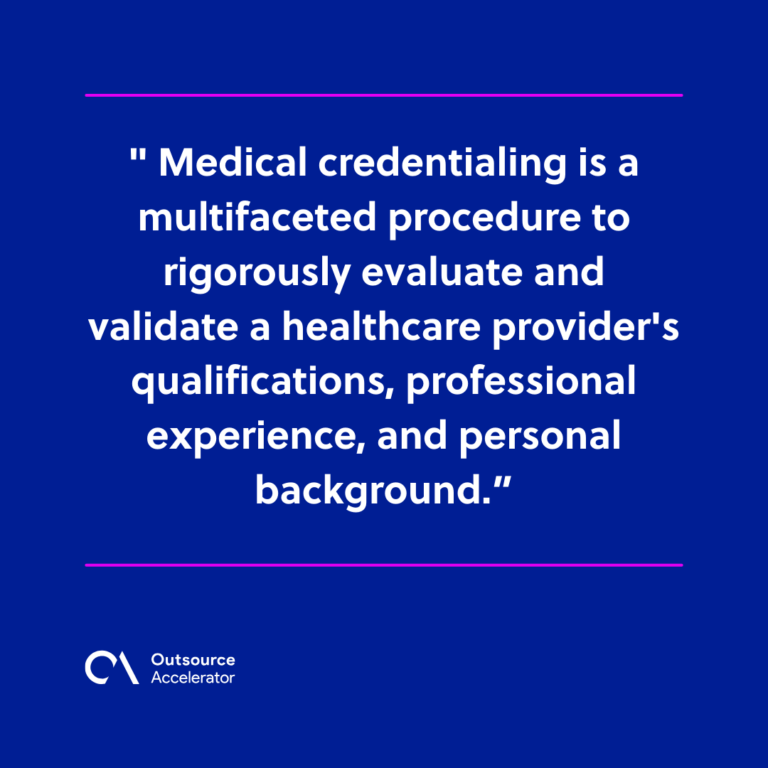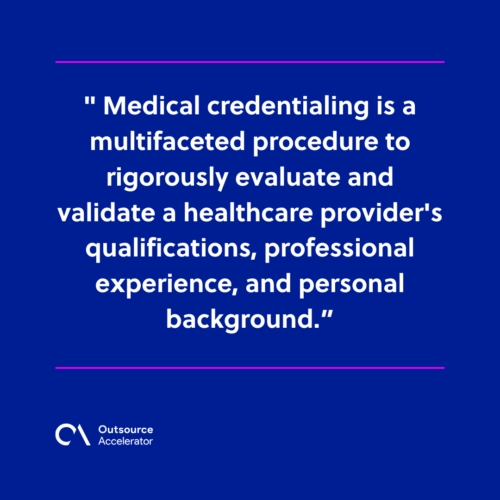 Pros and cons of outsourcing medical credentialing
Outsourcing medical credentialing can offer numerous benefits, but weighing these advantages against the potential drawbacks is essential.
Pros of outsourcing medical credentialing
Partnering with an outsourcing provider for medical credentialing offers the following benefits:
Expertise and efficiency.

Outsourced medical credentialing companies specialize in this complex and detail-oriented process. They deeply understand the requirements and standards for healthcare provider qualifications, licensure, and certifications.

Time and resource savings.

By outsourcing medical credentialing, in-house staff can reallocate their time and resources to other critical responsibilities, such as

patient care

, administrative tasks, or improving the overall quality of healthcare services. 

Compliance and accreditation.

Partnering with a credentialing company can ensure your organization complies with all relevant regulations and quality standards.
Cons of outsourcing medical credentialing
Despite its numerous advantages, healthcare organizations must also consider the following drawbacks:

Loss of control

. When you outsource medical credentialing, you relinquish a degree of control over the process to a third-party organization. This means you may have limited influence over the specific steps and timelines of credentialing.

Privacy concerns

. Sharing sensitive information with an external credentialing company can raise privacy and security concerns.

Communication challenges

. Any miscommunication or misunderstanding can lead to credential delays, potentially impacting the facility's ability to onboard new providers promptly. 
Benefits of outsourcing medical credentialing to Connext 
Now that we've explored the pros and cons of outsourcing medical credentialing, let's discuss the benefits of entrusting this process to Connext.
Access to their professional team
Connext boasts a team of highly skilled professionals who understand the nuances of medical credentialing. 
Their expertise in the field ensures that the credentialing process is executed with precision, accuracy, and compliance with all regulatory requirements.
Cost savings
Outsourcing medical credentialing to Connext means saying goodbye to the costs of maintaining an in-house credentialing team.
Connext offers a cost-effective solution, allowing you to allocate your financial resources where they matter most.
Increased efficiency
Efficiency is a hallmark of Connext's credentialing services. Its streamlined outsourced credentialing processes result in quicker credentialing, ensuring that healthcare providers can deliver care sooner, benefiting your organization and patients.
Reduced administrative burden
Connext takes on the administrative tasks associated with medical credentialing, freeing up your staff to concentrate on delivering patient-centered care.
This shift in focus can improve job satisfaction among your healthcare team.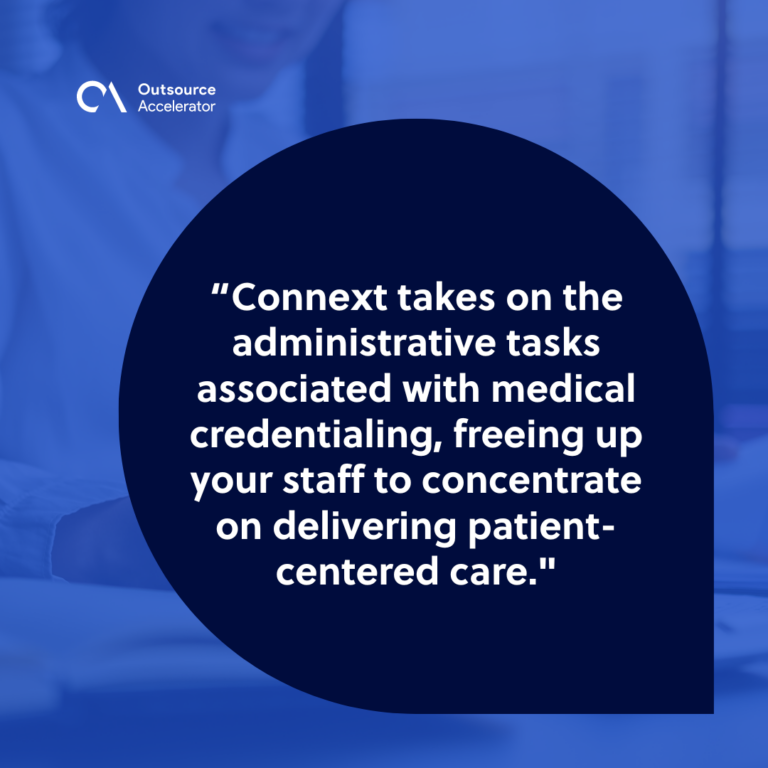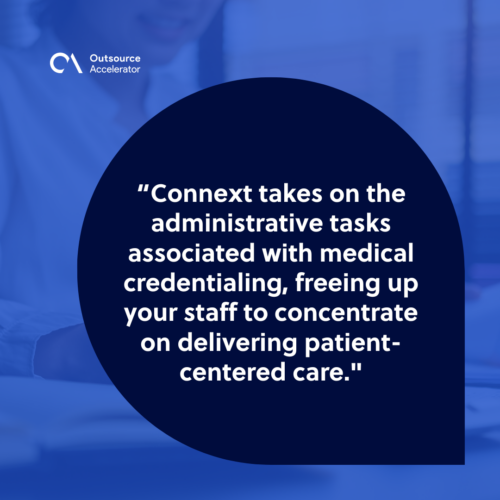 Focus on core healthcare activities
By outsourcing your medical credentialing to Connext, your healthcare facility can concentrate on its core activities, including patient care, research, and development. 
This ultimately leads to better patient outcomes and enhanced overall healthcare quality.
Outsourced medical credentialing fosters patient-centered care
The ultimate goal of any healthcare facility is to provide patient-centered care. Outsourcing medical credentialing plays a significant role in achieving this objective.
With the administrative burdens of credentialing removed from your healthcare team, they can put all their energy and focus into what truly matters – delivering top-notch care to patients.

A patient-centered approach improves patient satisfaction and enhances your healthcare facility's reputation.
So, take the first step toward improved efficiency and patient satisfaction by partnering with Connext for your medical credentialing needs.