Outsource to Poland: Discover its burgeoning outsourcing market industry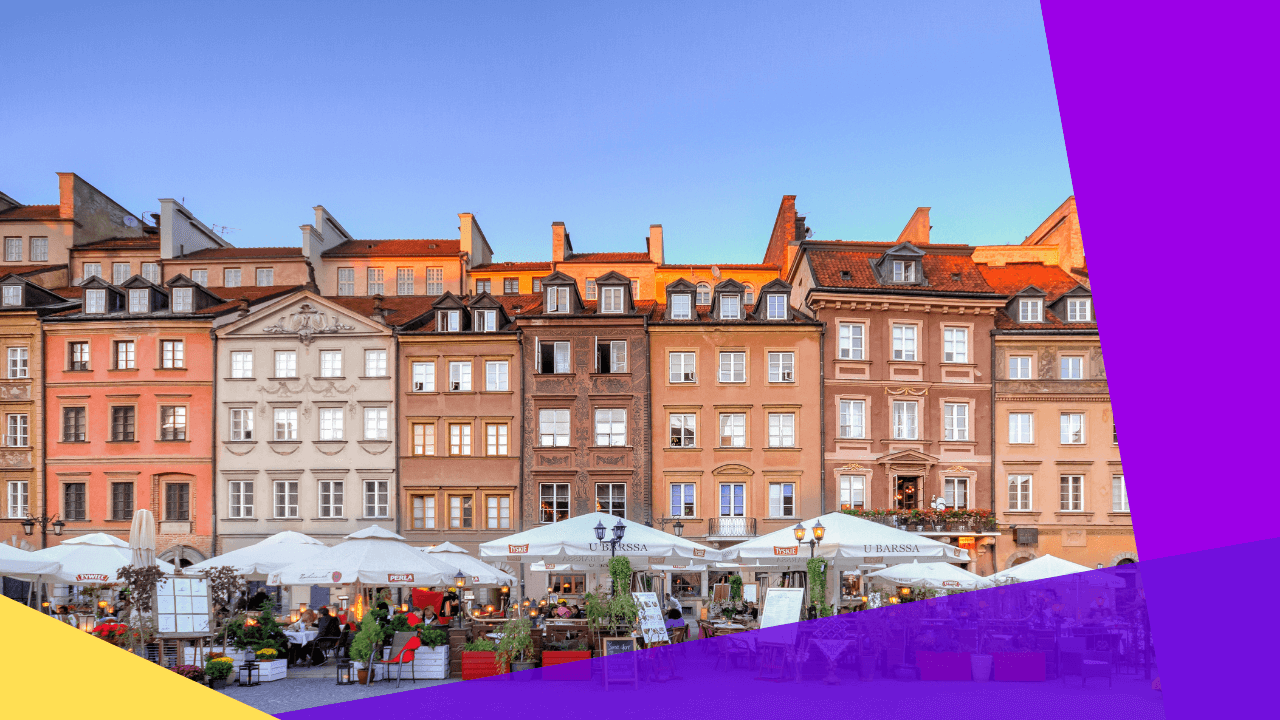 Business Process Outsourcing is among the fastest and most steadily growing industries worldwide.
One interesting fact about outsourcing is that it has become a massive contributor to every country's economic growth, especially developing countries like the Philippines, India, and Malaysia. 
Poland is emerging as one of the outsourcing hubs in the European Union (EU). More and more companies have been recognizing the consequent perks of outsourcing to this country. 
While Poland remains a fledgling in the outsourcing industry, it has proven to be one of the strong contenders of highly skilled talents. It has also been a great nearshoring destination for neighboring countries like the UK, US, and Germany.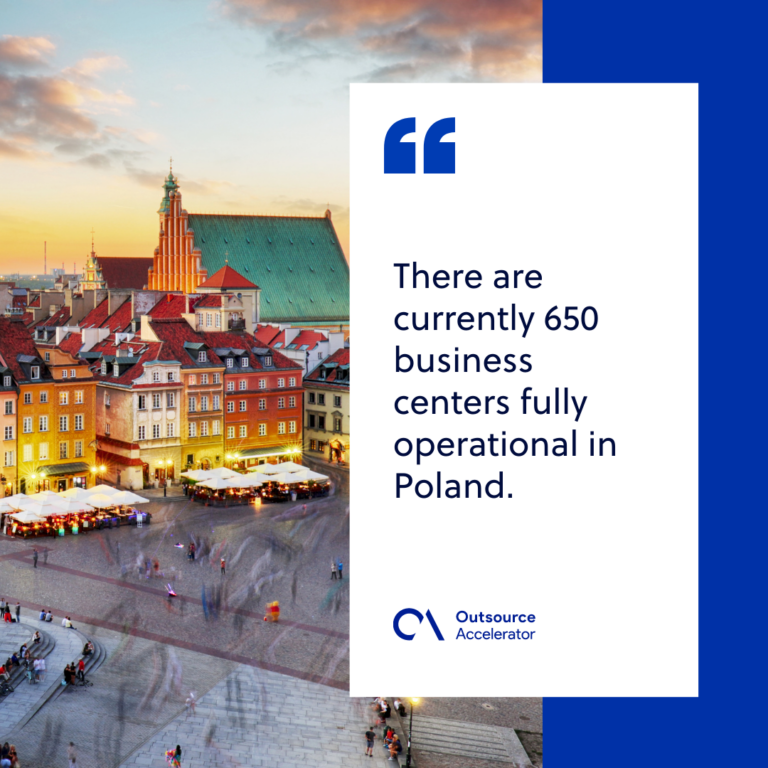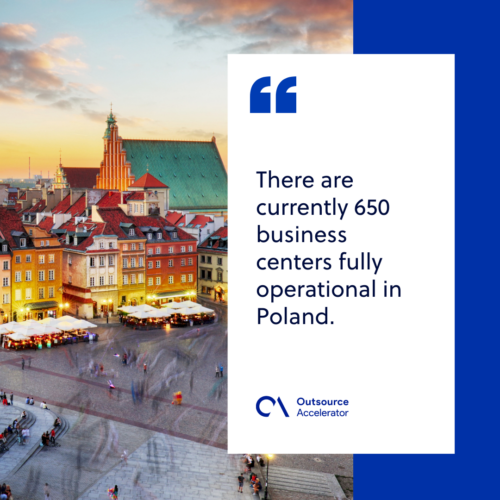 The current global outsourcing market
Outsourcing involves contracting out a specific portion or several portions of business processes to a third party. Over decades, outsourcing has served as an essential part of each organization as it paves the way towards continuous progress and development. 
The global outsourcing industry has also come a long way from providing manufacturing services to various sectors. Today the business process outsourcing industry offers a plethora of services to aid with business growth and success. 
Outsourcing, in most cases, incorporates offshoring to other countries as it is more cost-saving. In 2019, the global outsourcing market reached $92.5 billion, with an upscale of roughly over $7 billion from the prior year.  
In 2020, the global outsourcing industry was valued at $232.32 billion. It is also perceived to have a CAGR of 8.5% from this year, 2021-2028. Access to global resources is another main factor for nearshoring and offshoring. Through these methods, companies can meet the ever-changing demands of the market industry. 
As the entire world is continuously battling the impacts of the COVID-19 pandemic, different BPO functions can deliver round-the-clock support to various business processes while working remotely. 
At present, more and more organizations are recognizing the importance of outsourcing. What's more, other countries are also starting to be known as outsourcing capitals across the globe.   
Poland as the next outsourcing destination
Poland is located in Central Europe, bordering Germany, Ukraine, Slovakia, Czech Republic, Lithuania, Belarus, and Russia. With a total population of 38 million, Poland is the sixth-largest in the European Union. 
The country does not just possess a rich culture, majestic views, and breathtaking landscapes. It also has an innovative and stable economy. 
Further, it also provides top-quality education through its internationally recognized degrees, especially in the Information Technology (IT) sector. 
The onset of SSC and BPO sectors in Poland
Over the past three decades, Poland has evolved from a communist state to one of the EU's distinguished economies. Its Shared Services Centers (SSC) and the BPO industries are vastly growing alongside its economy. 
There are currently 650 business centers that are fully operational in Poland. The Polish SSCs have also started expanding their areas of competence. From specializing in more straightforward daily tasks to offering end-to-end processes. Locals have also started looking into having professional growth within this sector rather than treating it as their initial career stage. 
The SSC and BPO industries in Poland are continuously emerging in 10 urban cities in the country, including Warsaw and Krakow.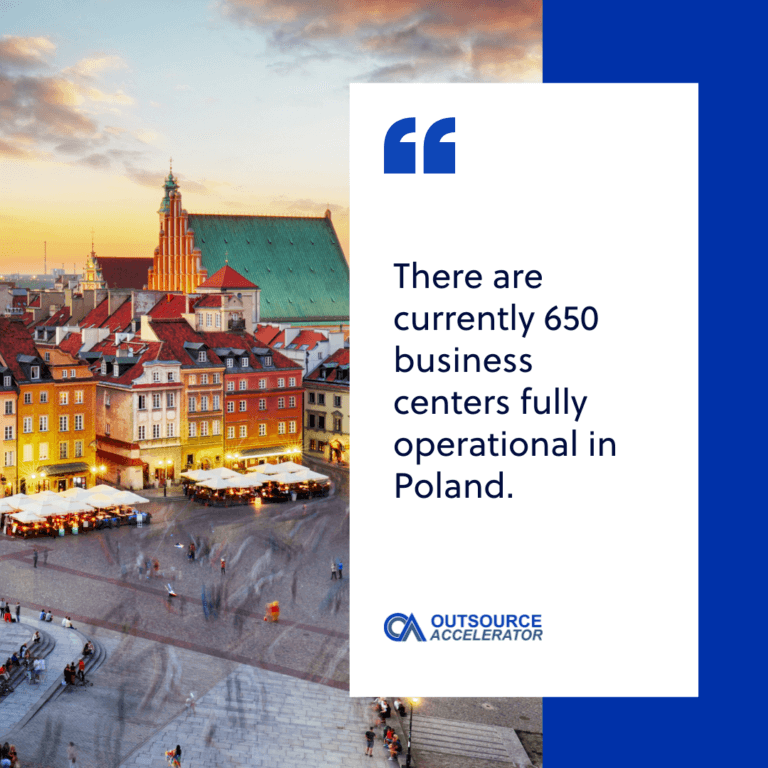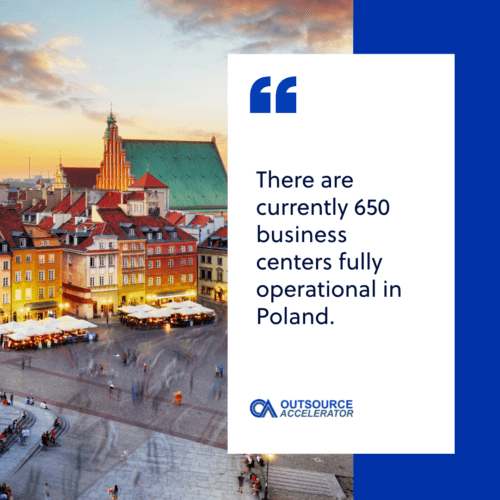 Why Poland is an attractive outsourcing destination for global investors
Poland's location within the heart of Europe makes it a nearshoring gateway between the east and west. It ranked 24th on most attractive outsourcing locations globally as per A.T. Kearney Global Services Locations Index. 
The Polish venture capital in 2019 has also reached more than 1 billion Polish zlotych ($253.5 million) investments for a startup, specifically in Q3 alone. Startups can bring in great investments from several foreign investors around the world.
Further, here are few excellent reasons why Poland is an ideal outsourcing destination for global investors: 
Knowledge
The Polish education system enables students to take advantage of having free and uninterrupted education for 22 years. Most of the learning population in the country are studying in the Information Technology field. Poland produces a good volume of IT graduates who speak the English language proficiently every year. 
Cultural compatibility
In terms of culture, Poland's proximity to EU countries eliminates massive cultural barriers. The country also has a deep cultural connection with the US. In establishing a good outsourcing relationship, common ground and a good grasp of cultural ethics are essential. 
Communication
Poland is also one of the best English speakers globally, ranking 11th on the 2019 English Proficiency Index. In addition to that, 40% of Poles know at least one foreign language. 
As for the working population, English proficiency is a common standard for Polish graduates and employees. Proficiency helps employees to communicate effectively with foreign clients, understand their requirements and provide remarkable results. 
Accessibility of office space
Apart from having a stable economy, Poland has wide office space availability, meaning it is a perfect place to set new BPO or SSC infrastructures. Eight cities in Poland have nearly 8 million m2 of office space, including another million m2 under construction. 
Poland has proven to be one of the top investment locations in Central and Eastern Europe. What's more, it has also been declared one of the most appealing locations for nearshore outsourcing. 
Outsourcing IT specialists in Poland
Given its large pool of highly skilled IT graduates, Poland has been slowly becoming known in terms of IT-related outsourcing services. 
Polish developers are famously recognized as highly proficient in general technical knowledge. Further, Polish IT specialists often belong in the highest ranks for international programming contests like Google Code Jam, Microsoft Imagine Cup, and TopCoder. 
Why choose Poland for IT outsourcing? 
At present, more and more foreign companies are leaning on Polish developers for top-quality software development for their bottom line. As the trends in software development outsourcing consequently, change, so as the demand for Polish IT talents, and here are the reasons why:
Highly qualified IT professionals 
Polish IT professionals are generally known for having a broad coding experience since they have started their first professional job. Their expertise is significant for companies that are looking into tapping into IT outsourcing services. 
Aside from skills, Polish IT professionals are usually detail-oriented, very determined, and have the kind of mindset that is always hungry for success. Moreover, Polish IT experts are also one of the youngest in the world to begin to learn about coding. According to the 2018 Developer Skills Report, Poland has placed 4th with 7.7% of kids aged 5-10 familiarizing themselves with code.  
Emerging IT market
Poland's IT market is dynamically growing at a stable rate each year, and Polish IT companies have constantly been expanding internationally. 
Part of the driving force for this emerging market is software development involving nearly every industry in the country. Another factor is the growing demand for cloud-computing services, IoT, cybersecurity, and more. 
IP protection and data security (US and EU standards)
Poland has always been very devoted in terms of data security and IT protection. The country has even curated the General Data Protection Regulation (GDPR). The regulation consists of a set of privacy rules for privacy and data protection of individuals in the EU. 
And because Poland has maintained a close tie with the US, Polish IT specialists usually have a good understanding of their American clients' needs and requirements.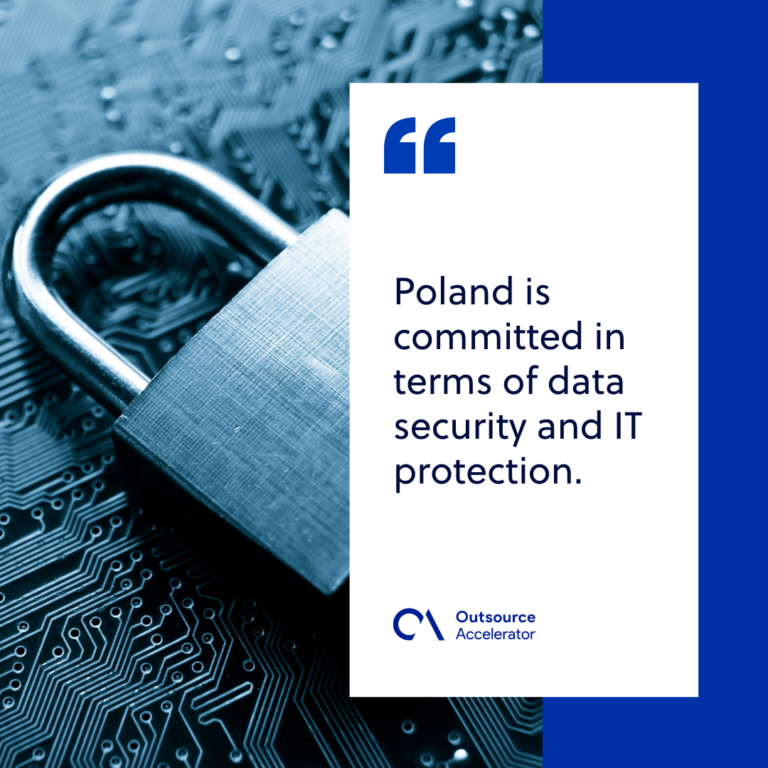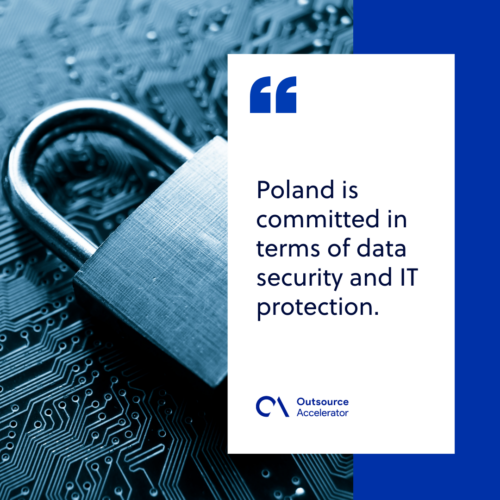 Cultural and work ethics
Similarities in culture and work ethics are what also attract neighboring countries to nearshore in the country. Another characteristic of Polish professionals is that they are firm when it comes to working responsibilities and ownership. Plus, they are very hardworking and dedicated to their craft.
In particular, IT specialists look at every angle of each given situation and provide creative solutions rather than traditional ones. They sometimes go beyond their client's expectations. 
Polish IT specialists are experts in the Agile approach & methodologies 
Polish IT experts are highly regarded in terms of Agile methodology. The 10th best Agile conference in the world, AgileByEpisode, is held in the country. Polish IT professionals are highly proficient when it comes to software development. 
Cutting-edge technological infrastructure
Poland is at the forefront of the development of IT infrastructure for sciences, most especially in research. More so, it is no secret that Poland is a developed country with a highly advanced economy. 
In addition to that, Poland's mobile internet is one of the cheapest, yet it is among the fastest and most stable.  
Outsourcing in Poland at a glance 
Poland's economy has not been heavily affected by the COVID-19 pandemic, and it is also recovering quicker than the rest of the EU. 
As for foreign companies looking into contracting to outsource work, include Poland in your list of countries to consider. Aside from having a healthy and continuously progressing economy, Poland's government is very supportive of the BPO industry in the country.   
And of course, Polish IT professionals, especially in software development, are guaranteed never to disappoint anyone!