Bolster business safety by outsourcing cyber security through Eclaro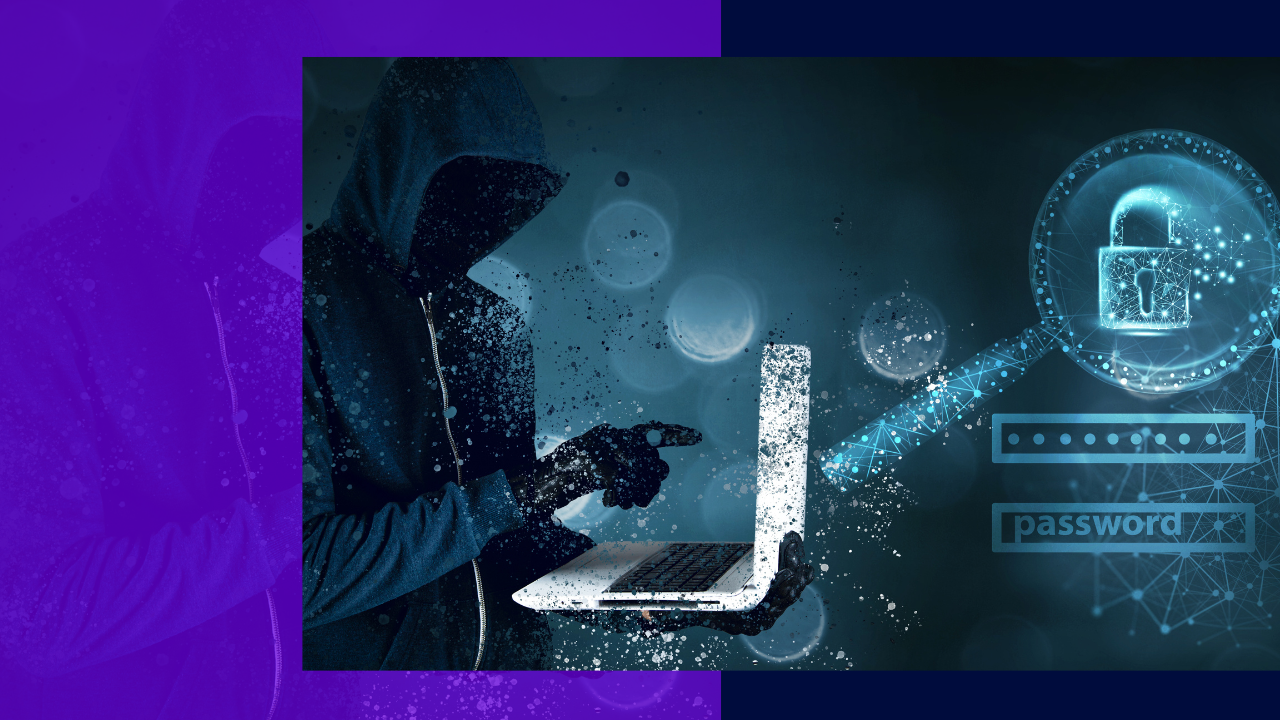 ECommerce has become increasingly popular throughout the world.
Even primarily, brick-and-mortar businesses have embraced digital technology and built or joined eCommerce platforms.
Shopify – the Canadian eCommerce giant – forecasted global eCommerce sales to reach about USD 5.7 trillion in 2022.
Businesses venturing into the online world face new potential business hazards, including digital security risks. Examples of these threats include malware, Denial of Service/Distributed Denial of Service (Dos/DDoS) attacks, and Man-in-the-Middle (MITM) attacks.
Companies with existing IT infrastructure may already have measures in place to protect against these.
However, outsourcing cyber security through reputable firms like Eclaro is the best move for businesses without their own cyber security team.
Doing so helps them gain the advantages of having a professional cyber security team, minus the often high costs of maintaining one in-house.

Outsourcing cyber security: How it works
Outsourcing cyber security means entrusting your business's data protection and network safety to IT professionals from a trusted outsourcing firm.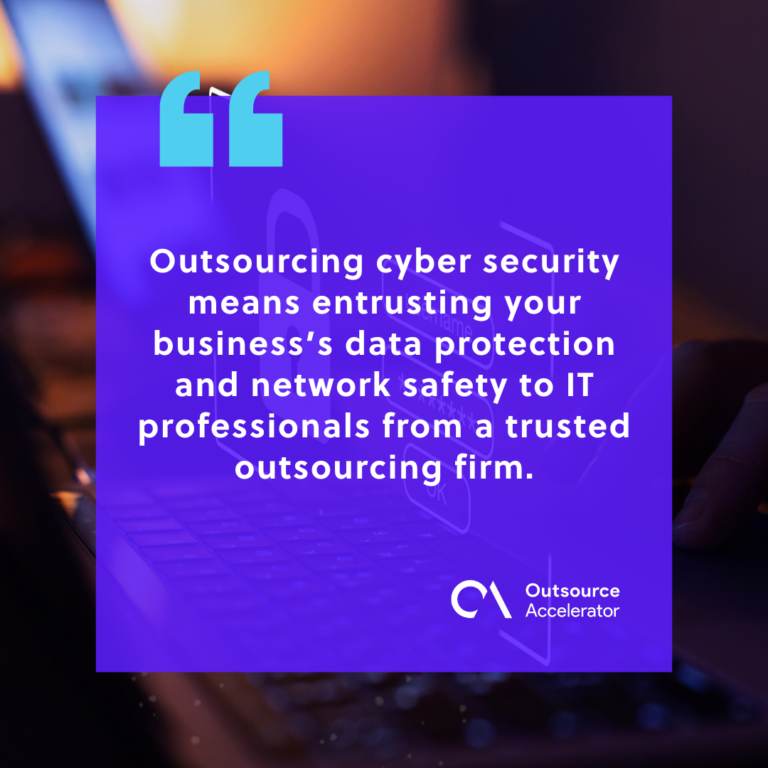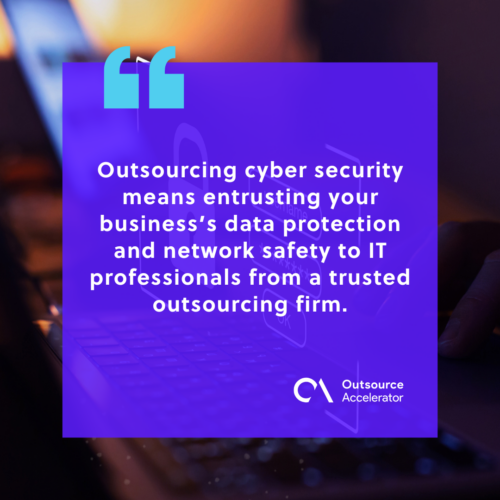 These outsourced IT staff will ensure that:
Your business's and clients' data are safe from unauthorized access (from without and within)

Your website is safe from

cyber-attacks

You'll have business continuity should cyber-attacks happen, and data recovery measures

Your network is protected from malware
Coverage of cyber security
Cyber security teams are responsible for protecting various aspects of your business's digital assets and providing other security-related services.
Their responsibilities include:
Network security.

This is the process of protecting your computer network from targeted attacks.

Application security.

This ensures that any software and device you use is free from digital threats.

Information security. 

It protects the integrity and confidentiality of all your stored data.

Operational security.

This identifies actions and other processes within your business that cyber attackers could exploit, then create countermeasures.

End-user education.

It pertains to teaching your business's employees information vital to your organization's cyber security.
Advantages of outsourcing cyber security
Businesses will gain plenty of benefits by outsourcing cyber security that goes beyond simple added cyber protection.
These benefits include:

Cost reductions
Outsourcing cyber security costs far less than maintaining an in-house one.
This cost reduction is due to the living costs difference between the country of businesses that outsource and the outsourcing firm's country of operation.
For example, a US company that outsources to Eclaro will benefit from Eclaro's Philippines operations. In the Philippines, skilled professionals cost almost 70% to 85% cheaper than their US counterparts.
Outsourcing firms also handle the office space, equipment, training, and recruitment costs for cyber security specialists, further increasing the amount businesses can save.
Access to better technology and IT infrastructure
Business process outsourcing (BPO) firms are heavily tech-reliant companies.
This means that BPO companies like Eclaro invest in leading-edge technologies that their clients can access through outsourcing.
Cyber security means premium tools with powerful capabilities, such as Invicti, SecPod, and SolarWinds.
24/7 monitoring
More often than not, outsourcing firms have 24/7 operations all year round.
This work schedule is supplemented by staff working on rotating shifts.
For businesses outsourcing cyber security, this means they'll have specialists monitoring their business's cyber activities 24/7 – even during holidays.
Having dedicated cyber security specialists constantly watching out for cyber threats ensures businesses can focus on revenue-generating activities.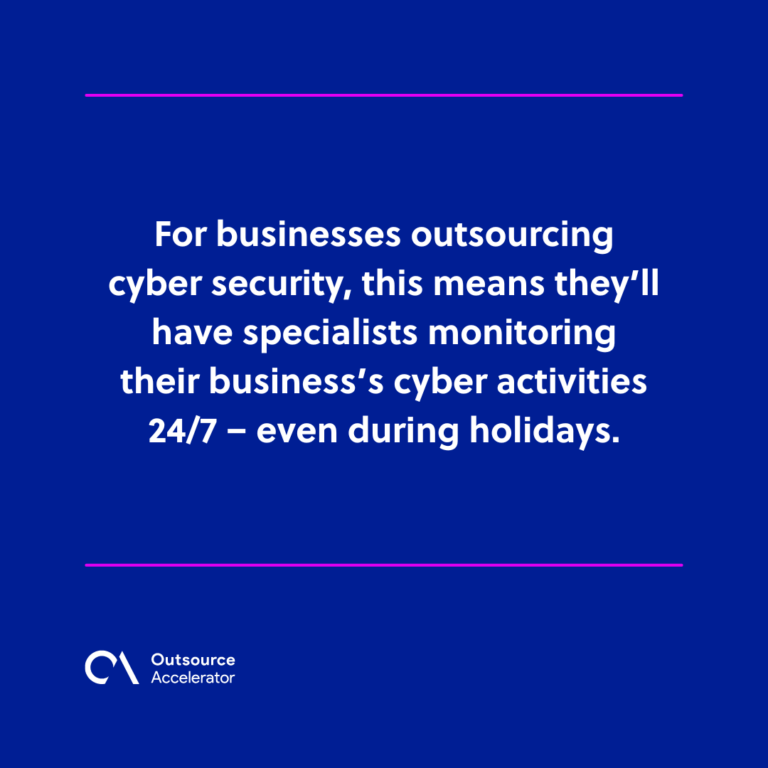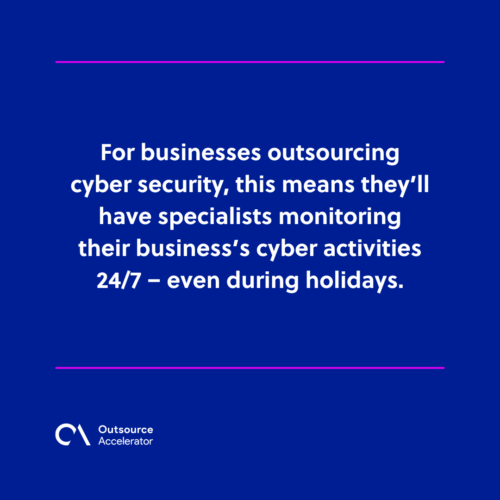 Outsourcing cyber security with Eclaro
Eclaro offers strategic outsourcing solutions for your business's cyber security and other IT needs.
The firm has three delivery centers in the heart of the world's outsourcing capital – the Philippines.
This puts Eclaro in a position to help augment your workforce with IT and other business professionals at a fraction of what it would cost you to hire in-house.
It also ensures that the staff you'll hire are not only proficient in English but college-educated and culturally adaptable, as well.
Outsourcing cyber security with Eclaro gives you the freedom and flexibility to ramp up or decrease your outsourced workforce as needed.
Contact Eclaro now and get the cyber security your business deserves!