The Outsourcing Industry – 12 Months After COVID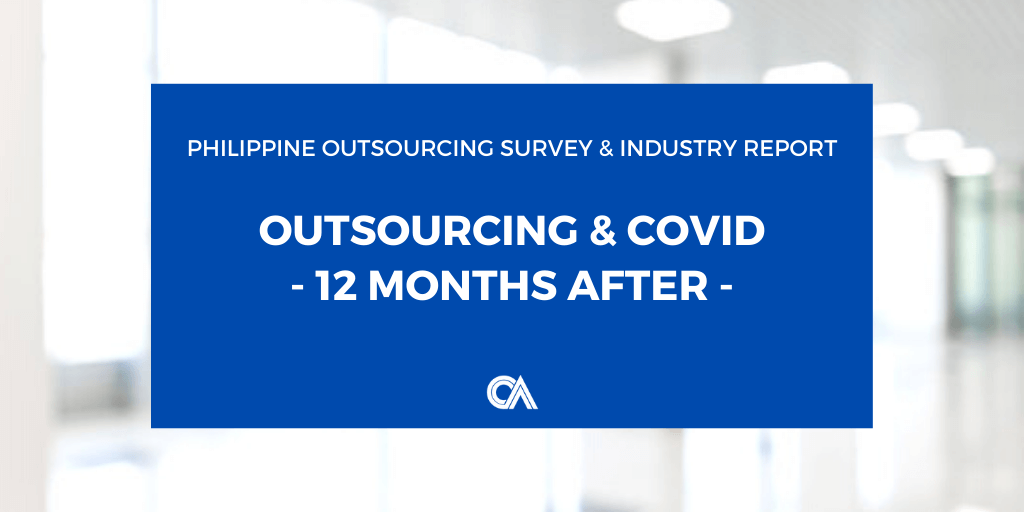 COVID has caused untold damage to our communities, businesses, and economy – many have lost loved ones, family, or friends. The pandemic has torn through the entire world, though not least the Philippines, which already had vulnerabilities such as a delicate economy, limited social safety net, and large population living near or under the poverty line.
One of the shining stars of the COVID pandemic is the outsourcing industry.
Despite the relentless disruption, the sector has adapted and adjusted to the ever-changing demands and restrictions – and worked so hard to provide the high-quality and 100% uptime that the industry has collectively promised – and delivered – to its global clients.
The small- and mid-size outsourcing sector is booming
Outsource Accelerator has long said that the Philippine outsourcing industry is booming.  However, the general narrative from' industry expert's, is that the once strong sector is now 'a sunset industry', is plateauing, and will soon fall prey to automation, Machine Learning, and AI.
This is simply not the case. The growth of outsourcing is slowing in the enterprise sector – this is simply because everyone there is already outsourcing. The market is 99% saturated.
The big opportunity is not in big business. The big opportunity is found in servicing the small and medium-sized businesses (SMBs) of the world.  There are over 60m of these businesses across the high-cost English-speaking 'West', and only 0.5% of them are already outsourcing.  So there is huge growth potential in this part of the market – a market that previously – due to technology cost and accessibility – was unable to access outsourcing.
The above opportunity is so profound that it will generate 60m new offshore jobs over the next 20 years! That is huge. It could transform the Philippine economy – but not enough people are taking notice.
A COVID-induced outsourcing boom
COVID has caused widespread economic hardship. However, certain pockets of certain sectors have done well – such as e-commerce and food (but not restaurants).
Another industry to has done incredibly well during the pandemic is the Philippine outsourcing industry. The booming growth isn't necessarily a direct result of the pandemic, but the 'new normal' has certainly helped…
The pandemic has accelerated people's awareness and acceptance of remote work 

If people are going to use remote workers, why not source them from a cheaper location than the US (for example)

COVID has caused people to embrace technology – and the tools that facilitate remote work (Zoom, email, project management software, etc)

COVID has forced companies to reassess spending and explore cost-saving options – such as offshore staffing.
The remote work movement was already happening, as was the gradual adoption of technology, however, COVID has accelerated these things – some say by 10 years in just 1 year.
Regardless of the cause, outsourcing is seeing unprecedented interest and growth.
12 months of COVID & the PH BPO industry
Outsource Accelerator has taken a survey of Philippine outsourcing suppliers. We have captured 25 responses, representing 30,000-40,000 employees. This survey is not intending to be comprehensive, but I believe the answers fairly represent the typical picture of what I am anecdotally seeing and hearing every day from the BPO community.
BPOs and COVID in a nutshell:
The last 12 months, for most BPOs, can be summed up as:
The initial 3 months of COVID created a huge operational challenge. 

It was immensely difficult to adjust to WFH, but 'we did it!'

BPOs lost 20%-30% of revenues or clients initially from the impact of COVID

After three months, operations stabilized and clients' businesses stabilised

After 3-4 months, new inquiries began, and they started coming stronger than before

BPOs have seen good <20%, or great >20%, growth since that time.

Some old clients have left, or have been questioning the pricing model or costs, but overall these have been outweighed by new growth and new revenues.

BPOs are concerned about operational (COVID) uncertainty but are very excited for the future and the huge growth they are seeing  
The Philippine outsourcing industry – 12 months post-COVID
The survey was completed by 25 Philippine outsourcing companies.  The results speak for themselves. 
The smallest company had 2 staff prior to COVID (and 400 staff 12 months later), and the largest company had 10,000 staff prior (11,000 staff 12 months later).
Widespread growth – 9,000 jobs created
Despite the enormous hardships created by COVID, the companies surveyed companies grew their total employee count from 30,077 jobs to 39,191 jobs – a 30% jump in employee numbers.  That is incredible growth – even during normal times.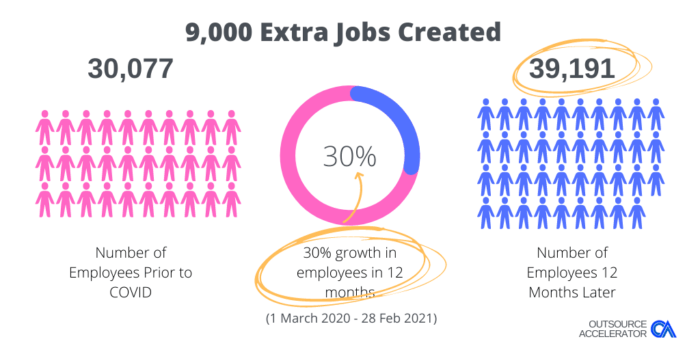 Widespread growth of revenues, 'seats' and profitability
The vast majority of respondents experienced positive business performance in the last 12 months – 84% experiencing revenue growth, 76% experiencing growth in 'seats', and 72% seeing increased profitability.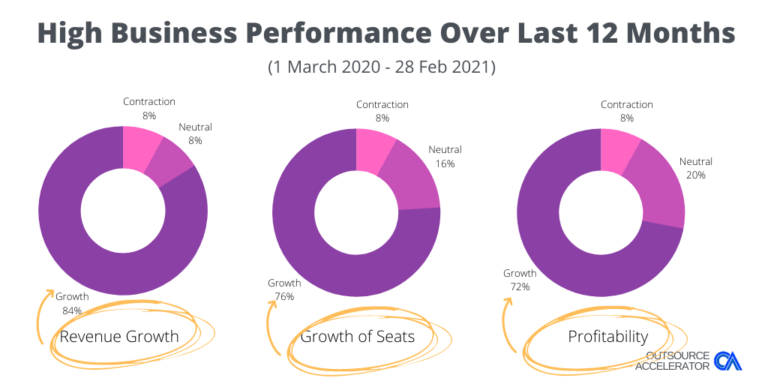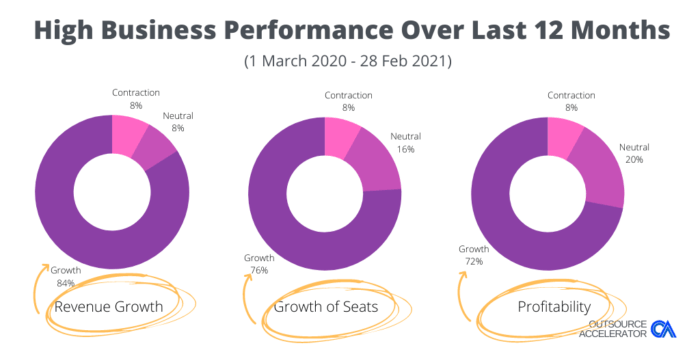 Most BPOs (88%) experiencing neutral, good, or very good growth
Only 12% (3) of the respondents saw a drop in growth over the last 12 months.  Over 32% of respondents saw very high growth – in excess of 50% – and 52% of the companies saw growth levels above 20%.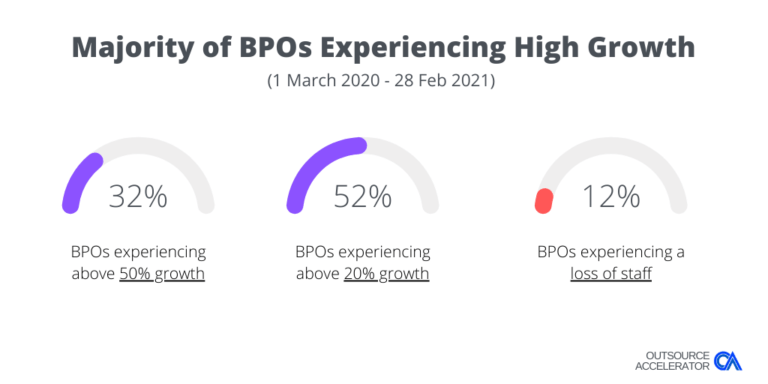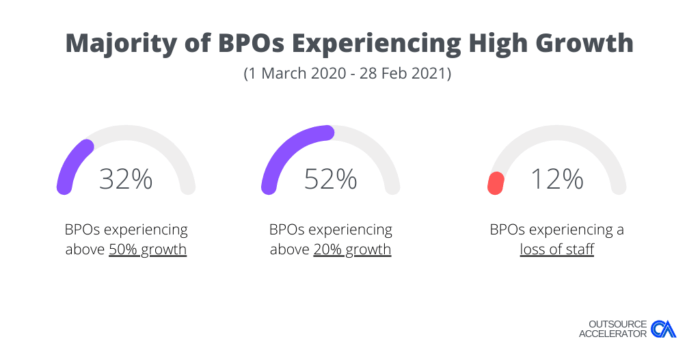 BPOs comfortable with 'outsourcing business model'; concerns for operations
Most of the outsourcing companies (80%) remained confident in their business model – despite the fast-changing environment. Although 40% had a high level of negative operational business concerns.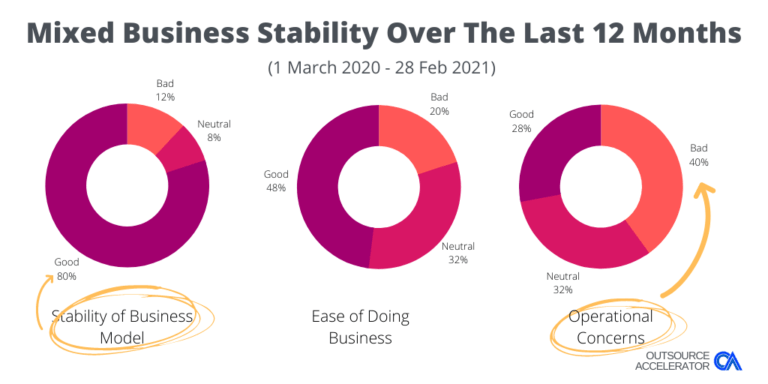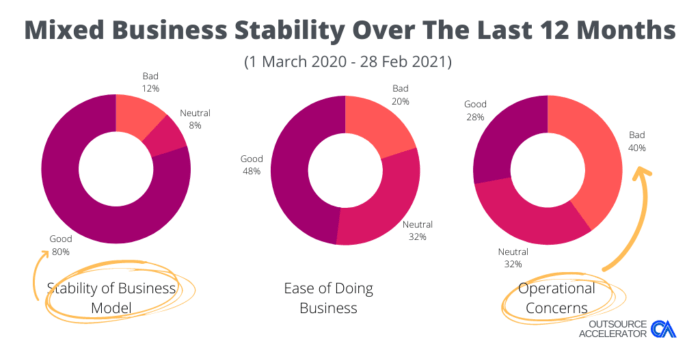 High level of confidence for the future
The BPOs were generally very confident for the future, with 72.8% having high expectations for the next 12 months, and 92% having high expectations for the next 5 years. Only 11.7 had low expectations for the next 12 months.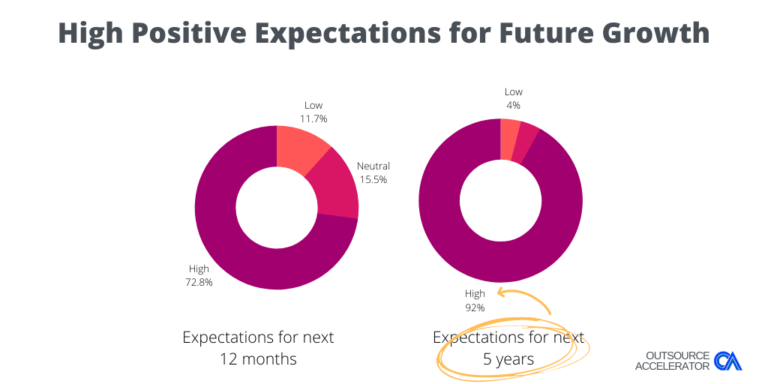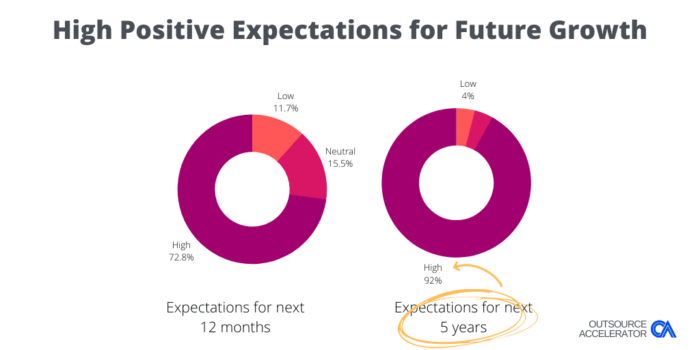 Strong future for outsourcing
It is not necessarily a surprise that outsourcing is doing so well in challenging times.  It has been known for some time that outsourcing is a strong countercyclical sector – meaning that it stands to do well during economic downturns due to its capacity to cut costs for clients.
However, there have been a few factors that have come together (technology, remote-work, COVID's changing norms, rise of smaller-client outsourcing) that has meant that outsourcing is now seeing a boom in awareness, interests, and uptake.
This is only the beginning though, and enthusiasm for outsourcing will only continue to grow. There are as many as 60m more jobs to be offshored over the next 20 years.  It is up to the Philippines to position itself correctly so that it can benefit from this firehose of opportunity.