How to hire an outsourced billing team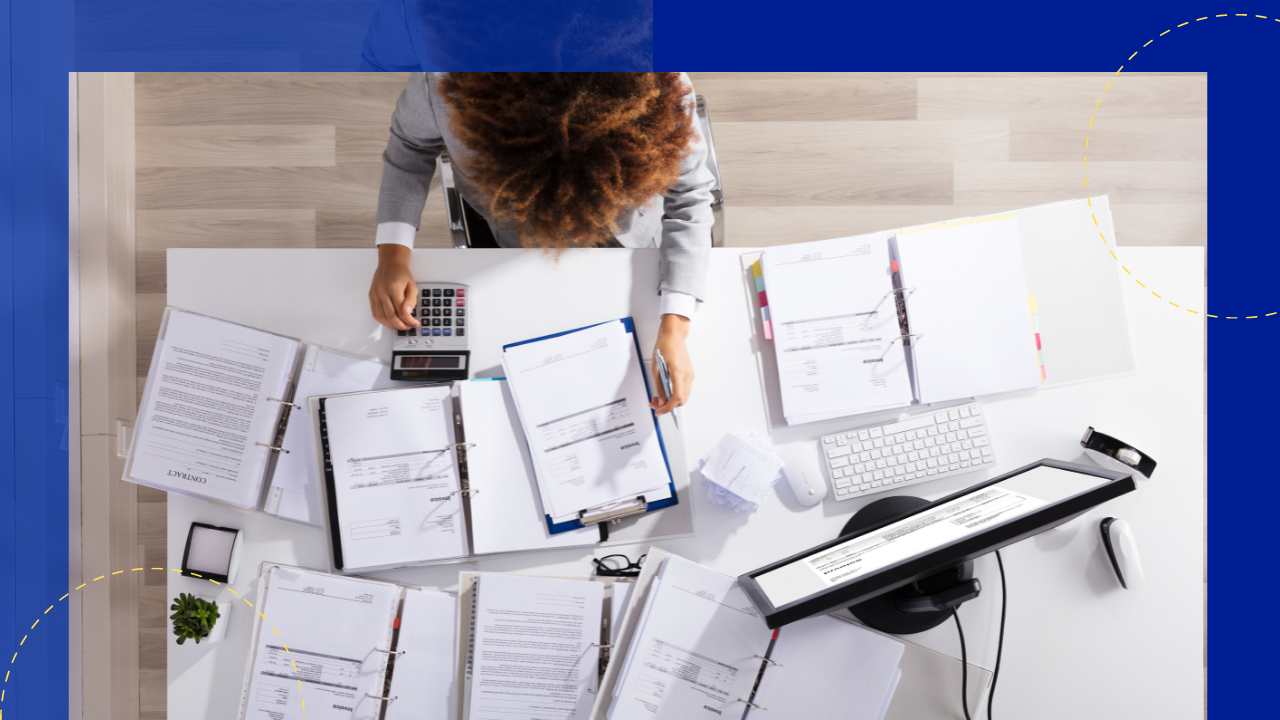 Outsourced billing teams are undoubtedly a big help in a company's financial process. They manage tedious and overdue accounts to help balance the organization's records.
Though in-house teams can be helpful, the lack of skilled manpower may cause a delay in the completion of service payments. The increased regulations, low carrier allowances, and red tape also made outsourcing ideal for any business.
If you want to try outsourcing your billing tasks, this article could serve as a crash course for you.
Advantages of outsourcing your billing function
Billing clerks take part in managing a business' finance books. They create invoices and credit memos, update accounting records and customer information, and send payment reminders to customers.
Outsourced billing happens when you hire a third-party provider to process your coding and billing tasks. Hiring a dedicated billing team gives you the following benefits:
Time-saving.

Outsourced billing allows your local team to focus on other core practices in the company.

Faster process.

They also help clear a path for payments to come through much more quickly and efficiently to your firm.

Reduced costs.

Outsourcing gives you a more controlled and sustainable approach to

revenue cycle management

.

Fewer errors.

Because a skilled team is on board, your company's billing process will stay updated and have minimal to zero errors.

Business growth.

Outsourced billing teams can help eliminate interruptions, distractions, and complications that could prevent the development of your organization.

Client satisfaction.

An offshore team can attend to billing inquiries much faster, resulting in higher satisfaction and retention rates.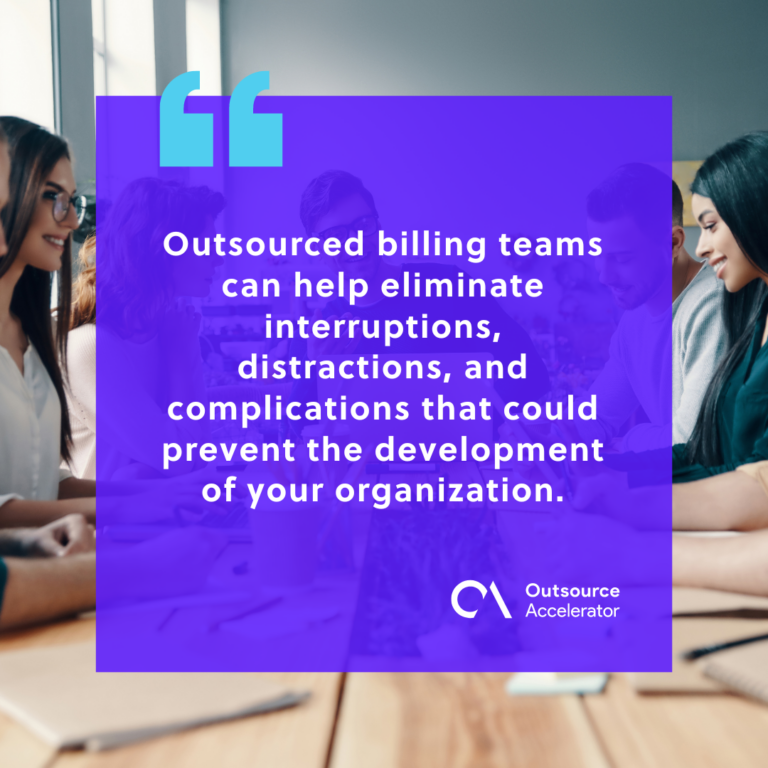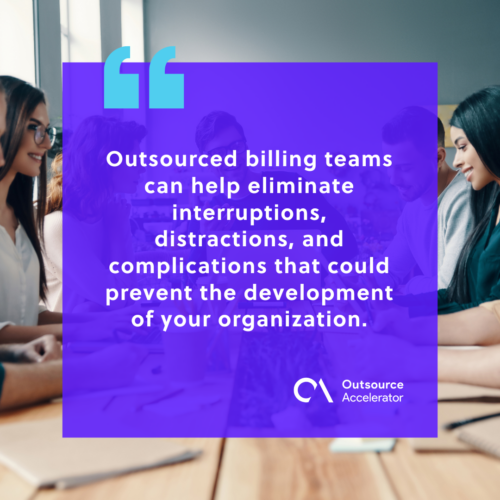 Skills to look for in an outsourced billing team
To maintain the spreadsheets and monitor the services you were owed, you should consider hiring an outsourced billing team with the following skills:
Communication skills
Most aspects of this job include communicating with other individuals. A billing specialist does a lot of talking — since part of their job is answering questions, explaining policies, and helping people understand what they have to do to settle their accounts.
Outsourced billing teams also perform follow-ups on overdue payments. It is vital to find skilled employees that can explain the situation calmly while still being firm about the payment.
Problem-solving abilities
Problem-solving skill is among the crucial qualities of outsourced billing teams. Since one of their tasks is to talk to clients with late payments, they must know how to approach every interaction to find a solution.
When dealing with customers with insufficient funds, they should determine the right payment plans to offer to ensure the settlement of balances.
Solid organizational system
Since outsourced billing teams are in charge of the company's financial records, you should find a partner with a solid organizational system in place. 
An organized system is a key to easily finding and retrieving information when needed by the business or the clients. It also helps preserve everyone's sanity when keeping track of the firm's expenses.
Multi-tasking skills
There are several things that a billing specialist will need to do each day. Outsourced billing employees must be good at multitasking.
There is no telling exactly what each day will look like in any organization. There will be slow or busy days, depending on how many bills are yet to be issued or paid. Billing specialists need to be good multitaskers to finish their workloads on time.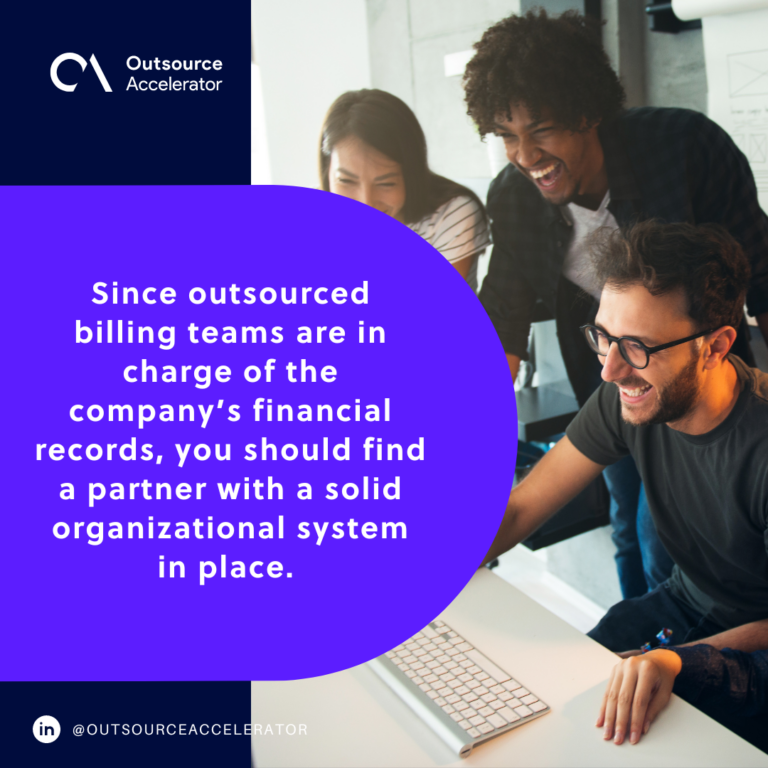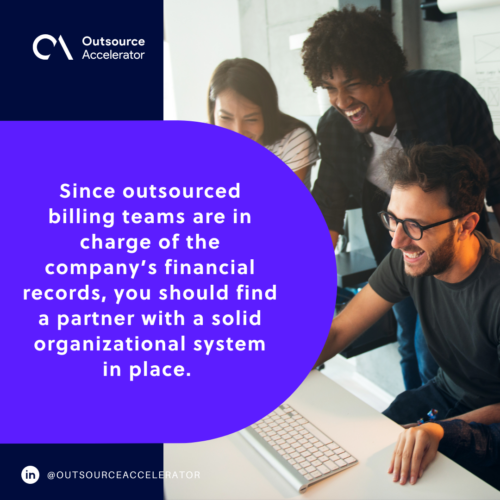 Attention to detail
Having excellent attention to detail is essential in being a billing specialist. Since the job involves more than issuing bills and recording payments, data errors are most likely to happen.
There will always be times when someone inputs incorrect information, thus disrupting the entire process. To address this, you need to have a detail-oriented outsourced billing team who can easily notice errors in your financial records.
Introducing 123Employee's reliable billing clerks
Working with skilled specialists lowers the risk of unpaid bills and services. Fortunately, there is an abundance of trained professionals in outsourcing companies such as 123Employee.
123Employee recruits the best billing and coding experts to their team. Founded to meet the needs of small and enterprise-level businesses, they ​​provide high-quality solutions to their clients worldwide.
Apart from billing, they also provide a range of voice-related services, including:
Telemarketing

Inbound calling

Help desk

Tech support

Monitoring

Appointment setting, and

Operational support
Contact 123Employee now to create a custom outsourced billing solution for your company.