Should you outsource your back office roles?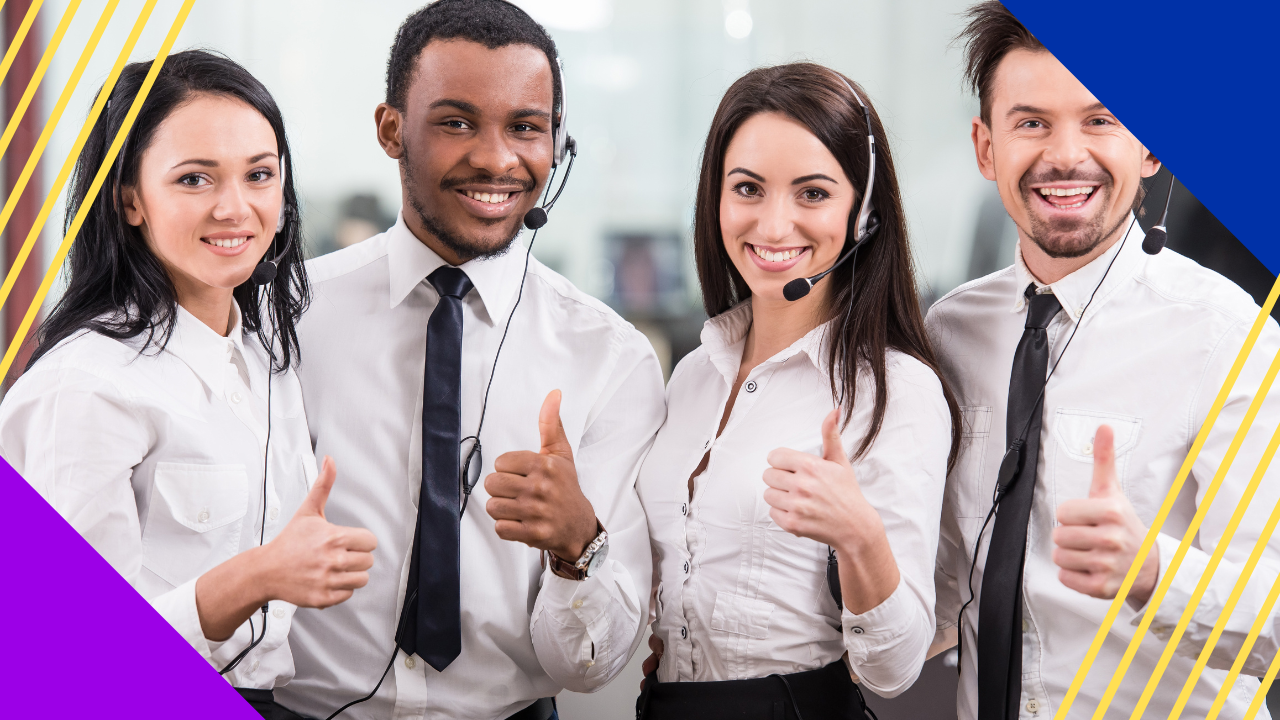 Should you outsource your back office roles
A thriving company is a good thing for any business owner.
For small businesses, scaling up is the next logical step once they're stable and thriving.
However, with great business comes even greater responsibilities. Not every company can afford the additional expenses of scaling up business operations.
Delegating some functions to business process outsourcing (BPO) firms like Cloudstaff can help companies better manage and cope with business upscaling.
Companies that outsource often choose to entrust back office roles to BPO providers. These jobs typically support a business's front-office operations and are not revenue-generating.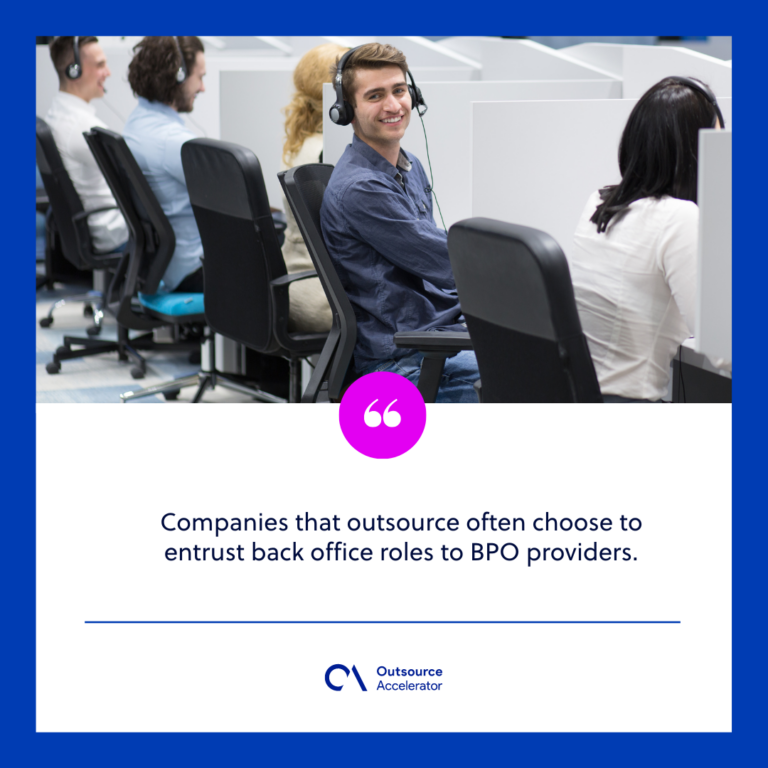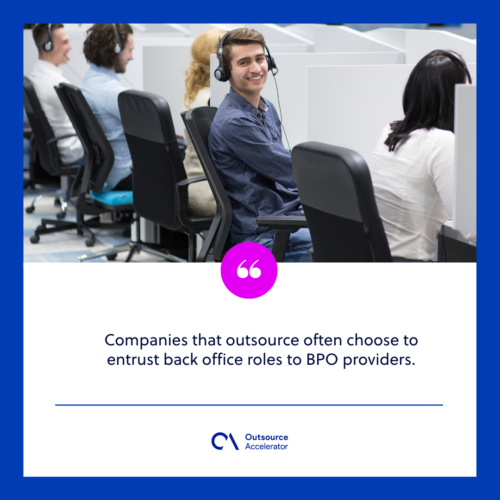 Read on below to learn more about back office roles and how outsourcing these can be beneficial to businesses.
What jobs are considered back office roles?
As mentioned earlier, back office roles are generally non-revenue-generating jobs that support a business's primary operations.
For instance, a call center company's IT department that supports its agents (the client-facing staff) through IT infrastructure is considered part of the back office.
A business's back office roles also include its human resource (HR) department. HR personnel are responsible for maintaining employee records and compliance with employment regulations.
Back office roles are called such because they used to be – quite literally – located at the back of offices.
Despite not directly contributing to its bottom line, a business organization's back office roles are indispensable. These roles ensure a business can function smoothly and without any operational hiccups.
If customer-facing jobs are the actors in a movie, then back office roles are the directors, producers, and technicians that made the film happen.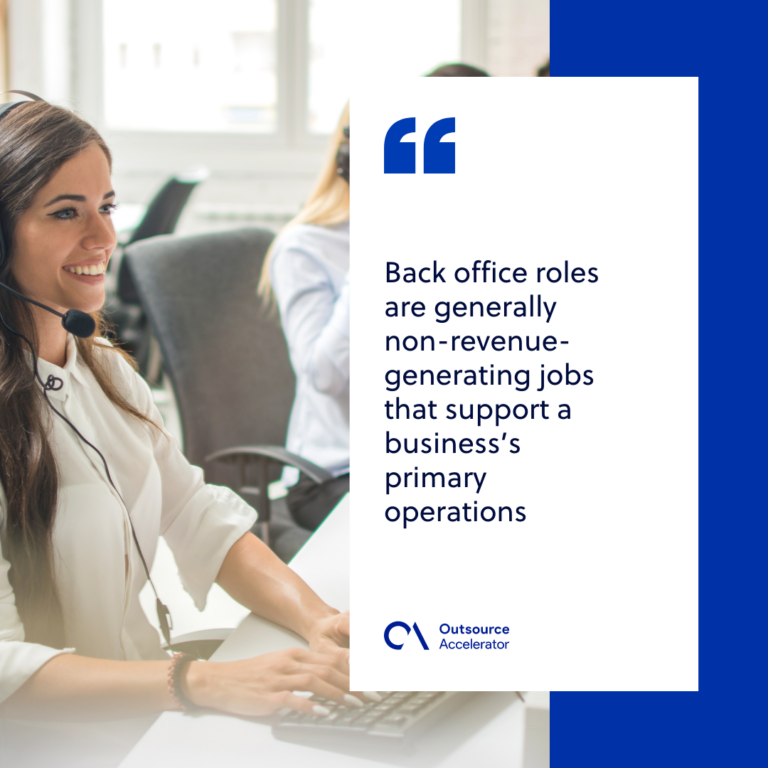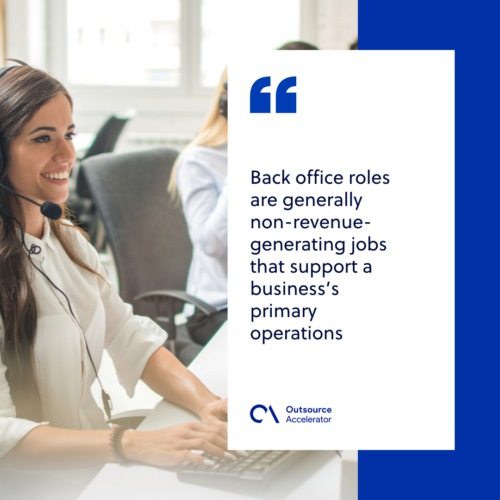 Below are more examples of functions that businesses classify as back office roles:
Recruitment
Recruitment staff are responsible for quickly filling vacancies in organizations.
Recruitment process outsourcing (RPO), a specialized form of outsourcing, has become popular with many businesses. This process allows companies to source candidates from a more diverse talent pool.
Accounting
A company's accounting department manages and keeps track of its expenses.
Accountants help businesses make sound financial decisions using insights from collected financial data.
They're also responsible for auditing expenses, reconciling bank statements, and ensuring the accuracy of financial records.
Data management
Data management pertains to the storage and retrieval of business information.
Businesses in industries that handle large amounts of data often turn to BPO providers with data management capabilities.
These businesses include healthcare providers, marketing agencies, and telecommunication service providers.
Importance/benefits of outsourcing back office roles
Back office roles play an essential part in every business. As mentioned earlier, these behind-the-scenes jobs ensure uninterrupted business operations.
Companies can conveniently outsource back office roles to offshore locations because these functions are not customer-facing.
Doing so allows businesses to gain the benefits of outsourcing, including:
Cost reduction opportunities
Outsourcing back office roles can help companies cut down on costs by sourcing talents from developing countries.
Business owners don't need to provide additional office space and equipment for their outsourced staff either, increasing their savings.
Access to better technology
Businesses gain access to the premium software and equipment used by BPOs when they outsource back office roles.
These software tools may include customer relationship management (CRM), database management, and applicant tracking systems.
In turn, access to better technology improves the performance and efficiency of their in-house staff's support teams.
Better focus on core business processes
Entrusting back office roles to a BPO provider lets companies turn their focus on the revenue-generating part of their operations.
Provided that a company partners with a reliable outsourcing firm like Cloudstaff, the adage "out of sight, out of mind" becomes applicable.
They can rest assured that professionals handle their outsourced functions and only need minimal supervision.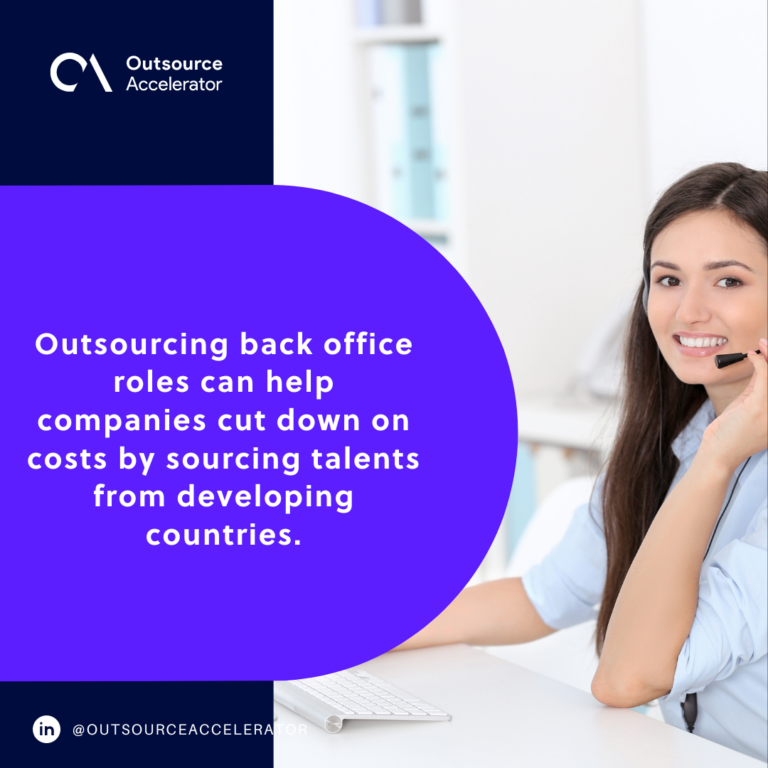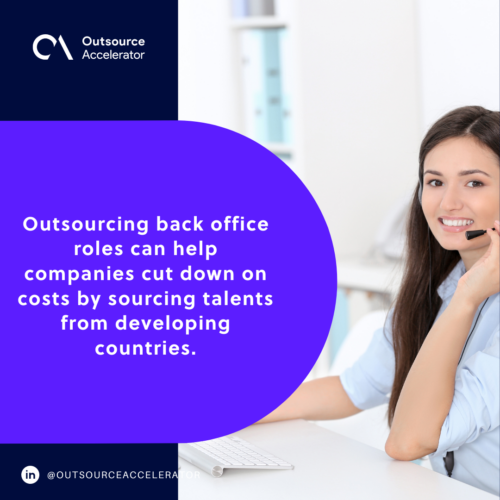 Outsourcing back office roles through Cloudstaff
Cloudstaff is one of the Philippines' premier outsourced back office roles providers. The company has extensive experience with outsourcing across a wide range of industries.
From accounting and finance, records management, and data entry to medical transcription, Cloudstaff can provide your needs with solutions that fit within your budget.
Cloudstaff also boasts world-class facilities and equipment, ensuring your back office roles are in good hands.
Connect with Cloudstaff now and entrust your business processes to one of the industry's best.