Why outsource architects from the Philippines?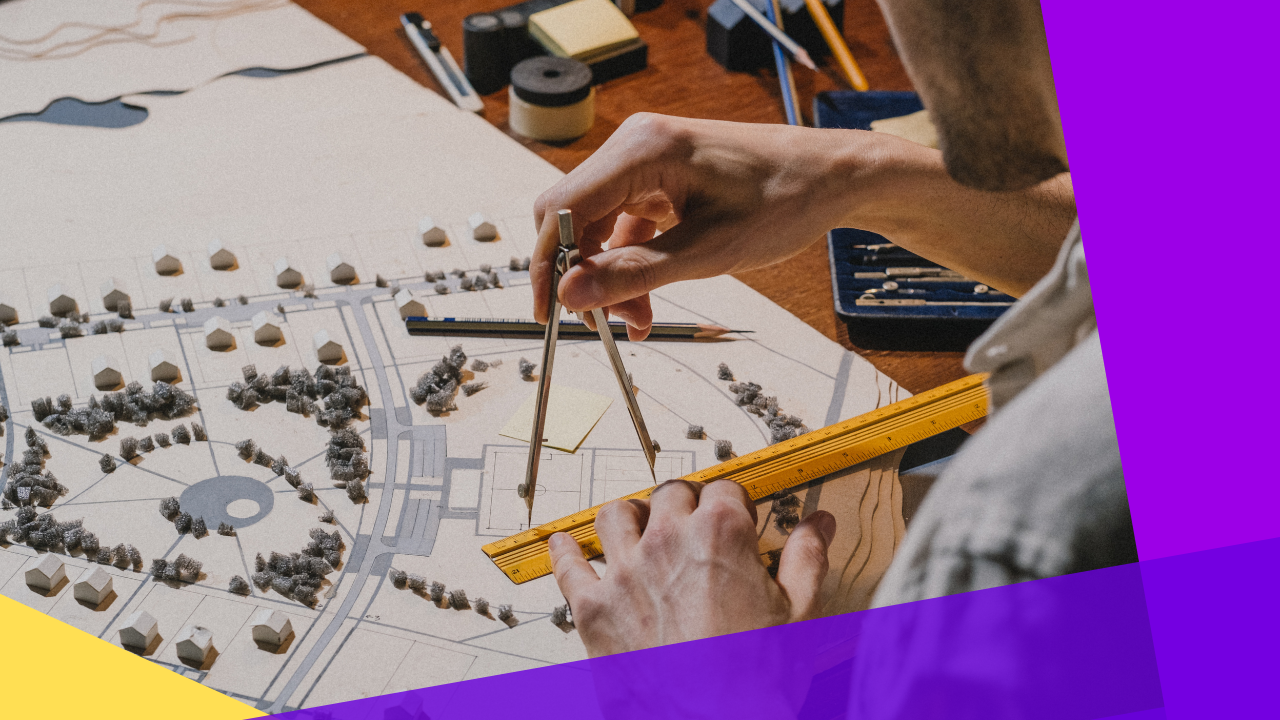 Why outsource architects from the Philippines
Architectural outsourcing has become an in-demand function in the Philippines for the past years, and for a good reason.
Many countries' towering costs and talent limitations have affected most startups' and medium firms' growth and revenue. Construction companies, most especially, have difficulties keeping up with the competition in the industry because of this.
Luckily, outsourcing architects from the Philippines can alleviate your firm from this challenge.
What is architectural outsourcing?
Architectural outsourcing refers to delegating architectural functions – from drafting to designing – to offshore teams.
Architectural services are usually complex and require professional expertise to help with compliance and accurate designing. Construction firms are usually bugged with talent and budget issues that affect their ability to provide these services better for their clients.
Outsourcing architects is a growing solution to resolve this challenge.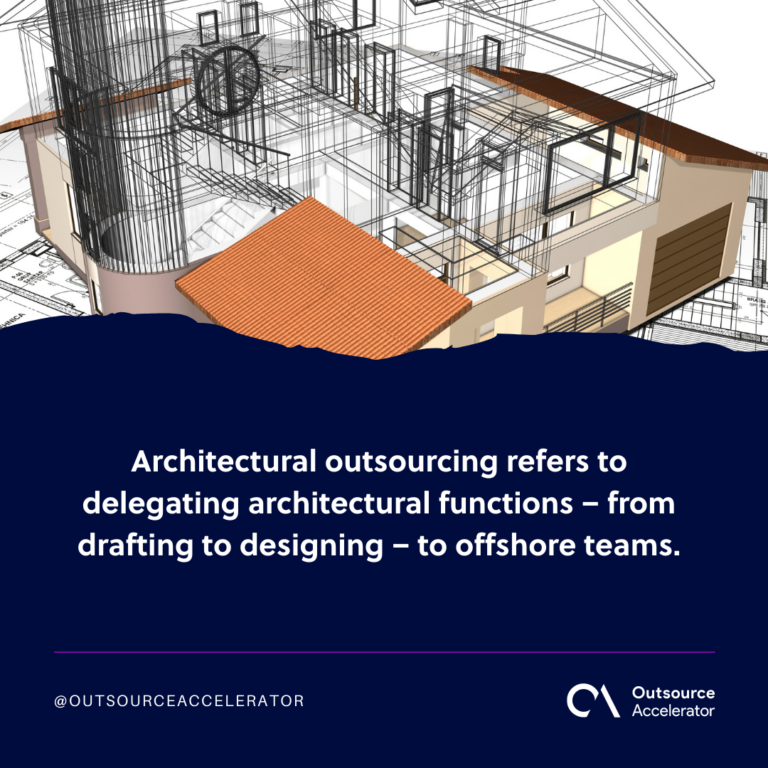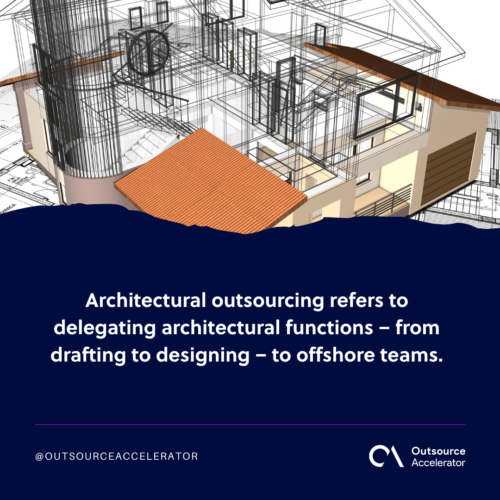 Roles to outsource to architects from the Philippines
Architects in the Philippines are among the most knowledgeable in different roles and functions aligned with their profession. Some roles you can outsource to architects in the country include the following.
Architectural design and drafting
Primarily, outsourced architects know the basics of drafting and designing buildings and other infrastructure. They know where to place each detail in a building depending on the client's preferences and regulations.
3D modeling
Your team has your client's back when breathing projects to life – in 3D. Outsourced architects are well-trained to use AutoCAD, SketchUp, and other 3D modeling software for a more actual look and feel.
Landscape architecture
Look no further when finding someone to outline and beautify your client's landscape, from a simple backyard to bigger projects. Filipino Architects are also among the best in terms of landscape architecture in many forms.
Restoration architecture
Lastly, your outsourced architects can handle restoration projects for ancestral houses or old buildings. You can tap your team for restoration projects according to proper compliance.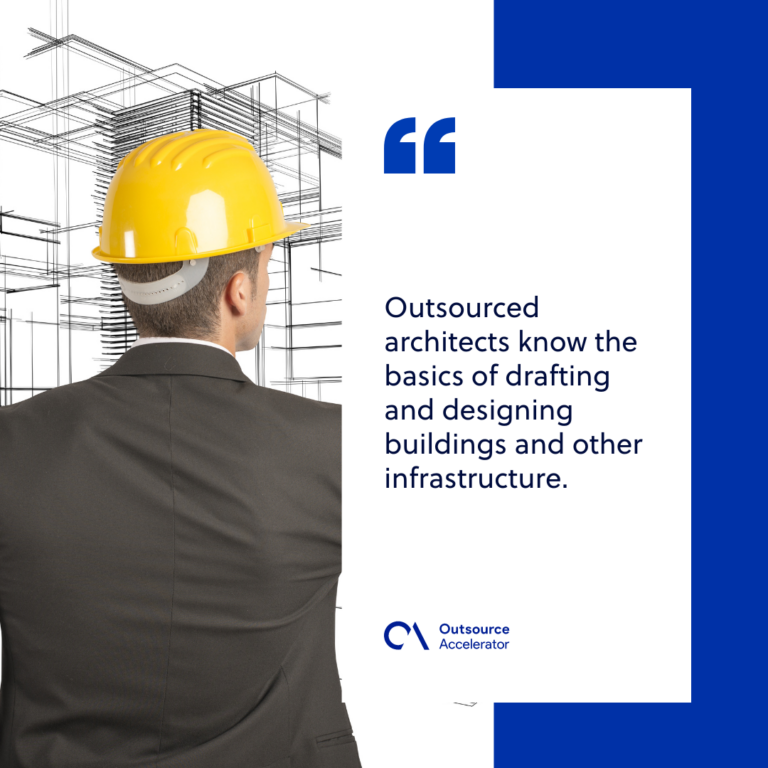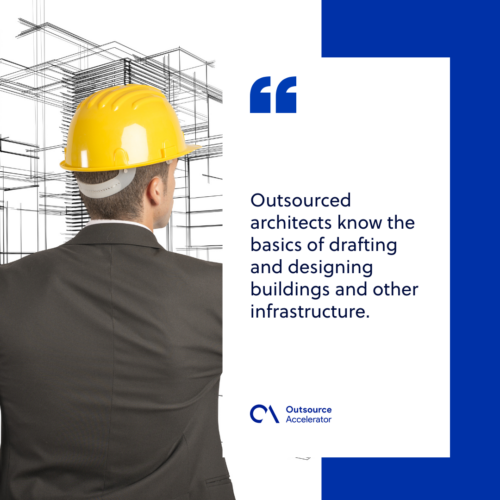 Why you should outsource architects from the Philippines
Rising costs, talent gaps, and changing compliances are some of the challenges you could face when running an architecture and construction company. You might limit your growth by sticking with local teams as a result.
With the help of Emapta, hiring architects remotely enables you to scale better and keep up with the changes in your industry.
Below are the reasons why you should outsource architects from the Philippines.
Lower talent costs
A licensed architect in the US earns as much as US$40.00 per hour or US$82,995.00 per year. 
Additional certifications boost their rates by up to 50%, according to job platform Indeed. Not every small business can afford to scale its teams at this rate.
When you outsource architects from the Philippines, you get to enjoy lower costs and better chances of expanding your teams in the future. This is since architects in the country usually earn up to US$15,000.00 per year, according to PayScale.
Updated compliances
Aside from having licensed staff, you must keep up with building codes and design compliances needed for your projects.
Inaccurate measurements, problematic plumbing designs, and other issues with drafting could risk your clients' safety once their project is built.
Outsourced architects are knowledgeable in these compliances and standards. This makes them capable of accomplishing design projects more effectively.
Faster turnaround times
Primarily, outsourcing your services prevents your team from getting overwhelmed with the volume of projects to be done. Having another team on your side helps you have faster turnaround times and get more work done, keeping your clients satisfied in return.
All-in package
Drafting systems and other architectural tools can be costly for starters, while its free versions can have limited features.
Emapta takes care of additional training, equipment, and architecture software along with your staff. You get to save more with this all-in package since all you have to do is collaborate and track your team's work.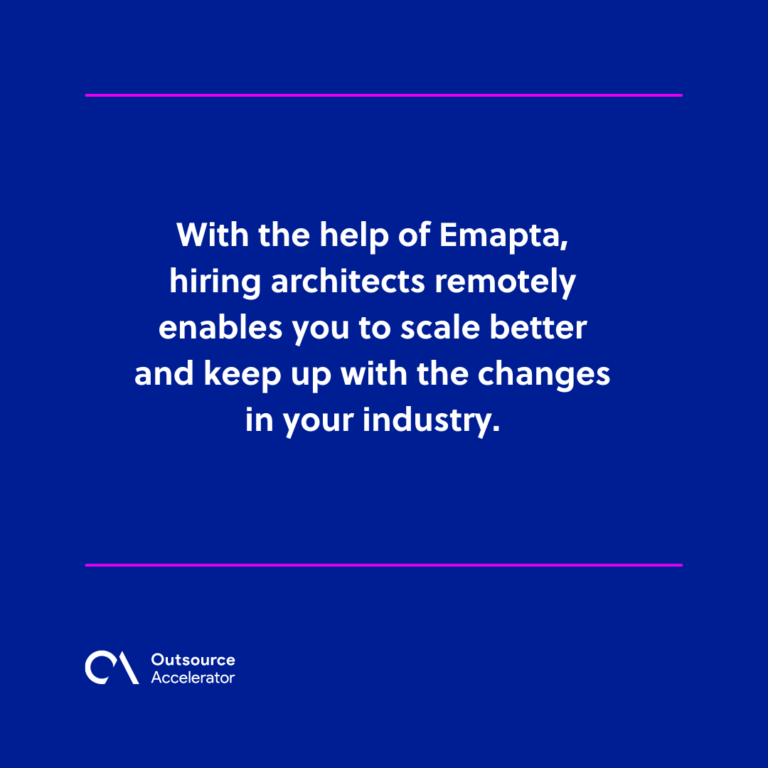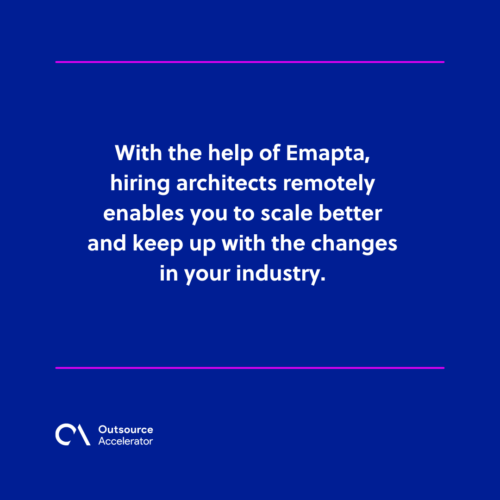 Talent abundance
Small firms that hire local professionals usually find it difficult to compete with more established companies in their area for their staffing.
With more than 40,000 (and counting) registered architects, the Philippines is one of the most viable locations for outsourcing architectural services.
This is why more startups are hiring teams from the country.
Emapta can help you source out seasoned and dedicated architects without all the hassle that comes with expanding your team.
Book a consultation with Emapta today to learn more about their services!