5 outbound lead generation strategies for improved business results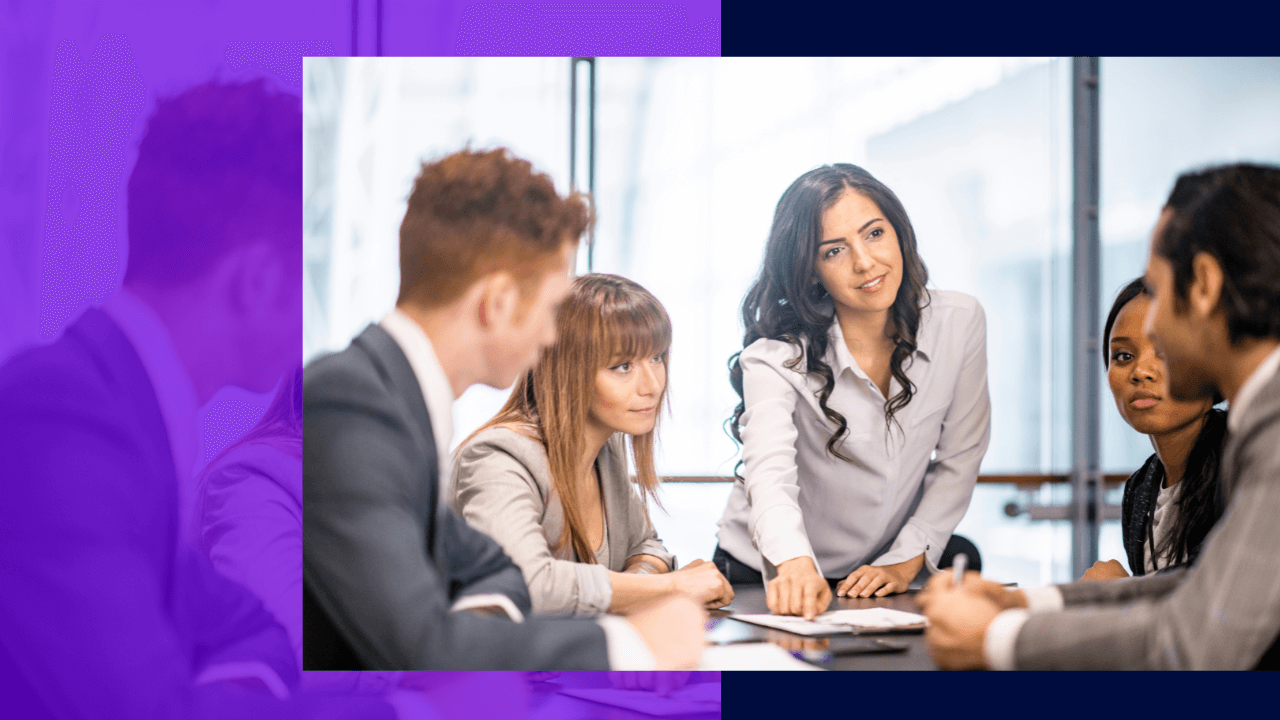 Lead generation is crucial for businesses. It is a process where you pique potential customers' interest. A business without a lead generation strategy is bound to fail. Without leads, there would be no growth or revenue.
So how can you draw the attention of your target audience who know nothing about your products or services? You need to reach out.
However, it is not an easy task. According to Hubspot's report, 61% of marketers find lead generation challenging.
Thus, implementing the right strategy to generate leads can yield better business results. It is time to learn about outbound lead generation if you are trying to figure out the right approach to deliver results.
A partner like Executive Boutique Call Center can also be of service to you in your lead generation efforts.
What is outbound lead generation?
Outbound lead generation is finding leads who are unfamiliar with your brand. You may reach out to these prospects through direct mail, phone calls, email, television ads, online ads, outdoor billboards, or print advertising.
The marketing or sales team usually works on outbound lead generation. However, these leads might ignore or dismiss you since these are unsolicited emails and calls.
The primary goal of outbound lead generation is to enthrall your prospects. Once successful, they may enter your sales pipeline, where you can nurture them into paying customers.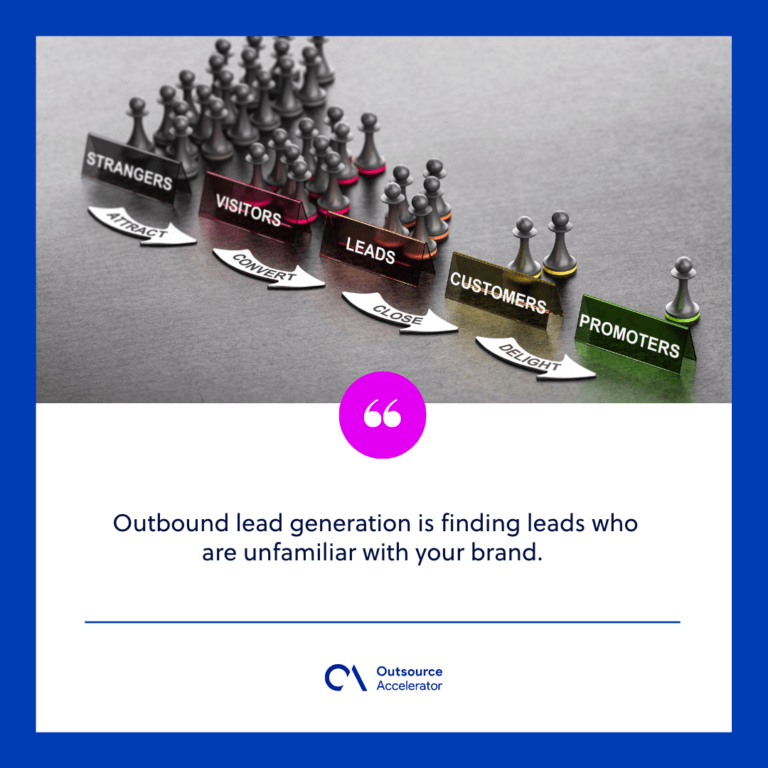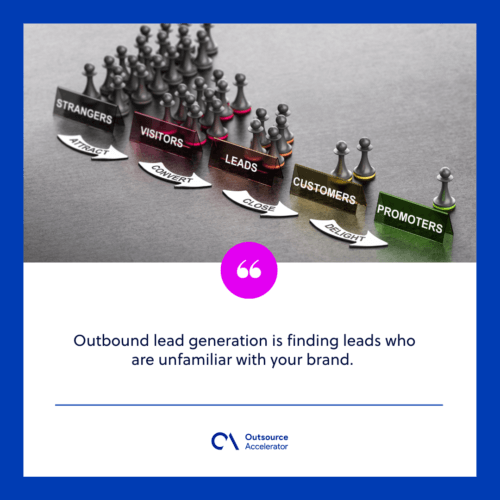 How outbound lead generation works
Your outbound lead generation process is created depending on your market, goals, and brand. Generally, marketing and sales teams follow these steps:
Step 1: Creating an ideal customer profile (ICP)
Outbound marketing teams are the ones creating an ideal customer profile (ICP) that outlines their target demographic, buying pattern, and other related aspects in a single character.
When creating the ICP, the sales and marketing team sets Specific, Measurable, Achievable, Relevant, and Time-bound (SMART) goals. They also consider several factors, including business model, revenue, industry, and location.
Step 2: Prospecting leads 
This is where the marketing and sales team finds potential leads. They look for leads using online databases, social media, hiring platforms, or lead-generation software.
Moreover, they also gather the prospect's information and research the company to understand their needs better.
Step 3: Setting up and running a campaign
The marketing and sales team brainstorm how to initiate contact with the prospective outbound leads. This is crucial because you can lose connection if you do this wrong. Once you set the campaign up, start running it.
Step 4: Closing deals 
Once the campaign is completed, the marketing and sales team nurtures the leads and converts them. Cold calling is a common way sales reps connect with their leads.
Step 5: Evaluating the approach
The last step is to determine what went wrong, what worked, and what you can improve for your next campaign.
Commonly, not all potential leads in your sales funnel will say 'yes' to your offers. With this, both the sales and marketing teams will evaluate their pain points and what they can do in their future campaigns.
After evaluation, the outbound campaign and sales process will start again from step one.
Inbound vs outbound lead generation
Lead generation can either be inbound or outbound. While these approaches differ, both methods lead to great business success.
Check out the differences and similarities between the two:
Similarities
Objective
The goal of both inbound and outbound lead generation is to close a deal. You can do this by nurturing your relationship with the prospect. Earn your prospects' trust, provide more value, and you will see their movements through your sales pipeline.
Familiarity
Both inbound and outbound lead generation requires marketers to be familiar with the target audience. This can help them reach out to prospects, conduct research, and know their behavior.
Once acquainted, these marketers can develop an effective marketing effort.
Difference
Contact initiation
The primary difference between inbound and outbound lead generation is who reaches out first. Think of outbound as the "push" of lead generation while inbound as the "pull."
Inbound lead generation is used more to attract potential leads and convert them into paying customers. You can do this through social media marketing, content marketing, and SEO.
On the other hand, outbound lead generation works the opposite way. You need to reach out to people interested in your service or product. After reaching out, you try to win them over and convert them into paying customers.
Campaign cost
Outbound lead generation is more costly than inbound. You are buying banner ads and cold email lists, which cost more.
Meanwhile, inbound lead generation campaigns can be free. You have a choice not to spend your energy on something other than the inbound traffic since visitors come to you through social media or SEO. Paid ways also exist to boost inbound traffic.
Longevity
Outbound lead generation can produce leads right away through advertisements. But remember that you have to pay for these ads or email lists. Once you stop paying for them, expect your leads to dry up.
Inbound lead generation, on the other hand, takes time. Building brand awareness through SEO, content marketing, or social media are the most common inbound marketing tactics that could take months to take effect.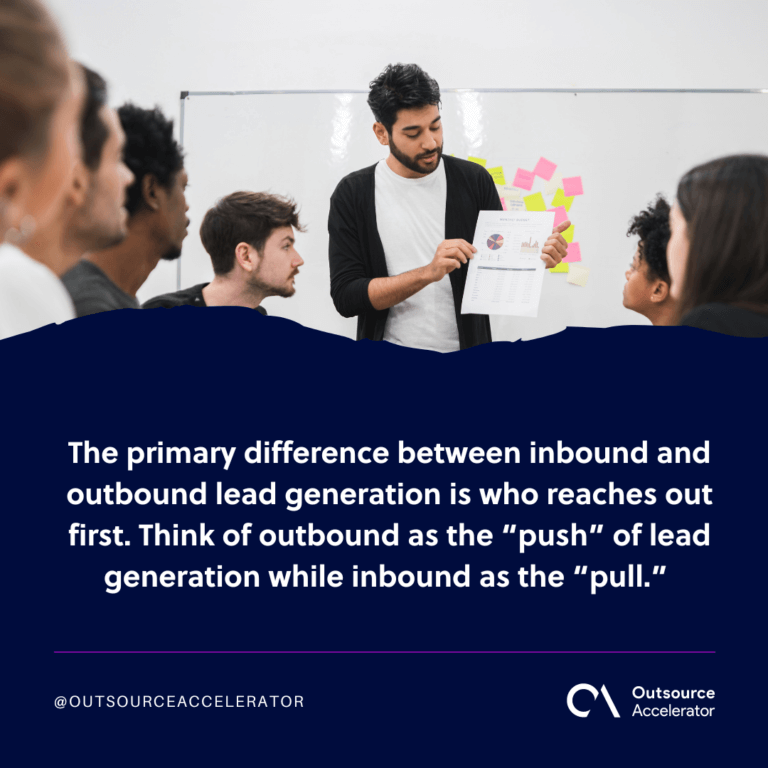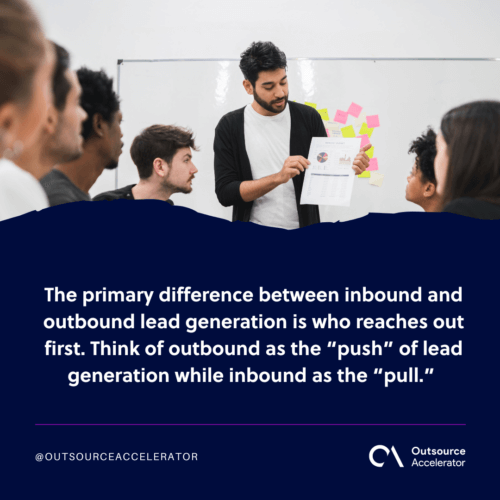 5 outbound lead generation strategies that work
One benefit of outbound lead generation is allowing you to control the type of leads you want in your pipeline. You determine the audience you want to convert to paying customers. However, you must establish a solid strategy to convert your leads.
How do you get the attention of these leads? Here are five outbound lead gen strategies to help you show what they are missing:
1. Cold calling
Contrary to popular belief, outbound sales are not cold calling. Instead, cold calling is one of many effective methods of outbound marketing.
Cold calling is calling B2B prospects to promote your product or services. The term "cold" means that you are reaching out to prospects who know nothing about you or what will happen.
If you want this approach to be successful, you need to identify the right leads and the right message at the right time.
2. Cold emailing
Cold emailing works like cold calling. It is the initial email you send out to prospect leads without them knowing about you.
The only difference lies in cold emailing being less noticeable. 33% of email recipients open their emails because of catchy subject lines. Thus, you must consider your subject line to draw their attention and improve your open rate.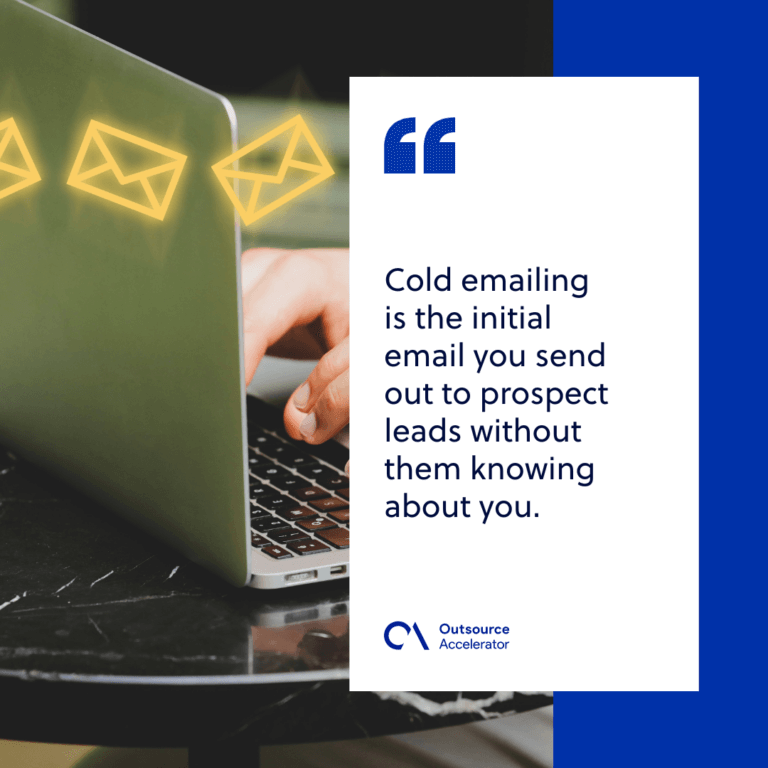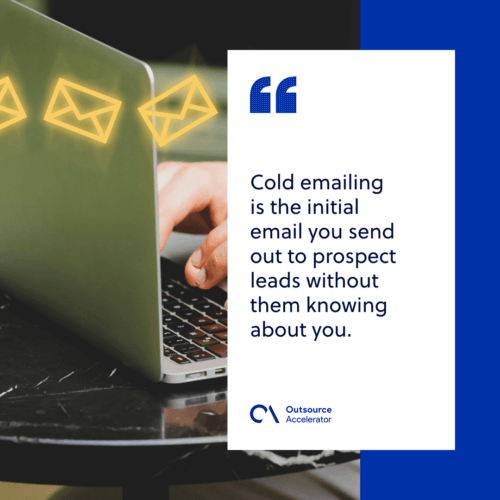 3. Multi-channel outreach
A multi-channel approach is reaching prospects using multiple channels. It is one way to stand out and get your prospect's attention.
You only need to start with a single channel and work your way up. This strategy can help you engage with them on several channels, even if they miss your message the first time.
4. Paid ads
Some examples of paid advertising are Google Ads, Facebook Ads, and LinkedIn Ads. Paid search marketing is renting a space on a specific platform.
For instance, Google Ads allows you to place ads on Google's search result pages. Your ad will appear on the search results if a person searches for your target keywords. You pay Google since it takes interested strangers to your website or page when they click your ad.
5. Social selling
LinkedIn is the top platform where you can do social selling. Hubspot reveals that LinkedIn is 277% more effective for lead generation and more business-focused than other known social media platforms.
Sales representatives connect and nurture leads by building brand awareness through social selling. They do this by answering questions, engaging in conversations, and adding more value to potential buyers.
Outbound lead generation tools
Aside from outbound tactics and strategies, the tools your teams use can greatly impact your success in generating leads and converting them into paying customers.
Here are some of the outbound lead generation tools your teams can use at work.
Take care of your quality leads better with the help of all-in-one sales, marketing, and CRM platform. HubSpot stores all your team's needs in terms of customer data, their buying behavior, and even outbound and inbound strategies.
Similar to HubSpot, Salesforce is an all-in-one cloud software integrating sales, CRM, and marketing functions. Your sales team can easily access, store, and integrate data straight from your potential customers to be used throughout your sales process.
Overloop is a multi-channel platform perfect for your team's outbound strategy. It helps users create personalized campaigns by mixing strategies such as cold emails and LinkedIn automation.
Why your business needs an outbound lead generation
Establishing your presence and building trust with potential customers is crucial. An outbound lead generation is an aggressive approach to reaching your target audience. It may take a lot of work, but it pays off.
However, you must stay on top of the constant evolution of outbound lead generation. The strategies that work today might not work next month.
So stay on top of the trends, and watch your prospects become paying customers!